'Dropicana': I-15 closes near south Strip for entire weekend
Updated January 28, 2023 - 1:39 pm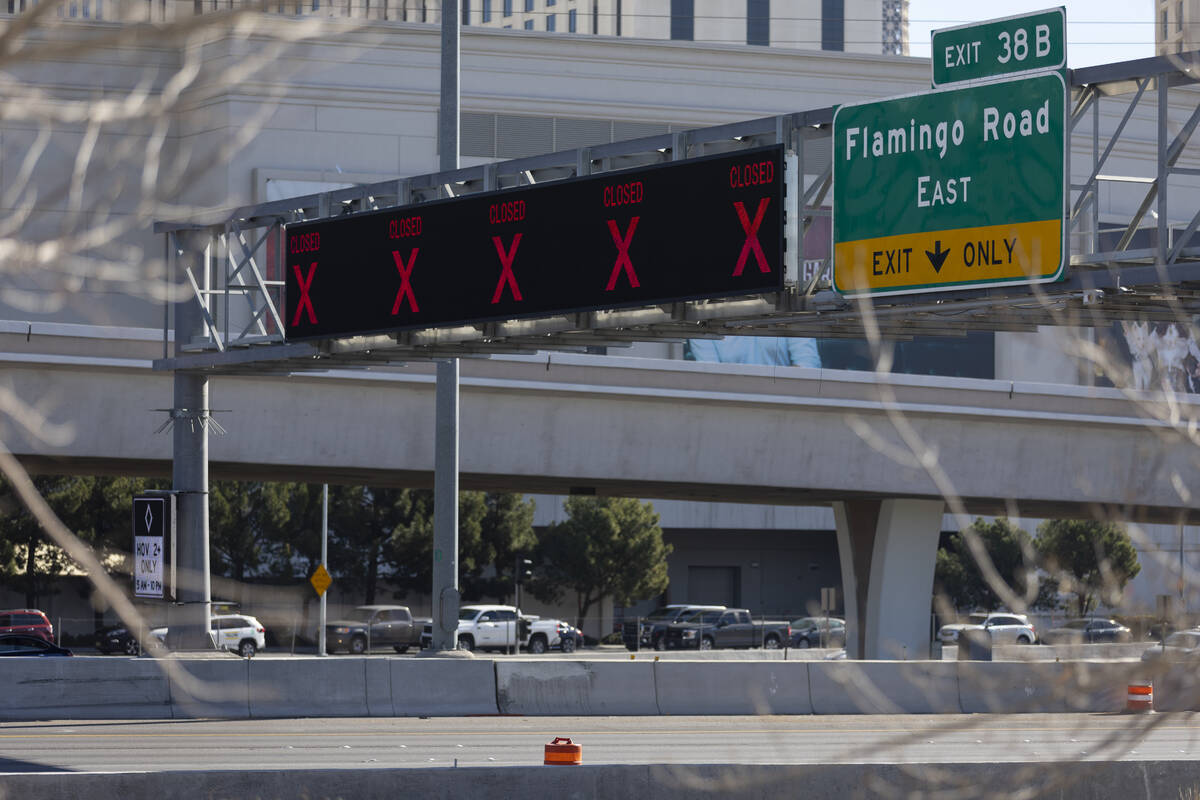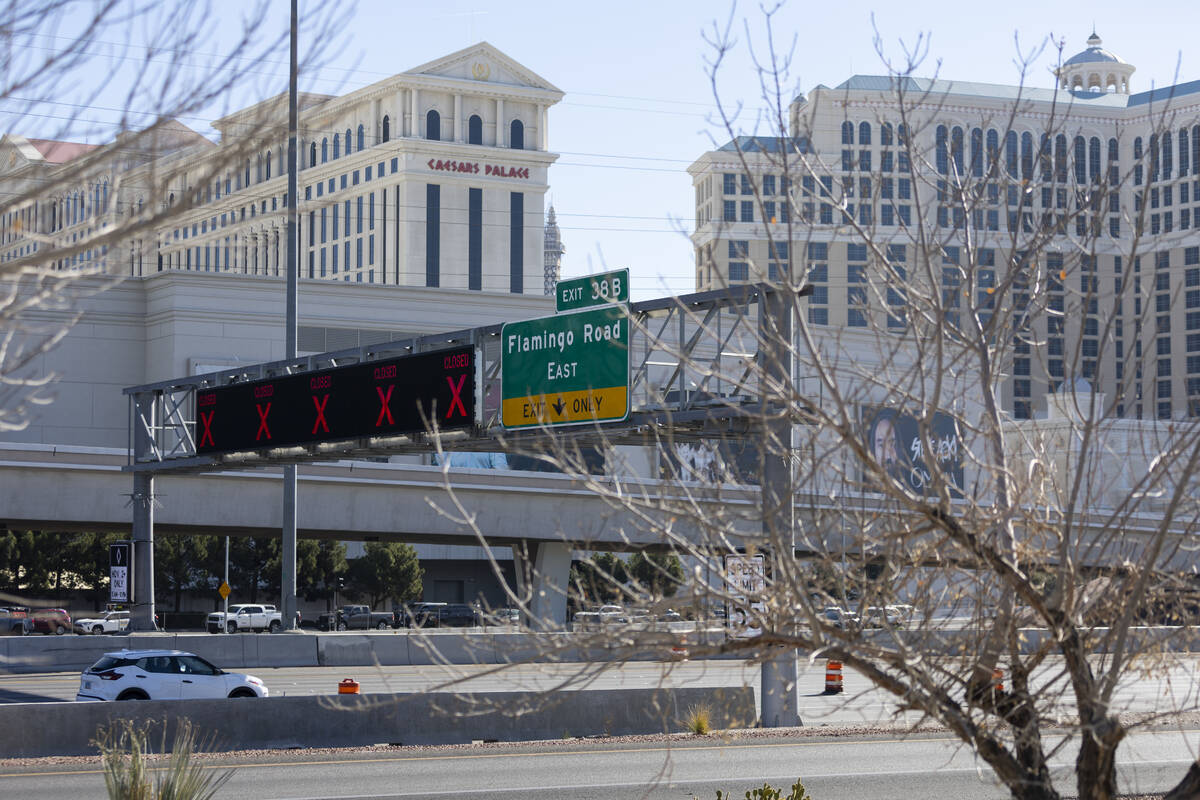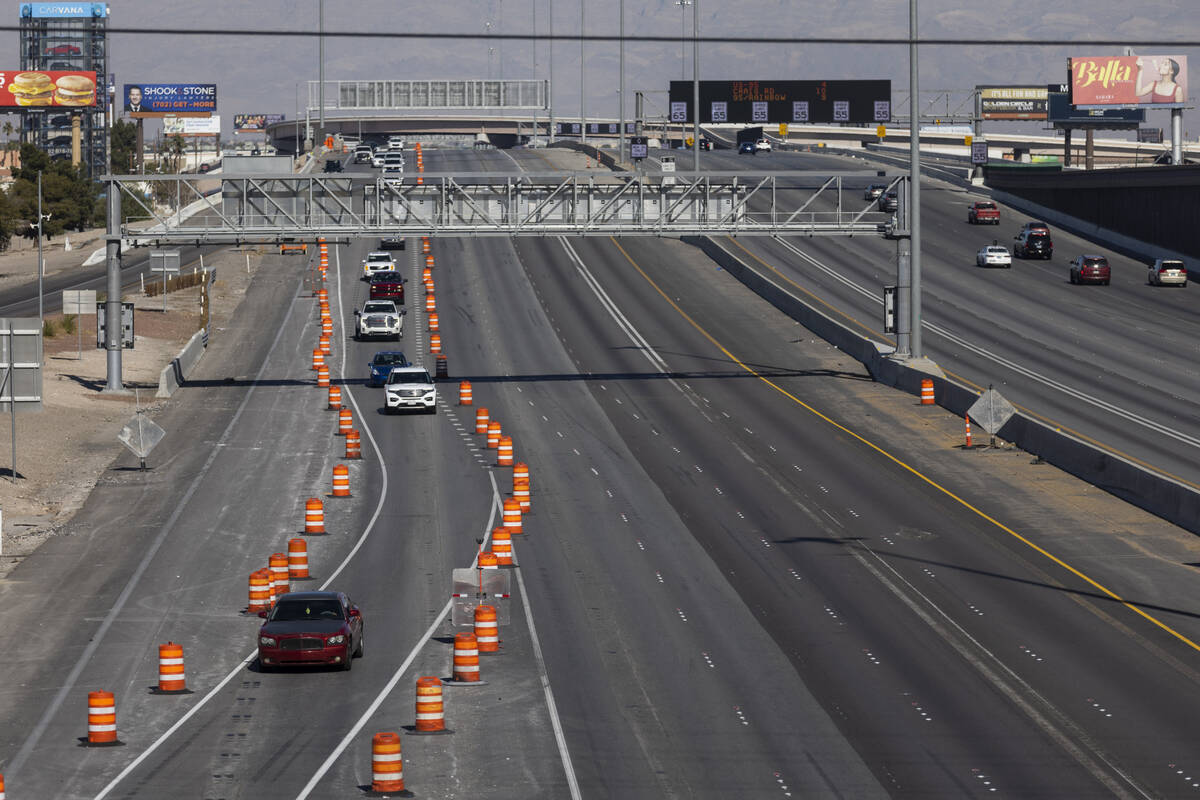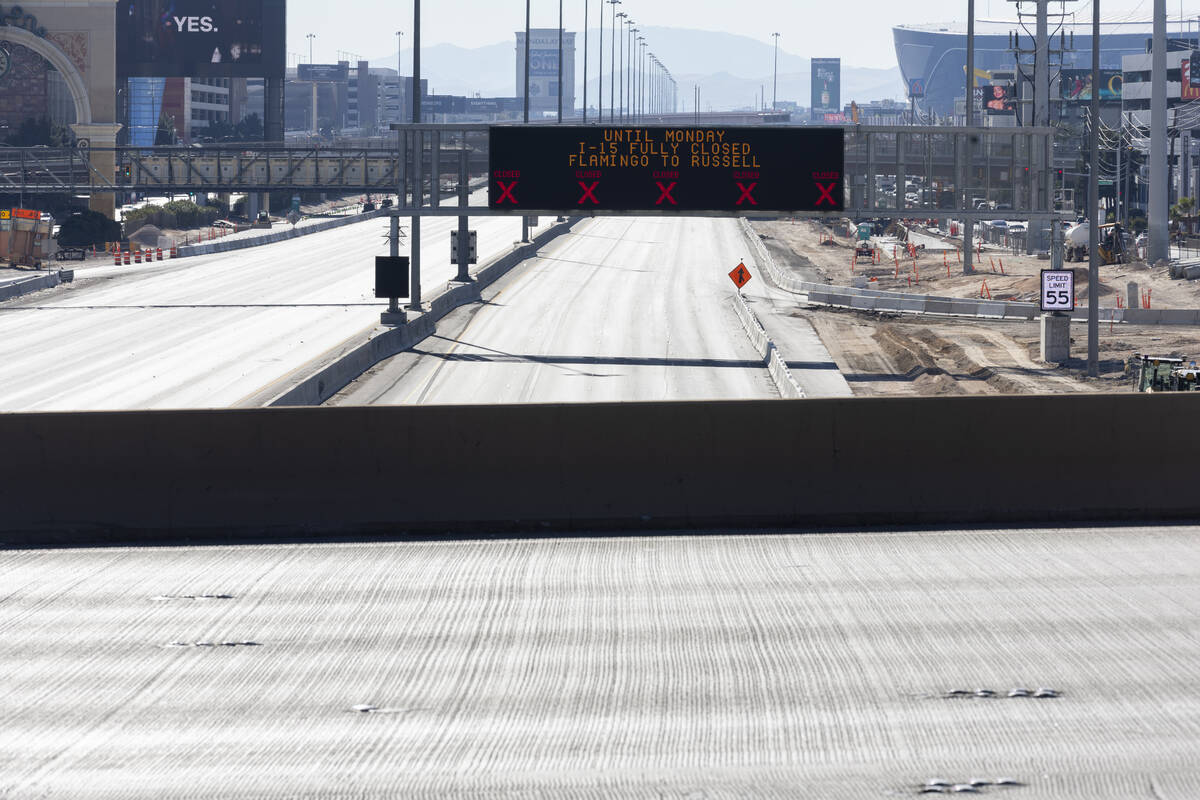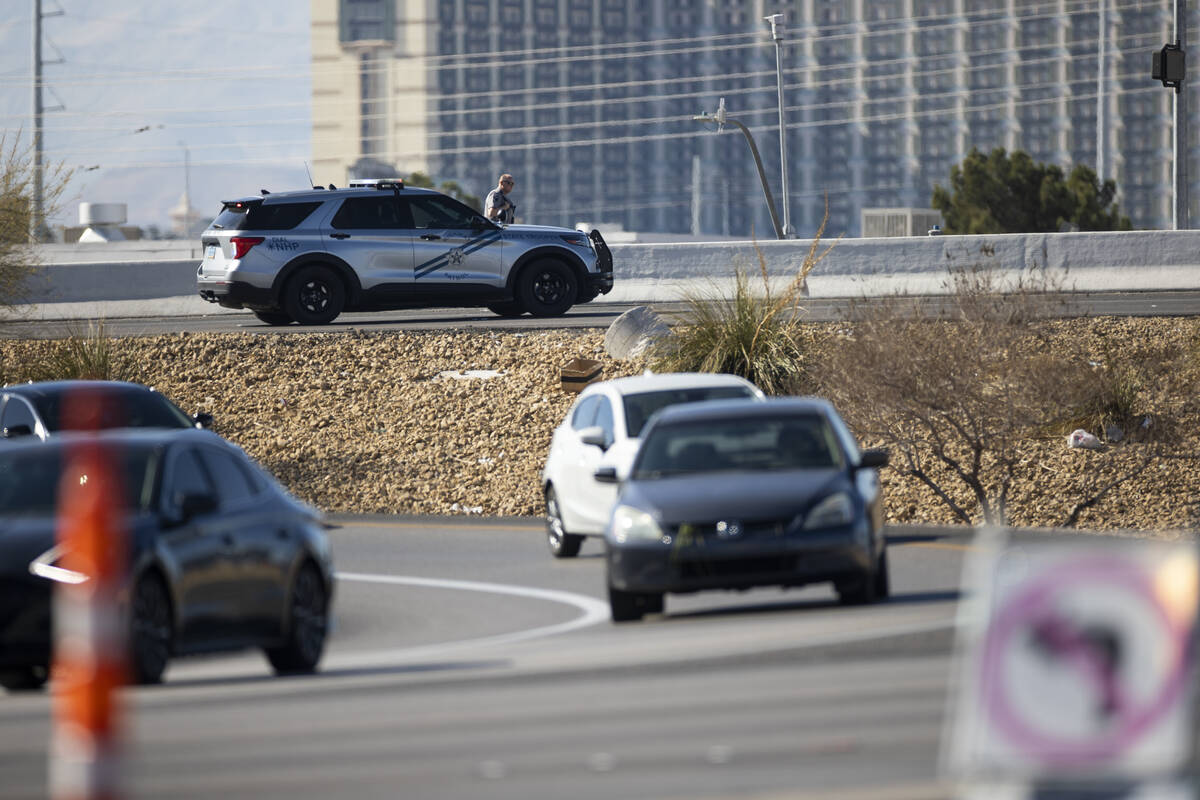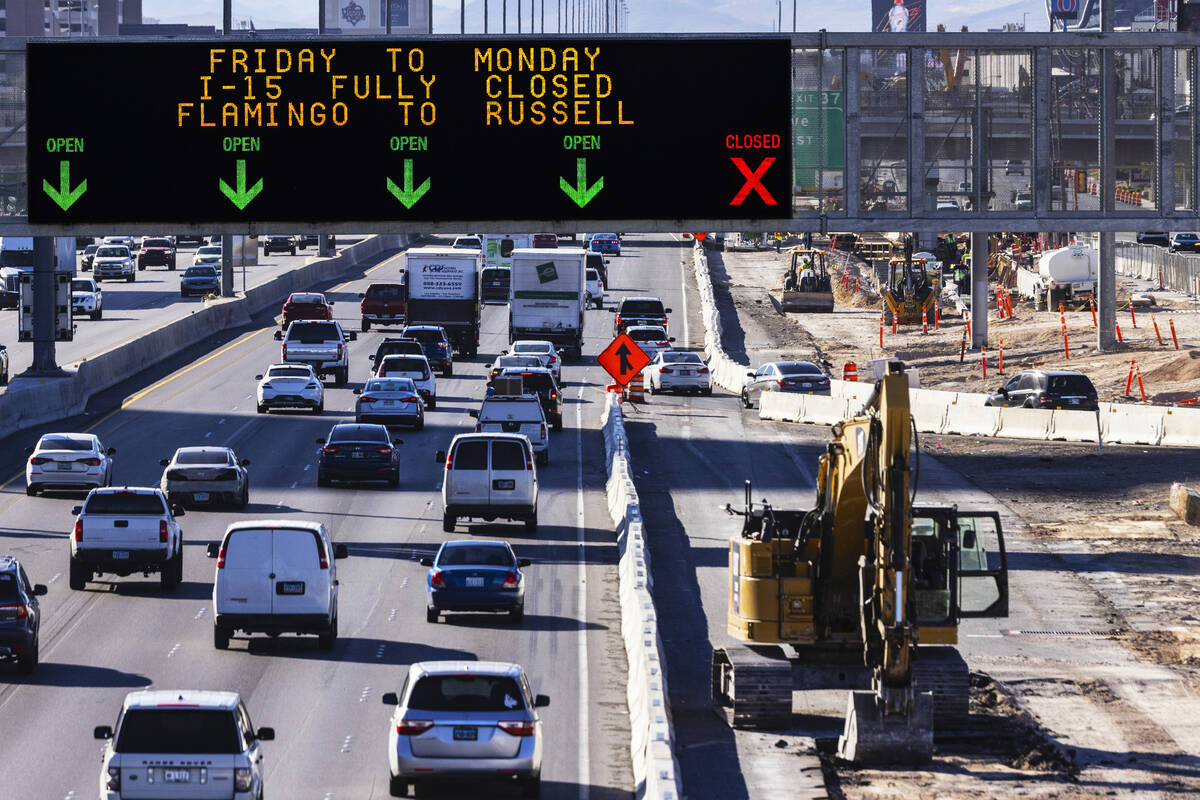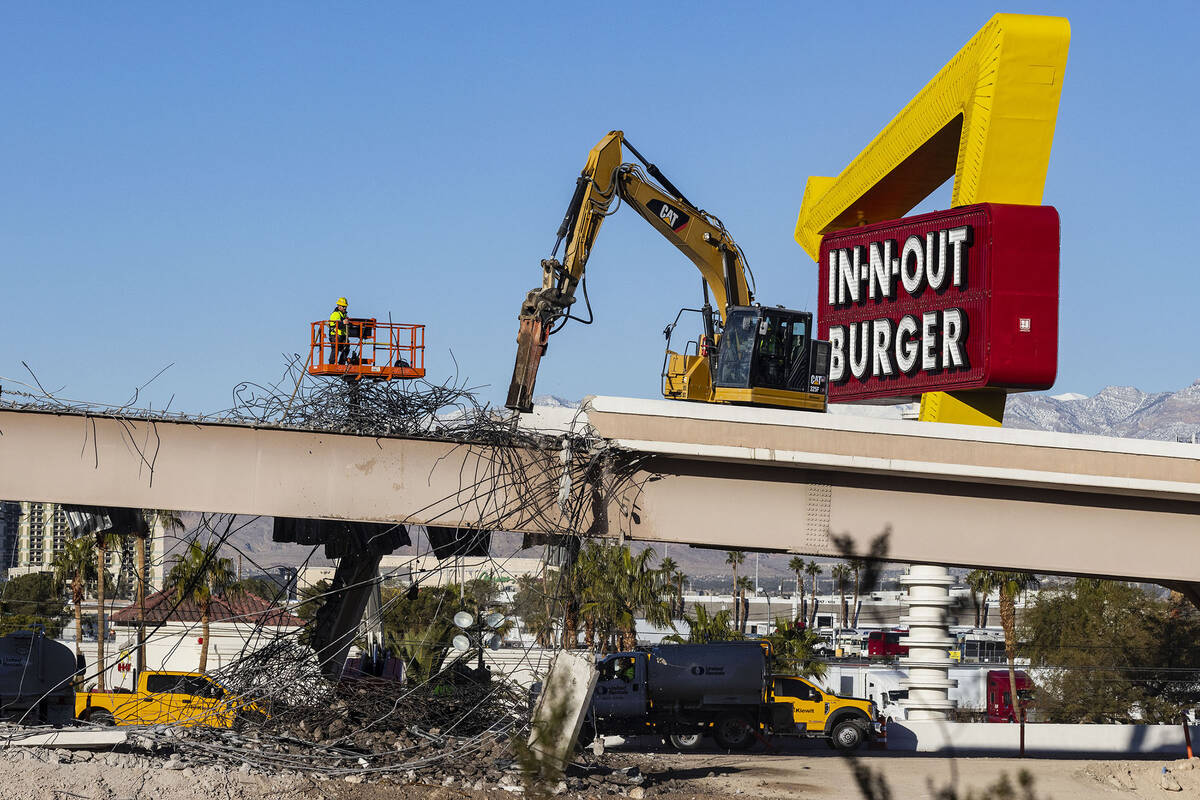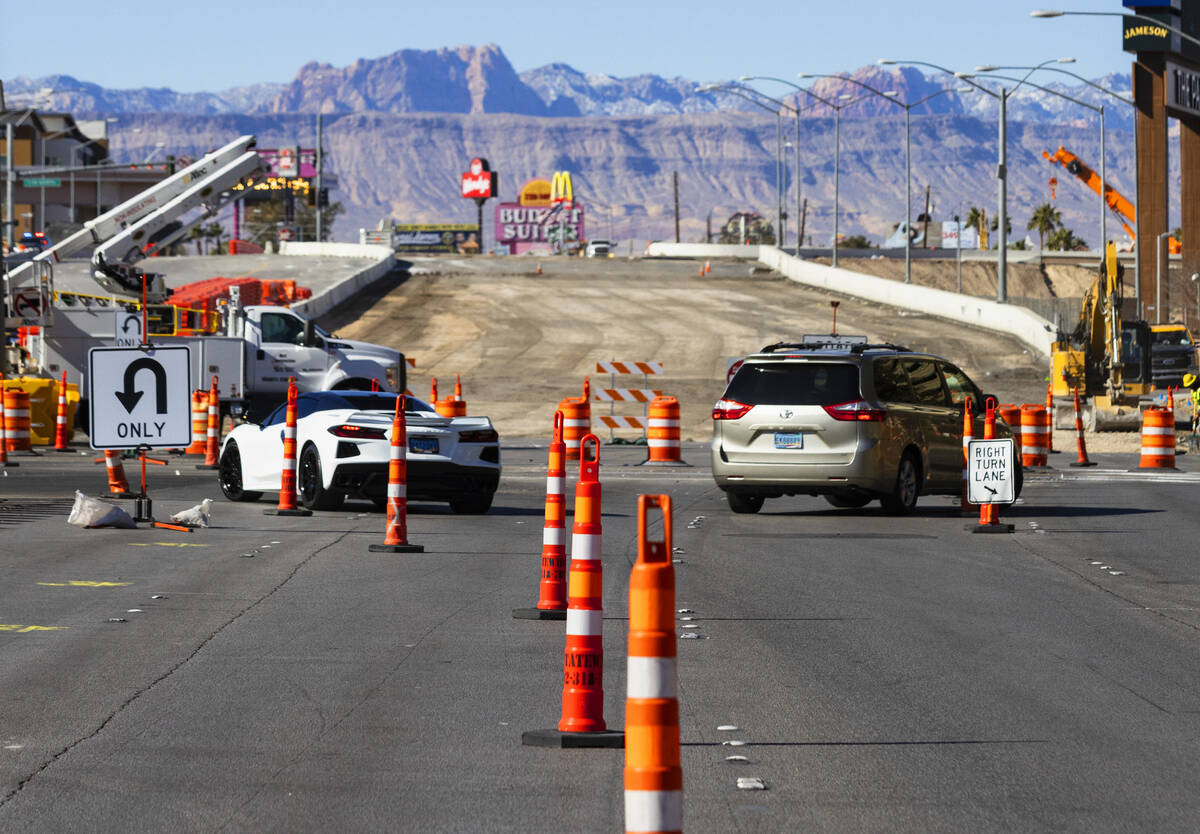 Motorists wanting to travel on Interstate 15 near Tropicana Avenue this weekend will have to detour their plans.
I-15 closed at 10 p.m. Friday to vehicle traffic between Russell and Flamingo roads and will stay that way through 5 a.m. Monday to allow crews to tear down the north half of the Tropicana Avenue bridge over the interstate, the Nevada Department of Transportation said.
WATCH LIVE: Live cam of Dropicana project, surrounding traffic
"During the closure, there will be posted detours at Russell and Flamingo. However, detour routes are expected to fill up quickly," department spokesman Justin Hopkins said. "Drivers are encouraged to avoid the area if possible or use a navigation app, such as Waze, to reroute past backups."
Drivers on northbound I-15 can exit at Russell, go west to Decatur Boulevard, north to Flamingo and then east back to the freeway. Drivers on I-15 southbound can do the opposite: Exit at Flamingo, go west to Decatur, south to Russell and then east back to I-15. Other north-south alternates include the Airport Connector and Valley View, Jones and Rainbow boulevards.
NDOT and local law enforcement will collaborate to staff detour routes with uniformed personnel and marked patrol vehicles. The Regional Transportation Commission will monitor traffic in the area around the clock during the closure and will adjust signal timing as necessary to mitigate congestion.
The Transportation Department also worked with California, Utah and Arizona officials and the Las Vegas Convention and Visitors Authority to warn tourists and resort corridor employees of the closure.
The Tropicana bridge over I-15 will be rebuilt taller, wider and longer, allowing for additional capacity and increasing safety for drivers and pedestrians.
Tropicana has been shuttered to traffic since Jan. 23, and when it reopens on Monday it will be reduced to two lanes in each direction.
The I-15 southbound offramps to Tropicana are closed for several months as the bridge and flyover ramp are rebuilt.
The $305 million I-15/Tropicana project will enhance traffic flow in and around the Tropicana interchange, improve travel time and reliability on I-15 and Tropicana, increase safety for all road users and make it easier to access the resort corridor and Allegiant Stadium.
Once completed, Tropicana will go from three lanes to four in each direction and the left turn lanes from Tropicana to I-15 will be increased from two to three.
A high-occupancy vehicle lane half-interchange will be added on the south side of the Harmon Avenue bridge, adding a new access point to the resort corridor from I-15.
Dean Martin Drive will be rerouted under Tropicana, nixing the traffic signal at Tropicana, to improve traffic flow in the area.
The I-15 exit to Frank Sinatra Drive will be increased to two lanes, and five new dynamic messaging boards will be added on I-15 between Warm Springs Road and Tropicana.
Plans also call for the addition of a pedestrian walkway between Tropicana and Arena Drive, creating a new path for pedestrians heading to and from T-Mobile Arena.
Work on the project began in May and is expected to continue until early 2025.
Contact Mick Akers at makers@reviewjournal.com or 702-387-2920. Follow @mickakers on Twitter.