Hyperloop One triumphant in system test at Apex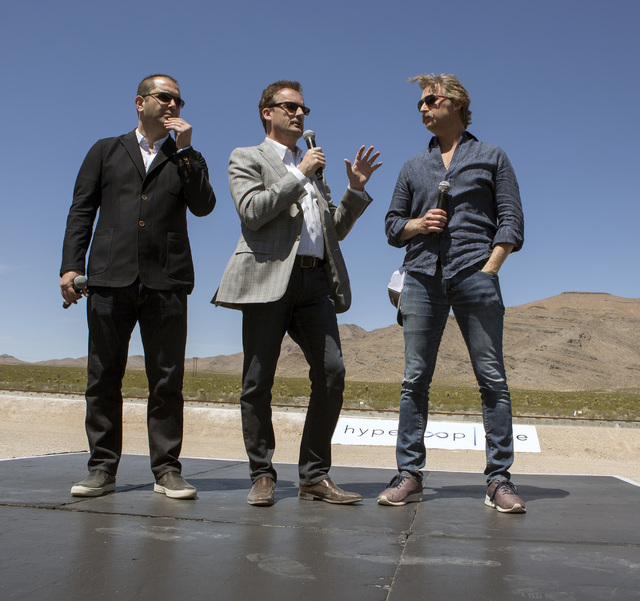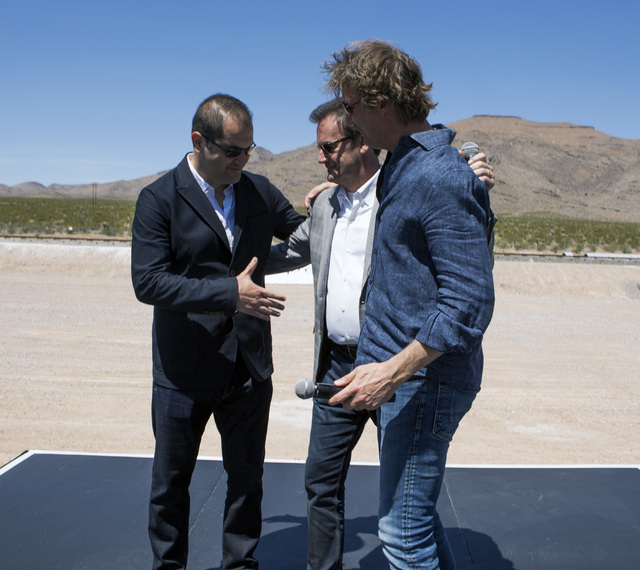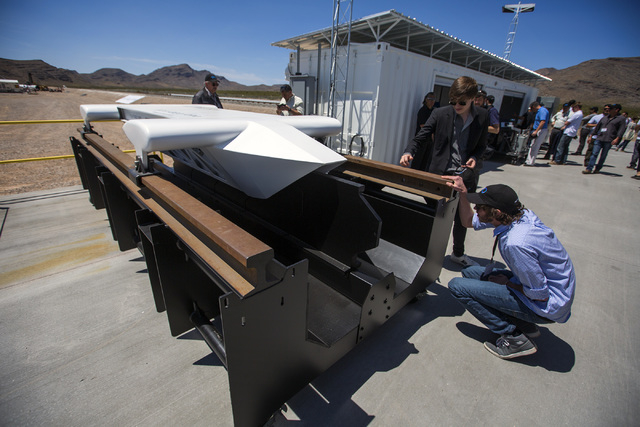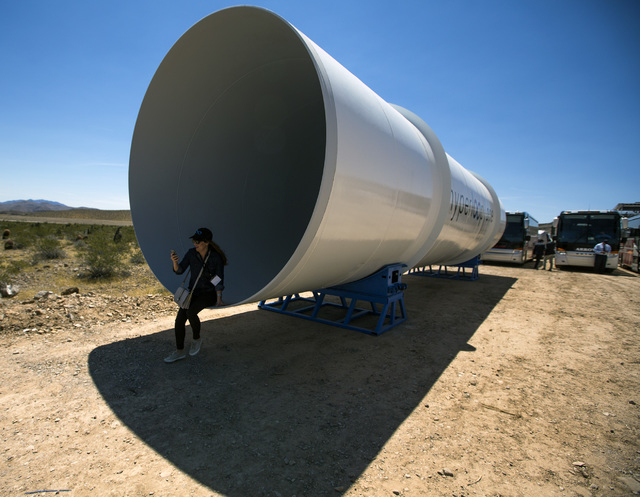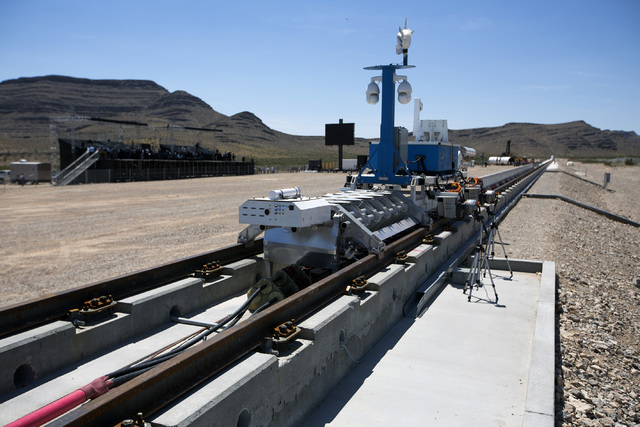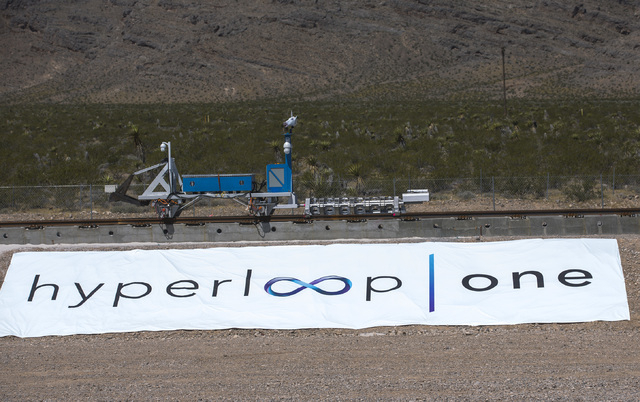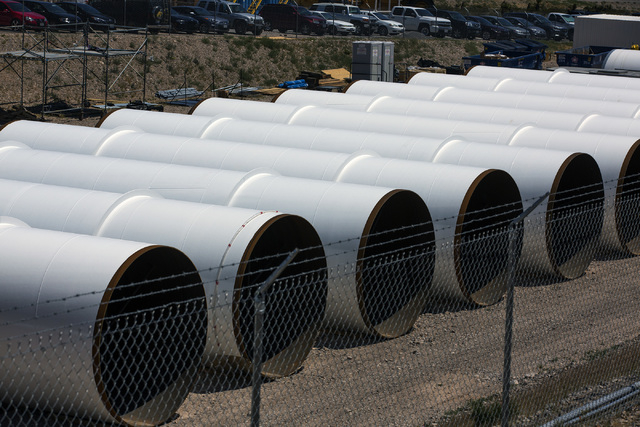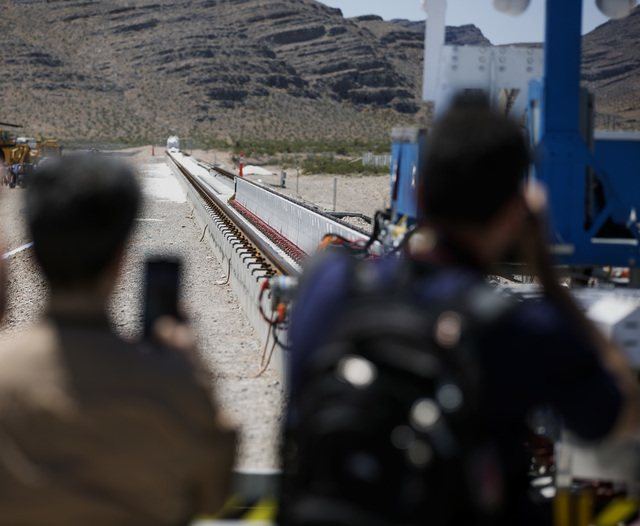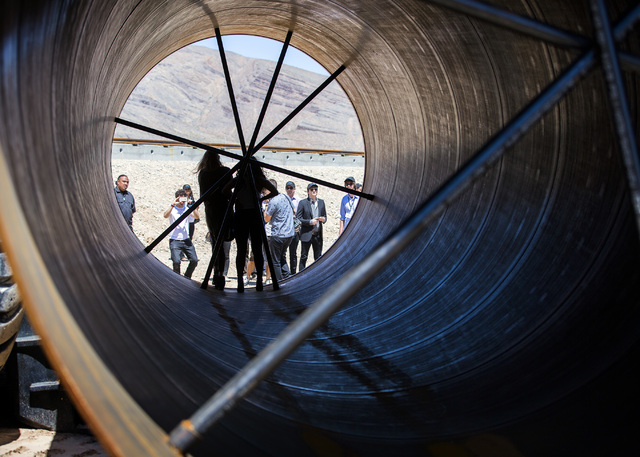 Hyperloop One executives were well aware of Tuesday's historical significance when they announced details of their futuristic transit system that was publicly tested at Apex on Wednesday.
By all accounts, the test was a huge success.
And company officials hinted that they may look to another significant anniversary for their next big event this year.
After explaining the system and retelling some back stories Tuesday, Hyperloop One Executive Chairman Shervin Pishevar, Chief Technology Officer Brogan BamBrogan and CEO Rob Lloyd on Wednesday gave 500 journalists and VIPs what many of them traveled thousands of miles to see — a live test of a system that eventually would whisk passengers and cargo at more than 700 mph through metal tubes from one location to another.
If a system is successfully developed, it could dramatically change transportation, competing with airlines for speed and trucks and trains for moving goods.
After a 45-minute bus ride from the Strip, the company's guests arrived at a remote corner of Apex Industrial Park, northwest of Las Vegas, and were escorted to a covered grandstand to witness a test that would take about 5 seconds.
People saw images of workers in a control center on a video screen as the test sled was moved into position. Following a 10-second countdown, the sled accelerated by more than twice the force of gravity to 100 mph in 1.1 seconds.
After the initial acceleration, the magnetically levitated vehicle dropped to a rail track and was slowed in a deceleration pit, spraying sand as the sled came to a stop about 100 meters up the 3-kilometer track.
The crowd cheered, and the interviews began.
"It's great to see North Las Vegas at the cutting edge of technology," North Las Vegas Mayor John Lee said after the test.
Lee sees Hyperloop transportation as a means to someday live almost anywhere with a quick commute to a job site hundreds of miles away.
Lloyd confirmed that as Hyperloop gears up for its next milestone, more employees will be making Southern Nevada their home.
With the propulsion system tested, the number of employees will expand to 50 to 65 in the state with more construction workers arriving to build a tubed track along a transportation right-of-way near the propulsion test site.
Lloyd said he is confident the company will be ready to begin construction of a system next year, transport cargo by 2019 and have it ready for passengers by 2021.
The tube track will create a low-pressure environment, enabling the removal of wind resistance and provide a ride developers say will be as smooth as moving from floor to floor in an elevator.
On Tuesday, the team revealed several details about the project, including a name change — it had been Hyperloop Technologies — on the 147th anniversary of the driving of the golden spike establishing the nation's first transcontinental railroad.
Pishevar, BamBrogan and Lloyd gave a history of how they had arrived at the stage of downtown Las Vegas' futuristic Cleveland Clinic Lou Ruvo Center for Brain Health building.
BamBrogan worked at private rocket company SpaceX with technology innovator Elon Musk, who determined he was too busy to develop Hyperloop with SpaceX and electric car manufacturer Tesla already on his plate. Musk decided to place his concepts of Hyperloop into open source, meaning he would provide project specifications publicly, enabling other teams to complete the detail work and testing.
That's when BamBrogan and and Pishevar connected.
The first lab was BamBrogan's garage and over time, Hyperloop built a team of 150 engineers and employees to produce its concept in its downtown Los Angeles headquarters.
Nevada entered the picture in December when Hyperloop selected Apex to build an open-air track for testing the vehicle. Hyperloop was somewhat overshadowed in their work because they arrived just before Faraday Future came on the scene. As lawmakers met in special session to iron out the details of a tax-saving incentives package to lure a factory to Apex, Hyperloop was moving equipment and building about 2 miles away from the Faraday site.
In just under five months, Hyperloop got to where it is today, demonstrating the concept for the public.
Other companies worldwide took notice and after the Hyperloop executives shared their story, representatives of seven of them explained how Hyperloop will change their way of doing business.
The ideas are endless. Although Hyperloop is dependent on straight lines of tube because of its high speeds, tunneling through mountains is easier because of the significantly smaller bore required when compared with train and highway tunnels.
Because Hyperloop could hypothetically be built underwater, ports could be built a distance offshore instead of on a shoreline.
The company also made announcements Tuesday of the closing of $80 million in new financing for future projects, including an investment from SNCF, the French national rail company and one of the major forces behind high-speed rail in Europe.
The company also introduced the Hyperloop One Global Challenge, an opportunity for individuals, companies and governments to develop competitive proposals for using the first Hyperloop One system on transport corridors in their regions. Submission deadline is Sept. 15 and Hyperloop One, which will offer technical support, and an expert panel will select by March the projects that best demonstrate Hyperloop's use and are most likely to gain government, financial and regulatory support.
Connekt Netherlands, an independent network working to improve mobility in that country, has announced a Dutch National Hyperloop Competition.
What's next for the company?
It's likely to be the "Kitty Hawk moment" that Gov. Brian Sandoval referenced in March when the Governor's Office of Economic Development awarded Hyperloop $10 million in tax incentives to locate in Nevada.
Lloyd said it's easy for the public to be cynical about public-private partnerships, but he said he was sincere in his praise of Nevada, Clark County and North Las Vegas.
If Hyperloop stays on track, the Kitty Hawk moment could come Dec. 17 — the 113th anniversary of the Wright brothers made first controlled and sustained flight in an aircraft in 1903, near Kitty Hawk, North Carolina.
Contact Richard N. Velotta at rvelotta@reviewjournal.com or 702-477-3893. Find him on Twitter: @RickVelotta.
RELATED
Hyperloop Technologies expected to win $9.2M in economic incentives
Governor shows zeal for being first Nevada Hyperloop passenger