Sunset Flag Football: Jordan Ford powers Shadow Ridge past Palo Verde
February 20, 2018 - 9:08 pm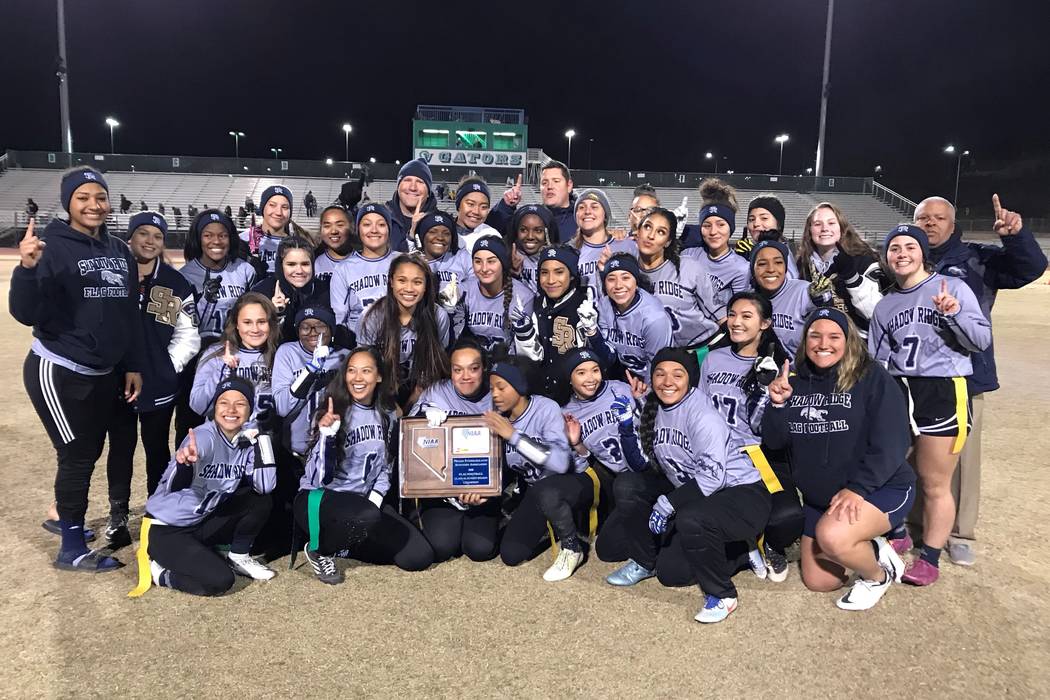 Shadow Ridge senior running back Jordan Ford doesn't know why opposing defenses can't stop her.
But she doesn't seem to mind.
Ford rushed for 245 yards and three touchdowns on 35 carries in an 18-6 victory over Palo Verde in the Class 4A Sunset Region championship game at Green Valley High on Tuesday.
Ford has 4,350 rushing yards and 54 touchdowns this season, and no, those are not typos.
Both marks are actually state records, and Ford will have a chance to immortalize her season in the Class 4A state championship game at 6 p.m. on Thursday against Coronado at Cimarron-Memorial High School.
"I have good blockers, my (offensive) line is amazing," Ford said. "I just take off, make one girl miss and I'm off to the races."
Shadow Ridge coach Matt Nighswonger tailored his offense around Ford, who sprints for the Mustangs' track team in the spring. He said was optimistic about reaching the state championship game before the season, knowing he had the personnel to succeed.
And his players responded by buying into their roles as blockers.
"They really embraced the role of 'We're going after them,'" he said. "Everyone knows what we're doing, but we're going to keep coming after you and keep coming after you."
Shadow Ridge (17-5) handed the ball to Ford seemingly every play Tuesday night, and the Panthers couldn't stop her as the Mustangs scored 18 unanswered points over three-and-a-half quarters.
Palo Verde (16-3) struggled to sustain drives, meaning more and more Ford for Shadow Ridge.
"This has been a goal of mine for two years now," she said. "This year, in the beginning, I was like 'We have the talent to make it.'"
Yes, they do.
Contact reporter Sam Gordon at sgordon@reviewjournal.com. Follow @BySamGordon on Twitter.
Box score: