Dan Barnson getrs 100th coaching win for Arbor View
October 18, 2018 - 11:02 pm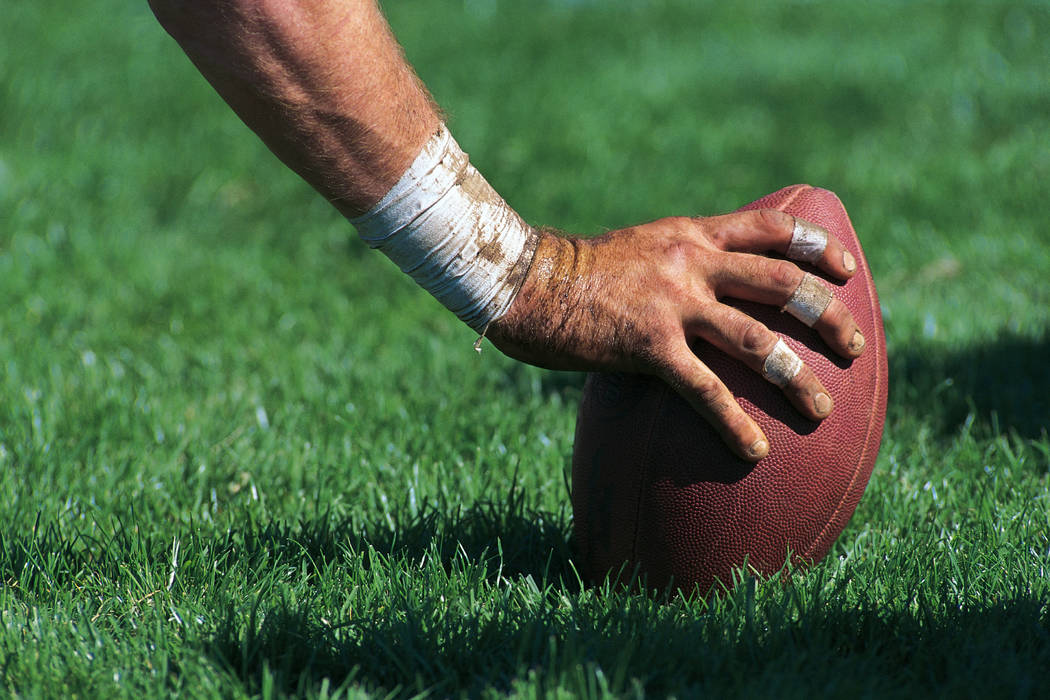 Dan Barnson got an early post-game shower, before he ever left the field at Arbor View High, courtesy of senior tackle Seth Johnson.
The bucket dump of water over Barnson's back came in celebration of the Aggies coach, who on Thursday notched his 100th victory at ARbor View — a 39-15 rout of Shadow Ridge.
The victory also was the 25th in a row for the Aggies in the Northwest League dating back to 2013.
"This is so not me," Barnson said. "I hoped, I had that vision. I dreamed it. But 12 years ago, I never would have thought this."
Arbor View (8-1 overall, 5-0 league) got this one done completely on the ground, grinding out 339 yards of offense, all rushing.
The Aggies did it with their starting quarterback, Logan Bollinger, looking on from the sidelines. Bollinger suited up, but he did not play a down a week after rolling his ankle.
While Barnson said the senior could have played if necessary, Arbor View was determined to keep him off the field for precautionary reasons. With backup Trenten Walters also unavailable, that left the signal-calling to sophomore Jack Barnham, who made his first varsity start and managed the offense deftly all night.
"Jack did great," Barnson said. "His first varsity football game starting, and with all the distractions."
The coach going after win No. 100 — the threshold, incidentally, to be listed among the top coaches in the history of Nevada — was just one of the distractions Arbor View faced. It also was a television game, and Homecoming.
"My high school coach, Horace Smith, even came tonight," Barnson said. "You know, I've been coaching in the Las Vegas area for 27 years, the last 12 as a head coach. When I got that first job, that first year at Rancho, I wanted to be a head coach. I interviewed to be a head coach and thought I was ready. I so was not.
"When this opportunity came along, it was at just the right time. Our principal Pat Hayden hired me. He passed on. They've kind of let me run with it."
Thanks to his big running backs and solid blocking up front, first-time starter Barnham didn't have to do too much against the Mustangs. He attempted just one pass the entire game.
On the ground, Daniel Mitchell carried the ball 15 times for 171 yards and two touchdowns. Kyle Graham added 95 yards and a touchdown on 17 carries. And Justin Hausner chipped in with 68 more yards and a TD on six rushes.
Mitchell got the scoring started, capping a quick four-play, 70-yard opening drive with an 11-yard scoring run to make it 7-0 with 10 minutes, 48 seconds to go in the first quarter.
"They were trying to key (on me)," Graham said. "So we switched some things up."
By the end of the first 12 minutes, it was 14-0.
Still, Arbor View led it just 17-15 at the half thanks to two short scoring plunges from Mustangs quarterback Kody Presser, the last with just 26 seconds to go in the second quarter. Presser scored the touchdowns, but it was Xavier Gomez who led the attack for Shadow Ridge (5-5, 2-4), rushing for 165 yards on 18 carries.
"We made a few adjustments at halftime defensively," Barnson said. "I told them, we'll come out and be just fine."
Box score:
Arbor View 39, Shadow Ridge 15