Roundup: Foothill knocks off Las Vegas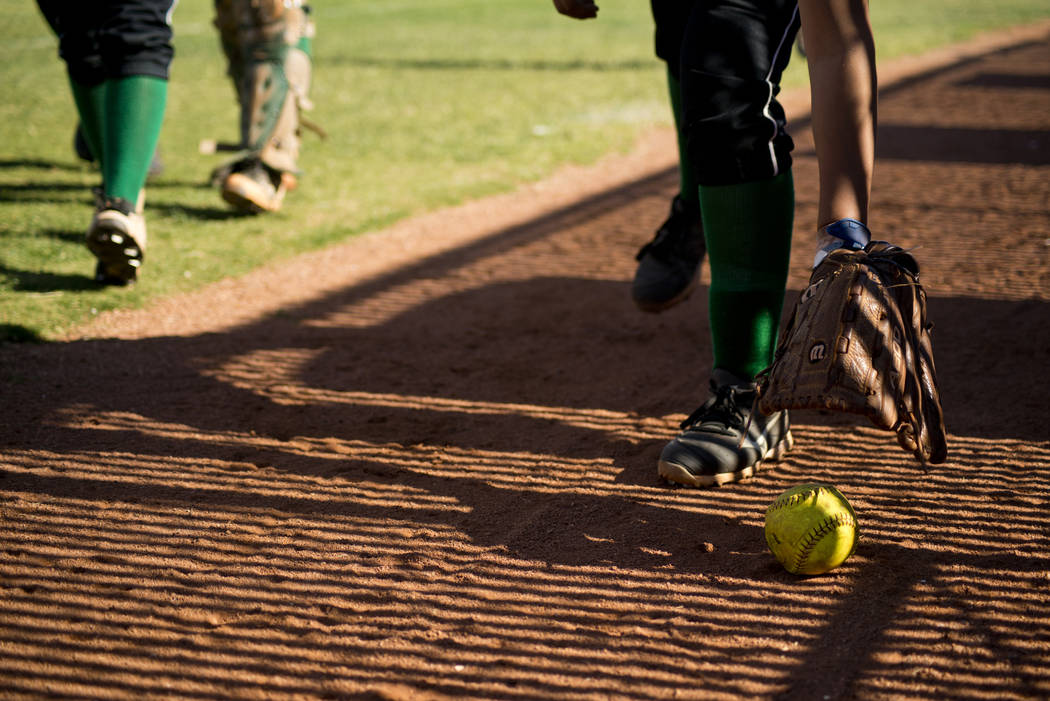 Morgan Matsumoto went 2-for-3 with an RBI Monday as Foothill's softball team defeated host Las Vegas, 8-4.
Foothill's Allie Fox tossed a complete game to earn the victory. Leah Becker also hit a double.
Leslie Camacho and Melina Fabian each went 2-for-4 for the Wildcats.
Basic 9, Green Valley 3 — At Green Valley, the Wolves scored eight unanswered runs in the fifth inning as they defeated the Gators.
Basic winning pitcher Shelby Basso went 2-for-4 with a double and two RBIs. Angela Santillanes hit a double and had four RBIs, Lauren Koshak went 2-for-4 with an RBI, and Mikayla Berg hit a triple for Basic.
Cinthia Garcia went 2-for-3 with a double and an RBI for the Gators, and teammates Katrina Ramos and Savannah Fabro each hit an RBI single.
Sierra Vista 11, Boulder City 3 — At Sierra Vista, Jazmyn Martinez was 3-for-3 with a homer and five RBIs as the Mountain Lions took down the Eagles.
Mia Buranamontri had a home run and triple, and Ryan Watkins and Aaliyah Medina each doubled for Sierra Vista.
Ryann Reese and Ashley Wishard scored Boulder City's runs.
Faith Lutheran 13, Arbor View 3 — At Faith Lutheran, Audrey Kirsch had a grand slam and seven RBIs as the Crusaders beat the Aggies in five innings.
Maggie Whipple, Grace Hornsby, Kelsey Howryla and Natalie Behmer each doubled for Faith Lutheran.
Caitlin Livreri had a double for Arbor View.
Palo Verde 21, Centennial 3 — At Centennial, Grace Chavez was 4-for-4 with a home run, double and six RBIs as the Panthers blew out the Bulldogs in five innings.
Lauryn Barker was 5-for-5 with a home run, two doubles and two RBIs for the Panthers.
Centennial led 3-1 after one inning, but Palo Verde scored nine runs in the third inning and 11 in the fifth.
Cimarron-Memorial 24, Legacy 0 — At Legacy, Mya'Lia Bethea was 3-for-3 with two doubles, a triple, four RBIs and three runs as the Spartans routed the Longhorns in three innings.
Diona Whitley had a double, five RBIs and four runs for the Spartans, and winning pitcher Nikki LaBounty had a double and four RBIs.
Cimarron's Shelby Telford was 4-for-4 with three runs, and teammate Kylie Sharapan scored three times. Tiarra Del Rosario had three RBIs for the Spartans.
Liberty 15, Eldorado 0 — At Liberty, Morgan LaNeve and Jordan LaSpina each hit a homer as the Patriots beat the Sundevils in three innings.
McKenzie LaNeve was 3-for-3 with two doubles, four RBIs and three runs for the Patriots, and Shelby Carvalho double, tripled and scored twice.
Liberty's Jasmine Gonzalez was 3-for-3 with three runs, and Jessica Meza was 2-for-2 with two runs and an RBI.
Coronado 16, Valley 0 — At Valley, Veronica Jarchow hit a grand slam as part of the Cougars' three-inning rout against the Vikings.
Sydney Smith and Tatum Spangler also homered for the Cougars.
Ashley Ward allowed one hit in the complete game for Coronado.
Pahrump Valley 17, Western 5 — At Pahrump, Evandy Murphy went 3-for-4 as the Trojans rolled past the Warriors.
Pahrump Valley's Amaya Mendoza hit a double and had two RBIs and she also pitched three innings to earn the victory.
Cheyenne 19, Desert Pines 2 — At Desert Pines, winning pitcher Hannah Tennant went 3-for-4 with a double and five RBIs to help the Desert Shields beat the Jagaurs in three innings.
Victoria Rosales went 3-for-3 with a double, a triple and three RBIs, and Giovanna Bojorquez tripled twice and scored four runs for Cheyenne.
Mojave 20, Sunrsie Mountain 1 — At Sunrise Mountain, Emilee Mitton went 4-for-4 with a home run and a double as the Rattlers rolled past the Miners.
Mojave's Essence McRae went 4-for-4 with a double and a triple, Larissa Lynn went 2-for-4 with a home run, and Susana Madrigal and Jessica Ortiz each hit a double.
Felicity Crandall hit a double for the Miners.
Lake Mead 15-20, The Meadows 0-3 — At The Meadows, Josey White had three hits and five RBIs in the nightcap as the Eagles swept a pair of three-inning games from the Mustangs.
Jillian Morejon and Hannah Laine each added two hits in the finale for Lake Mead, which took advantage of 11 walks.
In the opener, Lauryn Freund tossed a one-hitter and struck out five to lead the Eagles, who got two hits from Rebekah Fuller and three RBIs from Moriah Duvall. Lake Mead scored 11 runs in the second inning to take control of the first game.
Calvary Chapel 21, Mountain View 11 — At West Flamingo Park, the Lions used a 14-run fourth inning to down the Saints in five innings.
Calvary Chapel took advantage of 22 walks.
Julia Sevilla was 2-for-3 with two triples, two runs and two RBIs for Mountain View. Jordan Spriggs went 2-for-3 with a triple, two runs and three RBIs for the Saints, who led 9-2 entering the bottom of the fourth.
Box scores:
Calvary Chapel 21, Mountain View 11
Cimarron-Memorial 24, Legacy 0
Faith Lutheran 13, Arbor View 3
Sierra Vista 11, Boulder City 3