SOFTBALL: Coronado slips past Rancho, stays undefeated in Sunrise League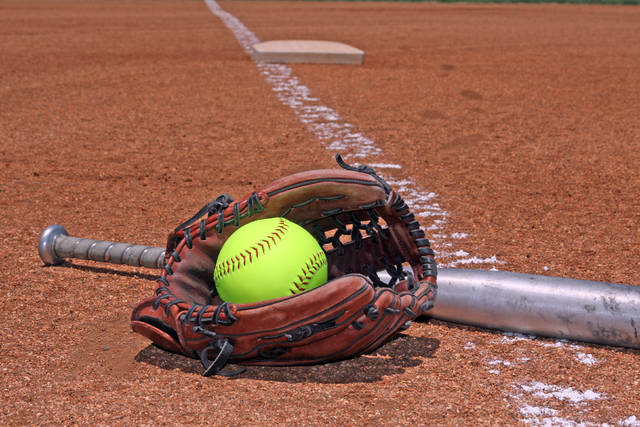 Taylor Okamura singled home Erica Hardy with the winning run in the bottom of the seventh inning Friday, as Coronado's softball team edged visiting Rancho 2-1 to remain undefeated in the Class 4A Sunrise League.
Jillian James went the distance for the second-ranked Cougars, striking out 17 while allowing three hits.
Coronado's Tatum Spangler went 2-for-3 with a run scored, and Sophia McCann had a double.
Rancho starter Sam Pochop also threw a complete game and struck out 12 batters.
Gianna Carasone added a double for the No. 5 Rams, who scored in the top of the seventh to tie the game.
Las Vegas 5, Green Valley 1 — At Las Vegas High, Angelina Visitacion tossed a complete game and went 2-for-3 as she led the Wildcats to a victory over the Gators.
Sarina Ramirez was 2-for-4 with an RBI, and Arienn Ackerman was 2-for-3 for Las Vegas.
Brooke Haney was 2-for-3 with a run scored to lead Green Valley.
Eldorado 27, Valley 11 — At Valley, Adriana Romero was 3-for-4 with a triple, four RBIs and four runs scored, and the Sundevils took advantage of 11 errors to defeat the Vikings.
Basic 25, Canyon Springs 1 — At Canyon Springs, Angela Santillanes was 3-for-4 with three doubles and six RBIs as the Wolves routed the Pioneers in three innings.
Winning pitcher Jordan Stinnett struck out five and went 3-for-3 with a homer and two RBIs, and teammate Mikayla Berg tripled and had a pair of RBIs.
Lexie Edmunds and Selicianna Lupton each doubled for Basic.
Palo Verde 5, Faith Lutheran 4 — At Palo Verde, Ally Snelling's two-run double with two outs in the bottom of the seventh inning gave the Panthers a come-from-behind win over the Crusaders.
Snelling went 2-for-4 and finished with three RBIs.
Cara Beatty was 3-for-3 with a double, and Makena Martin drove in a run for Palo Verde.
Clara Heislen was 2-for-4 for Faith Lutheran, which scored four runs in the top of the seventh to take a 4-3 lead.
Maggie Whipple had a run-scoring single, and Ryleigh Gilchrist's sacrifice fly brought the Crusaders within one run before Heislen's go-ahead hit.
Ellie Fried was 3-for-4 for Faith Lutheran.
Centennial 12, Shadow Ridge 6 — At Shadow Ridge, Jillian Bartley homered and had three RBIs as the Bulldogs took down the Mustangs.
Jaden Tate had a pair of doubles for Centennial, Kiana Tate tripled, and Jasmine Rivera and Makenzie Ball each doubled.
Centennial scored six runs in the top of the fourth to take a 10-2 lead.
Alyssa Stanley homered for Shadow Ridge, while Caitlyn Covington tripled, and Alisha Schultz added a double.
Arbor View 16, Legacy 1 — At Arbor View, Brittany Henricksen was 2-for-2 with a double, triple and four RBIs, and Taylor Beaman was 2-for-2 with a triple and four RBIs in the Aggies' three-inning win over the Longhorns.
Taylor Thomas was 3-for-3 with a double and an RBI and earned the victory in the circle, allowing one hit and striking out four.
Alexis Presser was 2-for-3 with a double and an RBI, and Jordan Farrington also doubled for Arbor View.
Durango 9, Pahrump Valley 4 — At Pahrump, Trinity Valentine hit two homers and tossed a complete game as the Trailblazers defeated the Trojans.
Raven Sargent also had a double and two RBIs for Durango.
Pahrump Valley's Amaya Mendoza and Jordan Egan each hit a double and had an RBI.
Virgin Valley 17, Del Sol 7 — At Mesquite, Jessica Barnum had four hits and drove in three runs to help the Bulldogs to a six-inning victory over the Dragons.
Savannah Price drove in three runs and was the winning pitcher, recording seven strikeouts.
Ashlee Faught had four hits, and Calee Clem added three hits for Virgin Valley.
Selena Erickson had three RBIs to lead Del Sol.
Moapa Valley 15, Chaparral 2 — At Chaparral, the Pirates defeated the Cowboys.
Losi Brown and Fernanda Rivas each hit solo home runs for Chaparral.
Pahranagat Valley 17-18, Beaver Dam (Ariz.) 0-1 — At Littlefield, Arizona, Madison Harris was 3-for-3 with a triple and four RBIs as the Panthers routed the Diamondbacks in the opening game of a doubleheader.
Kyla Shumway went 3-for-3 with two doubles and three RBIs for the Panthers, and Ashlyn Wadsworth homered.
Wadsworth struck out seven in a four-inning complete game to power Pahranagat Valley in the second game.
Lincoln County 27-18, Calvary Chapel 2-0 — At Calvary Chapel, Brynlee Wadsworth hit a pair of home runs and had three RBIs in the second game to help the Lynx to a four-inning victory and a doubleheader sweep of the Lions.
Lincoln County's Hannah Lytle tossed a one-hit shutout and struck out four batters.
Lincoln County's Macie Howard also hit a home run, Kia Phillips went 2-for-2 with two doubles and two RBIs, and Cameron Lloyd went 2-for-2 with an RBI.
In the first game, Drew Cardinal went 2-for-2 with two home runs and three RBIs, and Howard was 2-for-3 to lead the Lynx.
Calvary Chapel's Olivia Kaiser went 2-for-2 with a triple and an RBI.
Lake Mead 18-17, Mountain View 0-0 — At Lake Mead, the Eagles swept a doubleheader from the Saints.
The victory in the opener was the 500th career win for Lake Mead coach Cary Baker.
Indian Springs 8-20, Laughlin 11-14 — At Laughlin, the Thunderbirds and Cougars split a doubleheader.
Needles 27-10, The Meadows 6-0 — At Needles, California, Needles swept a doubleheader from The Meadows.
Box scores:
Lincoln County 27, Calvary Chapel 2
Lincoln County 18, Calvary Chapel 0
Pahranagat Valley 17, Beaver Dam (Ariz.) 0
Pahranagat Valley 18, Beaver Dam (Ariz.) 1
Palo Verde 5, Faith Lutheran 4