SOFTBALL: Tech blanks Mojave in five innings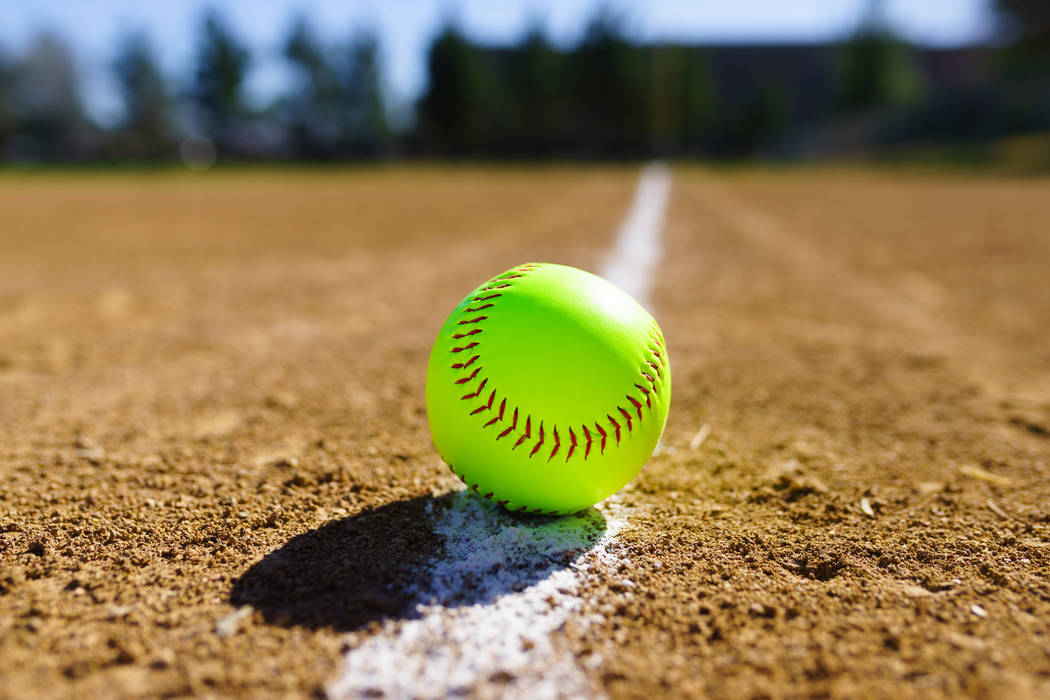 Gizele Cascos fired a one-hitter and singled, tripled and drove in two runs to lead Tech's softball to a 10-0 five-inning rout of host Mojave on Tuesday.
Melissa Fuller had two hits and two RBIs, and Hayley Makue-Vasconcellos drove in two runs for Tech, which took advantage of five errors by Mojave.
The Roadrunners iced the game with seven runs in the fourth inning after leading 3-0.
Cheyenne 11, Del Sol 0 — At Cheyenne, Madelynn Kennedy fired a one-hitter with five strikeouts and went 3-for-4 with a triple, two runs and two RBIs to power the Desert Shields by the Dragons in five innings.
Victoria Rosales was 3-for-3 with two runs and two RBIs for Cheyenne, which also got two hits from Jonnette Paddy.
Noa Bowie doubled in the fourth inning for Del Sol's lone hit.
Boulder City 16, Sunrise Mountain 0 — At Sunrise Mountain, Marleena Mills hit a grand slam and finished with seven RBIs, and the Eagles pounded the Miners in three innings.
Lily Osman tripled and drove in three runs, and Ellie Ramsey went 3-for-3 with two runs for Boulder City.
Bailey Bennett-Jordan allowed one hit and struck out six to earn the victory.
Jade Brockoven had the lone hit for Sunrise Mountain.
Moapa Valley 15, Desert Pines 2 — At Desert Pines, Daesha Stastny had four hits and pitched five solid innings to lift the Pirates past the Jaguars.
Stastny allowed eight hits and struck out five to earn the victory.
Sierra Staheli drove in two runs, and Kaitlyn Anderson finished with three hits for Moapa Valley, which scored eight runs in the top of the fifth.
Pamela Cruz had two RBIs and Laisha Sanchez added two hits for Desert Pines.
Chaparral 20, Western 2 — At Western, Losi Brown fired a three-hitter with 10 strikeouts and went 2-for-2 at the plate as the Cowboys routed the Warriors.
Fiona Togogae was 3-for-4 with three RBIs for Chaparral, which got two hits apiece from Fernanda Rivas, Sierra Shaw and Tabitha Mabry.
Pahrump Valley 17-17, Virgin Valley 2-2 — At Pahrump, Jordan Egan was 4-for-4 with a homer and four RBIs in the second game as the Trojans swept a doubleheader from the the Bulldogs with a pair of three-inning wins.
Jackie Stobbe had a triple and a double for Pahrump, and Skyler Lauver had a double in the nightcap.
Evandy Murphy's triple led the Trojans in the opener. Jill Smith, Amaya Mendoza, Samantha Riding and Skyler Lauver all doubled for Pahrump Valley.
Taylor Barnum supplied Virgin Valley's scoring in the first game with a two-run home run.
Coronado 15, Wilsonville (Ore.) 0 — At Coronado, Ashley Ward went 2-for-2 with two doubles and allowed only one hit in the Cougars' three-inning victory over the Wildcats.
Ward struck out seven and didn't walk a batter.
Taylor Okamura went 2-for-2 with a home run and four RBIs, and Tatum Spangler was 3-for-3 with three RBIs.
Dylan Underwood finished 2-for-2 with a triple and an RBI for Coronado.
Rancho 15, Eldorado 0 — At Rancho, Gianna Carosone went 3-for-3 with a triple and three RBIs, and Kaitlyn Suarez drove in three runs to help the Rams beat the Sundevils in three innings.
Yvette Sanchez went 1-for-2 with two RBIs for Rancho.
Rancho pitcher MacKenzie Perry allowed three hits and struck out two to earn the victory. Perry also went 2-for-2 with two RBIs.
Centennial 17, Cimarron-Memorial 2 — At Centennial, Maddie Kallfelz smacked a grand slam as part of a 10-run third inning and finished with three hits and seven RBIs to power the Bulldogs past the Spartans in three innings.
Rhea Paiva had three hits and three RBIs, and teammate Kiana Carter added a two-run homer for Centennial, which got two doubles and an RBI from Brianna Benoit.
Amanda Sink earned the win for the Bulldogs, fanning 10.
Kaeley Roldan had Cimarron's lone single.
Faith Lutheran 15, Legacy 0 — At Faith Lutheran, Clara Heislen went 3-for-3 with a double, triple and five RBIs, and the Crusaders blanked the Longhorns in four innings.
Haley Jack was 2-for-3 with three RBIs, and Audrey Kirsch was 2-for-3 with a double and two RBis for Faith Lutheran.
Sophie Foster allowed one hit and struck out seven to earn the victory.
Kiana Ting went 1-for-2 for Legacy.
Spring Valley 11, Bonanza 1 — At Bonanza, Madison Hood tossed a complete game, scattering five hits, and added two hits at the plate to guide the Grizzlies past the Bengals.
Teegan Teal supplied three hits for Spring Valley, which scored four runs in the first inning.
Kaitlyn Vielman and Samantha DeMattie each had two hits to pace Bonanza.
Sierra Vista 15, Clark 0 — At Clark, Harmony Dominguez didn't allow a hit in three innings and struck out five in the Mountain Lions' victory over the Chargers.
Kalei Watkins was 3-for-3 with a triple and five RBIs, and Ryan Watkins hit a bases-clearing triple in the first inning and finished with four RBIs for Sierra Vista.
Aaliyah Medina added three RBIs, including a two-run single in the top of the third.
Marist Catholic (Ore.) 12, Bishop Gorman 2 — At Gorman, Ariel Carlson earned the win and had a double and a triple at the plate to give the Spartans a win over the Gaels in five innings.
Abby Doerr smacked a three-run home run in the fifth inning for Marist Catholic, which got three hits from Maggie Stevenson.
Darian Pancirov had an RBI double for Gorman.
Pahranagat Valley 4, Lake Mead 1 — At Alamo, winning pitcher Kaitlyn Davis scattered five hits over seven innings with four strikeouts and drove in three runs to lead the Panthers past the Eagles.
Kyla Shumway and Madison Harris each supplied a triple for Pahranagat Valley.
Josey White was 3-for-3 with a triple and an RBI for Lake Mead.
Indian Springs 23, The Meadows 13 — At Indian Springs, Faith Prine had three hits and three RBIs, and Hailey Linfoot drove in two runs to lead the Thunderbirds to a five-inning win over the Mustangs.
Kayla Noyes added three hits for Indian Springs, which scored seven runs in the bottom of the fourth inning to erase a 10-9 deficit.
Hillary Giang had two RBIs, and Helen Tian had two hits for The Meadows.
Needles 12, Laughlin 2 — At Needles, California, Kourtney Fletcher spun a five-inning no-hitter with 11 strikeouts as the Mustangs defeated the Cougars.
Brenna Chavez supplied two hits and an RBI for Needles, which also got a two-run double from Jaycee Fragoso.
Box scores:
Boulder City 16, Sunrise Mountain 0
Centennial 17, Cimarron-Memorial 2
Coronado 15, Wilsonville (Ore.) 0
Indian Springs 23, The Meadows 13
Marist Catholic (Ore.) 12, Bishop Gorman 2
Moapa Valley 15, Desert Pines 2
Pahranagat Valley 4, Lake Mead 1
Pahrump Valley 17, Virgin Valley 2
Pahrump Valley 17, Virgin Valley 2