Las Vegas targets downtown high-rise short-term rentals
February 16, 2018 - 4:09 pm
Updated February 16, 2018 - 7:57 pm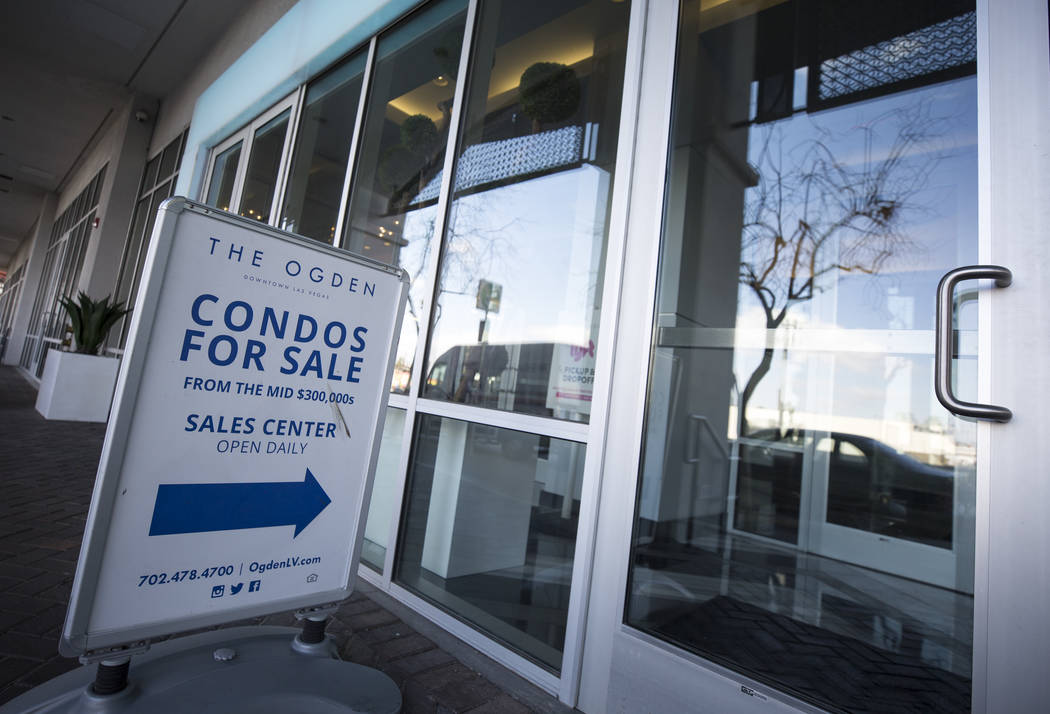 The party's over in downtown high-rises — that's the message Las Vegas officials sent this week as the city continues to crack down on short-term rentals.
The Las Vegas Planning Commission on Tuesday shot down nine applications for short-term rental licenses in a downtown Las Vegas high-rise, as residents complained that unlicensed short-term rentals in The Ogden have created issues from noise to broken glass in the pool.
"I want you to know your city is working very hard on your behalf," Planning Commissioner Christina Roush said. "The message is going out loud and clear: Fines will be imposed."
Short-term rentals have riled permanent residents as home-sharing platforms such as Airbnb have surged in popularity. In Las Vegas, the rentals were widely labeled the "party house" problem, places where Sin City revelry was spilling off the Strip and out of downtown resorts and into residential areas.
City officials made changes last year in the approach to short-term rentals, broadening the council's oversight of who gets licenses and where, launching a hotline for complaints and requiring home-sharing companies to provide the city with quarterly data on bookings.
Critics have questioned whether it makes sense that one new rule — a requirement that short-term rentals be no closer than 660 feet from each other — applies to high-rise apartment buildings.
The Las Vegas City Council approved a short-term rental license for one unit in The Ogden in November. Because of that move, anyone else in the building who wants to rent out their condo for fewer than 30 days needs a waiver from the city.
"It doesn't matter if it's up, down, McNeil Estates … this is for the entirety of the city of Las Vegas," Planning Commissioner Vicki Quinn said. "There's one per 660 feet. The party is over at The Ogden. That's it."
The City Council approved the new rules in June, but the issue with short-term rentals at The Ogden didn't fully come to light until months later, said Uri Vaknin, a partner with KRE Capital, which bought The Ogden in 2013.
Stephen Paddock killed 58 people and injured hundreds more when he aimed a barrage of gunfire at Route 91 Harvest festival-goers from his Mandalay Bay suite on Oct. 1, but police said he had rented a condo at The Ogden overlooking downtown's Life is Beautiful festival the weekend before.
"At that point it came to light there were a lot of Airbnbs in the building that were unlicensed," Vaknin said. "Residents were very upset, so we pulled the city in and had an open forum."
The covenants, conditions and restrictions that buyers at The Ogden sign with the homeowners association don't disallow short-term rentals or specify a minimum time for renting out condos in the building, Vaknin said.
"What that does, by default, is allow for short-term rentals," Vaknin said.
Because the covenants don't rule out short-term rentals, like some governing other Las Vegas developments do, the association "can't police Airbnbs," but it has given building access to city code enforcement, Vaknin said.
Las Vegas city code enforcement has 45 open investigations at The Ogden.
When code enforcement verifies a condo or home is being rented without a license, the city sends a cease-and-desist notice. Since July, code enforcement has received 204 complaints on short-term rental activity in the city and has issued 111 cease and desist letters.
After the notices are issued, the city can fine short-term rental operators $500 per day that they continue renting their space without a license and can levy $180 failed-inspection fees.
Some prospective owners at The Ogden voiced their interest in renting out their condos, Vaknin said.
"We have told them 'you probably can't do this,' and they closed anyway," Vaknin said.
Julie Davies wanted to list her Ogden unit for home-sharing but backed off after the city passed stricter occupancy rules last year because it doesn't make sense anymore, she said.
But some people in Las Vegas haven't been aware of the rules, she said.
"I can understand from the perspective of the city, but it's heartbreaking for these people," Davies said of the denied applications. "People get into it and they make a major investment, and then they realize it's harder than they thought."
Attorney Matthew Sibert, who represented several of the nine Ogden owners whose applications the Planning Commission rejected, said he thinks there is a solution that will allow short-term renters and owners to co-exist at downtown high-rises.
"There's a way we can create a framework to make this work without all this animosity, which I think is currently taking over the building," Sibert said.
Las Vegas Planning Commission Chairman Sam Cherry wasn't in favor of even the one short-term rental license the city granted in The Ogden.
"No one can say this body doesn't look at these and approve some," Cherry said of the Planning Commission. "I still haven't heard a good, clear solution for how a short-term rental can work in a high-rise. It's not just The Ogden."
The city had received several complaints about issues short-term rentals were causing at The Ogden, and "we were working on it," said Councilman Bob Coffin, who represents that part of downtown.
"I knew this would happen if we let one in there," Coffin said. "This is a back door to making hotels out of these places, and it's not fair to the residents."
Contact Jamie Munks at jmunks@reviewjournal.com or 702-383-0340. Follow @Journo_Jamie_ on Twitter.
Related
Short-term rental companies must report data to Las Vegas
New ordinance will help Las Vegas regulate short-term rentals
Las Vegas short-term rental hotline has busy first month