Trump meets with Wynn CEO during business roundtable
Updated April 29, 2020 - 6:41 pm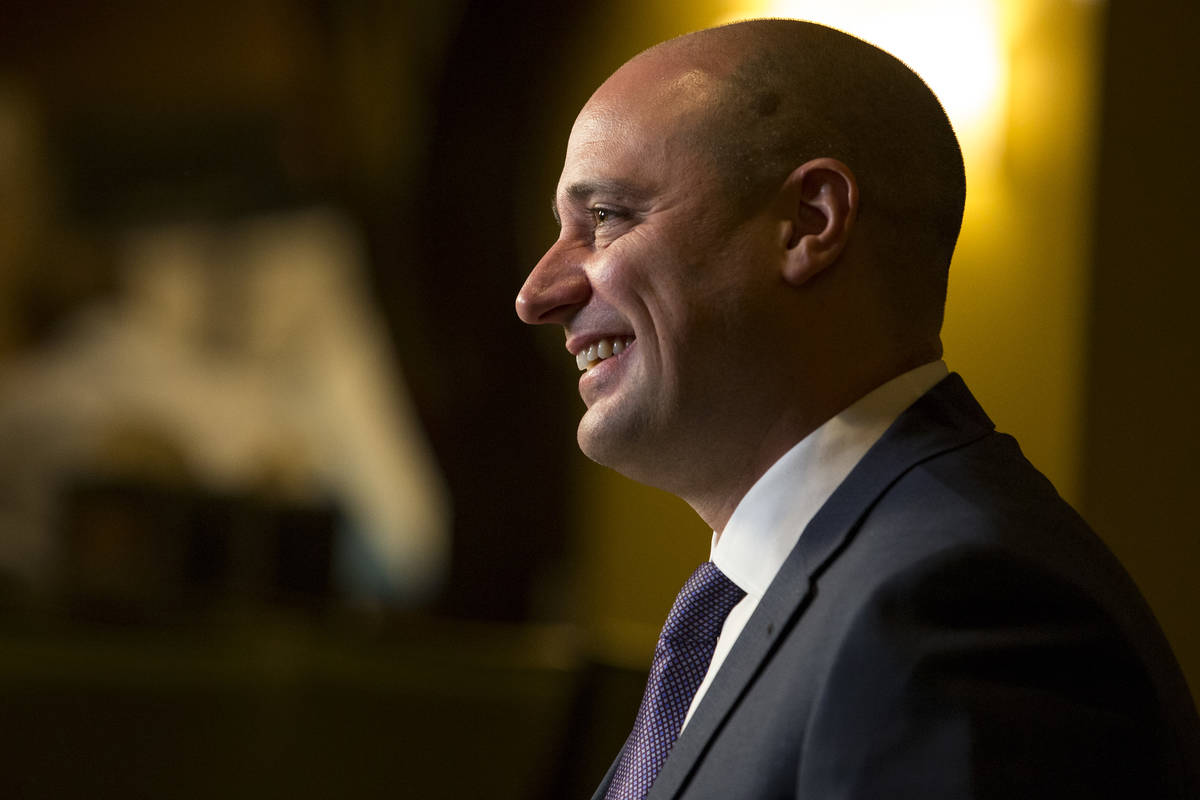 WASHINGTON — President Donald Trump posed one of his favorite questions — when will the Strip open? — Wednesday during a business roundtable about efforts to open up American businesses after coronavirus closures.
The answer from Wynn Resorts CEO Matt Maddox, who wrote a 23-page comprehensive plan to reopen Wynn Resorts and Las Vegas, was that if his three recommended benchmarks are met, "then on Memorial Day I would hope that we are open."
The Opening Up America Again roundtable, also attended by Hilton CEO Chris Nassetta, Waffle House CEO Walt Ehmer and Toyota Chief Administrative Officer Chris Reynolds, demonstrated the buy-in of some major corporations into the president's Coronavirus Task Force guidelines.
The session also forecast a possible chill between Strip casinos and Gov. Steve Sisolak, who ordered the shuttering of Nevada's casinos through April and announced Wednesday evening that he is extending that order to May 15.
In his plan, Maddox praised Sisolak "for making the difficult decision and taking early action in the fight against COVID-19. I believe his decisions saved lives."
Maddox said that Wynn Resorts chose to pay its employees for 60 days through May 15 at a cost of "approximately $3 million per day or $180 million for two months." That May 15 plan remains Wynn Resorts' plan, spokesman Michael Weaver said.
At the White House, Maddox gave Memorial Day as a point when the company hopes its resorts to be open.
Asked about possible differences of opinion on when casinos can swing open their doors, spokeswoman Meghin Delaney responded in an statement emailed Wednesday afternoon that "Gov. Sisolak is looking forward to rolling out Nevada United: Roadmap to Recovery on Thursday, which includes a phased-in approach to reopening businesses in Nevada. Throughout the pandemic, the Governor has worked closely with casino industry leaders about closure and reopening plans. Any reopening plan will ultimately go through the Gaming Control Board."
For her part, Rep. Dina Titus, the Democratic dean of the Nevada congressional delegation, criticized Trump's boast about America's rate of testing. "It is frustrating and frankly dangerous for President Trump to continue downplaying the need for more testing," she said in a statement to the Review-Journal. "When we open up the state, we should do so with a phased approach that is grounded in science. It's wrong to arbitrarily pick a date right now and pretend that we know what the number of cases will be in a month."
During the White House event in the State Dining Room, Maddox told the president that Las Vegas has seen a huge expansion of testing capacity since Wynn signed a deal for the University Medical Center "to allow all Wynn employees to get tests anytime for free."
It was a remark that appealed to the president who announced Monday that "we have enough testing to begin reopening" the economy, as did Maddox' remarks about keeping Wynn staffers on the payroll through the shutdown.
"Wynn is one of AGA's many operator members that has taken a thoughtful approach to considering what reopening will look like, especially how they can ensure the safety of their employees and customers," Chris Cylke of the American Gaming Association said in a statement. "It's encouraging to see that the administration is interested in the industry's perspective on reopening the economy given gaming is an important job creator and tax contributor in 43 states across the country."
Wynn's presence and Trump's question showcased the bond between the president, who co-owns the eponymous Trump International Hotel Las Vegas at which he spent three nights in February, and Las Vegas.
The president named Steve Wynn, a one-time bitter casino rival-turned-friend, the finance chair of the Republican National Committee after Trump won the White House. In January 2018, Steve Wynn was forced to resign the RNC post after the Wall Street Journal reported allegations that he had demanded sexual favors from and assaulted female employees over decades. Within a month, Steve Wynn resigned from the eponymous Wynn Resorts and Maddox was named CEO.
Rep. Mark Amodei, the lone Republican in the Nevada delegation, has credited one-time House colleague Mark Meadows, now Trump's fourth chief of staff, as being helpful in Nevada's successful efforts to end a Small Business Association rule that denied small casinos Paycheck Protection Program loans embedded in the $2.2 trillion CARES Act.
Contact Debra J. Saunders at dsaunders@reviewjournal.com or 202-662-7391. Follow @DebraJSaunders on Twitter.