Trump names Pence to lead US response to coronavirus threat
Updated February 26, 2020 - 7:02 pm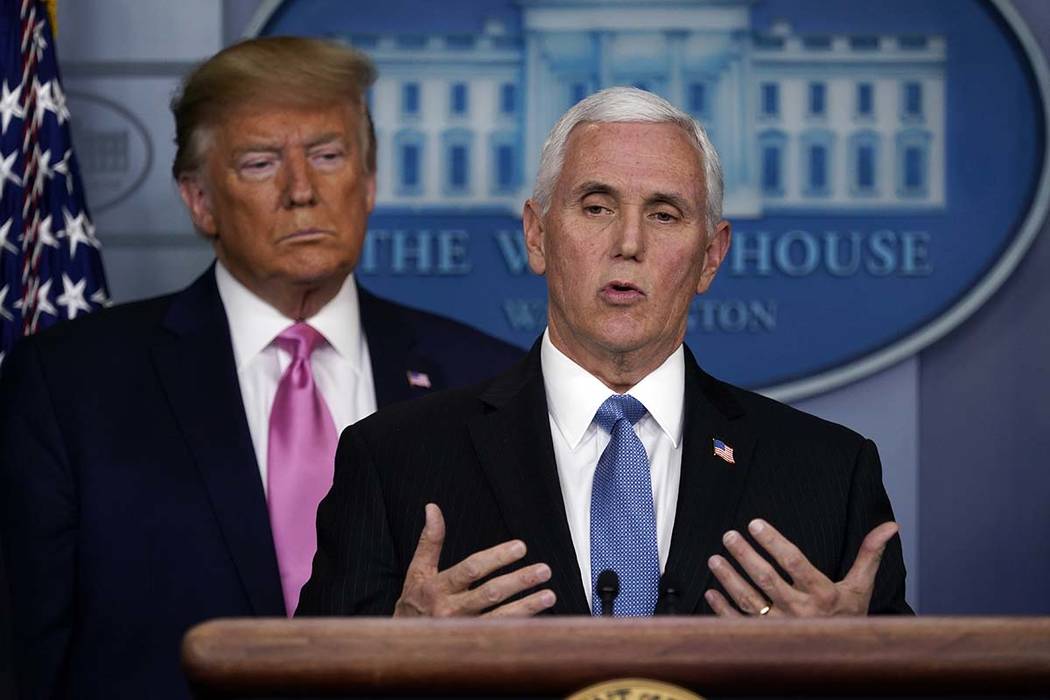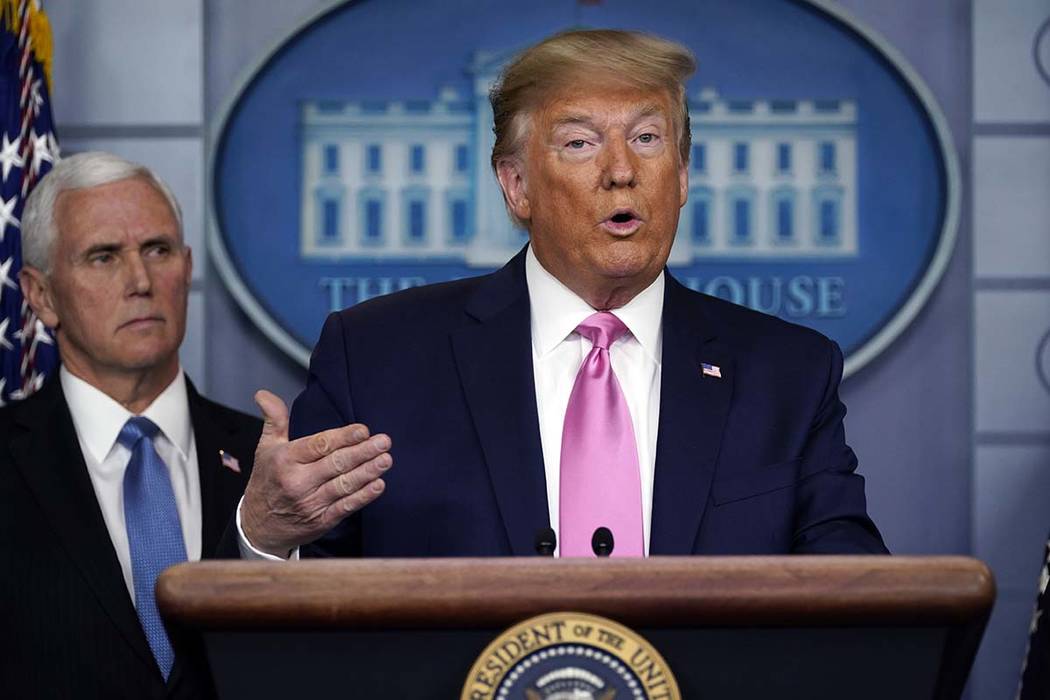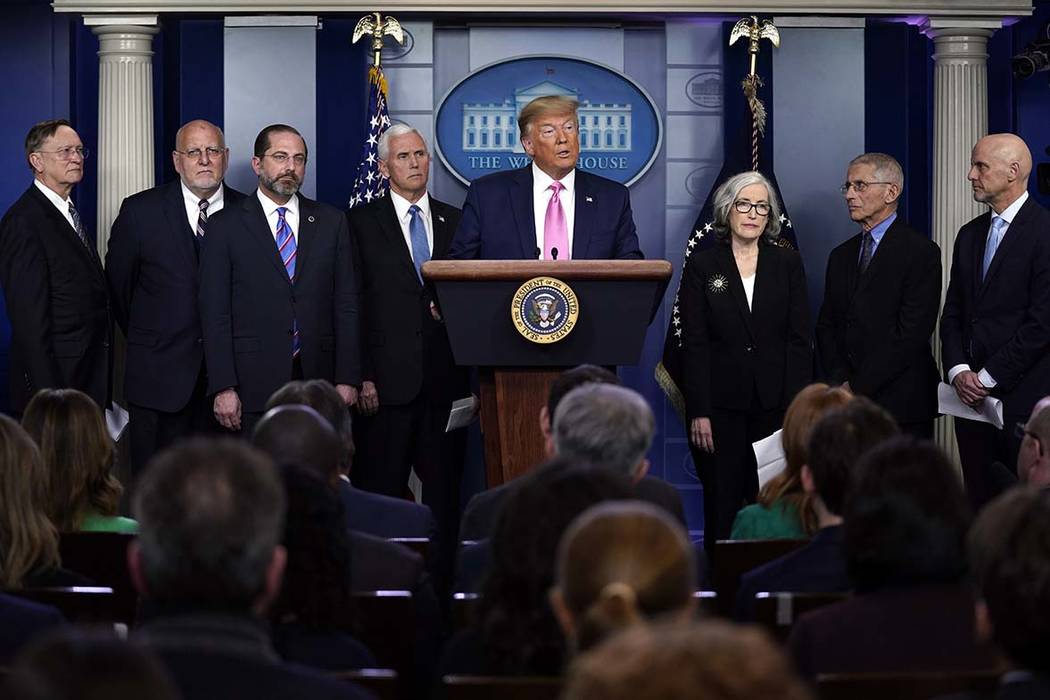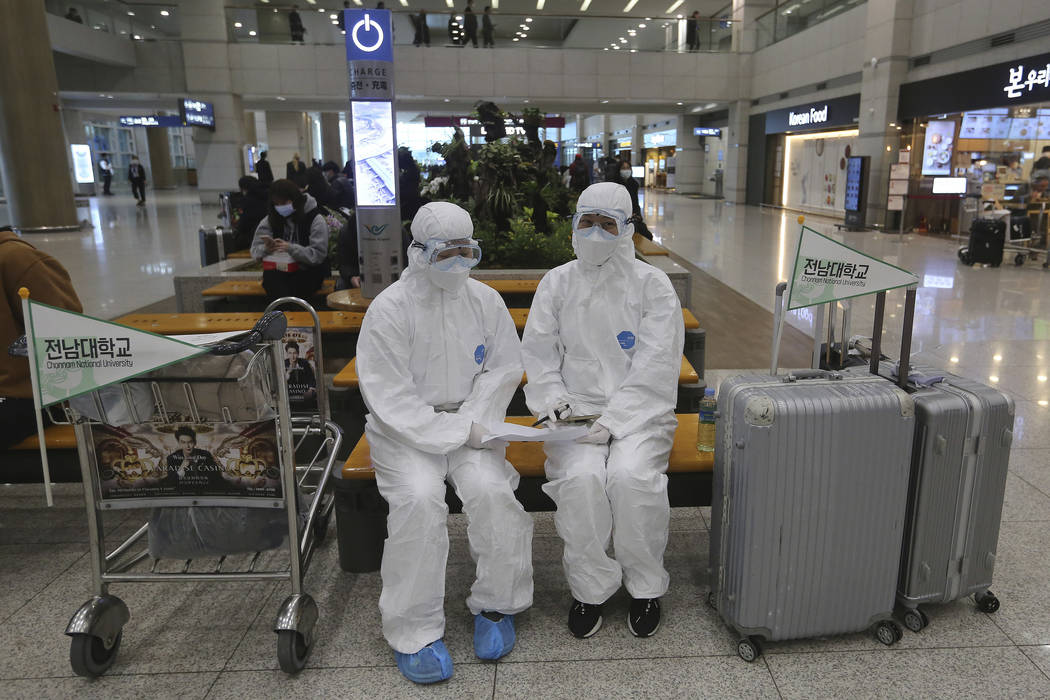 WASHINGTON — President Donald Trump assured Americans Wednesday that the risk of a coronavirus outbreak in the U.S. is "very low" and announced he would put Vice President Mike Pence in charge of the federal response to the virus.
"We are ready to adapt and we're ready to do whatever we have to do, as the disease spreads, if it spreads," Trump said during a rare briefing in the Brady Press Briefing Room.
Trump sought to minimize fears about the spread of COVID-19 as Republicans and Democrats slammed his administration's response to the outbreak as inadequate and the stock market dropped for a third straight day, though not as steeply as the two previous days.
Flanked by members of his coronavirus task force, Trump said there have been 15 confirmed cases of the disease in the United States. Of those, most either have returned home or have fully recovered while "one is pretty sick," Trump said.
After the briefing, the Centers for Disease Control and Prevention confirmed a new infection in California — "for a person who reportedly did not have relevant travel history or exposure to another known patient with COVID-19."
---
---
According to the CDC, another 45 individuals repatriated into the United States from Wuhan, China or the Diamond Princess Cruise Ship also have been infected with the virus.
Worldwide, more than 81,000 cases of COVID-19, an illness characterized by fever and coughing and in serious cases shortness of breath or pneumonia, have occurred since the new virus emerged in China.
Trump credited border restrictions that have blocked people coming into the U.S. from China for keeping infections low so far. But now countries around the world — from South Korea and Japan to Italy and Iran — are experiencing growing numbers of cases. Asked if it was time to either lift the China restrictions, or take steps for travelers from elsewhere, he said: "At a right time we may do that. Right now it's not the time."
There have been no reported deaths in the United States, but as the international death toll hit 2,700 Tuesday, Dr. Nancy Messonnier of the CDC told reporters, "It's not so much a question of if this will happen anymore, but rather more a question of exactly when this will happen and how many people in this country will have severe illness."
The key to containing the coronavirus, CDC Principal Deputy Director Anne Schuchat explained, is to apply the same measures meant to prevent colds and flu — wash your hands frequently, cover your mouth when you cough and stay at home if you feel sick.
On Wall Street, the stock market slid for a third day in a row. The Dow Jones Industrial Average dropped 123.77 points, for a three-day loss of 2,034 points.
Trump blamed the market losses on hits to supply chains and other virus-related impacts on international industries, but also said another reason might be that investors watched Tuesday's Democratic debate and feared the consequences of one of the candidates winning in November.
Democrats already had begun faulting Trump's response to a possible pandemic. To Trump's claim in New Delhi that the virus is "very well under control in our country," House Speaker Nancy Pelosi told reporters, "I don't think Trump knows what he's talking about — once again."
Trump, in turn, accused Pelosi of "trying to create a panic."
In a statement Wednesday night, Pelosi said the "Trump Administration has mounted an opaque and chaotic response to this outbreak" that "continues to devalue Americans' health security by ransacking funding from other vital public health needs."
She added that the House will advance a "strong, strategic funding package" to address the "public health crisis."
Health officials have exhausted an initial $105 million in emergency funding and have been looking elsewhere for dollars. Earlier this week, Trump requested $2.5 billion from Congress to fight the virus.
Senate Minority Leader Chuck Schumer belittled Trump's request for $2.5 billion to fight the new virus as "too little too late," and proposed instead $8.5 billion in emergency funds.
"If they want to give us more money, that's OK, we'll take more money," Trump responded.
Trump accused Pelosi of trying to get a "political advantage" as he praised the CDC and his task force for keeping the infected count down.
"In naming Vice President Mike Pence as the administration's point person in charge of the response to the coronavirus outbreak, President Trump attempted to show a concerted effort after bungled messaging," Bankrate.com's senior economic analyst Mark Hamrick said after the briefing. "Even so, he couldn't avoid the opportunity to spend more time at the briefing room lectern instead of letting the experts address health concerns."
It was the first time a president or White House press secretary gave a briefing in the Brady Press Briefing Room since March 11.
Contact Debra J. Saunders at dsaunders@reviewjournal.com or 202-662-7391. Follow @DebraJSaunders on Twitter. The Associated Press contributed to this report.