Aces sign free agent wing Angel McCoughtry
Updated February 10, 2020 - 2:06 pm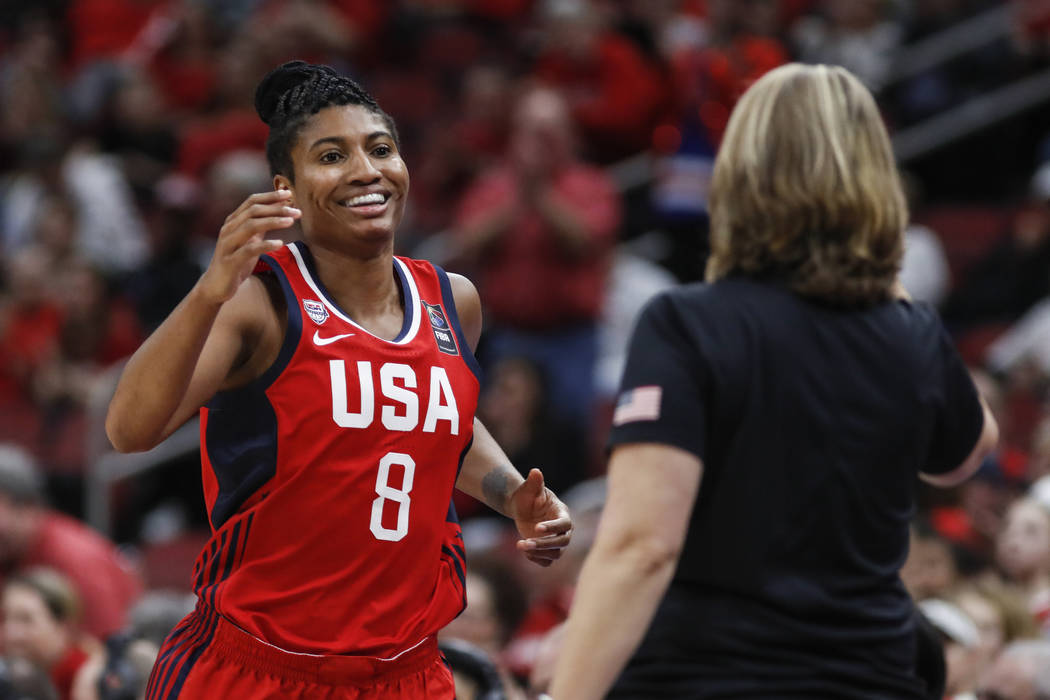 The Aces in 2019 constructed one of the top rosters in the WNBA, with one of the league's best frontcourts in A'ja Wilson, Liz Cambage and Dearica Hamby, an All-Star shooting guard in Kayla McBride and two talented No. 1 overall picks in Kelsey Plum and Jackie Young.
But the group lacked the experience and moxie to triumph in the most crucial moments during the WNBA playoffs — losing a best-of-five semifinal series in four games to the Washington Mystics, who went on to win the WNBA title.
That changed a bit Monday with the acquisition of free agent Angel McCoughtry. Terms of the contract were not revealed.
The Aces signed the five-time All-Star small forward, who has a pair of Olympic gold medals and a list of accolades nearly equal to those of the rest of the roster combined. The 33-year-old was drafted No. 1 overall in 2009 by the Atlanta Dream — with whom she's spent her entire career — and holds career averages of 19.1 points, 5.0 rebounds and 3.0 assists.
She's twice been named to the All-WNBA first team and also has earned four second-team honors. She won scoring titles in 2012 and 2013, and was named to the All-Defensive first team every year from 2010 to 2016.
Yeah. She's good.
"Our players all made sacrifices last year. They've shown that they're willing to sacrifice individually for the good of the whole," Aces coach and president of basketball operations Bill Laimbeer said. "That's a great scenario to have, so you can bring on someone like Angel, who is going to get hers. She's going to be a star player. But at the same time, our other players won't feel slighted. All they want to do is win."
McCoughtry tore ligaments in her left knee toward the end of the 2018 season and played seconds in one game during the 2019 season while recovering. The Dream decided not to retain exclusive negotiating rights with McCoughtry, making her an unrestricted free agent. That also made her a prime target for the Aces, who had money to spend and a vacancy on the wing.
Laimbeer courted McCoughtry in recent weeks and had dinner with her in Louisville, Kentucky, where she went to college and recently played an exhibition game with the American national team.
The Aces received her commitment last week. She's playing abroad with the Russian club Dynamo Kursk and was not immediately available for comment.
"I am truly honored for the opportunity to continue my career and make my return to the WNBA with the Las Vegas Aces," she said in a statement. "I can't wait to get to know the fans and the community, and bond with my new teammates. It is truly a blessing to continue playing the game that I love and to help make history in this amazing organization."
McCoughtry, at 6 feet 2 inches, provides the Aces with another scorer on the perimeter alongside McBride and Plum and figures to start on the wing. She's skilled and sturdy on both ends of the floor — capable of creating her own offense and stifling opposing wings defensively.
The Aces must round out the remainder of the roster during free agency, but they're one step closer to where they want to be after securing their top target.
"She's very experienced, and she has something that we don't have at the position," Laimbeer said, referring to small forward. "She's somebody that's going to make big shots and create big shots. She can do that. … It's a good fit."
Contact reporter Sam Gordon at sgordon@reviewjournal.com. Follow @BySamGordon on Twitter.
The Angel McCoughtry File
Hometown: Baltimore, Maryland
Age: 33
College: Louisville
Career Stats: 19.1 ppg, 5.0 rebounds, 3.0 assists, 2.1 steals
Accolades: Five-time WNBA All-Star (2011, 2013-15, 2018); Two-time All-WNBA first-team selection (2011, 2015); Four-time All-WNBA second-team selection (2010, 2013, 2014, 2016); Seven-time All-Defensive first team (2010-2016) Two-time scoring champion (2012, 2013); Two-time steals leader (2012, 2014); Rookie of the Year (2009); Olympic gold medalist (2012, 2016).