'Mattress Mack' wins record $72.6M in World Series wagers on Astros
Updated November 6, 2022 - 9:50 am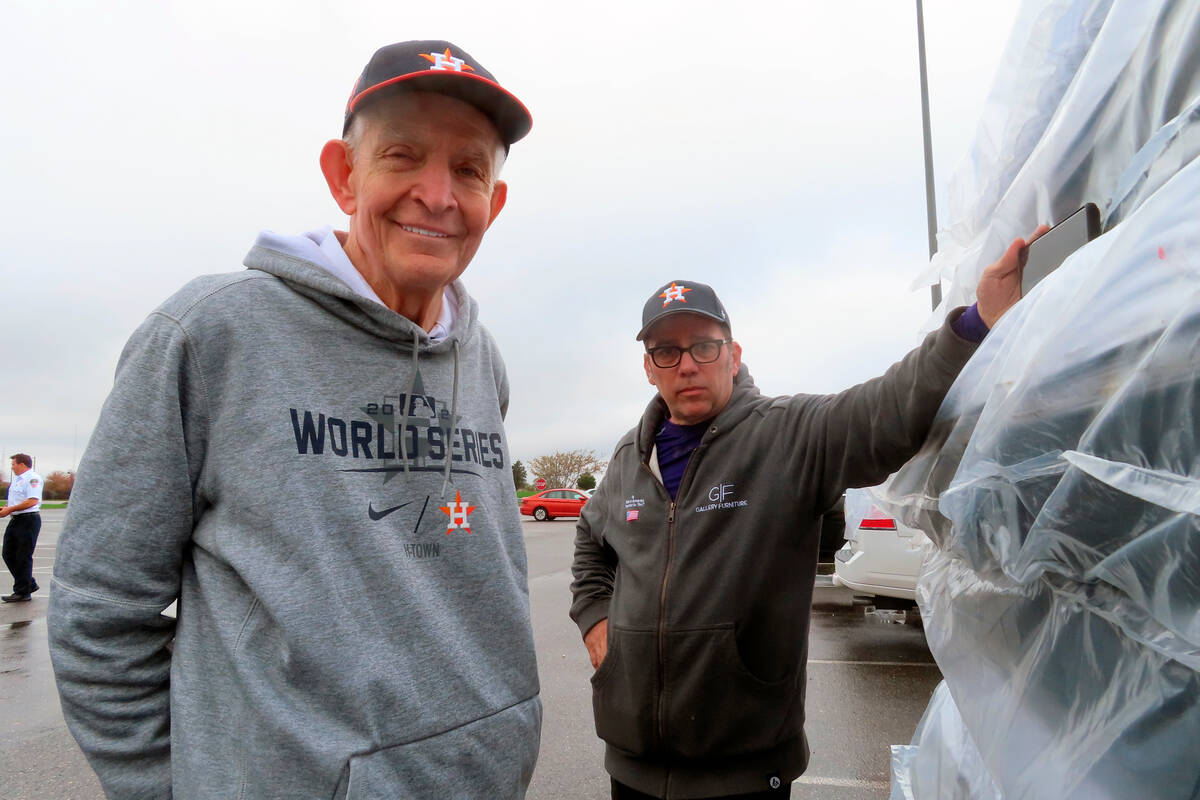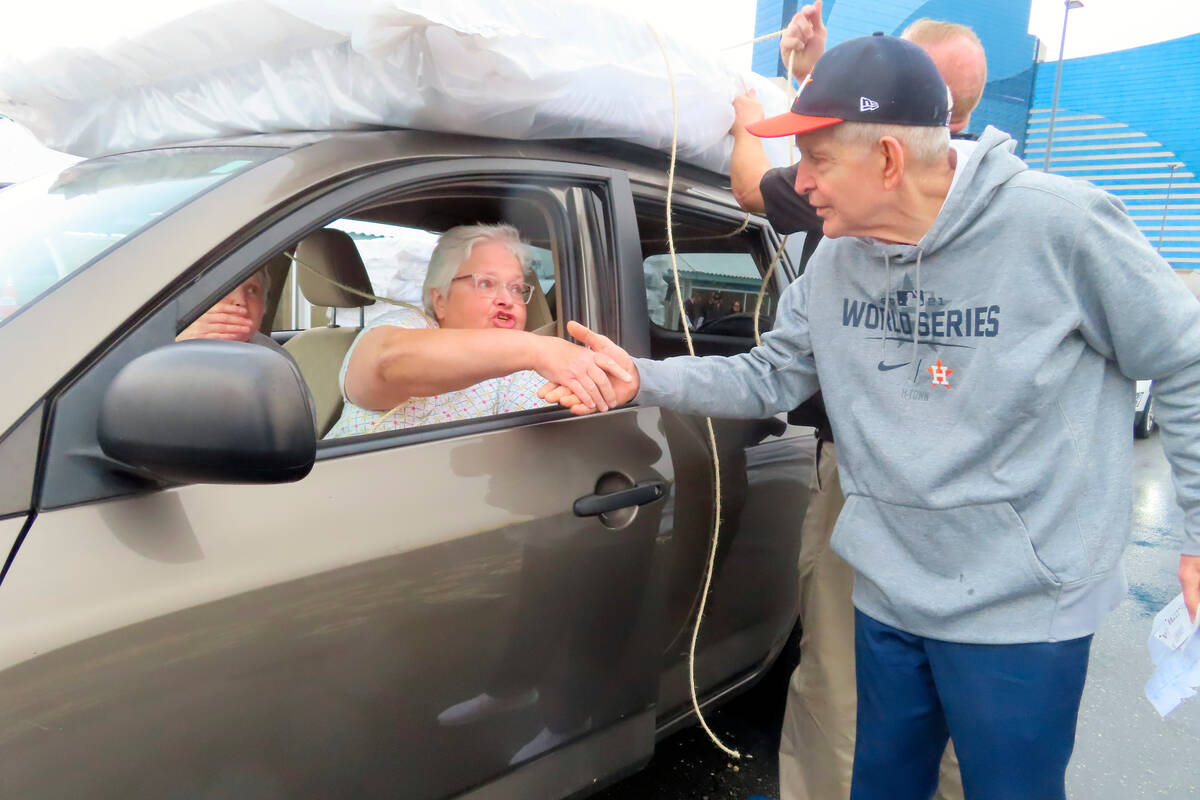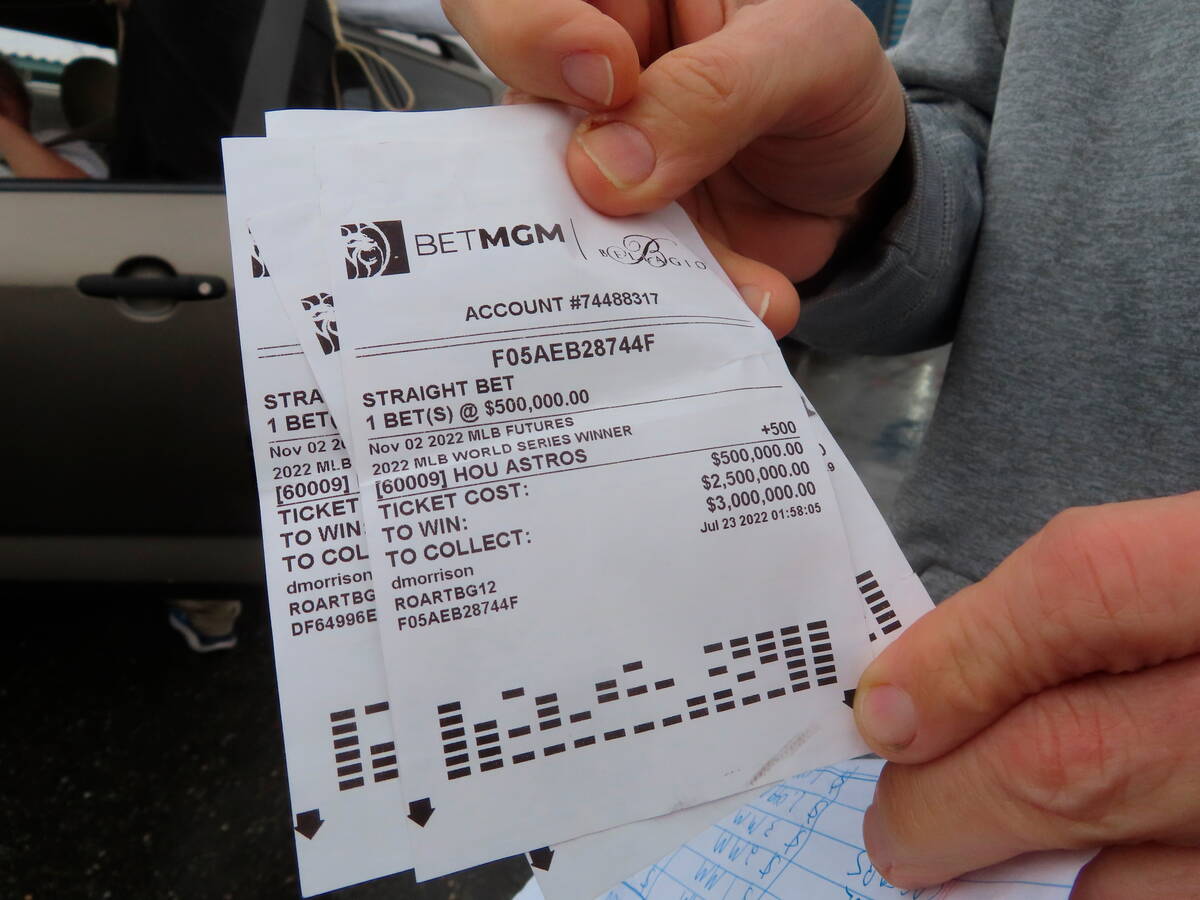 The house doesn't always win. Mattress Mack just beat sportsbooks out of $72.6 million.
Houston furniture store owner Jim "Mattress Mack" McIngvale now owns the biggest win in sports betting history after cashing $10 million in World Series wagers Saturday night when the Astros beat the Phillies in six games.
Yordan Alvarez crushed a go-ahead three-run home run in the sixth inning to lift Houston to a 4-1 victory over Philadelphia in Game 6.
"It was a thrilling way to end a season-long odyssey from back in May and July when I made the big bets to (Saturday)," McIngvale said. "It has been a fun ride. All thanks to the Houston Astros."
McIngvale made the futures bets on Houston to win it all at odds ranging from 5-1 to 12-1 at six different sportsbooks in Louisiana, Iowa and Las Vegas.
His largest wager was $3 million to win $30 million (10-1 odds) at Caesars Sportsbook in Louisiana in May.
Ken Fuchs, head of sports for Caesars, congratulated McIngvale after the Astros' victory.
"What can we say? We just wrote the biggest check in sports betting history to Mattress Mack for $30 million," he said in a statement. "Would we do it all again? You bet."
Fuchs said Caesars was proud to team with McIngvale during the World Series to donate tractor-trailer loads of mattresses to first responders and military veterans in Houston, Philadelphia and Atlantic City.
He also said Caesars would continue taking McIngvale's bets, including on next year's World Series, if he desires. The Astros opened as the +550 second choice at Caesars to win the 2023 World Series. The Los Angeles Dodgers are the 5-1 favorites.
McIngvale's other winning wagers included $1 million to win $12 million at WynnBET, $2 million to win $10.6 million at Barstool Sportsbook and $2 million to win $10 million at the BetMGM book at Bellagio.
"It was the worst single result for BetMGM," BetMGM vice president of trading Jason Scott said in a text message.
Scott also congratulated McIngvale "and everyone who tailed his bets" and said the book welcomes his future action.
"We will continue to play him," he said. "We have to help him sell beds."
Some would argue McIngvale, 71, was in a win-win situation and wasn't actually gambling at all. That's because the wagers were the latest in a series of bets to reduce risk on promotions at his Gallery Furniture stores.
In this case, customers who bought $3,000 or more of furniture were guaranteed to either get their money back or double their money back (depending on when they took part in the promotion) if the Astros won the World Series.
Now that they have, McIngvale said he'll refund "almost every penny" of his historic jackpot to the approximately 3,000 customers who participated in the promotion.
"That's a good thing because every refund you give is a lifetime memory for these people," he said. "A picture is worth a thousand words, but an experience is worth a thousand pictures.
"People had a great experience watching these games and sweating these games, and now they'll get their money back. They'll remember it for the next 20 or 30 years. It's great for the brand."
McIngvale will host three refund parties for his customers, starting in about two weeks, and said he'll try to get some Astros players and coaches to attend.
He already has started a new promotion offering customers who purchase $3,000 or more of furniture 200 percent of their money back if Houston wins the 2023 World Series.
"The law of recency will kick in," he said. "People are aware that there's a real chance to get their money back."
Going to Game 6 was enough of a party for McIngvale, who headed straight home from Minute Maid Park to sleep.
"Because I've got a good mattress," he said early Sunday. "I'm going to go to sleep, get up in the morning and go to church to thank the good Lord for my blessings, and I'm going to be at work at 9:30 (a.m.).
"I like working because, to me, work is life's greatest therapy."
He said he might celebrate by taking a trip to Las Vegas.
"I ain't taken a vacation in probably 25 years, but I like to go to Las Vegas and gamble, so I may do some of that," he said.
Linda McIngvale, who has been married to McIngvale for 41 years, was in the hospital with pneumonia and sarcoidosis when the World Series started. But McIngvale said she has recovered and is back home, where she sweated out Game 6.
"I'm still gambling with both hands, and my wife is nervous the whole time," he said. "But I get to go home and say, 'I told you so.' "
Contact reporter Todd Dewey at tdewey@reviewjournal.com. Follow @tdewey33 on Twitter.
Mattress money
Here's a breakdown of the $10 million to win $72.6 million in World Series futures bets on the Astros won by Houston furniture store owner Jim "Mattress Mack" McIngvale:
Wager (odds); sportsbook (date, location)
$3 million to win $30 million (10-1); Caesars (May, Louisiana)
$1 million to win $12 million (12-1); WynnBET (May, Louisiana)
$2 million to win $10.6 million (+533); Barstool (July, Louisiana)
$2 million to win $10 million (5-1); BetMGM (July, Las Vegas)
$1 million to win $5 million (5-1); Unibet (July, Iowa)
$1 million to win $5 million (5-1); Betfred (July, Iowa)