'Never been stronger': Nevada sports betting thrives post-PASPA
Updated May 14, 2023 - 10:15 pm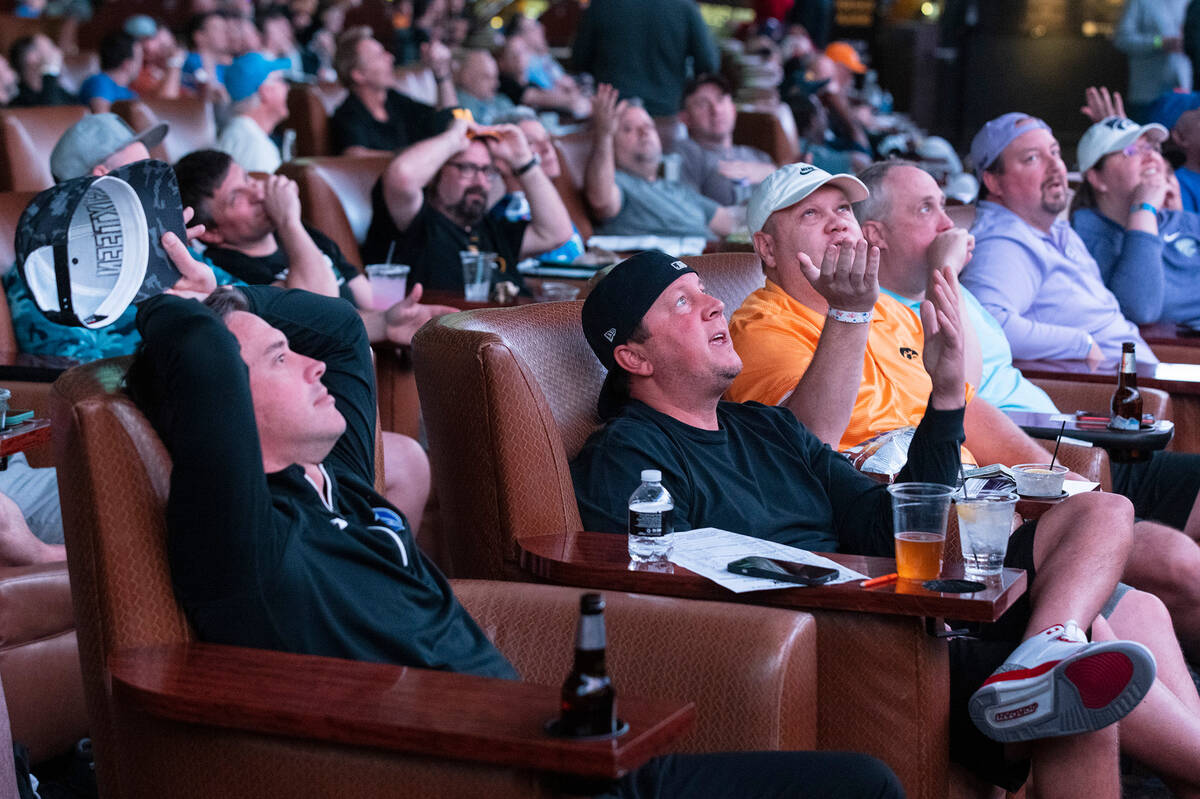 Five years after the U.S. Supreme Court struck down the federal ban on sports betting, ending Nevada's virtual monopoly on the market, business is booming at the state's sportsbooks.
On the fifth anniversary of the May 14, 2018, repeal of the Professional and Amateur Sports Protection Act (PASPA) — which paved the way for other states to offer sports betting — any fears that it would have a negative impact on Nevada, largely Las Vegas, have proven to be unfounded.
The state's sports betting handle, or amount of money wagered, surpassed $5 billion for the first time in 2018 and set a state record for the 10th straight year in 2019, when books took $5.3 billion in bets.
The number dropped to $4.3 billion in 2020, when the COVID-19 pandemic closed casinos and sidelined sports. But bettors have since come back with a vengeance.
The handle skyrocketed to $8.1 billion in 2021 and to $8.7 billion in 2022, almost doubling the figure from the final pre-PASPA year of 2017 and more than tripling the total from 2010.
"The general health of the sports betting industry in Nevada has never been stronger," Gaming Control Board senior economic analyst Michael Lawton said.
Station Casinos sportsbook vice president Jason McCormick pointed to five factors that have helped fuel Nevada's robust growth as legal sports betting has spread to 33 states and Washington, D.C.
Brick-and-mortar books
"First and foremost, we still have some of the best destination sportsbooks where people want to come in and watch their games," he said. "There's no better place, whether it's March Madness or Sunday morning football when you have eight games, than to sit in our big, beautiful sportsbooks and be able to watch all these games at the same time."
Mobile apps
Second on McCormick's list is technology and the advent of sports betting mobile apps and self-service kiosks.
"The ease and access our Nevada patrons have to be able to place their wagers on mobile and kiosks, as well as over the counter, has made it that much more efficient for people to be able to make their bets," he said.
Lawton also credits the proliferation of in-play wagering, which allows gamblers to bet on the game during the game.
"This type of wagering has become increasingly popular with the public and is a perfect product for wagering on personal devices," he said. "The bottom line is that a computer-savvy public, along with a sports-passionate culture, has embraced sports wagering on their phones."
Menu, limits
Next on the list is higher limits and an expanded betting menu with a growing number of props.
"Over the past five years, the sports wagering menu has absolutely exploded," McCormick said. "The menu has had a big determination in being able to raise the handle, as well as limits.
"Just five years ago, it would be common to take $1,000 or $3,000 on certain bet types. But those have turned into $5,000 or $10,000."
Media
McCormick said more people are comfortable betting on sports now that the mainstream media has embraced it and routinely displays or discusses point spreads.
"They're not as intimidated by sports wagering," he said. "We have so many more people visit our great state now that venture into sports wagering."
Home teams
The arrivals of the Golden Knights, Raiders and Aces also have boosted the handle, McCormick said.
"As much as we're fans of our hometown teams, normally for the book we're not cheering for them," he said. "Just because we get so much handle from the general public on those teams."
Westgate SuperBook vice president Jay Kornegay said destigmatizing sports betting also has helped Las Vegas land major sporting events such as the Super Bowl and NCAA Tournament.
"In a way, the legalization and spread of sports betting has contributed to other opportunities for Las Vegas," he said. "That stigma that has surrounded sports betting has disappeared to the point that we're able to attract more events.
"We might give up a little bit at the sportsbook in the long run, but we're making it up by sporting events coming to Las Vegas."
National numbers
Americans have legally wagered more than $220 billion nationwide since PASPA was overturned, generating $3 billion in state and local taxes, according to a release by the American Gaming Association.
New research by the AGA shows that 85 percent of American adults believe the Supreme Court made the right decision to overturn PASPA and that 78 percent of bettors place all or most of their bets through regulated operators.
"American adults have always enjoyed betting on sports, and overwhelmingly value the ability to bring their action into a legal market, close to home," AGA president Bill Miller said in the release. "The rapid spread of legal sports betting — fueled by regulated, responsible entities — has contributed to communities and established consumer protections by migrating betting away from the illegal market monopoly that PASPA perpetuated."
Per the AGA, Americans still wager $64 billion annually with illegal bookies and offshore operators, down from pre-PASPA estimates of $150 billion. The AGA notes that that 40 percent of market share deprives states of $700 million in tax dollars annually.
'Cookie-cutter operators'
With more states set to launch legal sports betting, the illegal share should continue to shrink.
But Circa sportsbook operations manager Jeff Benson — whose book prides itself on welcoming action from sharp bettors — expects gamblers to continue to bet illegally if they're not treated better by legal books that limit or ban winners.
"When you have a lot of the same cookie-cutter operators who price-gouge their customers with ridiculously wide splits and limit anybody who has a pulse and shows a tendency to win, it's no wonder that people have to play offshore. Because they can't get down in the regulated market," he said. "If you want to bring money back into the regulated market and you don't want them to play offshore, you've got to treat them fairly, you've got to give them a fair bet and you've got to let them get down.
"Most of the operators in today's industry don't succeed at one or any of those things, quite frankly."
Vegas, baby
As more and more states legalize sports betting in coming years, Las Vegas books should continue to see brisk business because of the simple fact that the city remains one of the world's most popular tourist destinations. And watching the Super Bowl or the NCAA Tournament at one of its books is still on the bucket list of countless bettors.
"Even if you can bet sports in Wyoming or Pennsylvania or Tennessee, there's nothing like coming to Las Vegas for a big event and the atmosphere in a sportsbook," Caesars Sportsbook assistant director of trading Adam Pullen said. "It's a unique experience you can't get anywhere else.
"The worries that people had that the handle would plummet and nobody was going to come out here have been totally debunked. Las Vegas is always going to be a popular destination. You're never going to make Las Vegas irrelevant."
Contact reporter Todd Dewey at tdewey@reviewjournal.com. Follow @tdewey33 on Twitter.