Super Bowl MVP bettors hope for historic result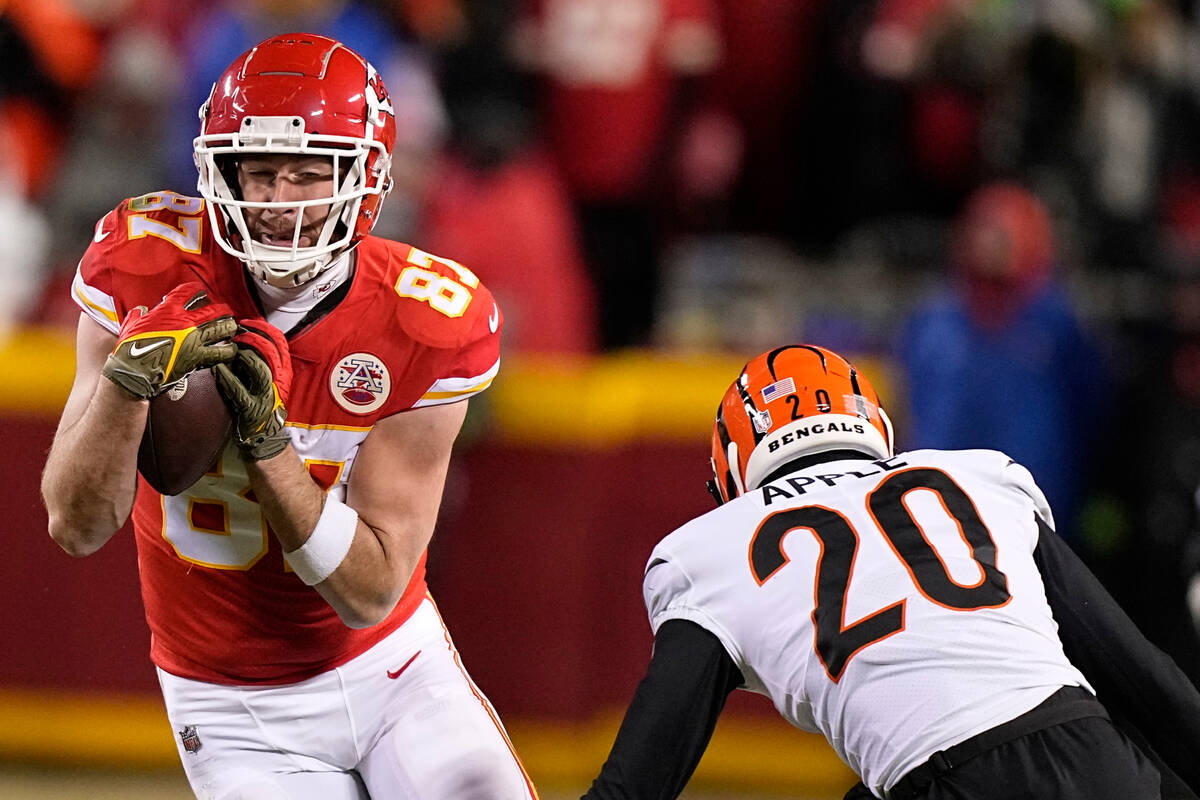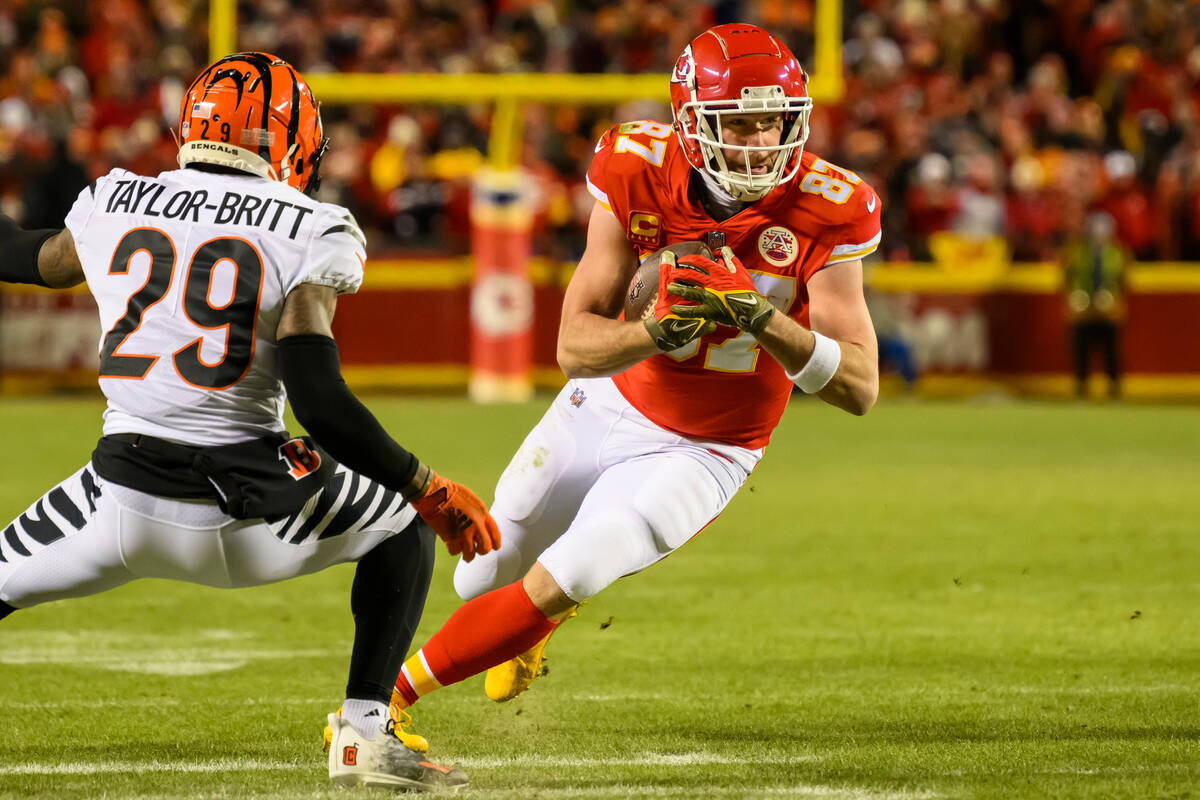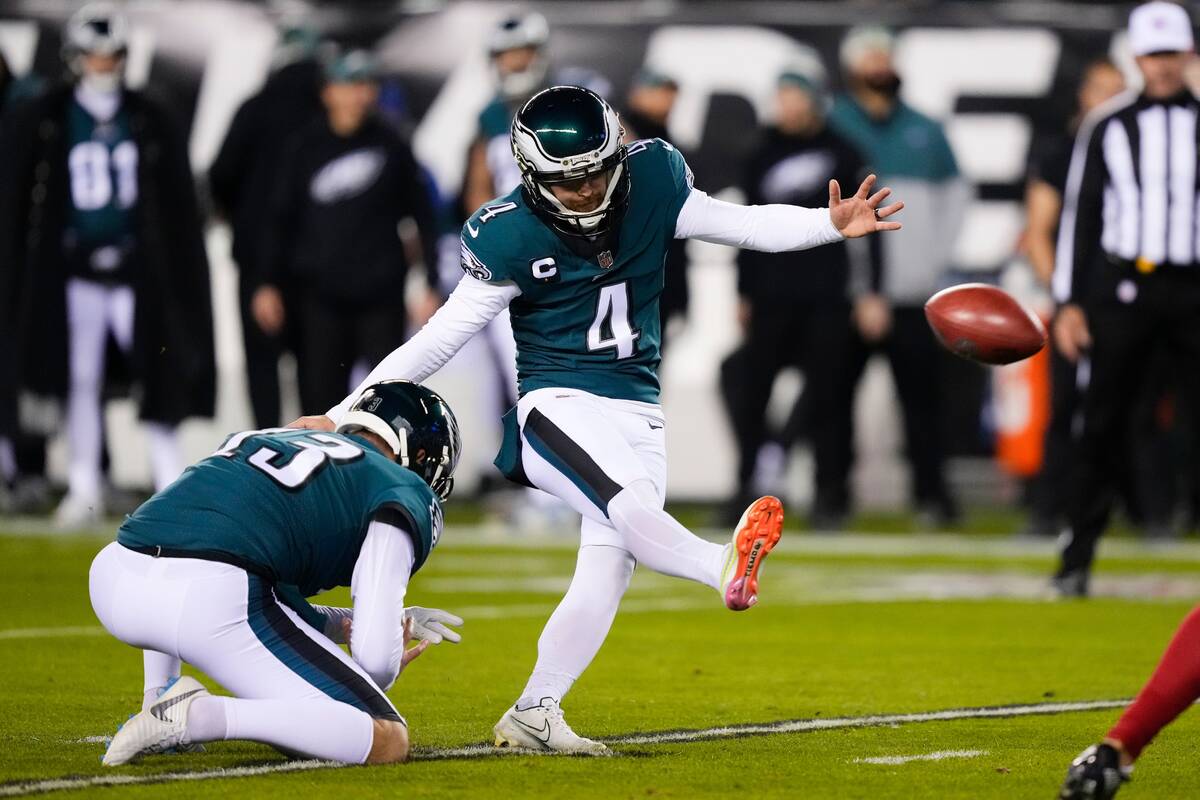 No tight end or kicker has been named Super Bowl MVP.
But that hasn't stopped bettors from backing Chiefs tight end Travis Kelce, Kansas City kicker Harrison Butker and Eagles kicker Jake Elliott to win the award in Sunday's NFL championship game in Glendale, Arizona.
Kelce is the Super Bowl MVP ticket leader at Station Casinos and the Westgate SuperBook, where he's the 18-1 fourth pick behind Chiefs quarterback Patrick Mahomes (+120), Eagles QB Jalen Hurts (+135) and Philadelphia running back Miles Sanders (16-1) — who opened at 40-1.
The Westgate took a $500 wager to win $250,000 on Butker at 500-1 odds and a $500 bet to win $250,000 on Elliott at 500-1. Both kickers are now 300-1.
Likewise, a bettor at Caesars Sportsbook wagered $500 to win $100,000 each on Butker and Elliott at 200-1 odds.
"They bet the kickers every year," SuperBook vice president of risk Ed Salmons said. "I can't see how a kicker can ever win this."
Washington's Mark Moseley was the only kicker to win the NFL's regular-season MVP award in 1982. But kickers have had no such luck in the Super Bowl, which has thrice been decided by a game-winning field goal in the final seconds, twice by former Patriots kicker Adam Vinatieri.
"If Vinatieri can't win, I don't know how these guys can win," Salmons said.
The Westgate also took a $500 wager to win $250,000 on Eagles linebacker T.J. Edwards, who is their largest liability.
Mahomes is the money leader at the SuperBook, where one of their sharper players wagered $10,000 on him at +130.
Before the playoffs started, a Caesars bettor wagered $50,000 to win $175,000 on Mahomes at +350.
The Chiefs are +105 on the money line. Instead of betting Kansas City at that price on the money line, another option that pays more would be to take Mahomes to win MVP.
"It's hard to imagine the Chiefs winning and Mahomes not being the MVP," Salmons said. "It would seemingly go hand in hand."
Eagles running back Kenneth Gainwell is one of the ticket leaders at the Westgate and one of the largest liabilities at the South Point and Caesars, where he's 100-1 after opening at 250-1.
A Caesars bettor wagered $350 to win $78,750 on Gainwell (225-1), who had a season-high 112 yards rushing and a touchdown in Philadelphia's 38-7 divisional round win over the Giants.
"The public likes Gainwell," Salmons said. "I keep seeing his name on the ticker for everything. They remember him scoring against the Giants."
Chiefs running back Isiah Pacheco also is one of the ticket leaders at the Westgate and one of the largest liabilities at Caesars, where he opened 125-1 at the beginning of the playoffs. He's 60-1 at the SuperBook.
"Pacheco is a liability due to money we took before the Chiefs got to the Super Bowl," Caesars assistant director of trading Adam Pullen said.
Chad Henne is the biggest liability at Stations, which took a large wager on the Kansas City backup quarterback at 100-1 before lowering him to 50-1.
Ten defensive players have been named Super Bowl MVP, with Broncos linebacker Von Miller the last one to earn the honor in 2016. But bettors are banking on Eagles linebacker Haason Reddick, who is 30-1 at Caesars after opening at 50-1 and is one of the biggest liabilities at Stations and South Point.
A Westgate bettor placed a $1,000 wager to win $100,000 on Monday on Philadelphia cornerback Darius Slay to win the MVP at 100-1.
Quarterbacks have won the award in 31 of the 56 Super Bowls. Wide receivers have been named MVP eight times, including Cooper Kupp of the Rams last year. Seven running backs have won the award.
Contact reporter Todd Dewey at tdewey@reviewjournal.com. Follow @tdewey33 on Twitter.
Super Bowl MVP
At Westgate SuperBook
Up to 100-1
Patrick Mahomes +120
Jalen Hurts +135
Miles Sanders 16-1
Travis Kelce 18-1
A.J. Brown 20-1
Haason Reddick 20-1
DeVonta Smith 30-1
Isiah Pacheco 60-1
Chris Jones 60-1
Dallas Goedert 80-1
Darius Slay 80-1
Jerick McKinnon 100-1
Marquez Valdes-Scantling 100-1
Frank Clark 100-1