David Benavidez batters Caleb Plant en route to unanimous decision
Updated March 26, 2023 - 11:03 am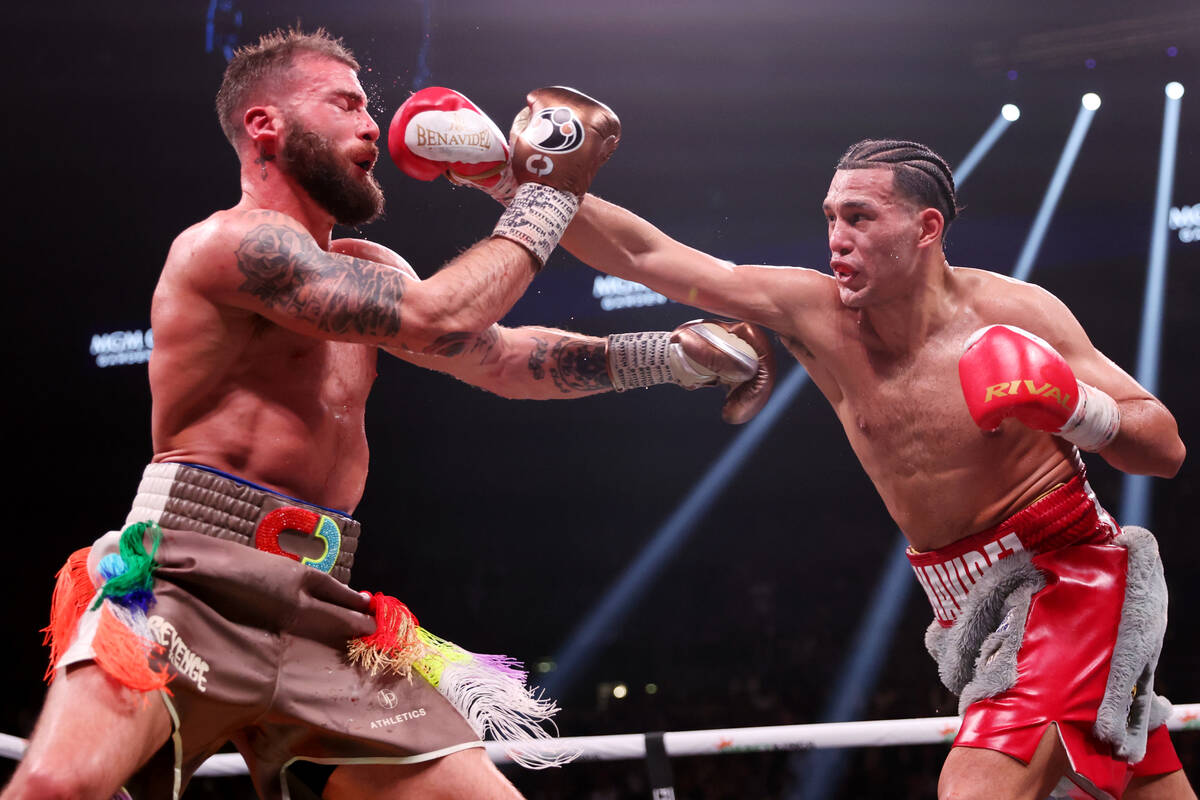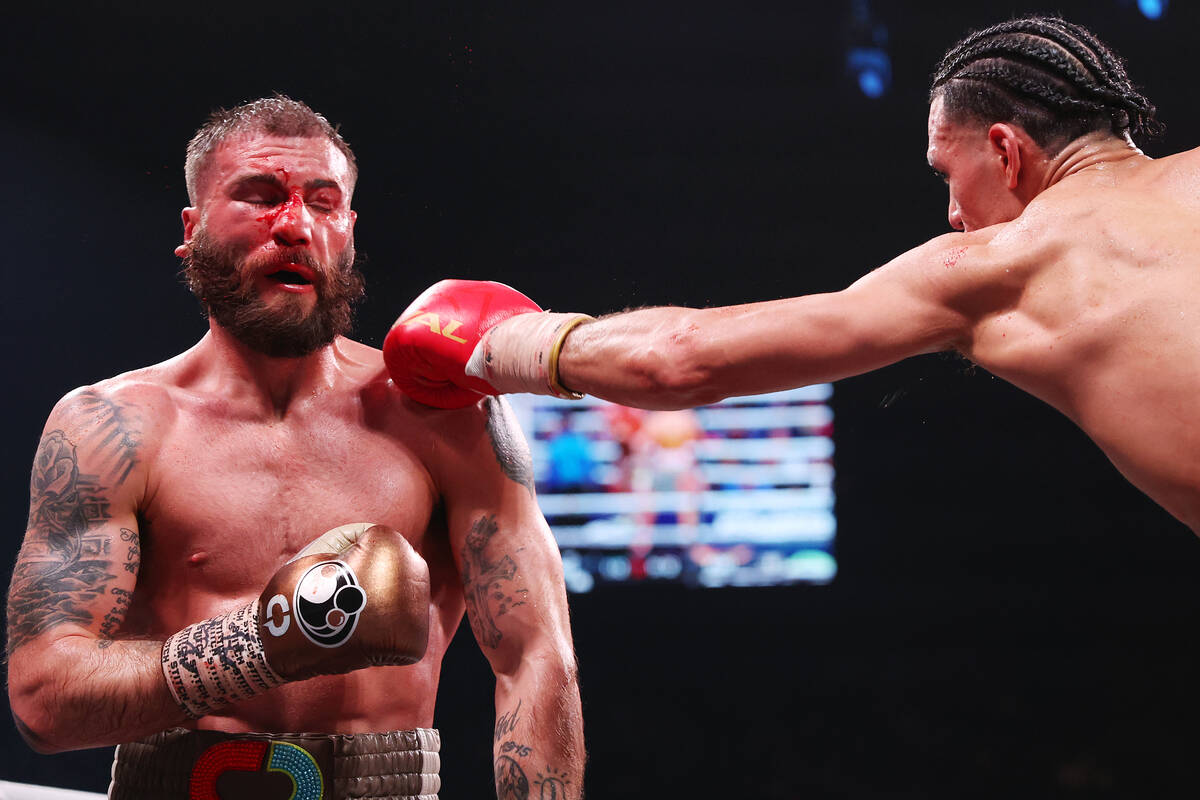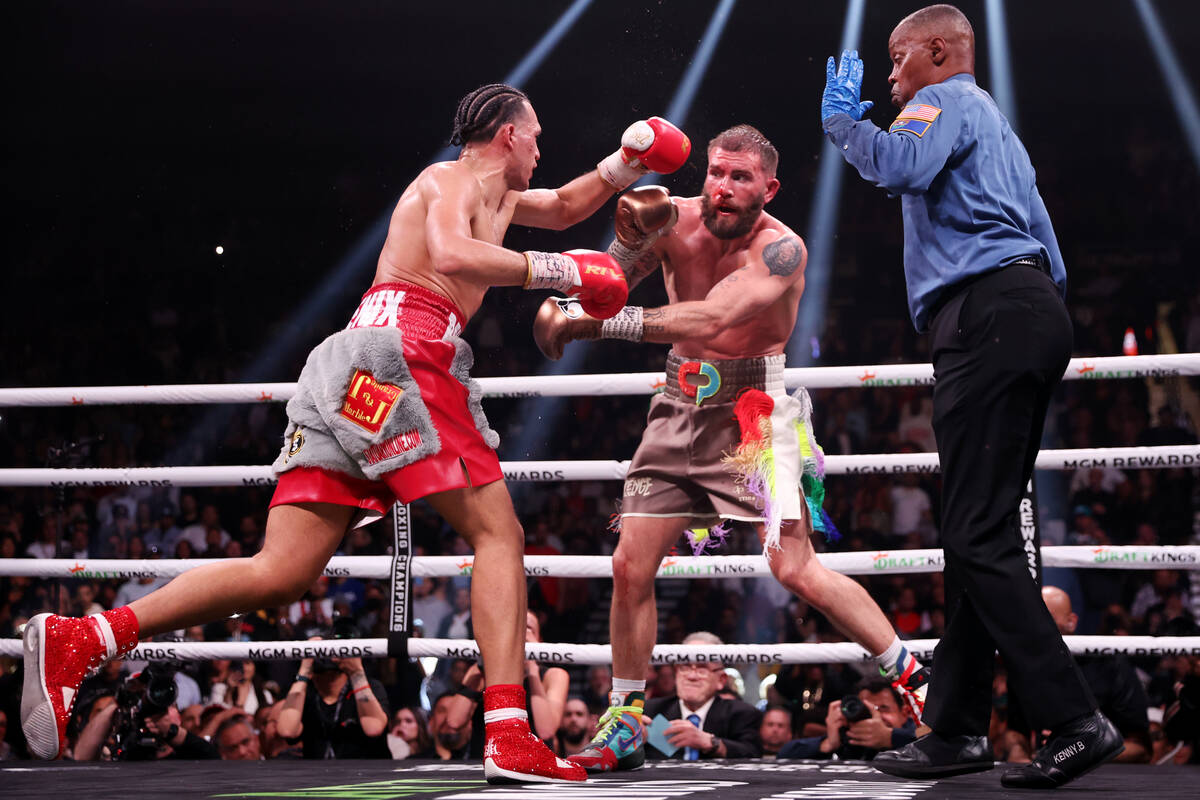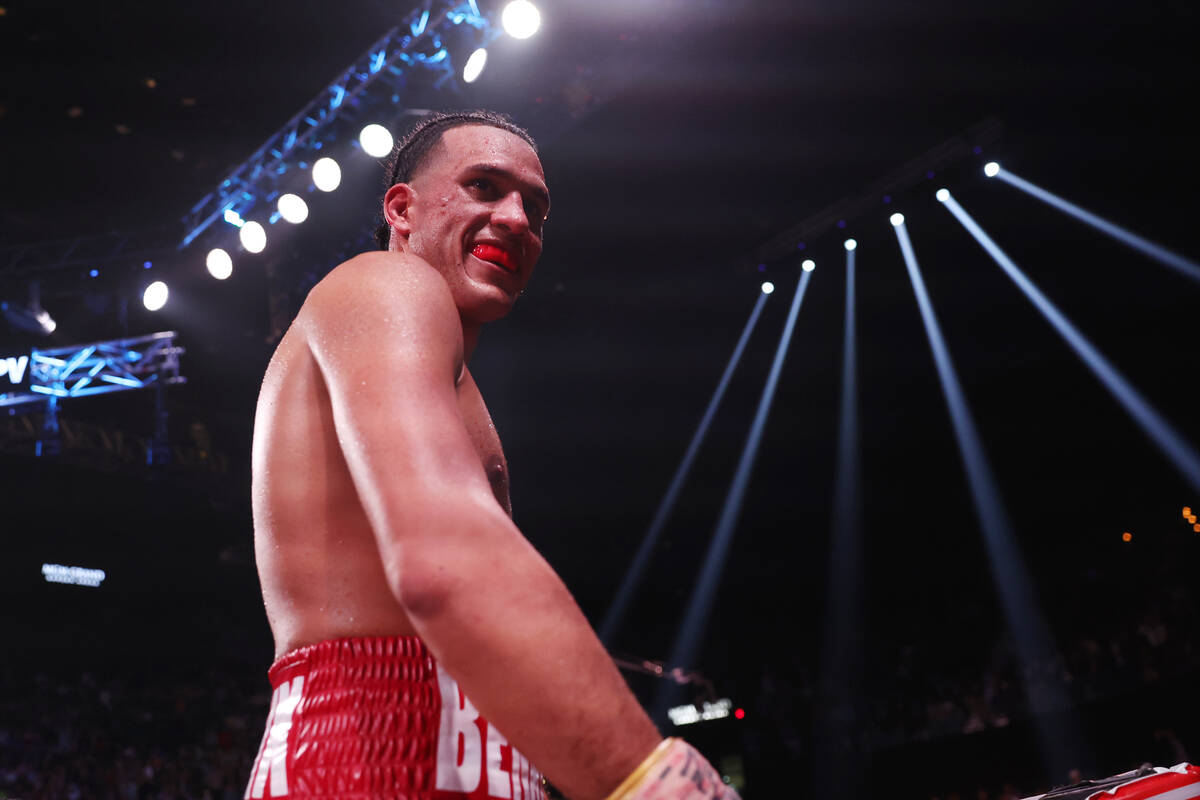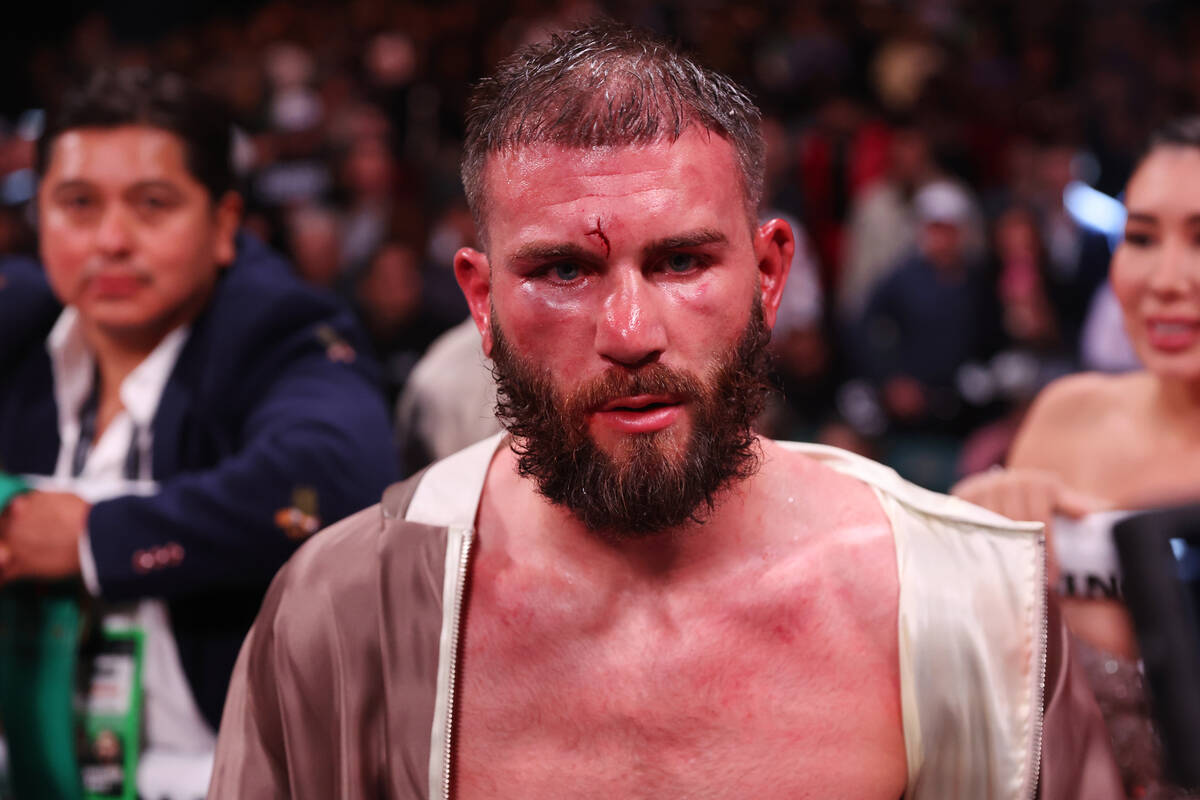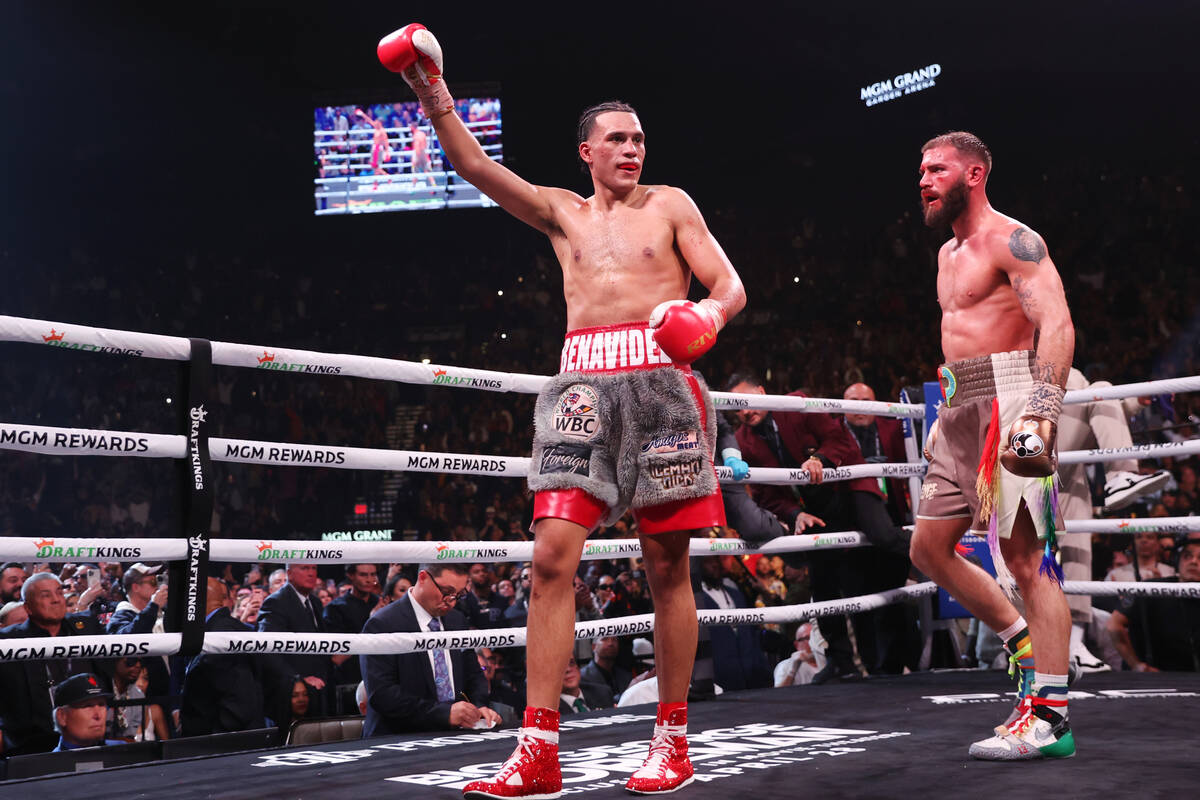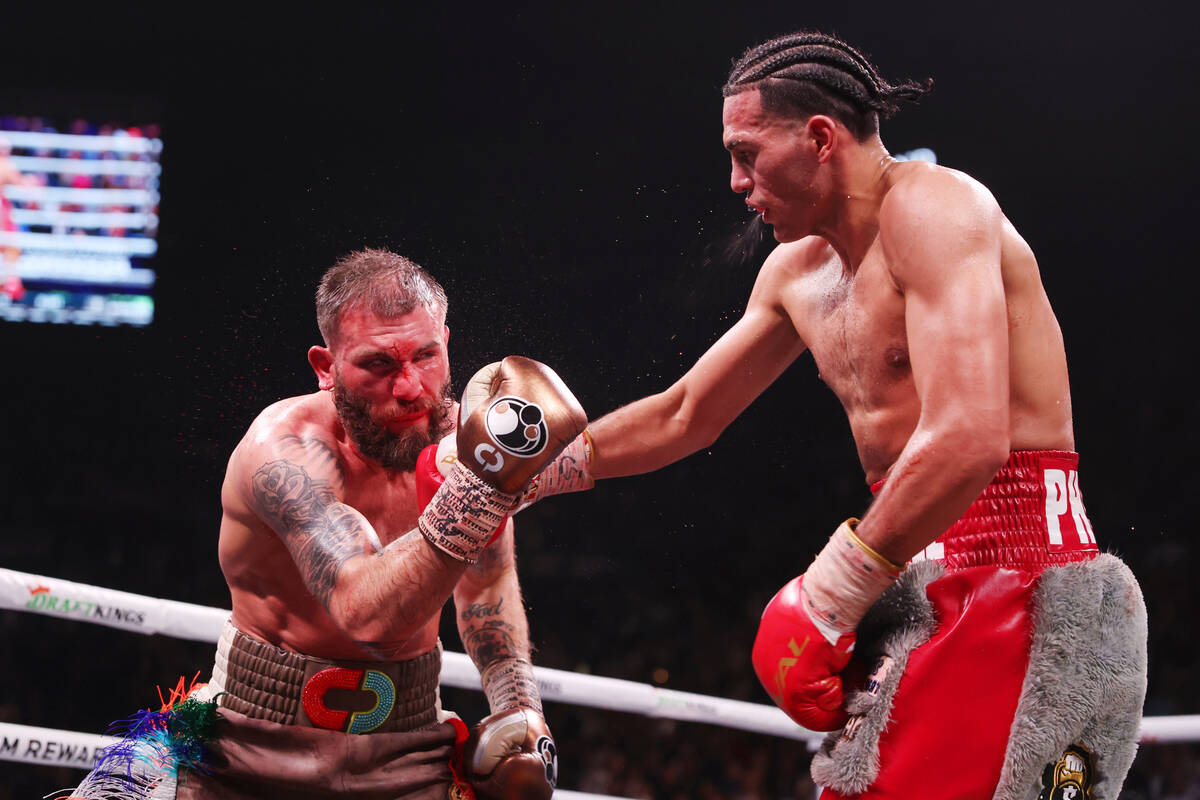 The bad blood finally boiled over Saturday night inside the boxing ring at the MGM Grand Garden, ending one of the sport's best rivalries with an unlikely embrace and exchange of salutations.
"The best rivalry of the year," unbeaten super middleweight David Benavidez said, moments after defeating Caleb Plant by unanimous decision. "The best rivalry of the last five years."
The best victory of Benavidez's burgeoning career.
Benavidez retained his WBC interim super middleweight title — and secured mandatory positioning for a bout with undisputed 168-pound champion Canelo Alvarez — with a 117-111, 116-112, 115-113 victory over his bitter rival before a crowd of 13,865, a sellout of the allotted amount of tickets.
Notable spectators included Raiders owner Mark Davis and defensive end Maxx Cosby, retired five-division champion Floyd Mayweather, retired heavyweight great Riddick Bowe, former heavyweight champion Deontay Wilder, undisputed lightweight champion Devin Haney, two-division champion Shakur Stevenson and lightweight superstar Gervonta Davis, who fights fellow lightweight superstar Ryan Garcia on April 22 at T-Mobile Arena in another Showtime pay-per-view presented by Premier Boxing Champions.
The fight Saturday concluded five years of back-and-forth between two of the best fighters in the division, creating an entertaining rivalry that summoned the best in both of them.
But the 26-year-old from Phoenix won the war of wills by penetrating Plant's guard and overwhelming him on the inside with flurries of shuddering shots — despite far too much involvement from referee Kenny Bayless.
"We fought like warriors in the ring, and this guy is a (expletive) hell of a fighter," Benavidez said, prompting the same compliment from Plant. "He's a tough fighter, man. … We gave the fans a hell of a fight."
The bout brought together two former champions, armed with drastically different styles and an equal drive to ascend toward the top of the division. Plant, a speedy, slick boxer, spent the first four rounds circling Benavidez and firing a variety of shots while changing levels, preventing the former two-time WBC champion from finding his rhythm.
But Benavidez (27-0, 23 knockouts) worked his way through it, revealing that he heard Plant groan after connecting with a body shot in the fourth round.
"That's what changed everything," Benavidez said. "From there I kept hitting him with body shots. Kept hitting him with hard shots. … Everybody I've been in the ring with, I've hurt. Everybody. Since I was 14 years old. That's something that nobody can take away from me. When somebody pushes me to the limit like that, I get even stronger."
Benavidez would build on his success by utilizing a stiff, snapping jab to close the distance. Additional thudding shots to the body required Plant to hold, a defensive technique allowed far too often by Bayless that let the 30-year-old native of Nashville, Tennessee, endure the brutal beating and deny Benavidez the knockout he promised during the promotion.
The man touted by heavyweight legend Mike Tyson as the "Mexican Monster" rightfully touted the toughness of Plant, who stood in the pocket and absorbed hook after uppercut after hook after uppercut without falling to the canvas the way he twice did against Alvarez at the exact same venue Nov. 6, 2021, in their undisputed title fight.
"As soon as I found my groove, there was nothing he could do to stop me," Benavidez said. "This is the biggest fight I've ever been in. This is the biggest fight of my life. And I feel like I did amazing."
Plant's battered, bruised and bloodied face would seem to support that claim. But he showcased his heart and chin while allowing Benavidez to land 210 punches, per CompuBox, compared to 91 of his own as he fizzled from fatigue.
"I feel good. My mind is right, and I feel fine," Plant said. "It's a big rivalry, but that's what boxing is about. … I take nothing from David. We're not the best of friends. We got into the ring and settled it like men. That's what we're supposed to do."
With the signature victory over Plant behind him, Benavidez called for a challenge with Alvarez — drawing an ovation from a crowd composed mostly of his supporters. Alvarez is due to defend his title in May in his native Jalisco, Mexico, against WBO mandatory challenger John Ryder.
An Alvarez-Benavidez fight is one of the biggest commercial matchups in boxing, a megafight with more merit now that Benavidez has solidified his superstardom.
"I want to prove myself. Canelo's proved himself, but I feel like he needs to give me the opportunity, too," Benavidez said. "It's not like I'm begging for it. … It's something I've earned especially after this fight. I showed that I deserve to be in there."
Contact Sam Gordon at sgordon@reviewjournal.com. Follow @BySamGordon on Twitter.
On the undercard
The boo birds circled lightweight Chris Colbert after his unanimous 95-94 victory over Jose Valenzuela.
Didn't bother the New York City native a bit.
Colbert (17-1, six knockouts) scored a controversial victory on the second fight of the undercard, recovering from a first-round knockdown to win the battle of former 130-pound prospects.
Colbert, 26, prevailed despite Valenzuela (12-2, eight KOs), 23, of Renton, Washington, having a 132-124 edge in total punches and a 117-77 edge in power punches, per CompuBox.
The crowd vigorously booed the decision — and Colbert as he celebrated in the ring.
"I love the fans," said Colbert, who rebounded from his first career loss to hand Valenzuela his second straight defeat. "If he wants his rematch, then let's get it."
In the first fight on the undercard, welterweight Cody Crowley (22-0, nine KOs), a Las Vegan by way of Canada, earned a 116-112, 115-113, 114-114 majority decision over Abel Ramos (27-6-2, 21 KOs) to preserve his unbeaten record.
Crowley, 30, functioned as the aggressor and operated on the inside, landing 227 punches per CompuBox compared to 164 for the 31-year-old Ramos, who hails from Casa Grande, Arizona.
Ramos' 22-year-old nephew, Jesus, redeemed his uncle in the co-feature against 23-year-old Joey Spencer (16-1, 1o KOs).
The younger Ramos (20-0, 16 KOs), a premier prospect in the junior middleweight division, bludgeoned the fellow 154-pound prospect to force a stoppage from his corner midway through the seventh round after dropping him with a short left late in the first round.