3 takeaways from Golden Knights' offseason moves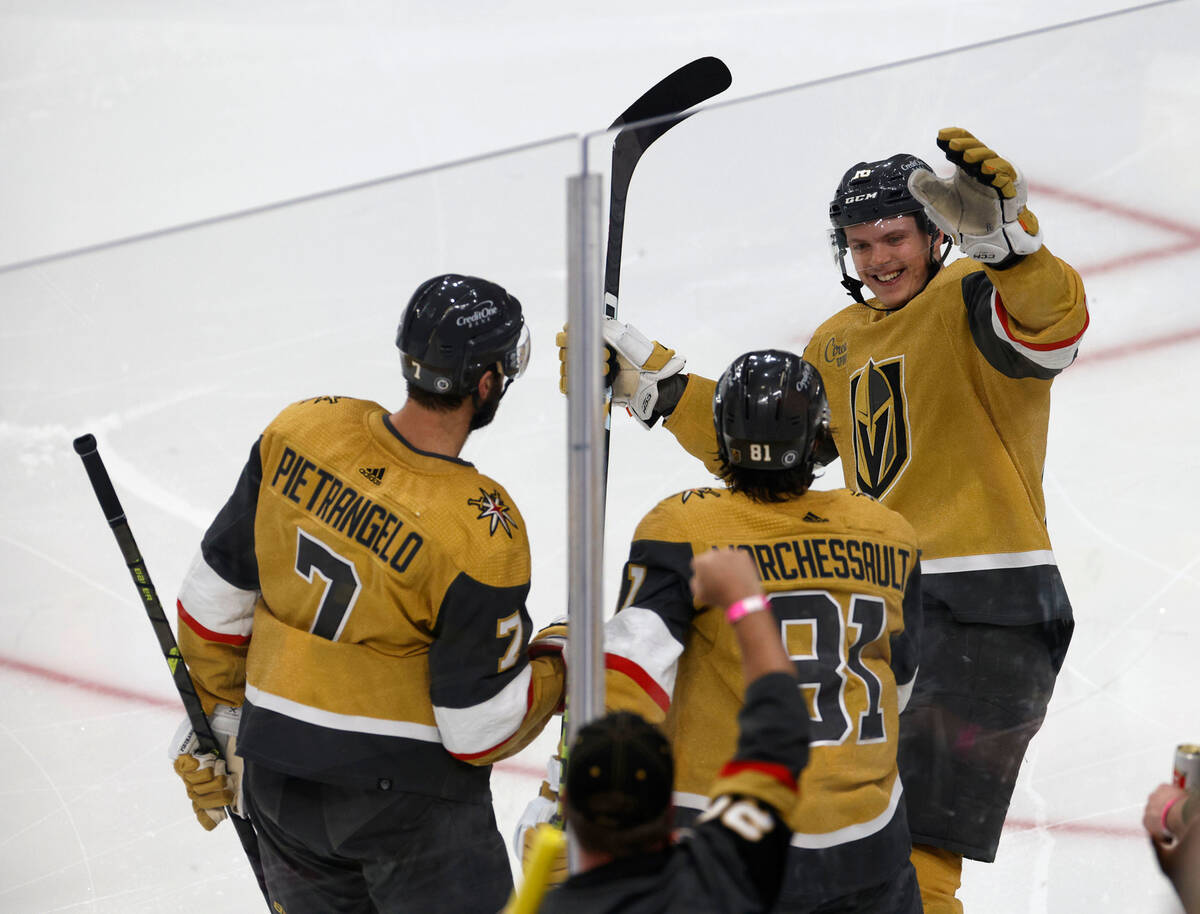 Meet the new Golden Knights, same as the old Knights?
That sure looks to be how the 2023-24 version of the team is shaping up. The Knights — who concluded their major offseason business by signing restricted free agents Brett Howden and Pavel Dorofeyev to new contracts July 19 — are set to roll out almost the exact same lineup as the one that beat the Florida Panthers for the Stanley Cup.
The only player who appeared in the final that won't return is left wing Reilly Smith, who was traded to the Pittsburgh Penguins. The rest of the core that stormed through the postseason with a 16-6 record and plus-31 goal differential is back.
It took careful maneuvering for the Knights to make it work. The NHL's salary cap going up by only $1 million didn't make things easy on them, but they still have about $850,000 in flexibility with a full roster if goaltender Robin Lehner begins the season on long-term injured reserve.
With the dust settled, here are three takeaways from the team's offseason:
1. Running it back
Almost all the Knights' offseason moves were about retaining their existing talent. They didn't add a player from outside the organization who is expected to break camp with the team, barring injury.
The Knights essentially decided that if it ain't broke, don't fix it. And it's not hard to understand why considering the run they just had. They never faced elimination and only trailed in a series after Game 1 of the first round.
The group has yet to meet its match, which is why general manager Kelly McCrimmon said the objective was to keep it together as much as possible.
The result, after extensions for Howden, Dorofeyev, goaltender Adin Hill and left wing Ivan Barbashev, is the Knights will return 93 percent of their postseason goals and 92 percent of their playoff points from last season. That should give them a great chance to successfully defend their title.
Other recent champions that have successfully brought back most of their cores include the 2020 Tampa Bay Lightning, the 2019 St. Louis Blues and the 2018 Washington Capitals. The Lightning became the second team since the salary cap was put in place in 2005 to go back to back, and the Blues and the Capitals lost in the first round the next season.
2. Opportunity for Cotter, Dorofeyev
The Knights' moves mean three of their forward lines and three of their defense pairs can come to camp unchanged from the Cup-clinching game.
The only spot open is Smith's on the left wing of center William Karlsson. The Knights, since they didn't make any additions, will have to fill it in-house. And they have two young candidates for the role.
Dorofeyev, 22, should get the chance to start in the NHL after finishing with seven goals and nine points in 18 games last season. He even showed chemistry with Karlsson. The Knights outscored opponents 7-3 with the two on the ice together at five-on-five in 117:19.
But Dorofeyev won't be handed the job. Left wing Paul Cotter should provide strong competition after netting 13 goals and 18 points in 55 games as a rookie. Both should come to camp hungry after getting their first taste of extended NHL play.
"Those guys have opportunities to push through, right?" coach Bruce Cassidy said in June. "And that's usually how your organization grows and gets better when you have internal competition."
3. Net an area of intrigue
The Knights had what McCrimmon called an unprecedented situation in net last season, using a franchise-record five starters and getting wins from each of them.
The team hopes to avoid something similar next season. But it does make its backup plans behind Hill and goaltender Logan Thompson worth watching.
The Knights lost goaltenders Laurent Brossoit and Jonathan Quick in free agency, meaning Jiri Patera will enter camp as the favorite to start as the No. 3. The 24-year-old was 2-0 in his first two NHL starts last season and was 14-15-1 with a .911 save percentage in Henderson last season.
It's important that Patera earns the trust of the coaching staff because the Knights are likely going to need him.
Hill has never started more than 25 games in a season and didn't play for about two months because of a lower-body injury last season. Thompson is expected to be ready for camp, but dressed only once after Feb. 9 because of lower-body injuries.
"I do believe you have to have a good stable of goaltenders," president of hockey operations George McPhee said in June. "It's really hard to rely on one guy."
Contact Ben Gotz at bgotz@reviewjournal.com. Follow @BenSGotz on Twitter.