3 takeaways from Knights' loss: Kings dominate neutral zone
Updated January 7, 2023 - 10:19 pm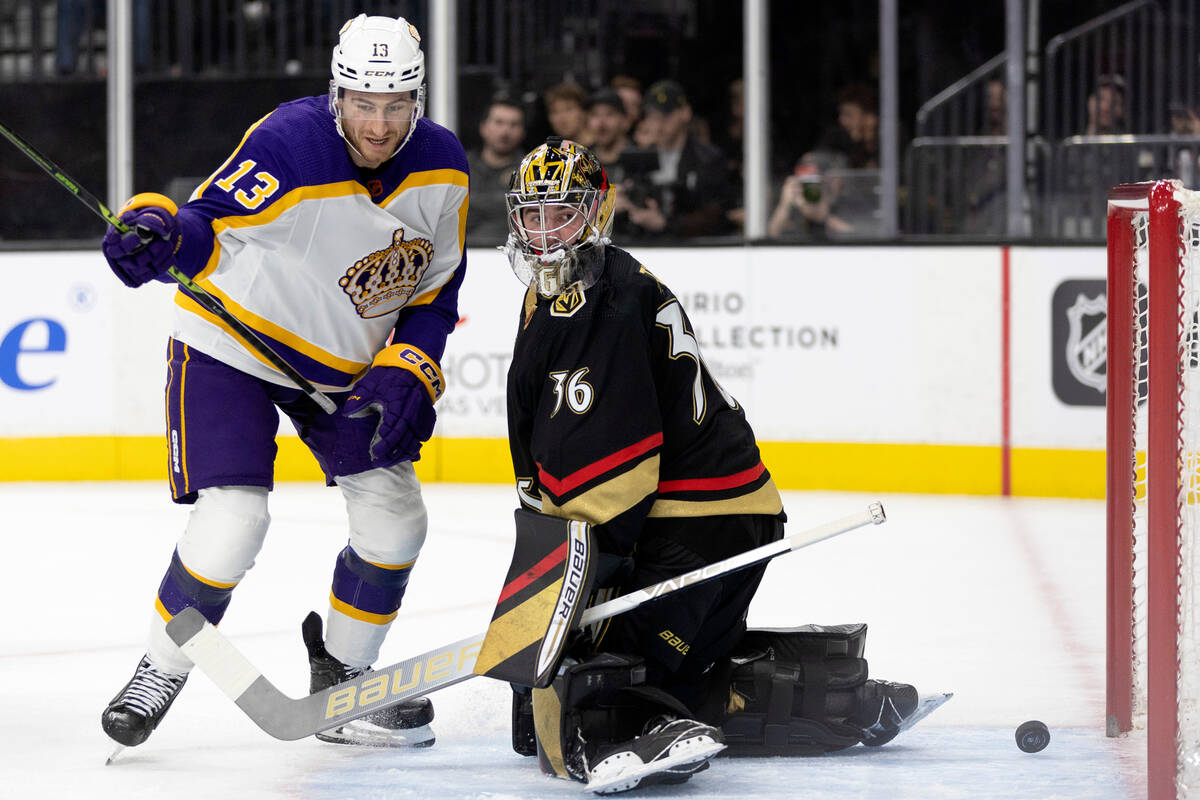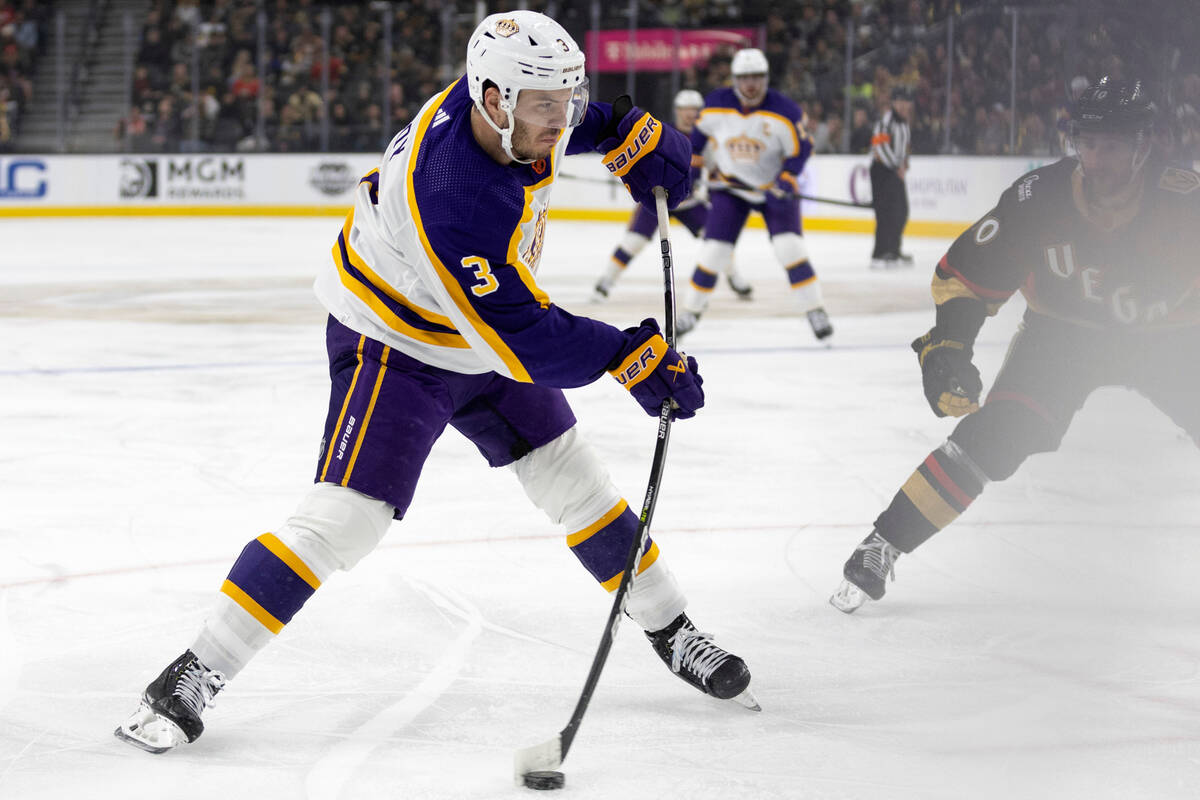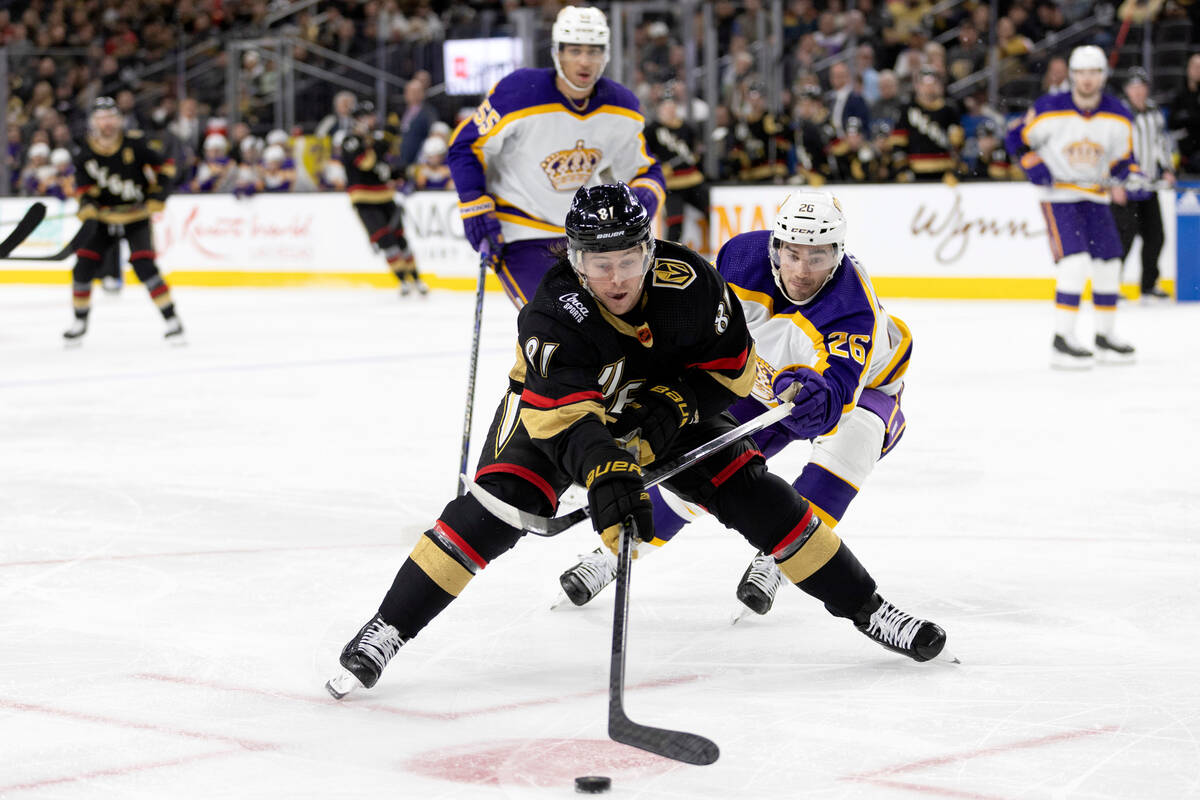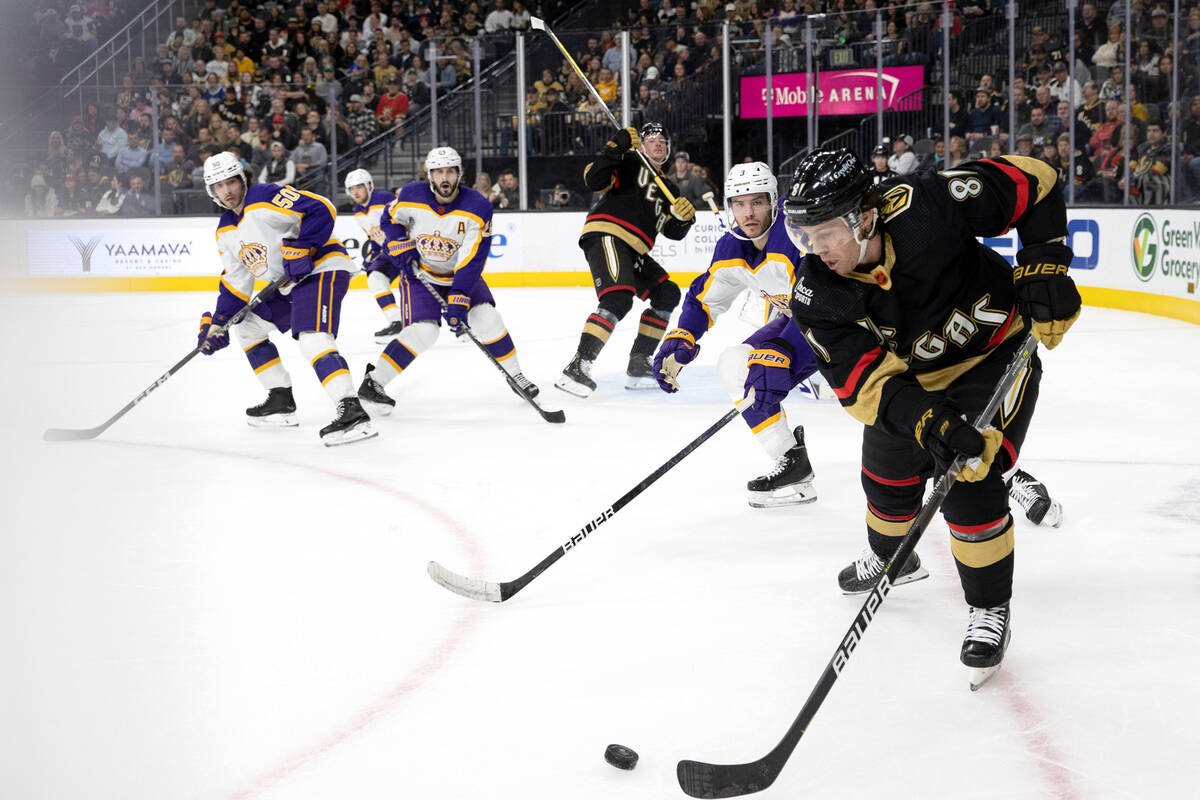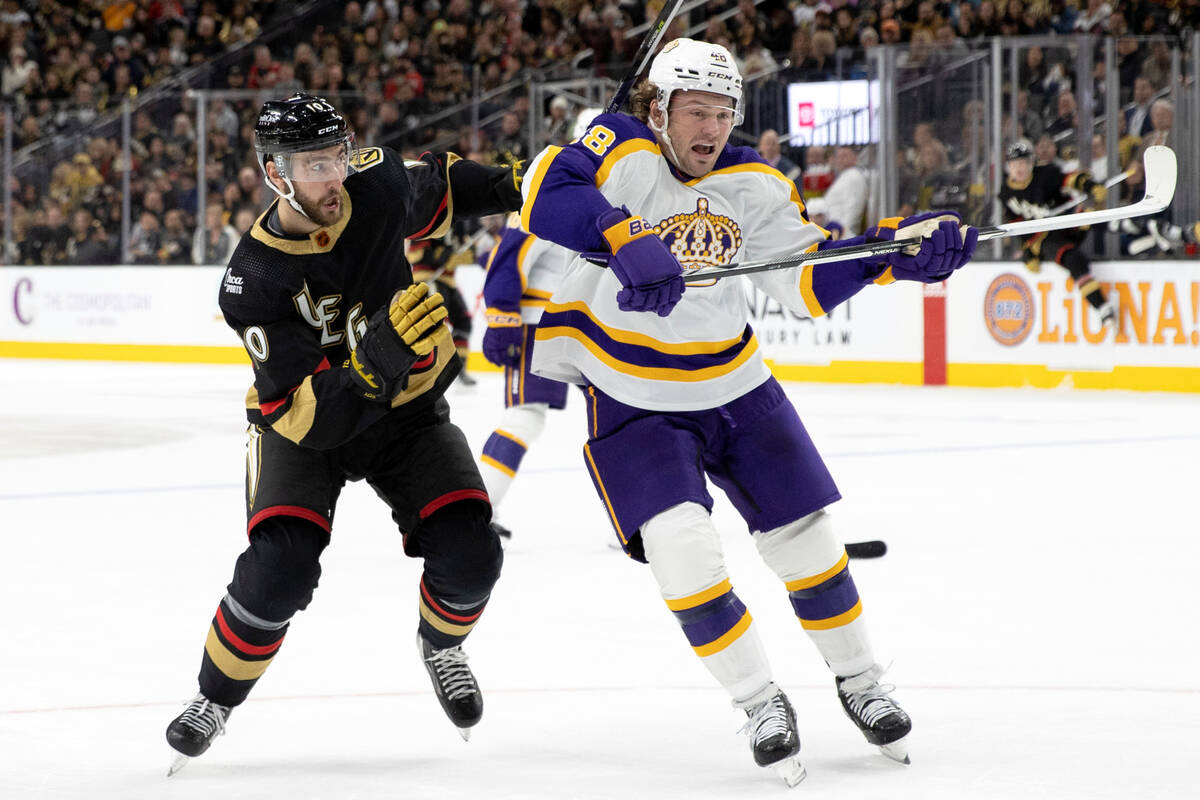 Left wing Reilly Smith pivoted in the neutral zone at T-Mobile Arena, ready to head up ice toward the offensive blue line.
Two Los Angeles Kings came from either side to stop him.
Center Blake Lizotte pressured Smith and forced him to turn toward defenseman Alexander Edler, who stripped the puck away.
It was a formula the Kings would repeat all Saturday night. Almost any attempt made by the Golden Knights to skate the puck through the middle of the ice was picked up, stopped and turned the other way.
That included Edler's strip. Eight seconds after it happened, left wing Kevin Fiala fired a shot from the point to give the Kings a 1-0 lead. Los Angeles continued turning defense to offense the rest of the night in a 5-1 win against the Knights in front of an announced crowd of 18,339.
The win moved second-place Los Angeles four points back of the Pacific Division lead. The first-place Knights, who have a game in hand, saw their four-game home winning streak snapped.
"We turned some pucks over in the neutral zone and fed right into their game plan," defenseman Brayden McNabb said. "It's frustrating. Tough loss, but they outplayed us for sure."
Los Angeles' structured play, especially with its 1-3-1 forecheck in the neutral zone, made it hard for the Knights to get good looks.
They finished with four high-danger scoring chances at five-on-five, according to the website Natural Stat Trick. That's tied for their second-fewest this season.
The Knights also had 20 shots on goal, tied for their lowest total.
The returns of right wing Jonathan Marchessault and defenseman Alec Martinez from injuries — coupled with center Jack Eichel and left wing Paul Cotter playing their second straight game — weren't enough to get the team going.
"I think we had maybe a little bit of a mental sag," captain Mark Stone said. "You can't have those. A veteran team like us, we shouldn't think that just because we have a good lineup on paper we're going to win games."
Fiala's goal with 2:58 left in the first put the Kings in front.
Defenseman Matt Roy doubled the lead with a short-handed goal 9:27 into the second. Center Rasmus Kupari flung a shot on net that goaltender Logan Thompson kicked out to the slot. Roy pounced on the opportunity.
Fiala, the Kings' All-Star representative, scored his second with 3:34 left in the middle period after another lost neutral-zone battle by the Knights. Right wing Viktor Arvidsson added a fourth goal for Los Angeles 5:45 into the third.
Marchessault stopped goaltender Pheonix Copley's shutout bid with 2:18 remaining. The crowd barely reacted, because the Knights' goal horn and song didn't play.
Fiala finished off his second career hat trick with an empty-net goal with 1:27 left. The Knights dropped to 1-2 against the Kings this season, with one meeting April 6 at T-Mobile Arena still to go.
"It was probably the most disappointing game of the year when I look at our competitiveness from top to bottom," coach Bruce Cassidy said. "We just didn't have it."
Here are three takeaways from the loss:
1. Thompson pulled
Thompson, two days after being named the Knights' All-Star representative, was pulled for the first time this season.
He gave up three goals on 19 shots before being relieved. Thompson fell to 1-2 against Los Angeles this season with nine goals allowed and a .877 save percentage.
Cassidy pulled his goaltender in the middle of a game for only the second time. He yanked Adin Hill after 12:26 on Dec. 28 after Anaheim scored two goals on five shots.
2. Pheonix rising
Copley continued his impressive run since getting called up to face Ottawa on Dec. 6.
The 30-year-old made 19 saves to improve to 10-2 this season. No NHL goaltender has more wins than Copley since his first appearance Dec. 6.
His win Saturday was his second against the Knights. He also made 23 saves to beat them in Los Angeles on Dec. 27.
3. Division woes
The loss dropped the Knights to 5-6-2 against division opponents.
They still lead the Pacific, but they've struggled within it for one of the first times in their history. They entered this season 84-26-11 in the regular season against the teams currently in their division, a 121-point pace over 82 games.
Contact Ben Gotz at bgotz@reviewjournal.com. Follow @BenSGotz on Twitter.