Golden Knights recap: Adin Hill's strong effort goes for naught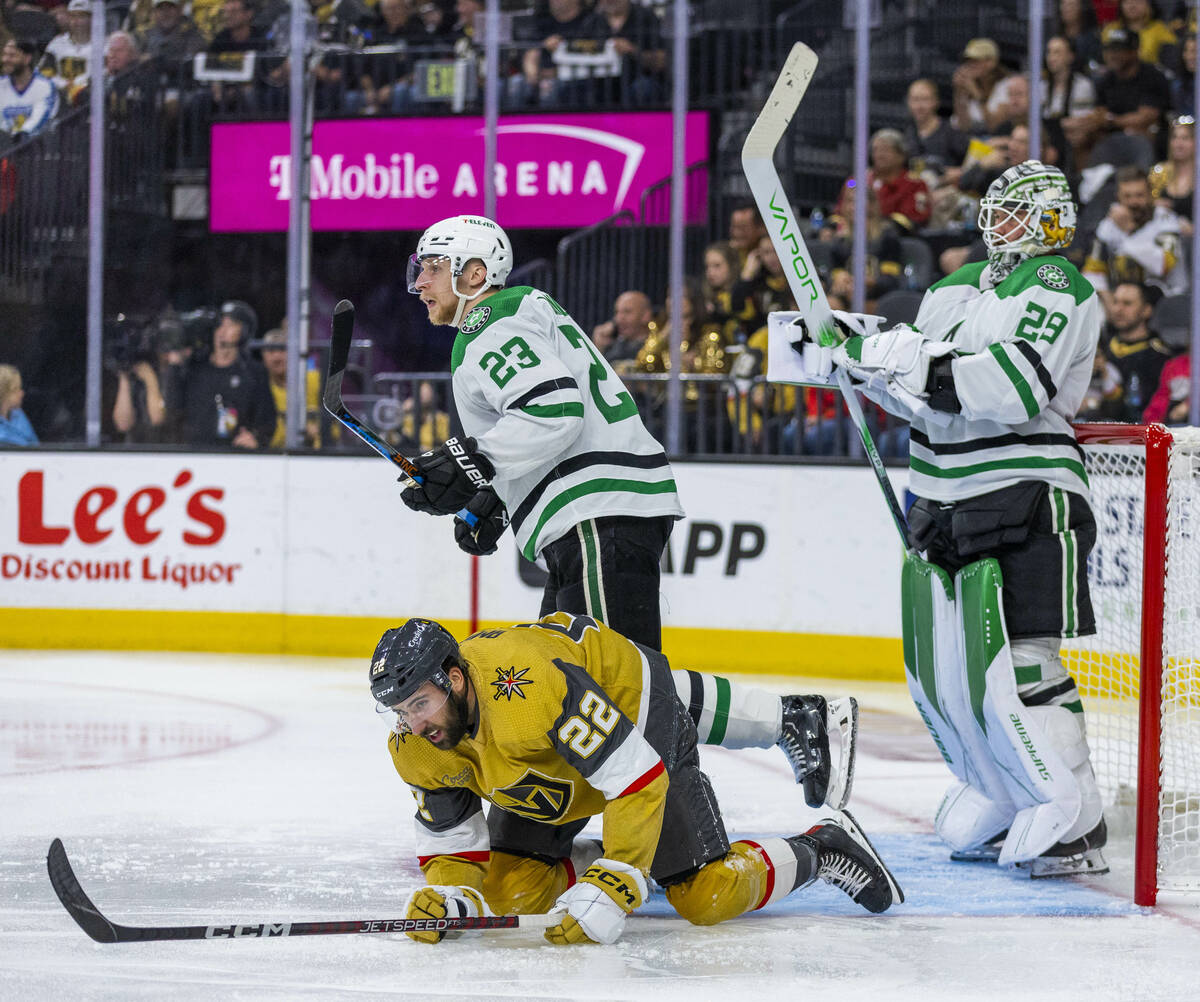 At a glance
Knights lead series 3-2
■ Game 1 — Knights 4, Stars 3, OT
■ Game 2 — Knights 3, Stars 2, OT
■ Game 3 — Knights 4, Stars 0
■ Game 4 — Stars 3, Knights 2, OT
■ Game 5 — Stars 4, Knights 2
■ Game 6 — 5 p.m. Monday, American Airlines Center (ESPN)
■ Game 7* — 6 p.m. Wednesday, T-Mobile Arena (ESPN)
* If necessary. All games will be broadcast on KKGK (98.9 FM, 1340 AM)
RJ's three stars
3. Knights goaltender Adin Hill — He had a number of outstanding saves to give the Knights a chance. In the first period, Hill robbed Roope Hintz with his glove midway through. His best stop came early in the third period when he slid to his left and gloved Joel Kiviranta's shot from point-blank range to keep the score tied at 2.
2. Stars forward Jason Robertson — His hot streak continued with a goal in the second period that tied the score at 2 after the Knights went ahead 2:09 earlier. The goal was his fifth goal of the series. Only three other players in franchise history have had as many in a round before the Stanley Cup Final.
1. Stars forward Ty Dellandrea — He has been a thorn in the Knights' side the past two games. Dellandrea, who drew the penalty in overtime of Game 4 leading to the Stars' winning goal, put Dallas ahead midway through the third period with a wrister from the right wing that slipped past goaltender Adin Hill. He added an insurance goal for the Stars less than two minutes later.
Key play
Dellandrea's go-ahead goal
The Knights pushed hard at the start of the third period, but it was Dellandrea who produced the breakthrough for Dallas.
After finding room through the neutral zone, Dellandrea carried the puck across the blue line and drifted wide on the right wing. His shot from the right faceoff circle tipped off the stick of Knights defenseman Alex Pietrangelo and beat Hill to the glove side at 10:35 of the third for Dallas' first lead.
Key stat
2 — The number of comeback wins by the Stars during the postseason. Both victories have come in the past two games, when Dallas trailed 1-0 and 2-1 each time.
Notable
Harry Hall wrapped up his round at the PGA Tour's Charles Schwab Challenge on Saturday, and his attention immediately turned to hockey.
The Las Vegas resident and former UNLV golfer wore a Knights jersey during his post-round interview with CBS. He said he wanted to wear the jersey during his round but decided against it.
.@HarryHall wanted to rock his @GoldenKnights jersey out on the course today😂@Amanda_Balionis I @CSChallengeFW pic.twitter.com/s6363CNbK7

— Golf on CBS ⛳ (@GolfonCBS) May 27, 2023
"I was going to wear it on the 13th (hole), but I thought that probably wouldn't go down well not playing so good," Hall said after a 2-over-par 72.
Hall has a share of the lead along with Adam Schenk entering Sunday's final round.
"I'm tied for the lead; I can wear this now," Hall said jokingly.
Knights quotable
"I don't think we've brought our best the last two games, but we've still been in a spot to win the game. Definitely got to bring a little bit better effort, start playing more desperate with a chance to wrap it up."
— Knights captain Mark Stone
Stars quotable
"I know the fourth game is always the hardest with the season on the line. Obviously they feel that they've got to get it done, and it's just as much pressure on us to keep it going."
— Robertson, on whether the pressure in the series has shifted to the Knights
David Schoen Review-Journal