Knights prospect roundup: How is farm system faring?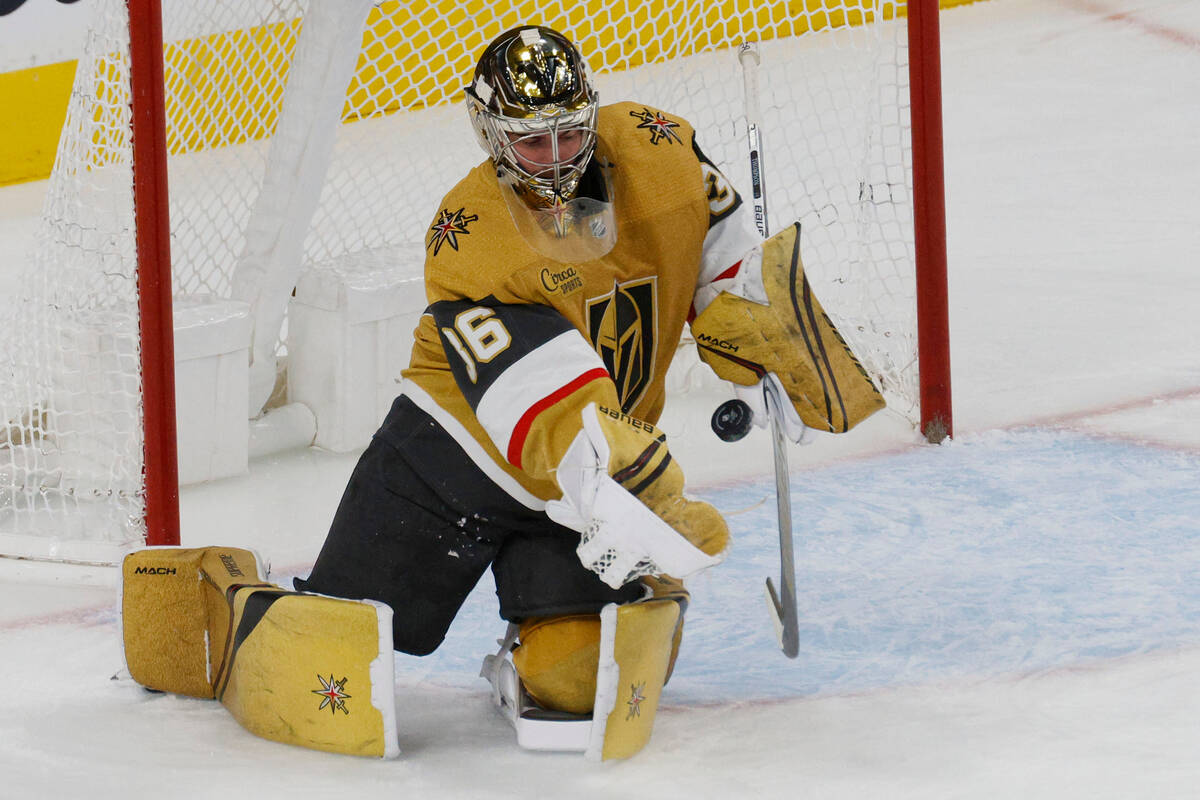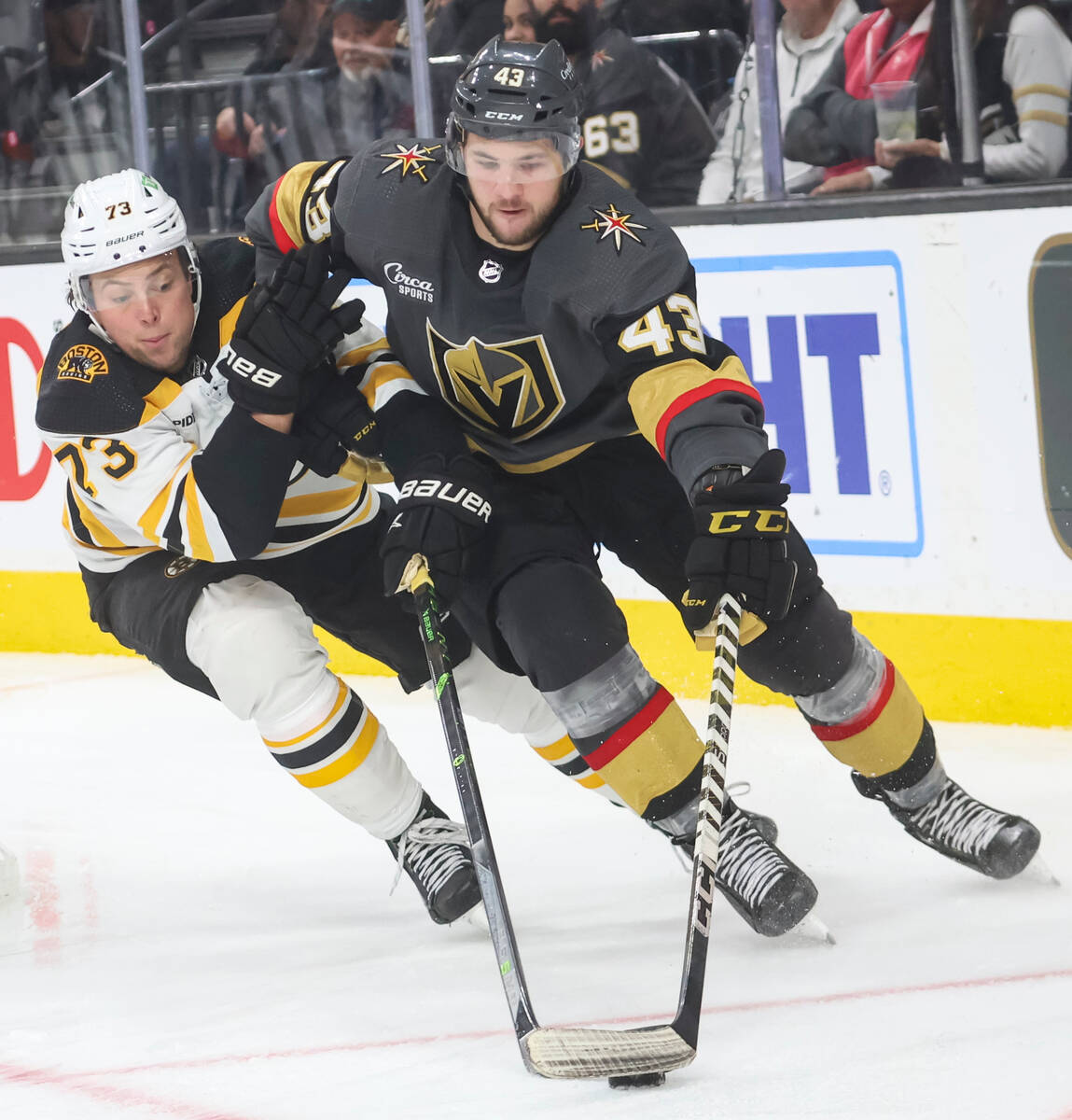 The Golden Knights, thanks to their unexpected immediate success, have focused more attention on remaining competitive rather than stocking their farm system. Despite that, they've still received major help from some young players this season.
Goaltender Logan Thompson, rookie left wing Paul Cotter and several call-ups on the blue line have given the Knights a boost as they attempt to return to the playoffs.
Thompson's impact has been the most notable. The 25-year-old was named to the All-Star Game on Thursday, and he's one of the leading candidates for the Calder Trophy for rookie of the year.
"It's definitely special," Thompson said of his All-Star selection. "End of the day, I think the goal is to win a Stanley Cup. That is my goal."
Cotter has done well in his own right with five goals and three assists in 24 games. The 23-year-old has also brought energy to the locker room with his outgoing personality and fashion sense, thanks to his famous fedora.
"You got to have fun with it," Cotter said. "You're playing in the National Hockey League. It's the best league in the world. This is all of our dreams since we were kids so you've got to enjoy it."
Those Knights prospects are two of several who have had a successful first half. With the annual World Junior Championship showcase in the books, here's a look at the rest of a farm system that was ranked 21st before the season by EliteProspects.com:
NHL call-ups
— With injuries hitting the Knights' blue line, defensemen Kaedan Korczak (2019 second-round pick), Daniil Miromanov (undrafted free agent) and Brayden Pachal (undrafted free agent) have all fared well in the NHL,
Miromanov had six points in 14 games before getting injured blocking a shot. His defense remains a work in progress. Pachal and Korczak are less gifted offensively, but they're both playing solid hockey and have an even rating at five-on-five.
Korczak, who has good size at 6-foot-3 and skates well, said he's more confident this year compared with his NHL debut last season.
"Obviously, that year of growth is nice to have," Korczak said. "Just to get your feet under you in pro hockey."
— Forward Pavel Dorofeyev, last year's leading scorer with the Silver Knights, fired five shots in three NHL games before going on injured reserve.
World Junior standouts
— Centers Matyas Sapovaliv (2022 second-round pick) and Jakub Brabenec (2021 fourth-round pick) played huge roles on Czechia's silver medal-winning team at World Juniors, the annual under-20 junior hockey tournament. It was the country's highest finish since 2001.
Sapovaliv had seven assists in seven games, was plus-9 and led all Czechia players in time on ice (20:38 per game). Sapovaliv, at 6-foot-3, has the potential to become a huge, two-way center like current Knight Nicolas Roy.
Brabenec had a goal and six assists. He and Sapovaliv both signed entry-level deals with the Knights in December.
"Their coach spoke really highly of (Sapovaliv)," coach Bruce Cassidy said before the gold-medal game Friday. "Brabenec has been putting up points. That's good, when you have two centericemen that are doing well."
— Forward Zach Dean (2021 first-round pick) had a goal and two assists in seven games as part of Canada's gold medal-winning squad.
Dean played more of a depth role because of all his country's star power, but Cassidy said he thought Dean had a good tournament.
— Cassidy said goaltender Carl Lindbom (2021 seventh-round pick) was "excellent" for fourth-place Sweden.
Lindbom played all seven of his country's games and was 4-3 with two shutouts. He allowed only 11 goals his first six starts, before giving up eight in the bronze-medal game to the U.S. Lindbom, who is undersized at 6-foot-1, still finished with a .914 save percentage.
Silver Knights
— Defenseman Lukas Cormier (2020 third-round pick) is Henderson's fourth-leading scorer his first pro season, with 17 points in 30 games.
Cormier, listed at 5-11, is on the smaller side. His skill level still helped him win back-to-back QMJHL defenseman of the year awards his last two seasons of junior hockey.
The Silver Knights also have prospects Layton Ahac (2019 third-round pick), Daniil Chayka (2021 second-round pick) and Pete DiLiberatore (2018 sixth-round pick) on their blue line, along with veteran Jake Bischoff.
— Forward Brendan Brisson (2020 first-round pick) has five goals and eight assists in 26 games his first full pro season.
Forward Ivan Morozov (2018 second-round pick) has three goals and five assists in 28 games his first year in North America.
Contact Ben Gotz at bgotz@reviewjournal.com. Follow @BenSGotz on Twitter.
Up next
■ Who: Panthers at Golden Knights
■ When: 7 p.m. Thursday
■ Where: T-Mobile Arena
■ TV: AT&T SportsNet
■ Radio: KKGK (98.9 FM, 1340 AM)