RJ's NFL mock draft: Who did Raiders pick at No. 7?
Updated February 27, 2023 - 2:10 pm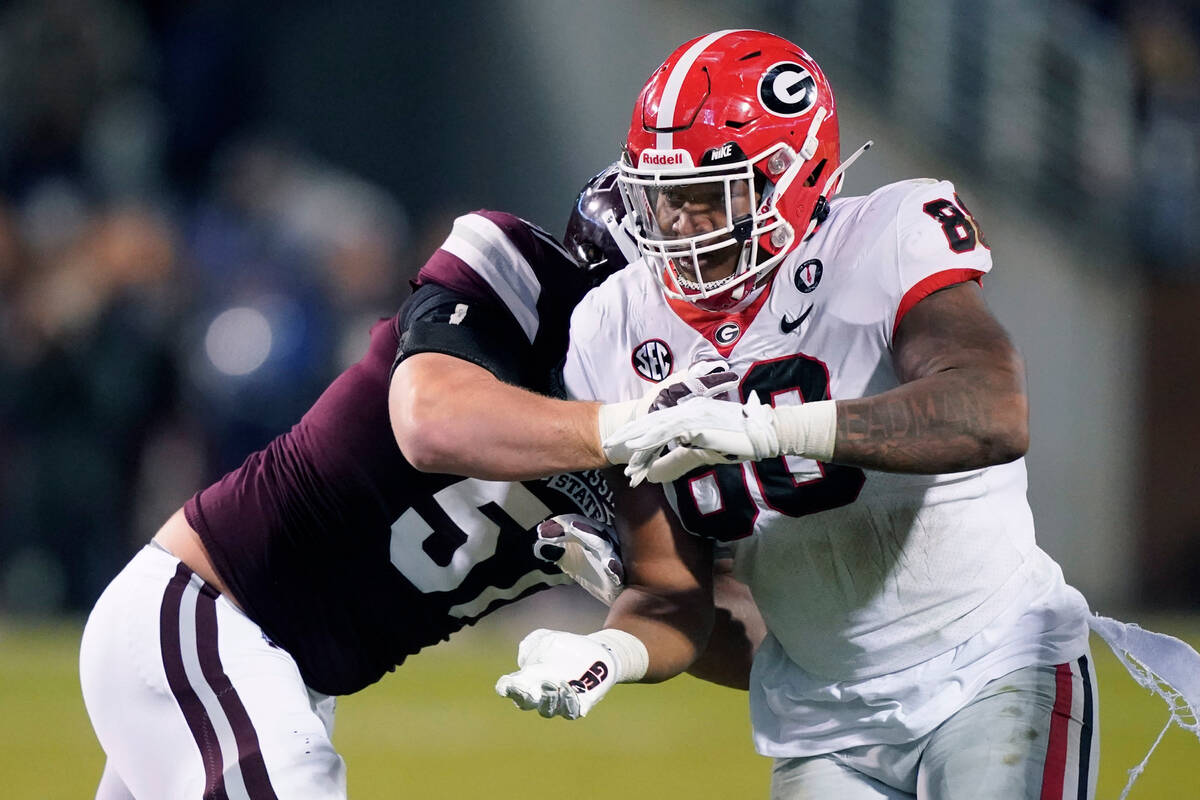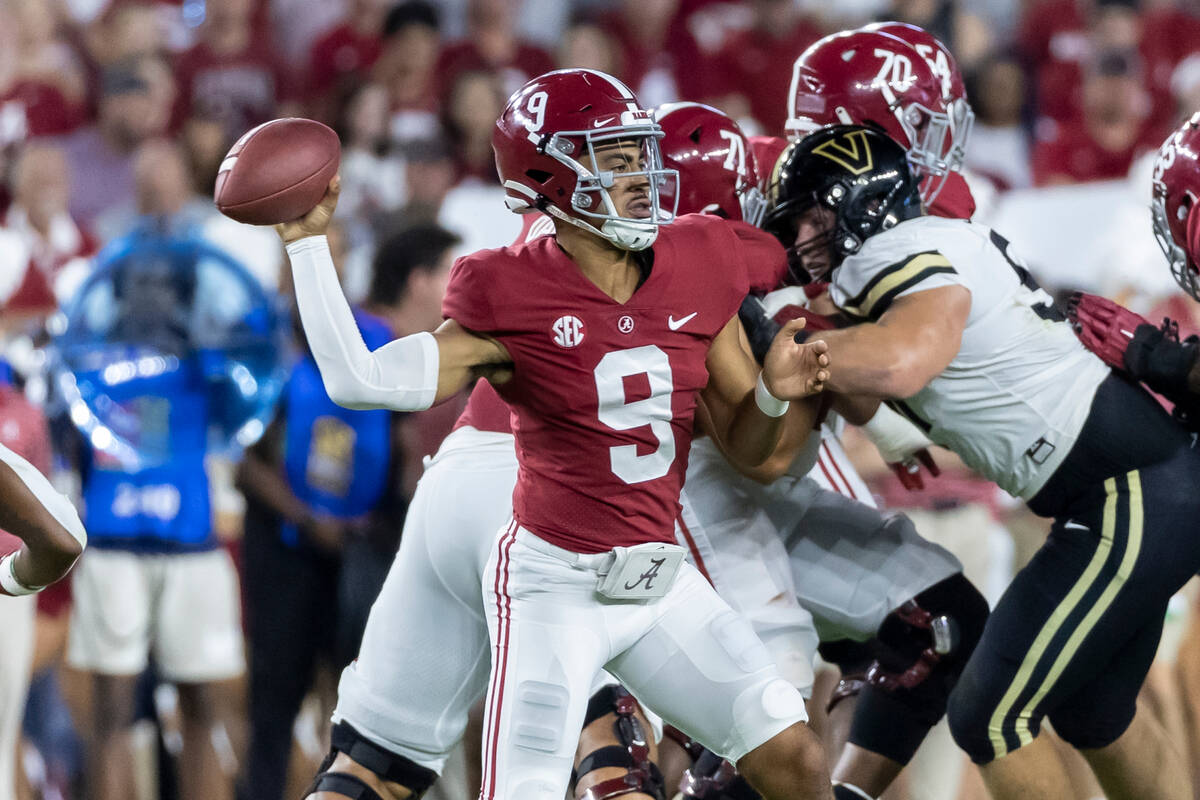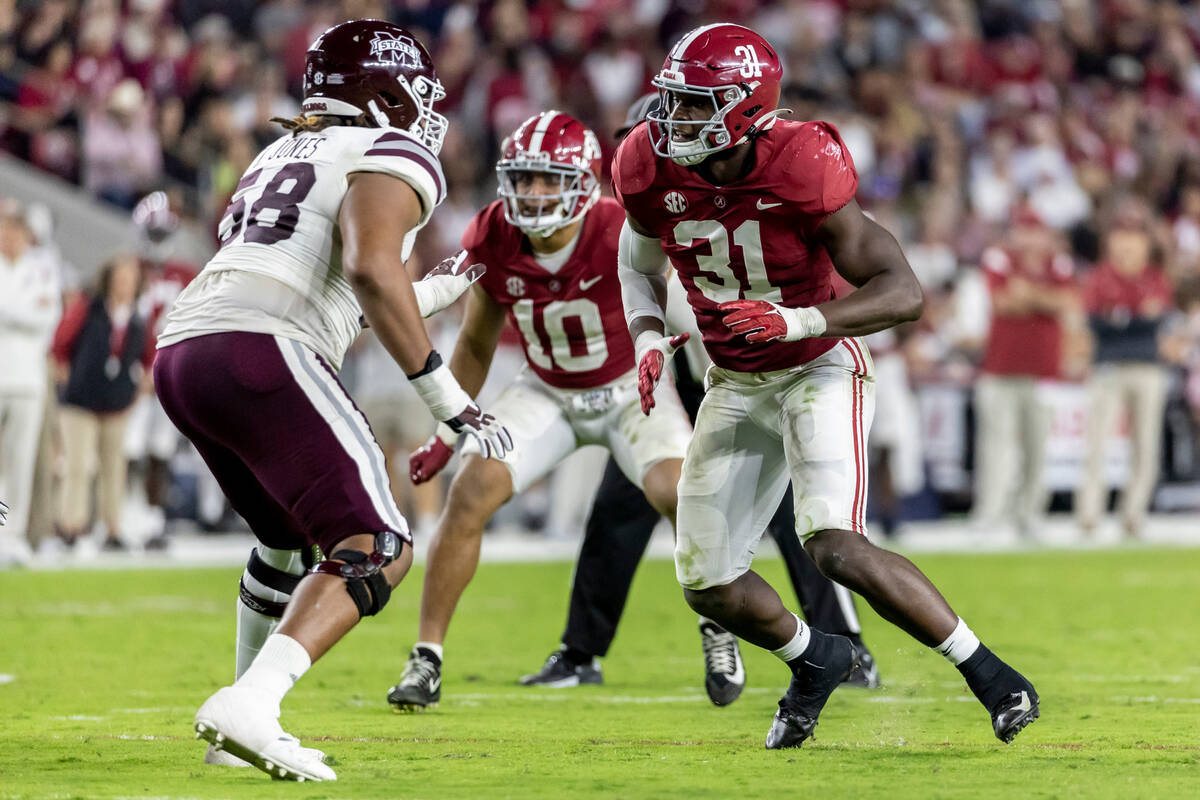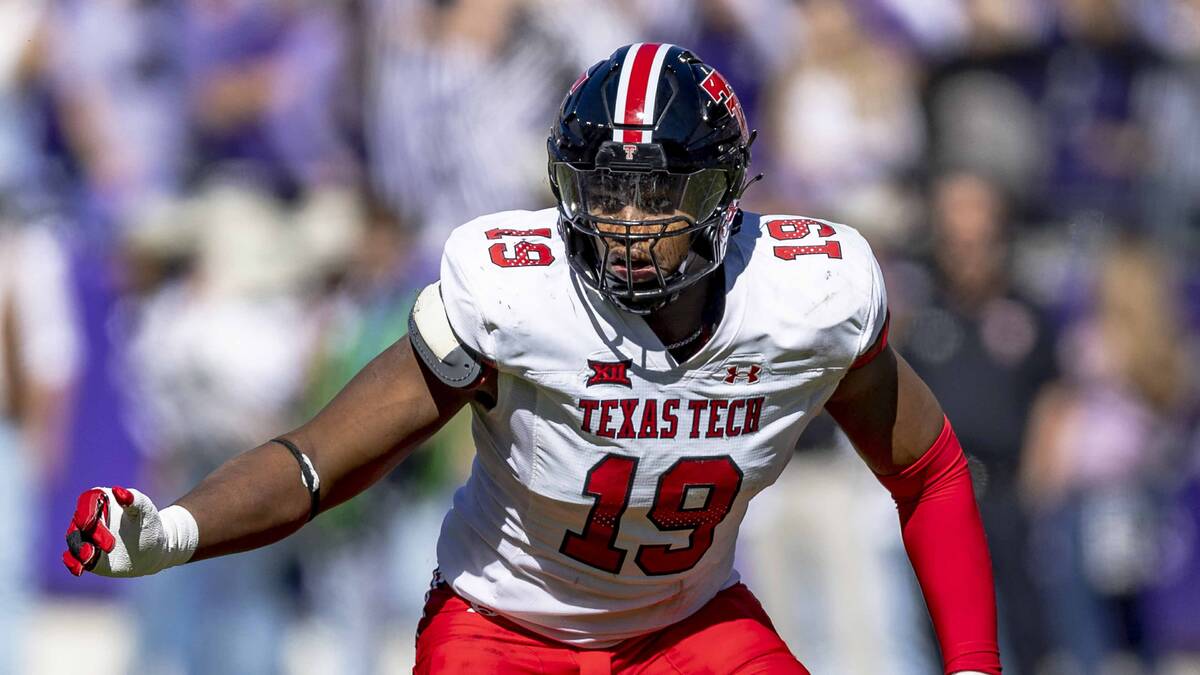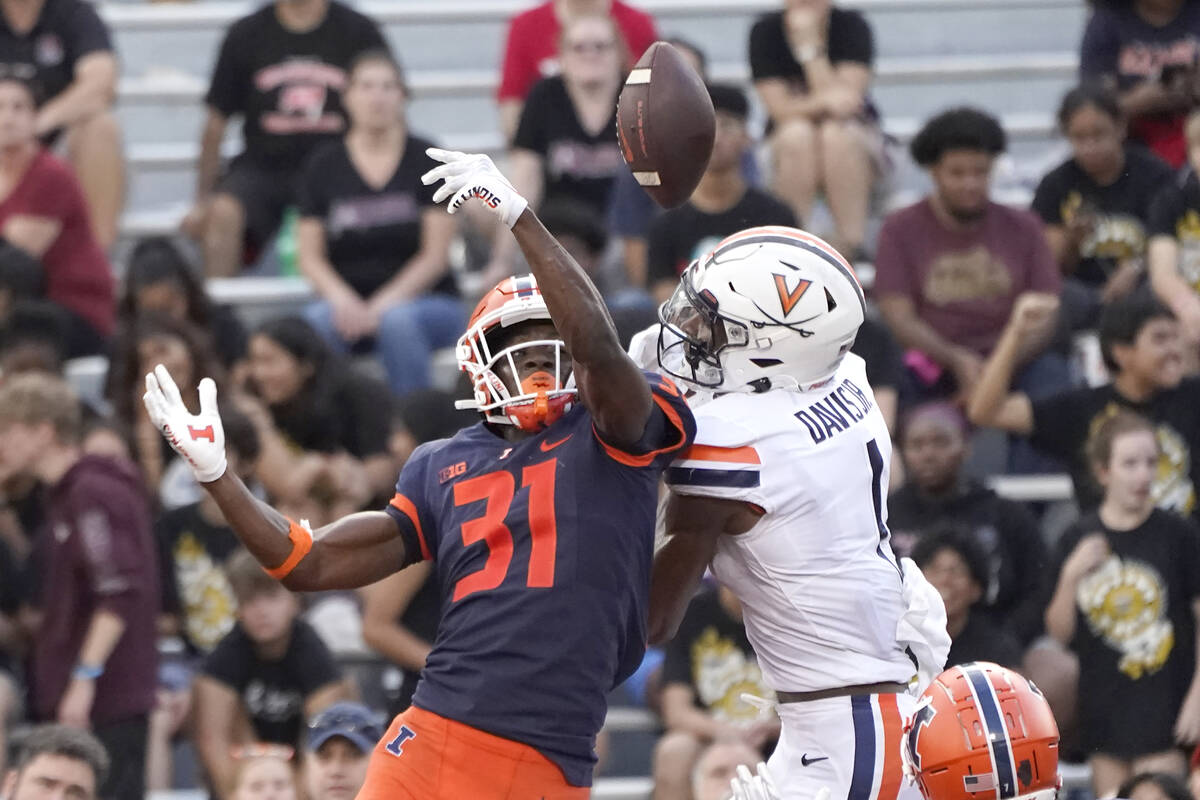 The Super Bowl just wrapped up, and the NFL stepped away from the spotlight for all of about four days, so it's time to turn the page to the 2023 season.
League personnel and draft hopefuls have congregated in Indianapolis for a week of drills, job interviews and networking at the combine, officially starting the countdown to April 27 when the first round of the draft takes place in Kansas City, Missouri.
What better time for the Review-Journal's first mock draft of the year?
For the purpose of this exercise, there will be no trades. That throws a wrench into the process right away because it's likely the first pick is going to be dealt, which changes the entire look of the first round.
The picks also will change significantly based on what happens at the combine and then free agency, which starts March 15.
With those caveats, here we go:
1. Chicago Bears
Jalen Carter, DL, Georgia — Again, this is almost certainly going to be a trade. There also is a chance the Bears could trade Justin Fields and get their preferred quarterback from this class on two extra years of a rookie deal. But here they get the best overall prospect in the draft.
2. Houston Texans
Bryce Young, QB, Alabama — It might take a few minutes for the Texans to get this pick to the podium because their contingent would be doing so many celebratory cartwheels should they get Young.
3. Arizona Cardinals
Will Anderson Jr., Edge, Alabama — The Cardinals have several areas of need ahead of what figures to be another down season with Kyler Murray on the mend and a new power structure in place, so they probably will listen to offers to trade down to a quarterback-needy team and acquire more draft capital.
4. Indianapolis Colts
C.J. Stroud, QB, Ohio State — This is a prime candidate to trade up, but the Colts would be thrilled to take Stroud at No. 4.
5. Seattle Seahawks
(From Denver)
Tyree Wilson, Edge, Texas Tech — Wilson is generating a lot of buzz ahead of the combine, and he could be a trendy choice to be picked before Anderson at some point in this process.
6. Detroit Lions
(From Los Angeles Rams)
Devon Witherspoon, CB, Illinois — Witherspoon is at the top of a lot of lists as the best cornerback in a deep class at the position. He allowed just 22 catches for 206 yards and no touchdowns on 62 targets last season, according to Pro Football Focus.
7. Raiders
Anthony Richardson, QB, Florida — It's no secret the Raiders need a quarterback, and there is a good chance the position could be addressed in free agency. If they land a potential long-term solution, they can use this pick to solidify the line of scrimmage on either offense or defense. With that still unknown, the Raiders take a shot on a high-risk, potentially high-reward prospect with perhaps the highest ceiling in this class, though one with as much baffling film as sensational. He would be a good fit with a short-term veteran bridge option at quarterback.
8. Atlanta Falcons
Myles Murphy, Edge, Clemson — This could be an ideal fit for a team that was second-to-last in sacks last season. Murphy plays in the backfield and is a disruptive force.
9. Carolina Panthers
Will Levis, QB, Kentucky — The Panthers have gone down several paths in search of a franchise quarterback in recent years, and they explore the option of a top prospect who played well in college and finds himself in the discussion for the top 10 because of the belief he can be so much better with some refinement and a better offensive line.
10. Philadelphia Eagles
(From New Orleans)
Christian Gonzalez, CB, Oregon — General manager Howie Roseman positioned his team to have some extra draft capital this year in case it looked as if Jalen Hurts wasn't working out. Instead, Hurts took them to the Super Bowl, and Roseman is armed with assets to keep Philadelphia in contention.
11. Tennessee Titans
Paris Johnson Jr, OT, Ohio State — Johnson might be a better fit than Peter Skoronski in Tennessee because of his superior run blocking skills for a team that loves to run.
12. Houston Texans
(From Cleveland)
Jordan Addison, WR, Southern California — The Texans got their quarterback earlier in this draft and now they get him a weapon.
13. New York Jets
Peter Skoronski, OT, Northwestern — There has been some debate about whether Skoronski will play guard or tackle at the next level, with a particular obsession over his arm length. But Skoronski put together one of the best pass-blocking tapes in years this season, so the short arms didn't hurt him in the Big Ten.
14. New England Patriots
Broderick Jones, OT, Georgia — Wide receiver makes a lot of sense for them, and they might go with Addison if he's available. But the Patriots also need help on the offensive line.
15. Green Bay Packers
Brian Branch, S, Alabama — This might be a reach because there are questions about where Branch will play in the NFL, but he proved to be a versatile asset for Alabama, and the Packers could use a defensive player who can play in the slot or either safety position.
16. Washington Commanders
Joey Porter Jr., CB, Penn State — The Commanders need a cornerback and take advantage of Porter dropping into their laps. He has great length and is a physical defender on the outside.
17. Pittsburgh Steelers
Bryan Bresee, DL, Clemson — There are three tackles and three cornerbacks off the board, which is bad news for a Steelers team with needs at both spots.
18. Detroit Lions
Calijah Kancey, DL, Pittsburgh — The Lions get a second potential impact player on defense in Kancey, who can line up next to Aidan Hutchinson and give NFC North quarterbacks nightmares for years to come.
19. Tampa Bay Buccaneers
Lukas Van Ness, Edge, Iowa — Edge rusher quickly went from strength to weakness through age and injury. Van Ness could help change that.
20. Seattle Seahawks
Quentin Johnston, WR, Texas Christian — It would be almost impossible to pass on an elite talent such as Johnston at this spot.
21. Los Angeles Chargers
Michael Mayer, TE, Notre Dame — Mayer is battling with Dalton Kincaid to be the first tight end selected, but his ability to find open spaces in the defense should make him a favorite of Justin Herbert.
22. Baltimore Ravens
Jaxon Smith-Njigba, WR, Ohio State — The Ravens have a lot to figure out with Lamar Jackson's future with the team starting to look more uncertain because of an impasse in contract negotiations. But the assumption is he will be back, and the search for a consistent receiver continues with Smith-Njigba.
23. Minnesota Vikings
Deonte Banks, CB, Maryland — Banks would give Minnesota a playmaker who knows how to find the ball whether in man or zone coverage.
24. Jacksonville Jaguars
Nolan Smith, Edge, Georgia — If the Jaguars can't get a deal done with tight end Evan Engram, then either Mayer or Kincaid could be an obvious choice if they're available.
25. New York Giants
Bijan Robinson, RB, Texas — If they can't get a deal done with Saquon Barkley, this is almost too perfect.
26. Dallas Cowboys
Jalin Hyatt, WR, Tennessee — Are the Cowboys the kind of team that would fall in love with a trait like Hyatt's unreal speed? Of course. But he can play and did it in big moments last season, as evidenced by his six catches for 207 yards and five touchdowns against Alabama.
27. Buffalo Bills
O'Cyrus Torrence, OG, Florida — Guard Rodger Saffold indicated he wants to return, but he is on his last legs, and the best guard in the draft falling to the Bills could make for an easy decision.
28. Cincinnati Bengals
Dalton Kincaid, TE, Utah — There is a possibility the Bengals move on from one of their top three receivers to sign some young stars to long-term deals, and Kincaid, who played at Faith Lutheran High School, has the potential to contribute immediately.
29. New Orleans Saints
(From San Francisco via Miami and Denver)
Keion White, Edge, Georgia Tech — White has been on the rise since having a great week at the Senior Bowl and is expected to shine at the combine.
30. Philadelphia Eagles
Mazi Smith, DL, Michigan — Philadelphia got through the playoffs by essentially renting some interior defensive players to plug massive holes. Now they need long-term answers.
31. Kansas City Chiefs
Zay Flowers, WR, Boston College — The Chiefs also will consider an edge rusher, but there is a lot of talent there that should be available when they are back on the clock. The wide receiver position falls off a bit more dramatically after Flowers, whose only real question mark is his size.
Contact Adam Hill at ahill@reviewjournal.com. Follow @AdamHillLVRJ on Twitter.