NFL Pro Bowl set to return to Las Vegas
Updated August 9, 2022 - 3:36 pm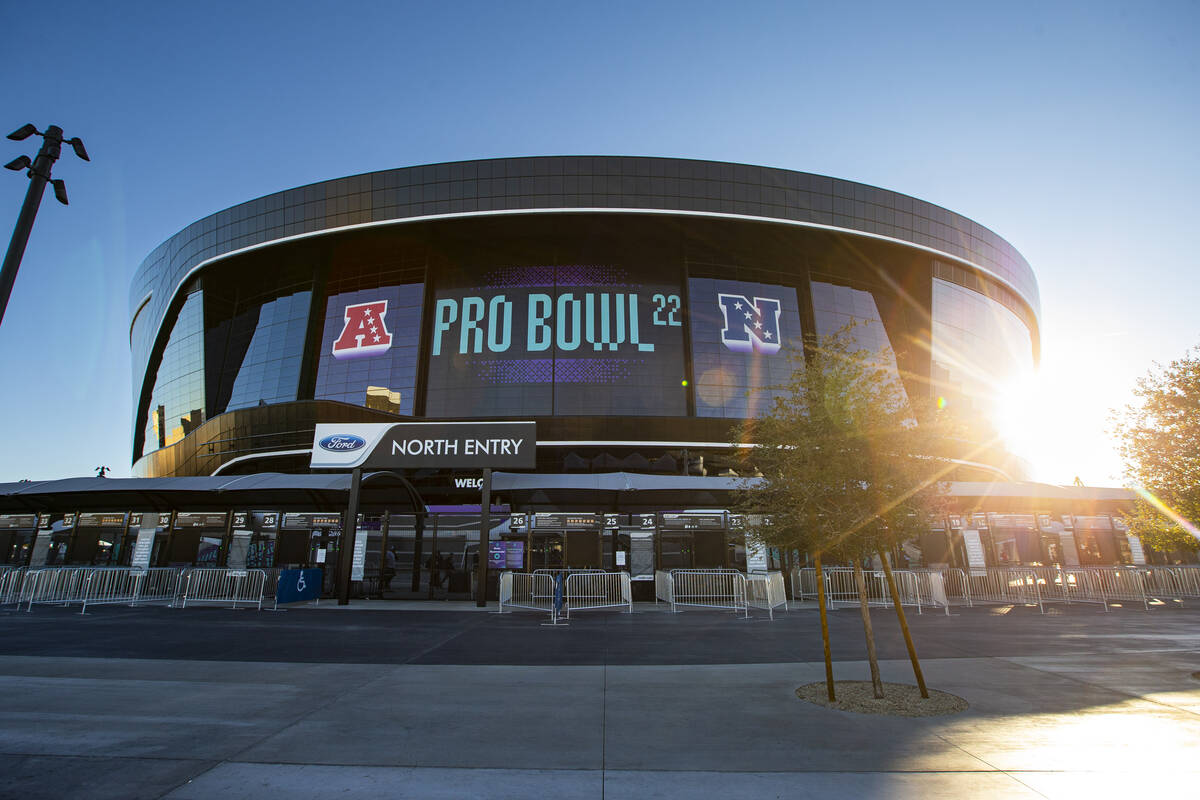 The NFL Pro Bowl is set to return to Las Vegas in 2023 after the city successfully hosted the all-star event this year.
The Las Vegas Convention and Visitors Authority on Tuesday is set to approve the $1.75 million hosting fee tied to the Pro Bowl.
The exact date is still to be determined, but the LVCVA notes the game could be played on Feb. 5, 2023.
"Building on the incredible success of the 2022 Pro Bowl and 2022 draft in Las Vegas, we are thrilled to bring the 2023 Pro Bowl back to the city for the second year and continue our partnership with the LVCVA and the Las Vegas Raiders," an NFL spokesperson said in a statement. "Exciting Pro Bowl changes are ahead, and we look forward to sharing more details in the coming weeks."
NFL owners in May discussed ways to alter the event, which could mean preserving the weeklong festivities but eliminating the tackle football game portion.
At that time, NFL Commissioner Roger Goodell confirmed that changes are being contemplated.
"I think the conclusion was that the game itself doesn't work," Goodell said. "And that we needed to find a different way to celebrate our players.
"We talked an awful lot about some of the events around the Pro Bowl are really extremely popular, whether it's the Quarterback Challenge or some of the other events, so those are things that we'll probably build on."
The game has increasingly turned into a far-less physical affair with players wanting to avoid injuries. That included the game in Las Vegas, which turned into a game of two-hand touch as defenders rarely tackled ball carriers.
This year's event at Allegiant Stadium proved successful financially, however, generating a $54.7 million economic impact and drawing nearly 30,000 fans from out of state, according to the LVCVA. Las Vegas was also set to host the 2021 Pro Bowl, but that was held virtually due to COVID-19 restrictions in place at the time.
There were 45,672 fan in attendance for this year's Pro Bowl, according the Las Vegas Stadium Authority data.
Pro Bowl week was more than just the game on Sunday, with various events occurring throughout the Las Vegas Valley in the lead-up to the game.
From charity, youth and community events, to the fan-favorite skills challenge held at Las Vegas Ballpark, there was no shortage of chances for fans to catch their favorite players in person.
Contact Mick Akers at makers@reviewjournal.com or 702-387-2920. Follow @mickakers on Twitter.