Former Raiders coach John Madden dies at 85
Updated December 28, 2021 - 7:39 pm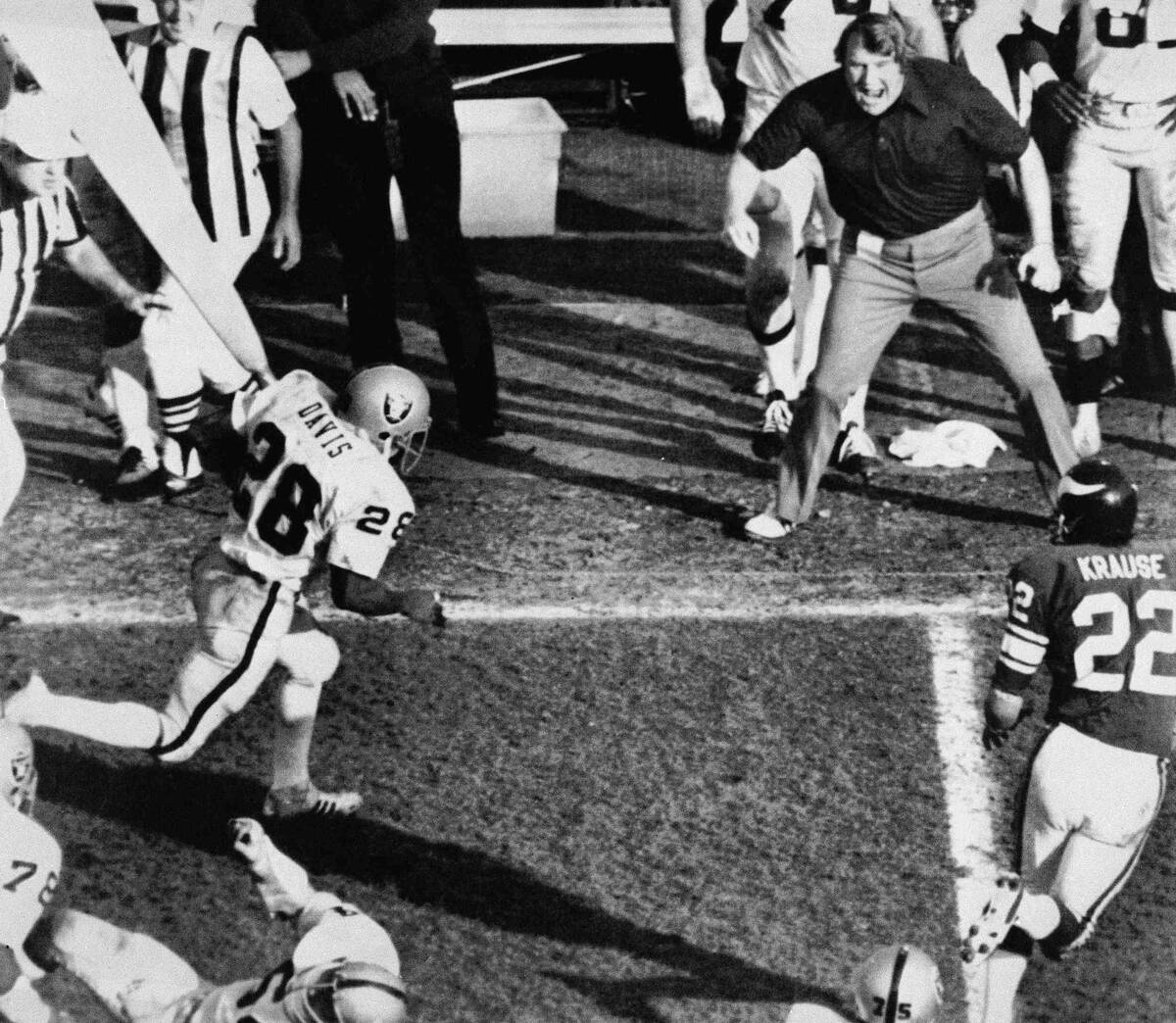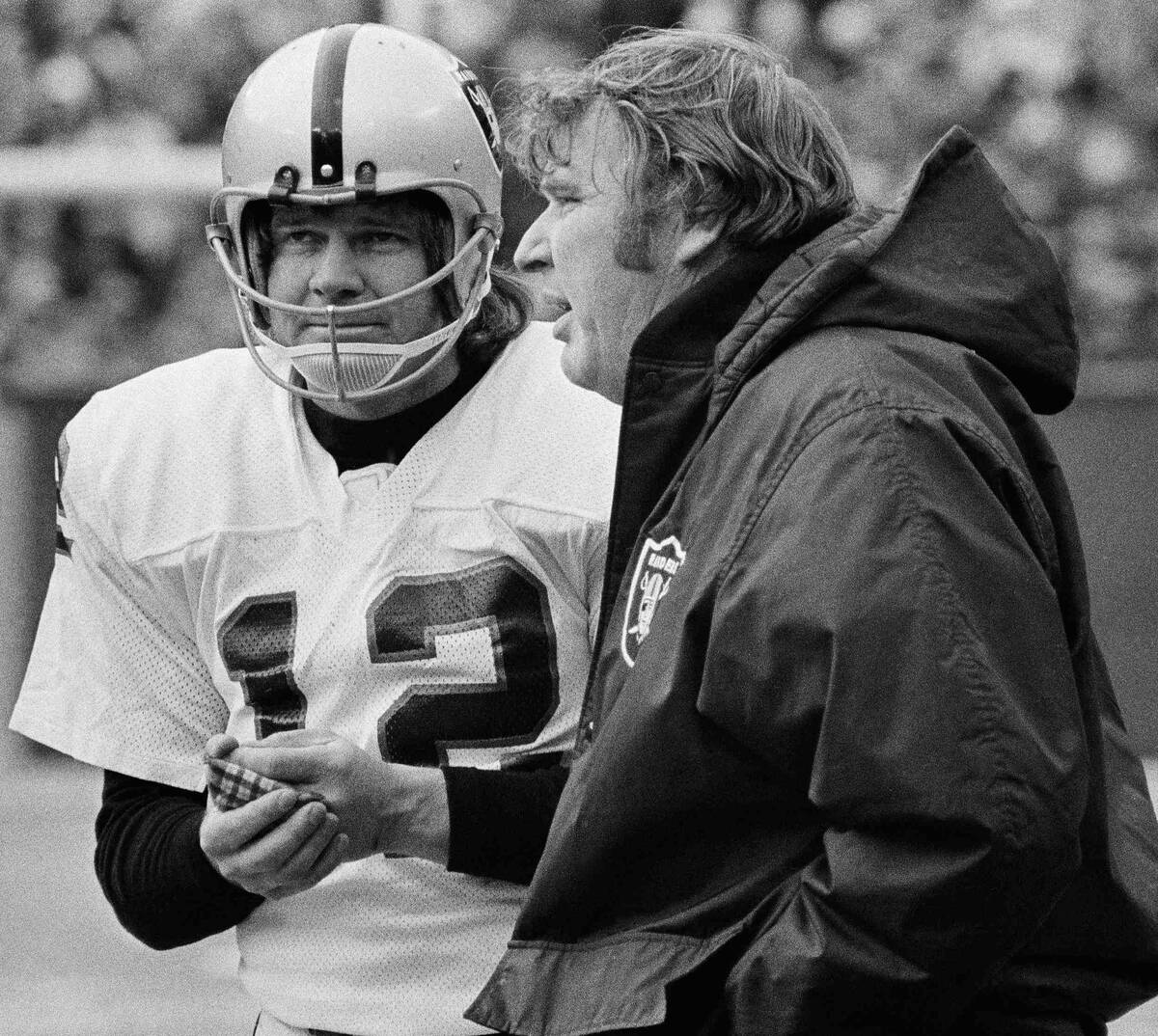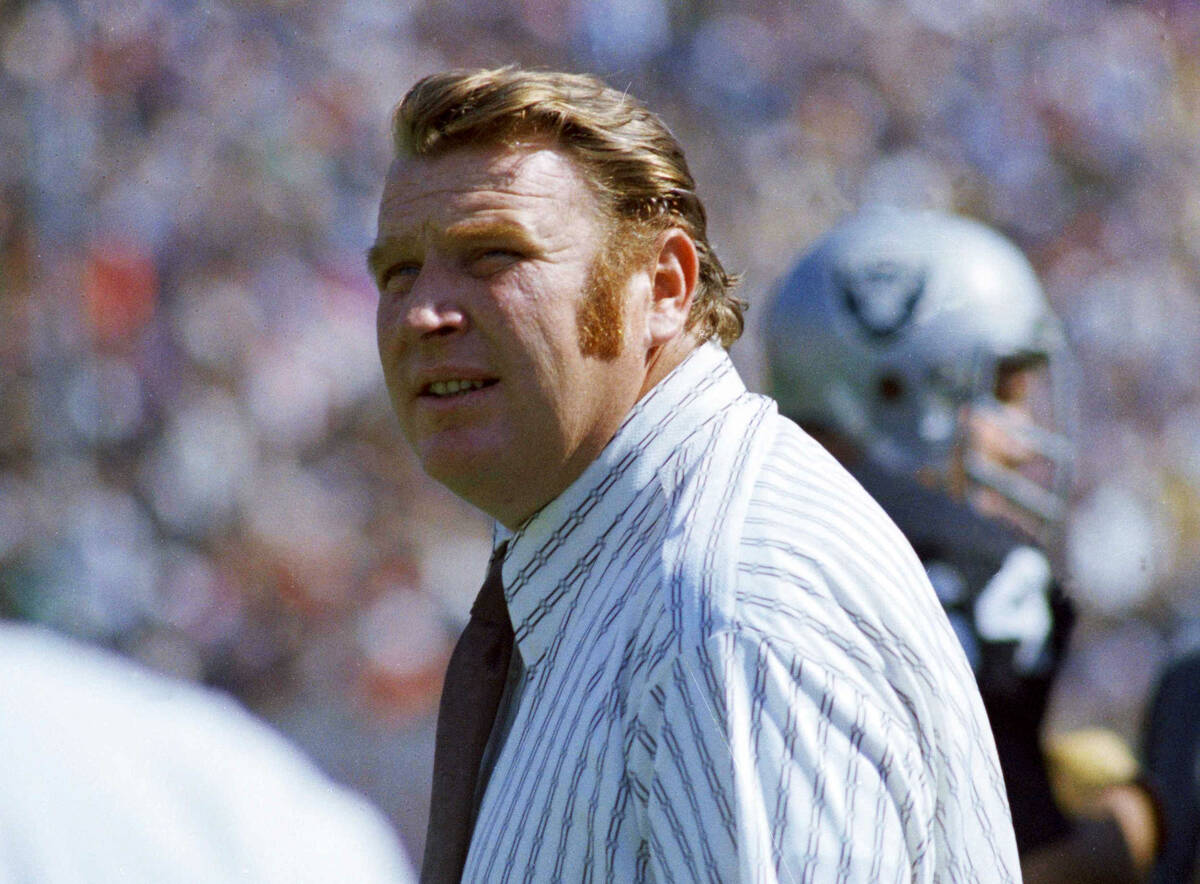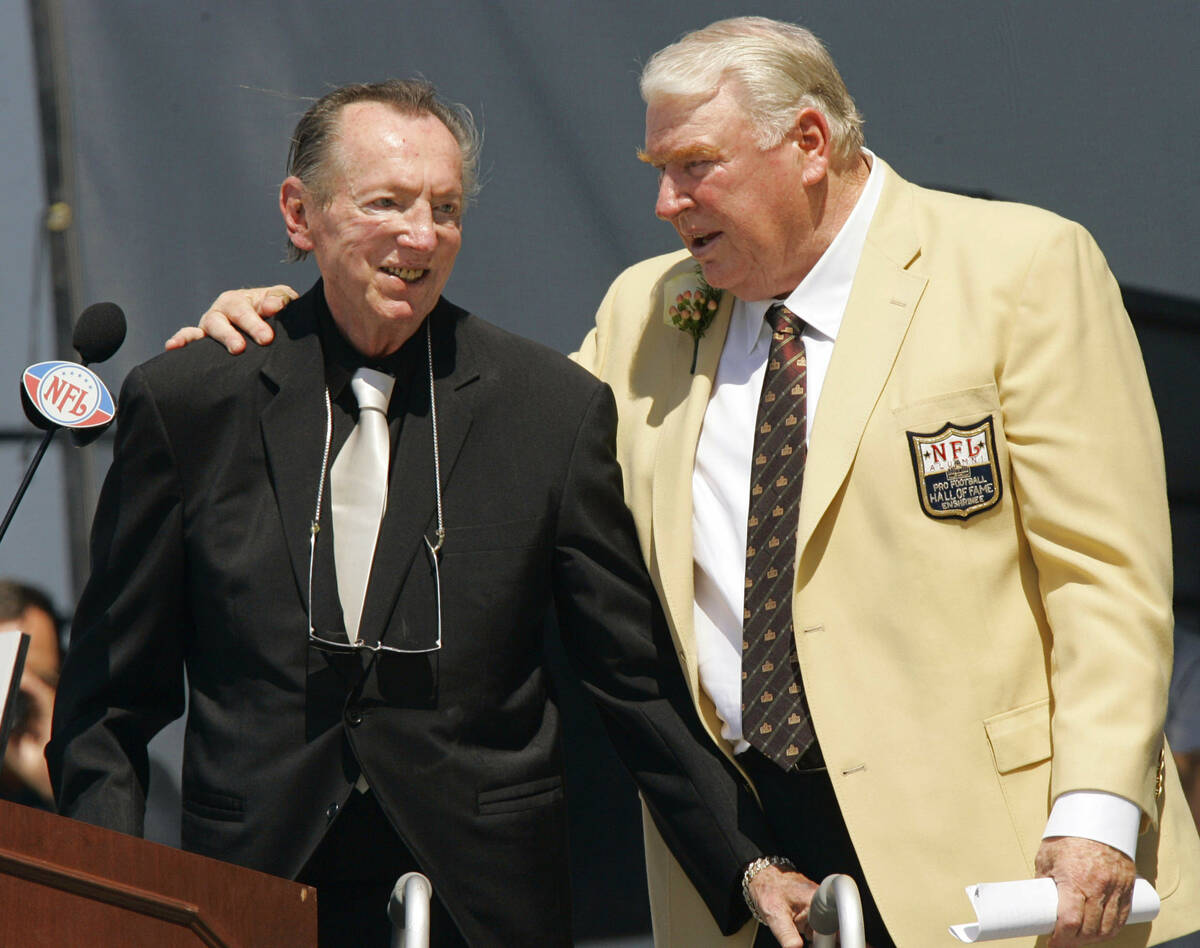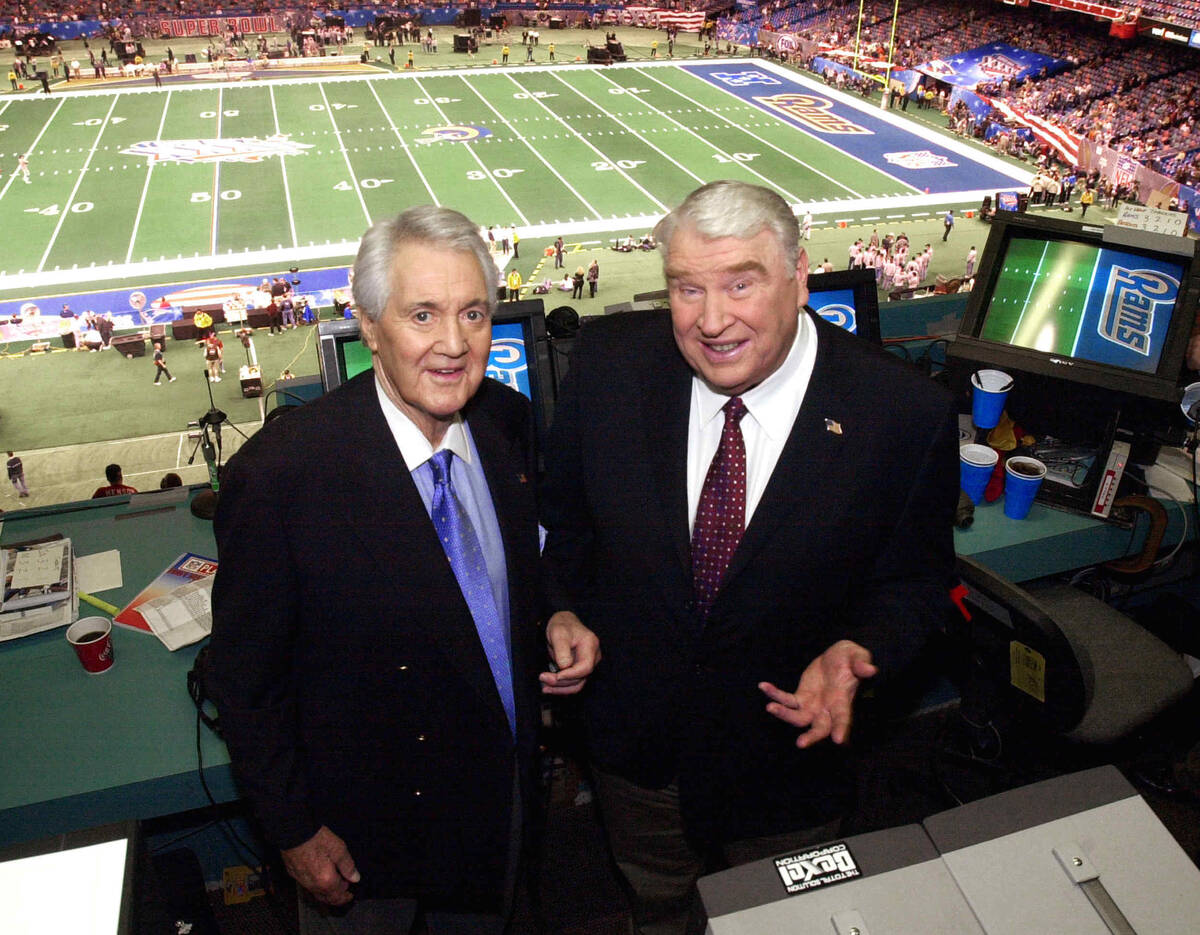 John Madden, the Super Bowl-winning coach of the Raiders and a legendary broadcaster, died Tuesday morning at the age of 85.
Madden and his wife Virginia celebrated their 62nd wedding anniversary on Monday. They had two sons, Michael and Joseph. Information on a memorial service will be announced at a later date.
One generation of football fans knew Madden as the jovial television commentator who worked for every major network and made every broadcast unique and fun with his monosyllabic exclamations and pioneering use of the telestrator.
The next knew him as the namesake of the Madden NFL video game franchise that launched in 1988 and has continued to publish every year since 1990, becoming one of the most successful titles in history.
All of that came after a Hall of Fame career as a head football coach in which he spent all 10 seasons with just one professional team.
"He was a Raider!!" owner Mark Davis said by text message on Tuesday afternoon.
It was a bit of a nod to his father Al's words from Madden's Hall of Fame induction speech in 2006.
"A brilliant coach. A loyal and trusted friend. A Raider," Al Davis said to open his speech.
Coaching prodigy
Madden guided the franchise from 1969 until 1978, finishing each season with a winning record and winning the Super Bowl after the 1976 season.
He was hired at just 32 years old after two seasons as the linebackers coach and found immediate success.
Madden went 103-32-7 in the regular season, won seven division titles and guided his team to eight playoff appearances. His .759 winning percentage ranks first all-time among coaches with at least 100 wins.
His best season came in 1976 when the Raiders went 13-1 before beating the Vikings 32-14 in the Super Bowl.
"The Raiders family is deeply saddened by the passing of the legendary John Madden," a statement from the team read. "Few individuals meant as much to the growth and popularity of professional football as Coach Madden, whose impact on the game both on and off the field was immeasurable."
Madden remains the all-time winningest coach in franchise history despite retiring after just 10 seasons, largely due to the toll coaching was taking on his health.
Face of NFL
His relationship with football was far from over.
Madden spent two seasons honing his craft as a broadcaster on CBS before he was promoted to work with Pat Summerall on the network's top games, a duo that would go on to call eight Super Bowls together
They moved together to Fox in 1994, where Madden worked through the 2001 season.
Madden went to ABC to work with Al Michaels on "Monday Night Football" from 2002 until 2005, then finished his career on Sunday night games for NBC from 2006 to 2008. His final game was the 2009 Super Bowl between the Cardinals and Steelers.
"On behalf of the entire NFL family, we extend our condolences to Virginia, Mike, Joe and their families," NFL Commissioner Roger Goodell said in a statement, referring to Madden's immediate family. "We all know him as the Hall of Fame coach of the Oakland Raiders and broadcaster who worked for every major network, but more than anything, he was a devoted husband, father and grandfather.
"Nobody loved football more than Coach. He was football. He was an incredible sounding board to me and so many others. There will never be another John Madden, and we will forever be indebted to him for all he did to make football and the NFL what it is today."
The video game carried Madden to even greater heights with a whole new generation of football fans.
His voice was an integral part of early versions of the game and though it was phased out as the years went on, he remained active in the development of each new version.
Madden saw the somewhat realistic simulation as more than just a video game, but also a way for casual fans to learn the game on a more detailed level.
It has sold more than 250 million copies over the years for EA Sports.
"Today we lost a hero," a statement from Electronic Arts read. "John Madden was synonymous with the sport of football for more than 50 years. His knowledge of the game was second only to his love for it and his appreciation for everyone that stepped on the gridiron. … He will be greatly missed, always remembered, and never forgotten."
Cross-generational icon
Madden's appeal across several generations allowed him to parlay his popularity into endorsements and cameos in several television and film projects.
Even his preferred means of travel, the famed "Madden Cruiser," gained enough fame that it was turned into a mobile billboard.
Madden, who had a well-documented aversion to flying, started traveling the country to broadcast games in a Greyhound bus. It was transformed into a luxurious cabin with two televisions, a phone and stereo system, along with a private bedroom, full bathroom and a kitchenette.
He had lost several friends in a 1960 plane crash that killed 16 Cal Poly football players and started having panic attacks on planes nearly two decades later. Madden often traveled by train, but the first bus made its debut in 1987 and became his primary means of transport.
There were several incarnations, but the original was donated to the Hall of Fame in 2018.
Madden also wrote three books and created the "All Madden Team," which for a time was a yearly honor bestowed on players he believed represented and played the game the way he thought it should be done.
Fox debuted the documentary "All Madden" on Christmas Day, though his own playing career wouldn't have qualified for inclusion on such a list.
Madden was a 21st-round pick of the Eagles in 1958 after a solid career at Cal Poly, but suffered a knee injury during his first training camp and never played a game.
Humble beginnings
He picked up the finer points of film study from then-Eagles quarterback Norm Van Brocklin while he was rehabbing his knee injury, which combined with his degree in teaching, led to a coaching career.
He spent two years as an assistant at Allan Hancock College in Santa Maria, California, then served two years as the head coach. Madden moved on to become defensive coordinator at San Diego State for three seasons before Davis hired him as linebackers coach for the Raiders for two seasons.
Madden was promoted to head coach when John Rauch left for the Bills in February 1969. At the time, Madden was the youngest head coach the league had seen.
He went on to put together a Hall of Fame resume as a coach. Madden would go on to become very active in the institution in which he was enshrined in 2006.
"The entire Pro Football Hall of Fame family mourns the passing of Coach Madden," a statement from Hall of Fame President Jim Porter read. "Few, if any, have had as great an impact on the sport of professional football on so many different levels as Coach Madden. He was first and foremost a coach. He was a coach on the field, a coach in the broadcast booth and a coach in life. He was dearly loved by millions of football fans worldwide. While it's a very sad day, it's also a day we should celebrate the life of a man who brought joy through the game of football to millions."
Porter promised to guard Madden's legacy and indicated the Hall of Fame flag will be flown at half-staff in his memory.
Contact Adam Hill at ahill@reviewjournal.com. Follow @AdamHillLVRJ on Twitter.