Is Jimmy Garoppolo an upgrade over Derek Carr?
Updated March 29, 2023 - 5:04 pm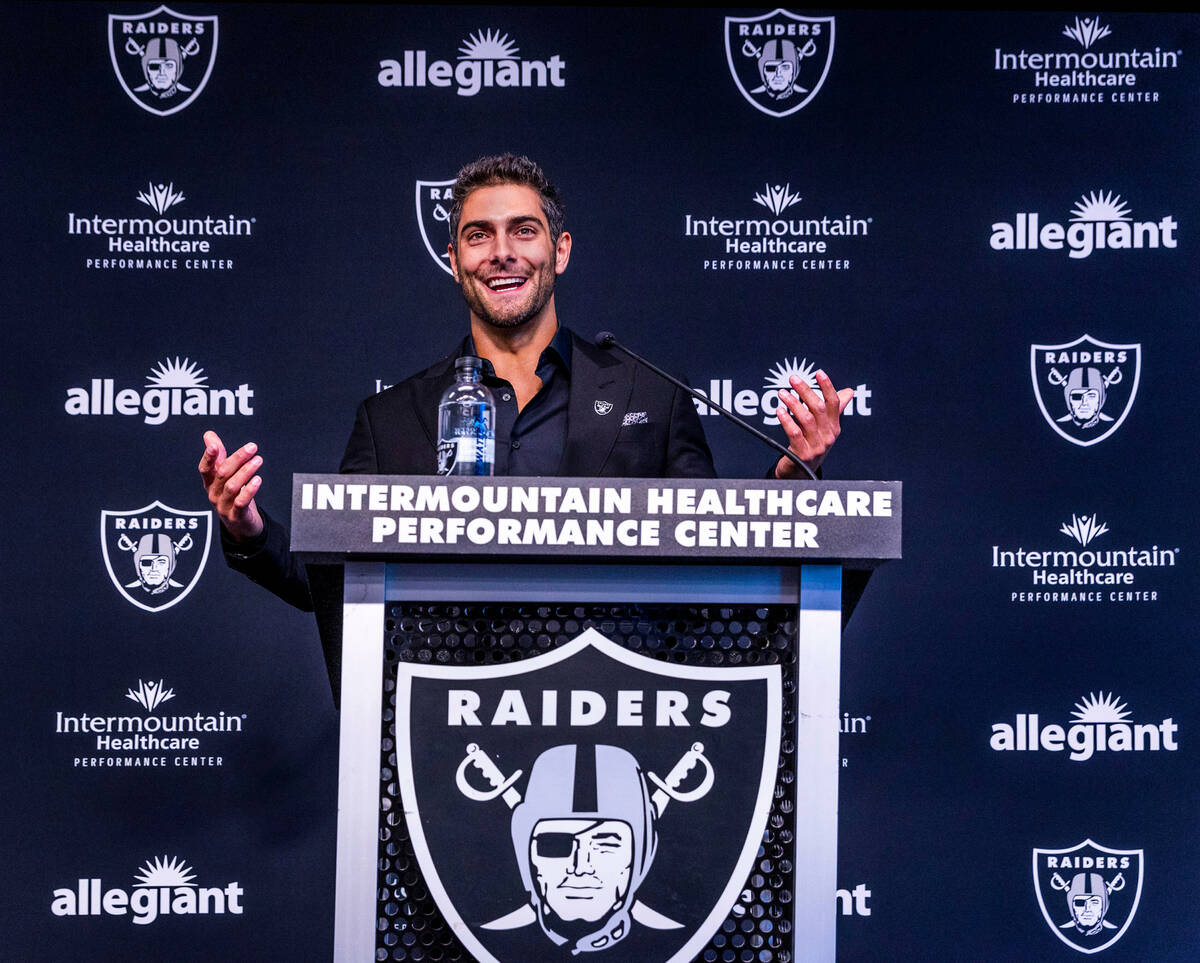 PHOENIX — By essentially trading Derek Carr for Jimmy Garoppolo, the Raiders made a monumental pivot at football's most important position. The question is, did they actually get better at quarterback?
It's a question that won't be answered until the season starts. And much of it will be predicated on whether Garoppolo can stay healthy. He has finished just two seasons in the past five years.
But there is enough statistical evidence to suggest Garoppolo is capable of providing an upgrade, specifically by raising the level of play in areas that have been problematic for the Raiders for years.
The red zone immediately comes to mind.
The Raiders ranked 26th in the NFL in red-zone touchdown percentage in 2022, scoring a TD on 48.9 percent of their trips. They were 29th in 2021 and 23rd in 2020. Since 2018, they have finished no better than 22nd.
In a league in which the margin of victory is getting smaller by the season, the Raiders' failures in the red zone have had a crippling effect.
"Being able to convert those third-down opportunities in the red zone, being able to score more touchdowns in the red zone, is obviously paramount to being able to go further into the season (and) make the playoffs," coach Josh McDaniels said.
Fortunately for the Raiders, it's an area Garoppolo seems capable of providing an upgrade.
Going back to 2014, Garoppolo ranks eighth among 38 quarterbacks with 200 or more red-zone passing attempts with a passer rating of 100.4. In that same time frame, Carr's 89.7 passer rating ranks 30th.
There were other factors that played into the decision to sign Garoppolo. He's familiar with McDaniels' system, he's 40-17 in games he has started, and he helped lead the 49ers to a Super Bowl appearance in 2019 and two conference championship games.
But the red-zone efficiency perhaps stood out the most.
"Jimmy has had a great track record down there," McDaniels said. "Hopefully he can bring that here to Vegas."
It would be a welcome development for a team that had nine losses in games that were decided by one score or less. The Raiders scored the 12th-most points in the NFL, but clearly would have been more productive had they been better inside their opponents' 20-yard line.
"We had opportunities last year, and again there's a lot of things we can do better from last season," McDaniels said. "We've tried to go through our entire process and be critical of ourselves and what we've done and how we can improve it.
"That's certainly an area (to improve on) if you're going to be good in the NFL and win a lot of close games. It's definitely going to be a focus for us in terms of being able to try to be more productive."
In assessing Garoppolo's play in the red zone, McDaniels sees a quarterback with the processing skills to maximize the challenges of operating inside the 20.
"When you get down there, there's less space, there's more defenders in a smaller area, it's easier to disguise," McDaniels said. "There's a lot going on for the quarterback, so to be able to sort it out, make quick decisions under pressure with less information, that takes time. Jimmy has learned and adapted to our league and to our game and has been able to play fast down there. … and has a knack for making some plays."
Contact Vincent Bonsignore at vbonsignore@reviewjournal.com. Follow @VinnyBonsignore on Twitter.