Offense sputters as Raiders drop 3rd straight game
Updated November 21, 2021 - 10:58 pm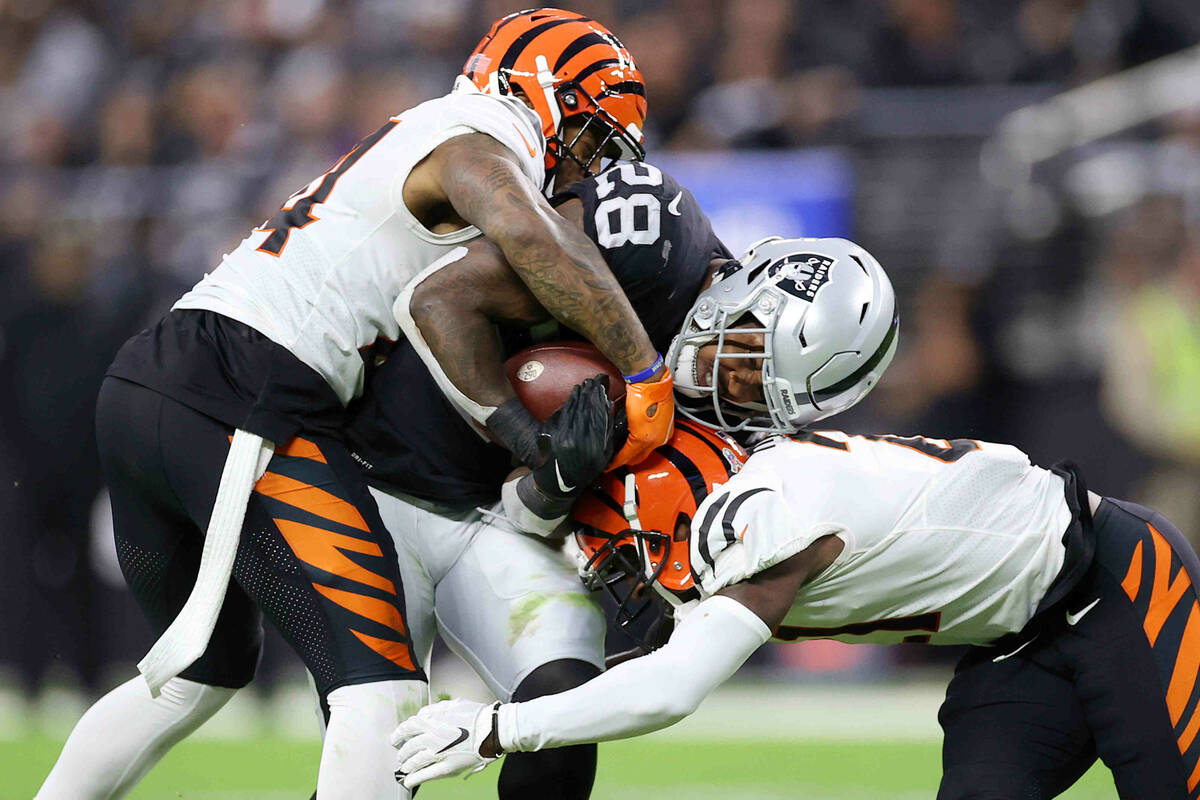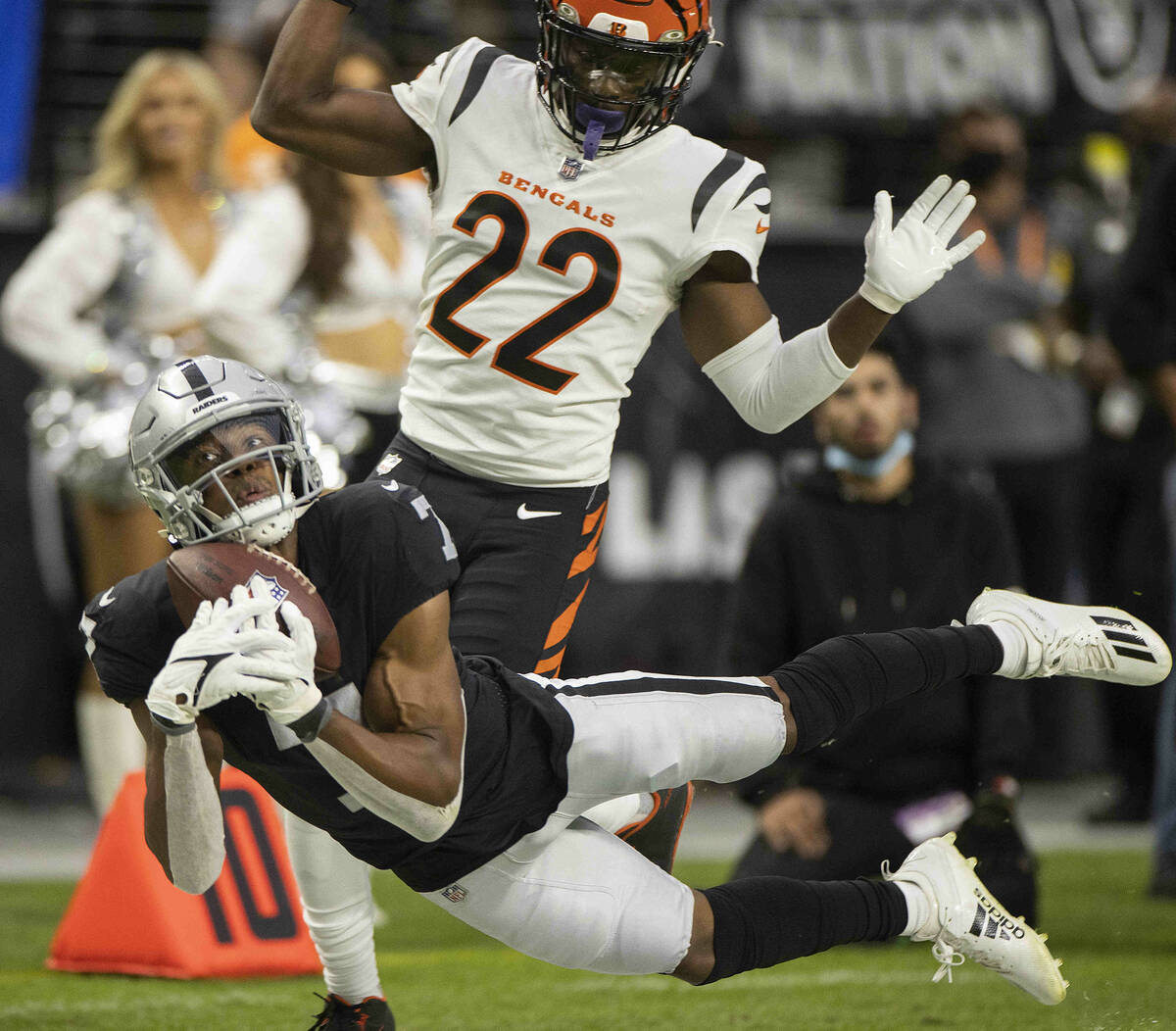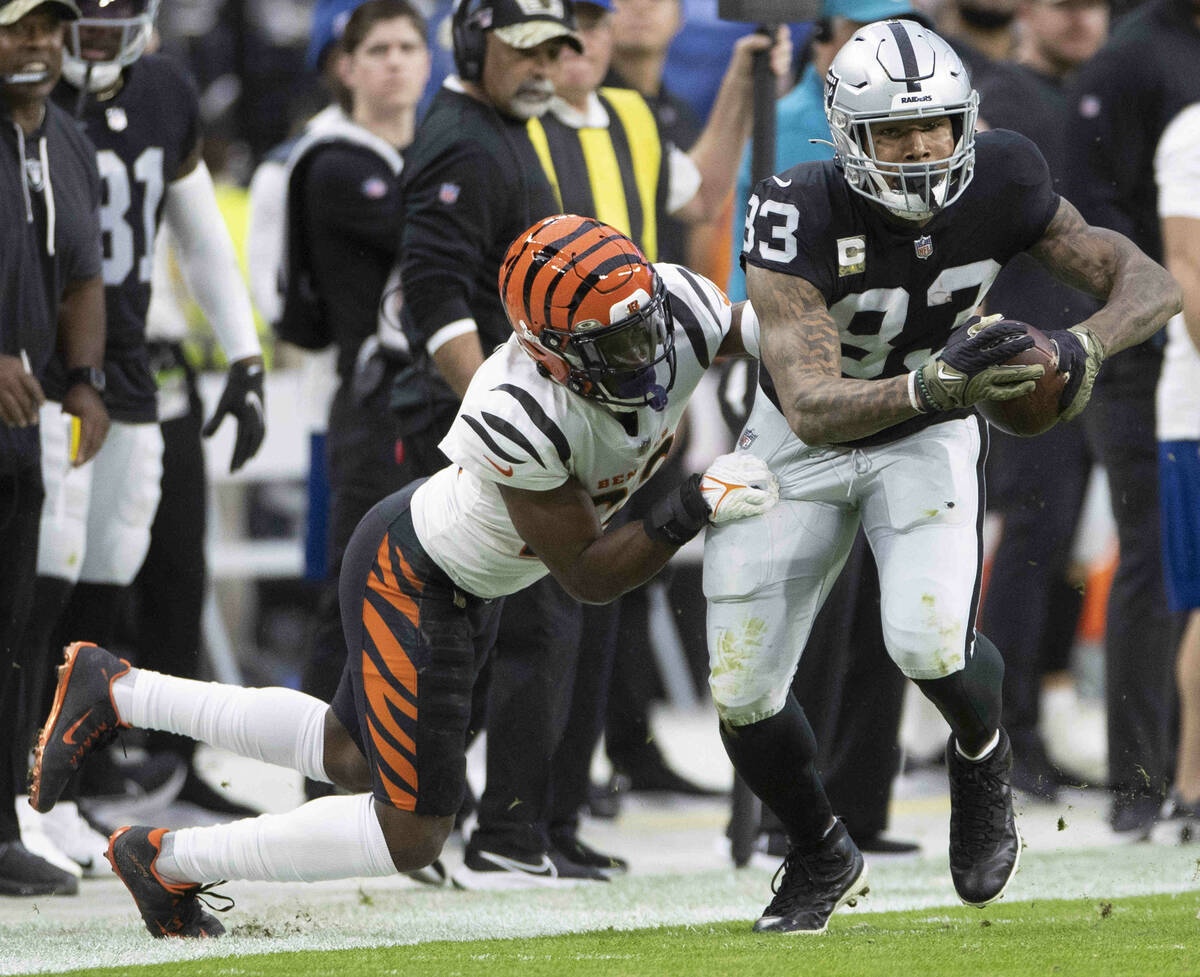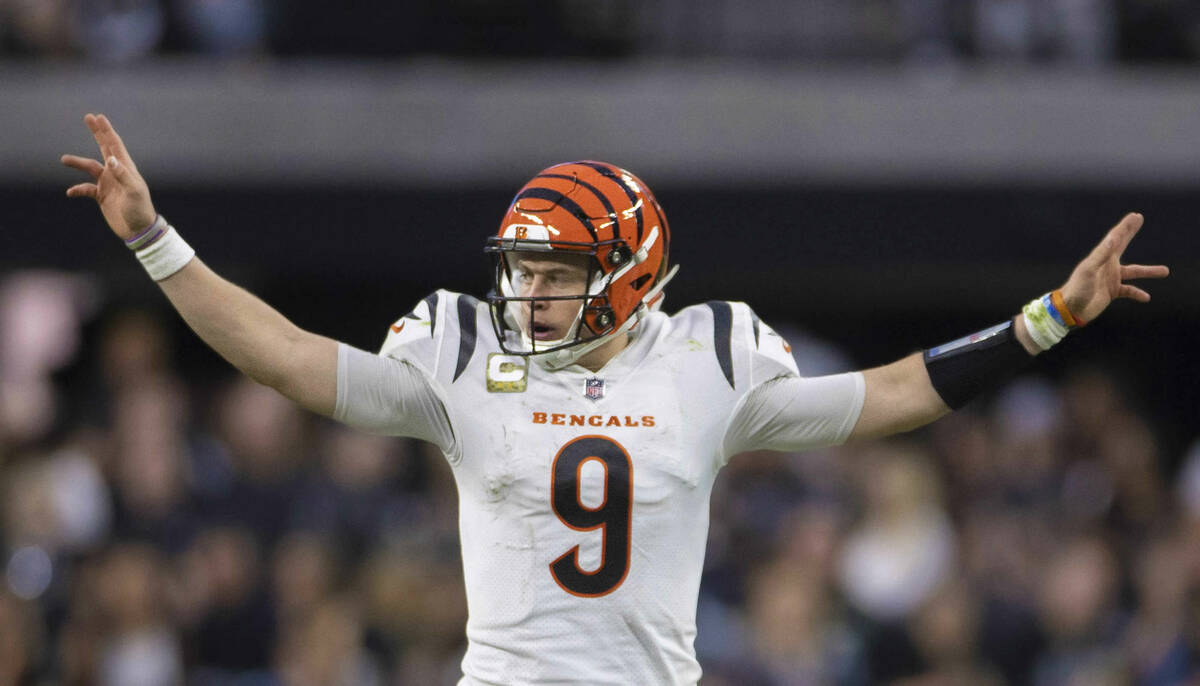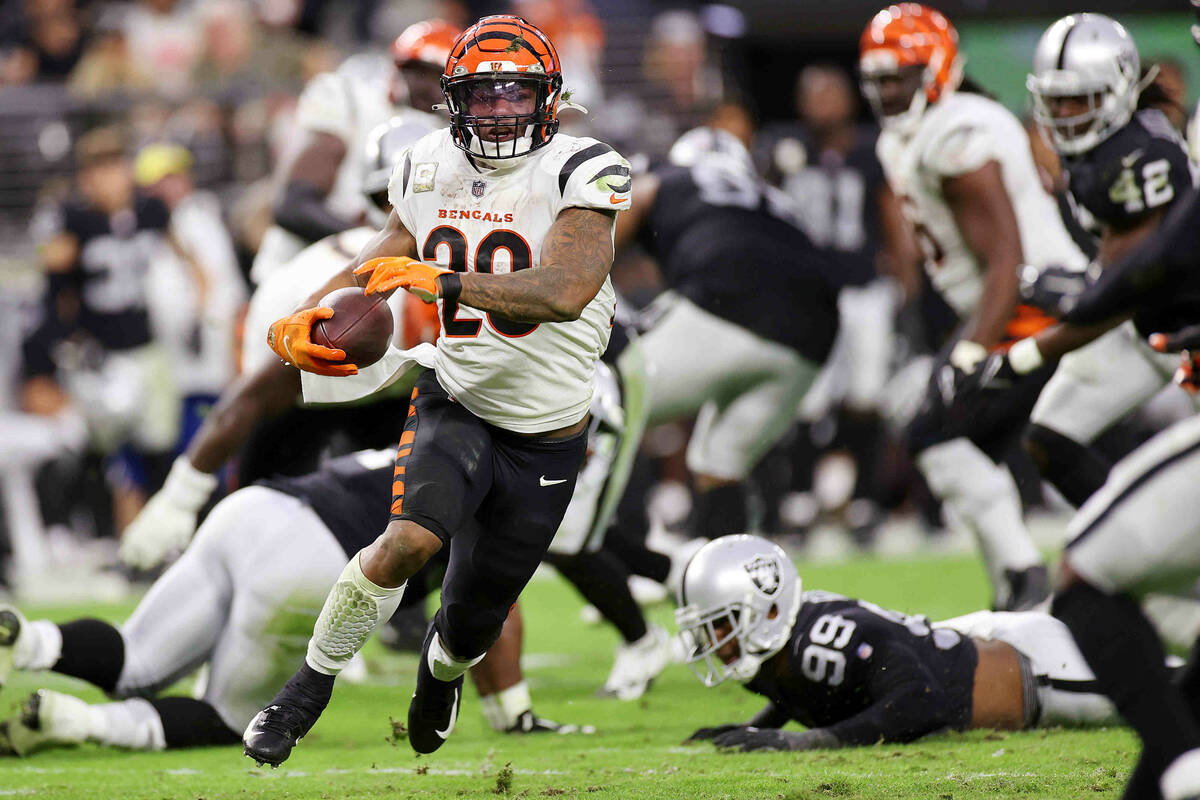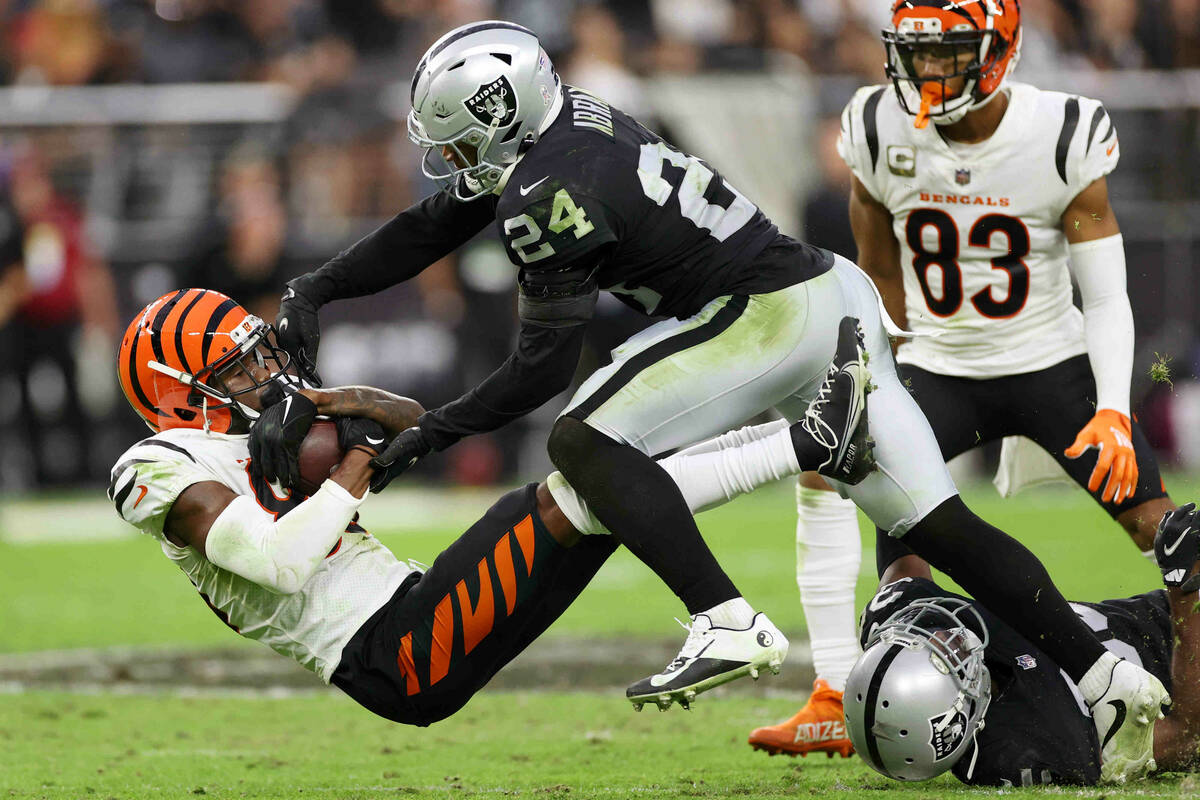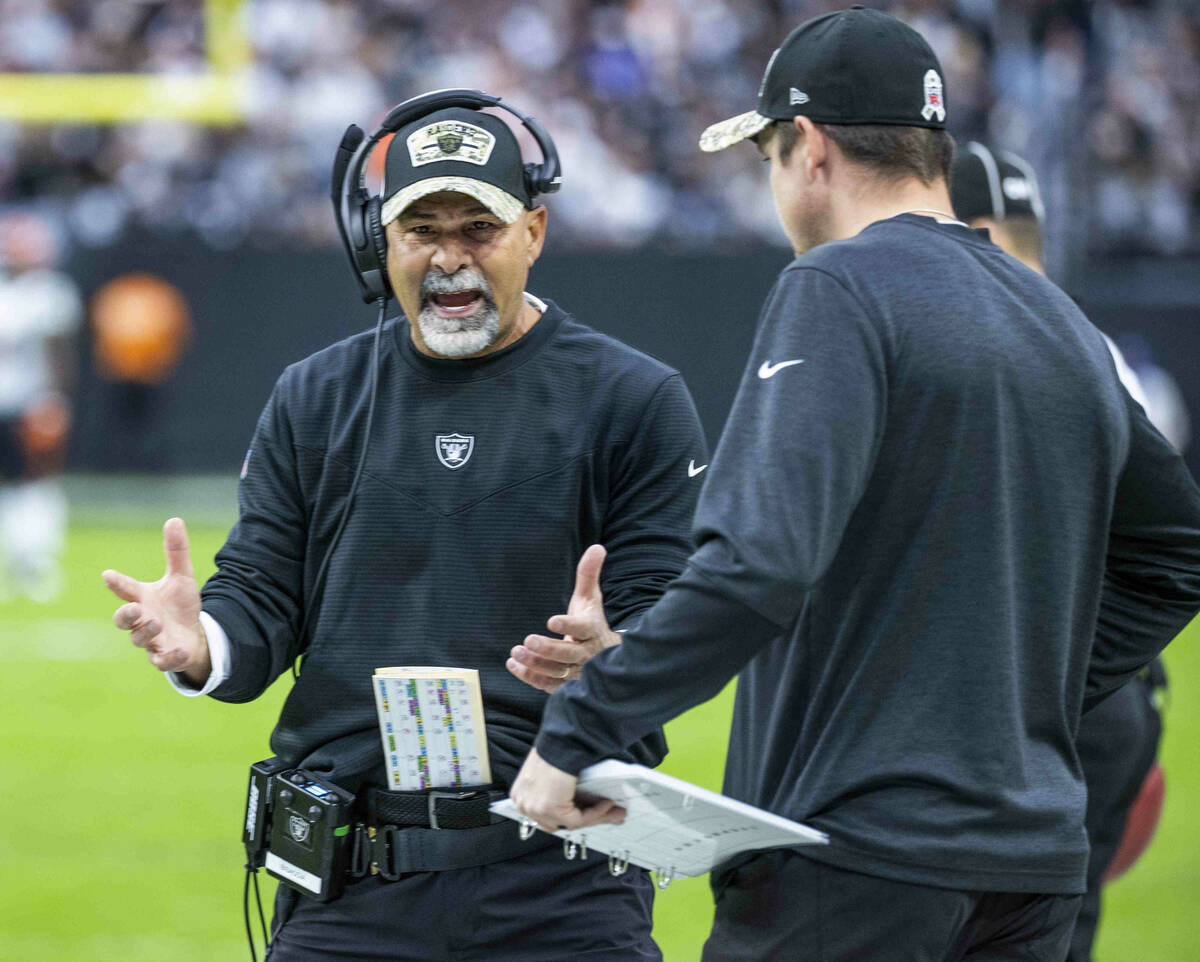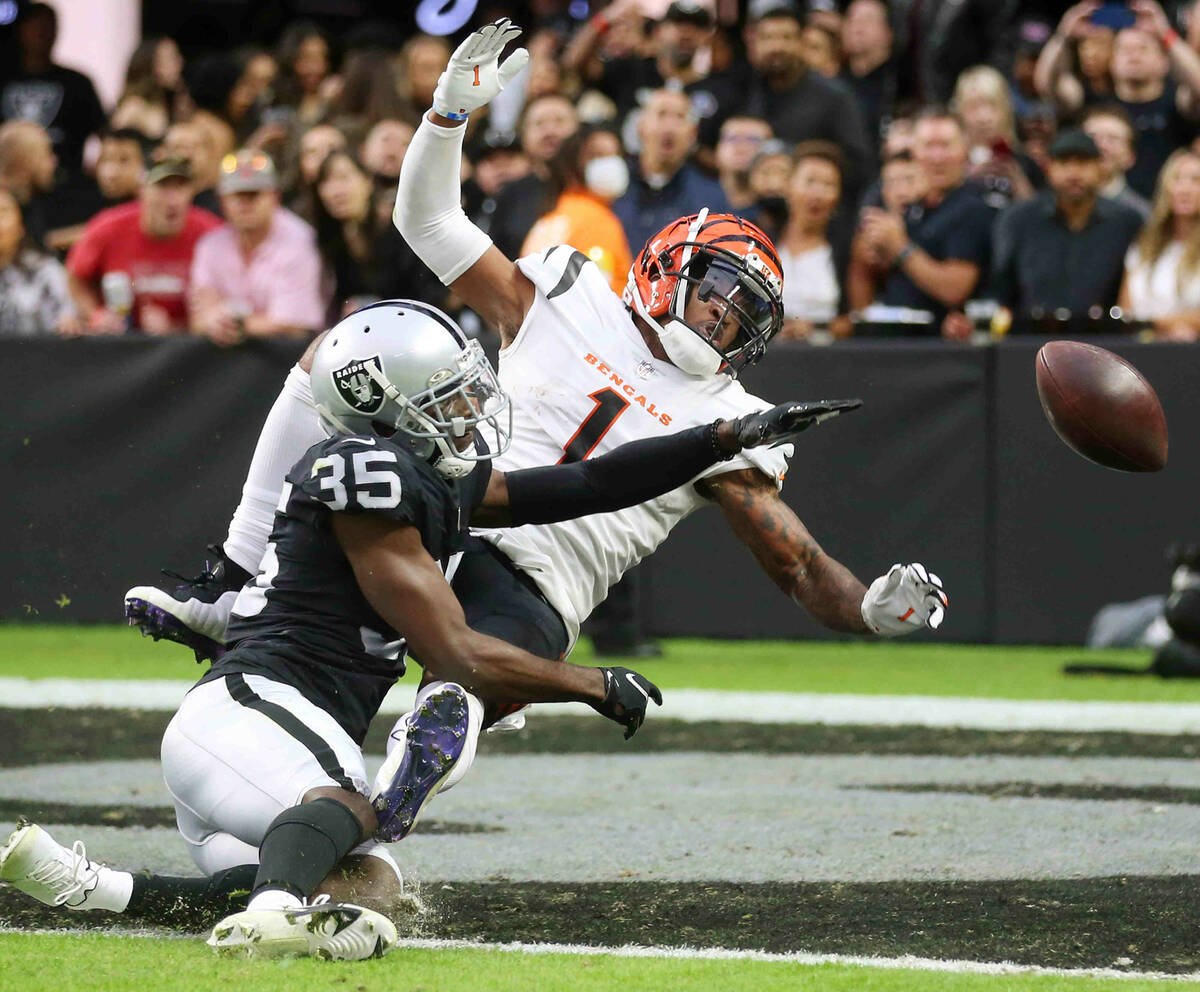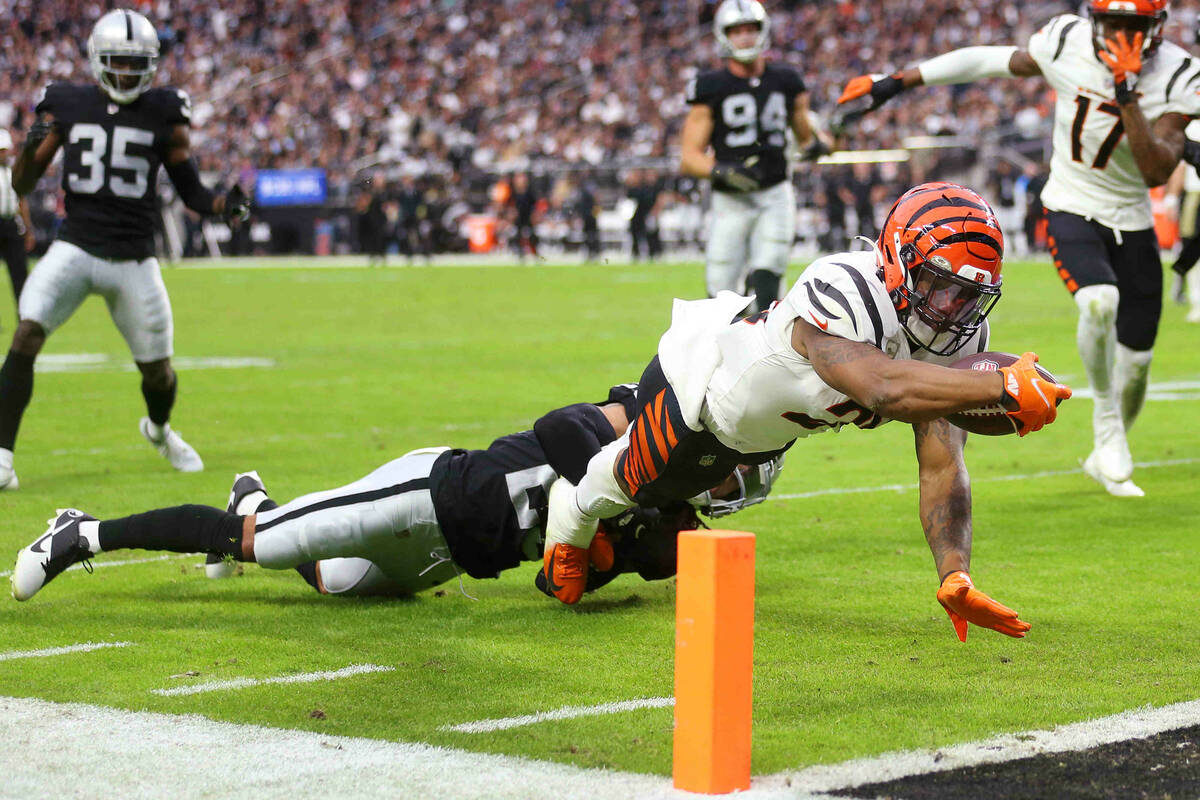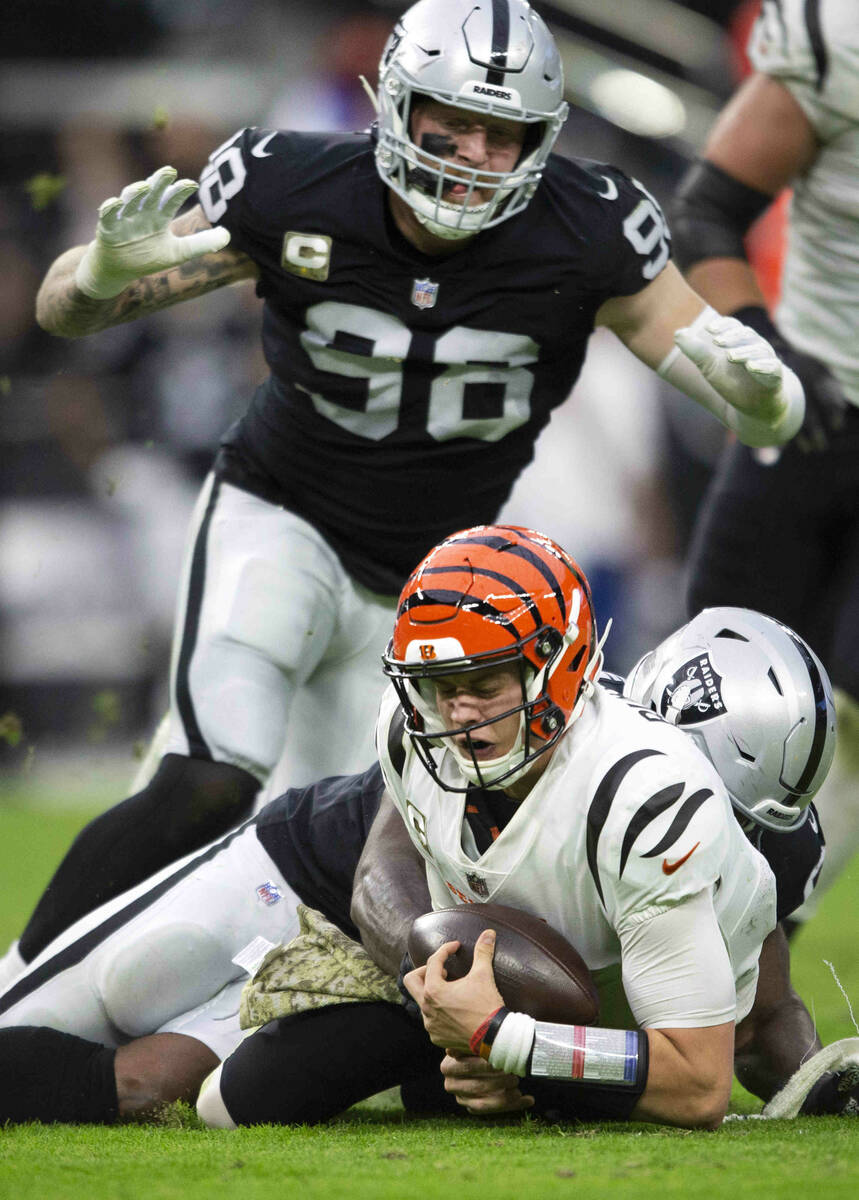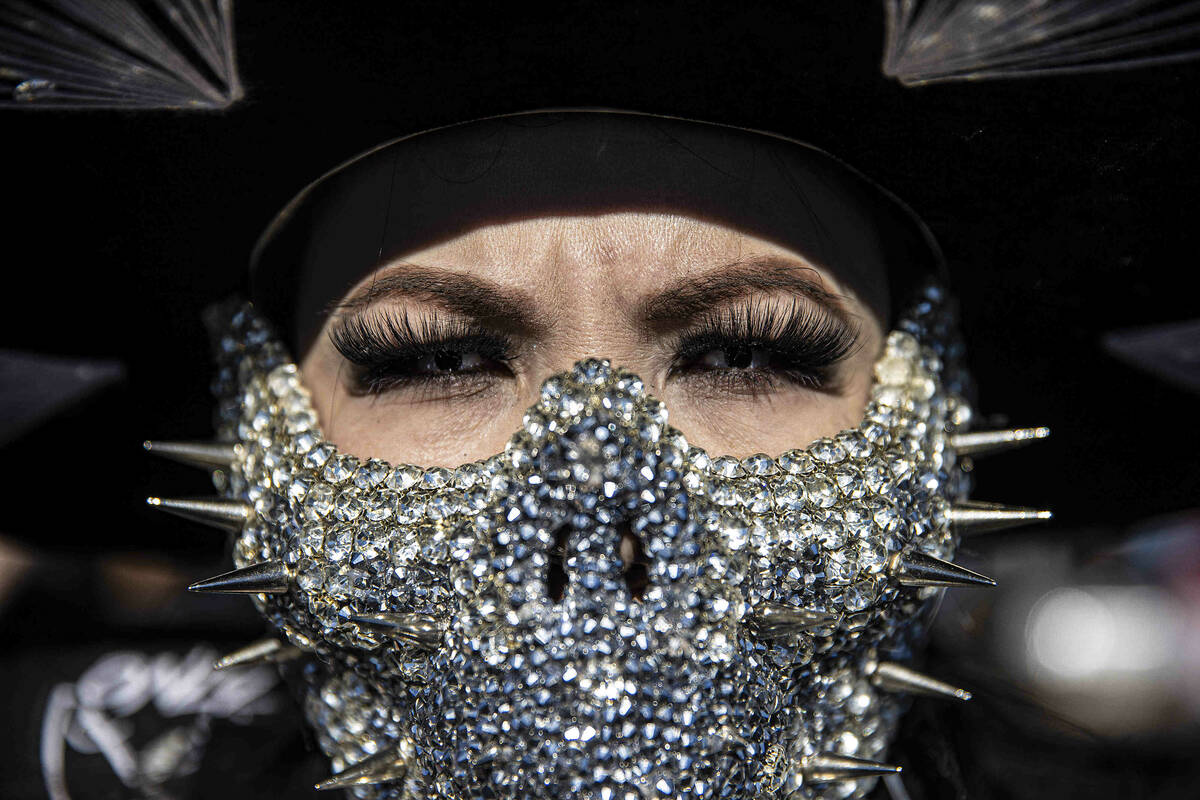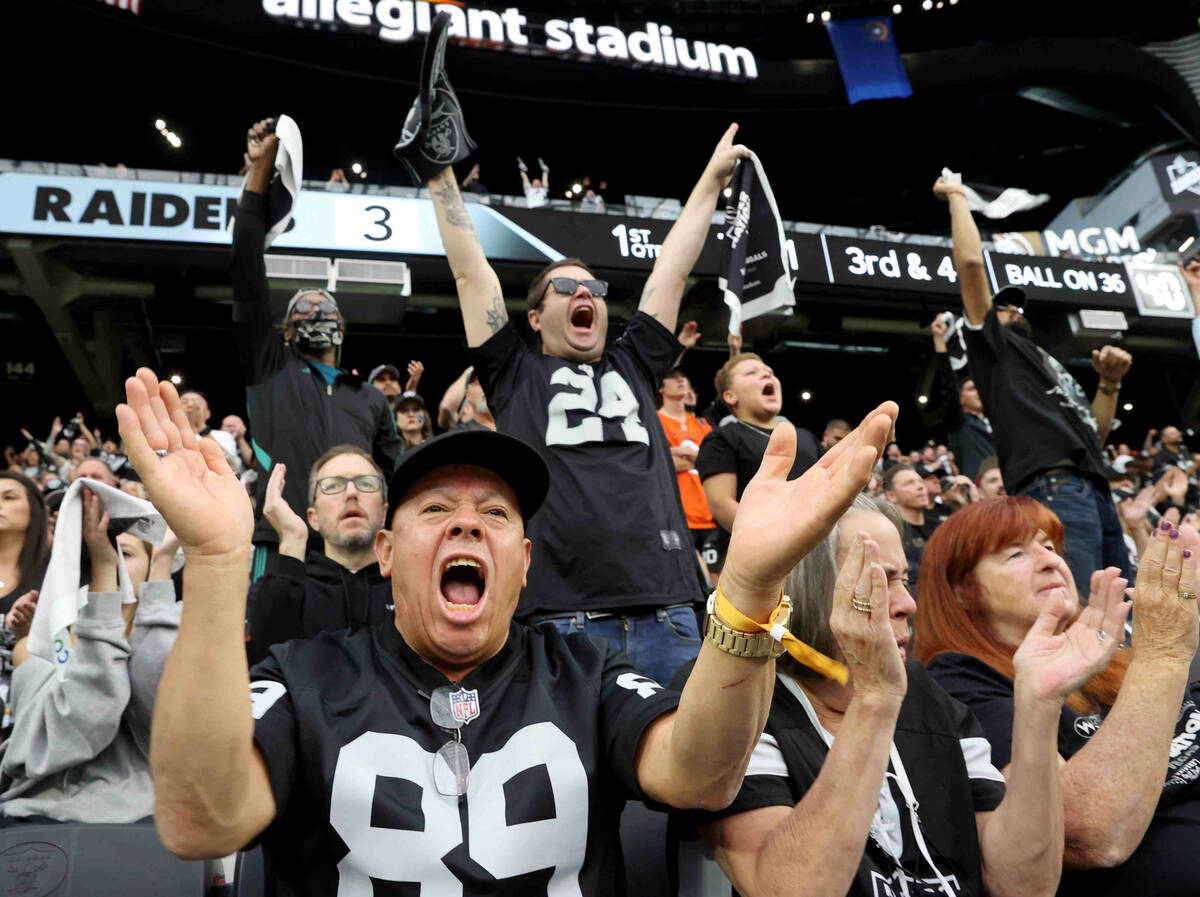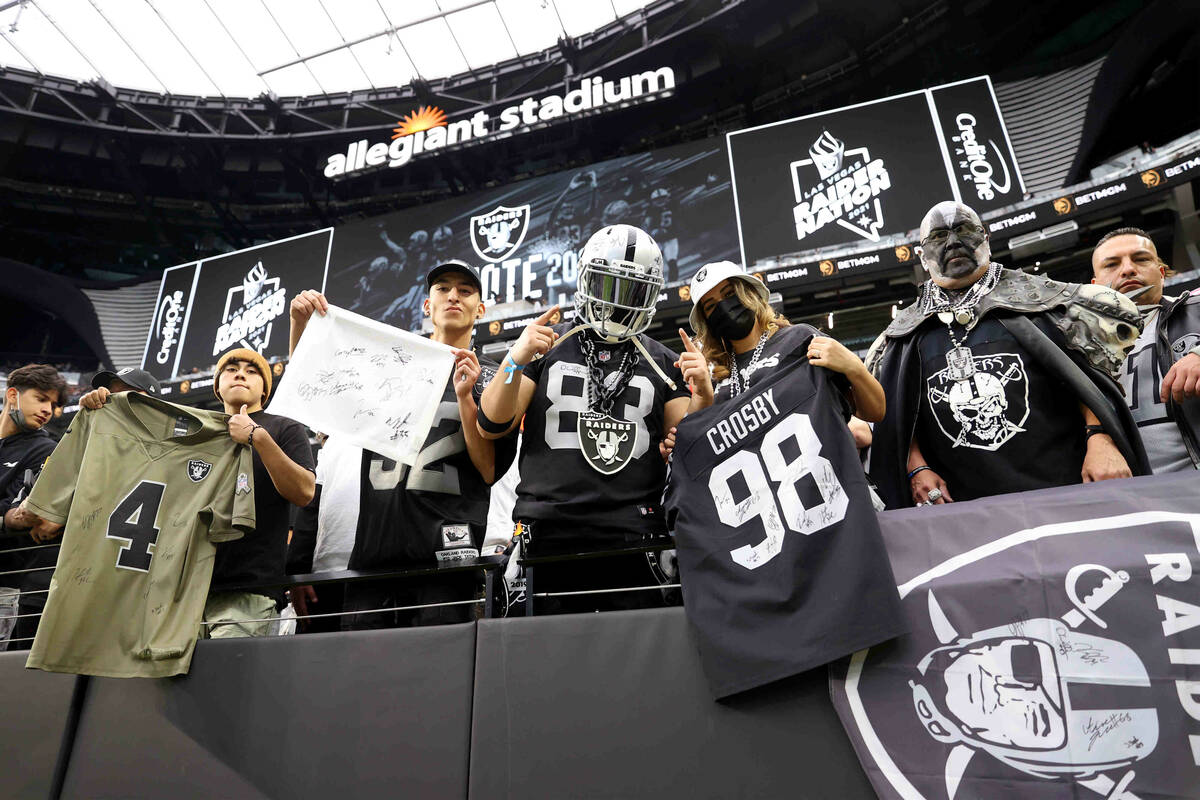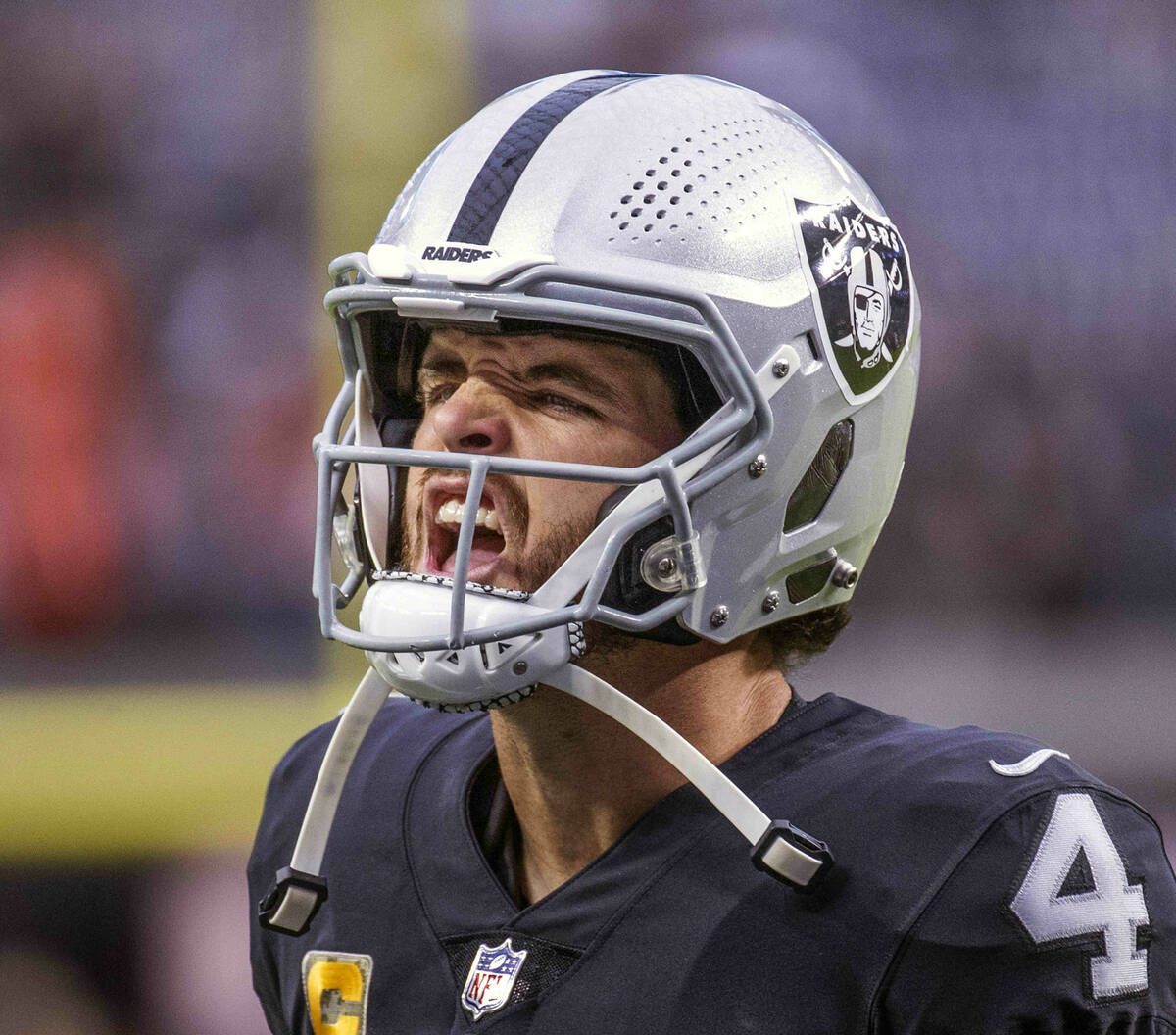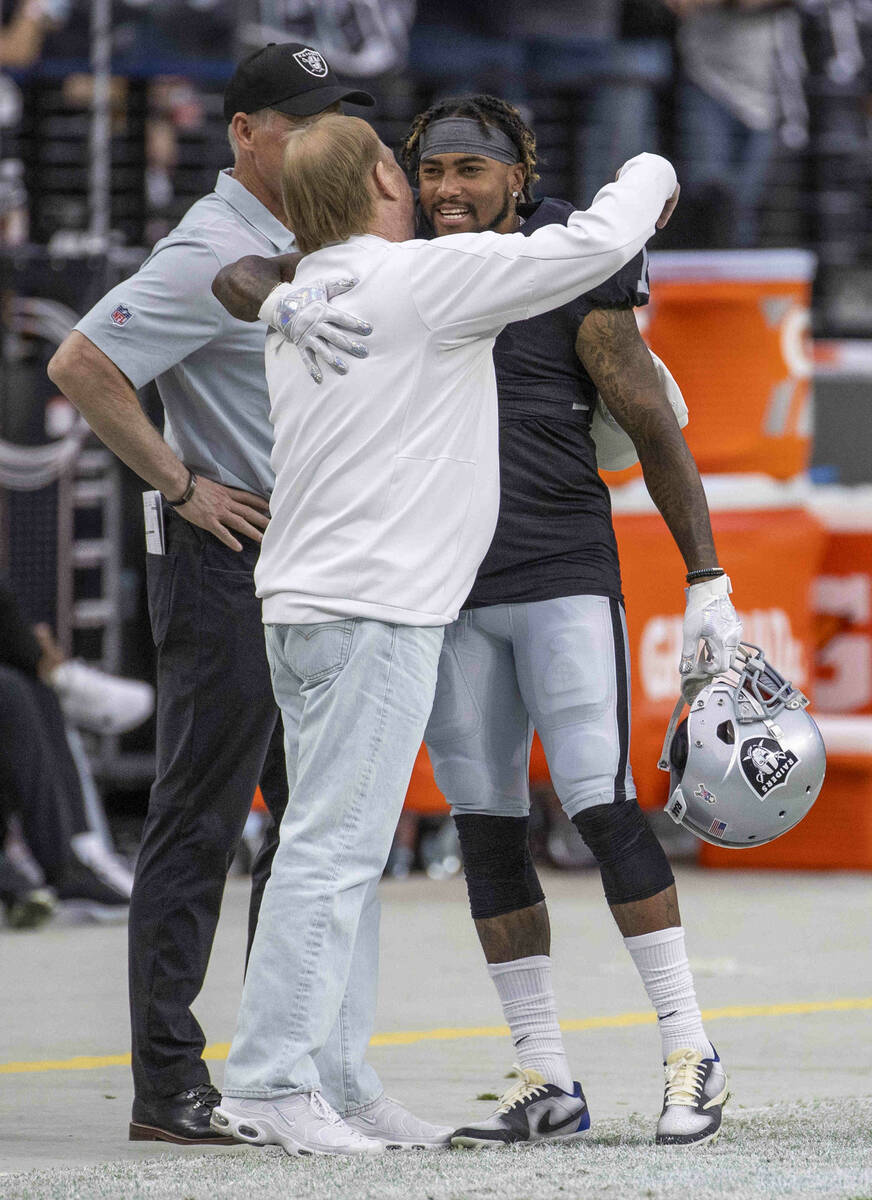 With everything to play for and all their goals in reach, the Raiders' offense had an embarrassing performance on Sunday in a 32-13 loss to the Cincinnati Bengals.
Again.
For the third straight week, they lacked urgency and aggressiveness and were inefficient on key downs. The result was a third consecutive loss, a second straight blowout at home in which they have been outscored 73-27, and plenty of soul searching.
"At the end of the day it comes down to are you moving the chains or not?" Raiders tight end Darren Waller said. "And we just haven't been doing that."
Sunday's lackluster showing was as inexplicable as it was inexcusable, especially given the must-have circumstances of the game and the need to snap a two-game losing streak.
The Raiders began the day a half-game out of first place in the AFC West and tied for the last wild-card spot in the conference. In other words, they were right in the thick of things.
In spite of that, they played listless and disorganized offensively. The issues were everywhere you looked. From focus to execution to poise, they continually fell short.
The Raiders were just one of seven on third downs to stretch their recent third-down conversion rate to two of their past 16. They ran 47 plays to the Bengals' 70, were crushed in time of possession, 37:20 to 22:40, committed two costly turnovers and converted just one of their three red-zone visits into a touchdown.
And no, the lone touchdown wasn't achieved on an opening drive that began on the Bengals' 9-yard-line after a 30-yard fumble recovery by safety Dallin Leavitt. The 5-5 Raiders wasted that opportunity when a futile three-play sequence covered all of one yard.
The inept beginning set the stage for an awful offensive performance and left fans at Allegiant Stadium no choice but to express their frustration in boos.
It was an acceptable gesture.
"We came out flat. It was terrible," visibly angry quarterback Derek Carr said. "There's no beating around it."
With little to offer in terms of the why of it all, the Raiders will be hard-pressed to figure out a solution that pulls them out of yet another second-half slump.
"It's been a little bit of an ongoing theme obviously, right now," Raiders interim coach Rich Bisaccia said. "We've been talking about it the last three weeks. We have to look at what we did poorly and try to fix it."
A rapid turnaround to Thursday's Thanksgiving Day game against the Cowboys at least offers an opportunity to quickly move on from Sunday's ugliness. But it does nothing in terms of addressing the core issues.
March on the Raiders must, though. Solutions or not.
"No one's coming to save us," Carr said. "So we better figure it out."
Carr is as good a place to start as anywhere.
After a torrid start this year that pushed him into the MVP conversation, he's looked out of sorts over the past three weeks. Yes, the loss of Henry Ruggs had an impact, and it is worth noting the Raiders' offensive slump coincides with the removal of Ruggs three weeks ago.
But he wasn't so big a piece of the puzzle that his departure exonerates Carr for committing six turnovers against three touchdown passes over three straight losses. Nor does it explain the lack of execution on third downs or how Carr completed just five throws to two wide receivers on Sunday.
"You put it all on me. It starts with me" Carr said. "It starts and ends with me, and it'll be my fault until I'm not here."
It also doesn't help that the Raiders' run game has been a no-show all season, Sunday included after managing 72 yards on 18 carries.
The defense can't be let off the hook, either, given the four critical penalties it committed. Three came on would-be third-down stops that led to 16 points by the Bengals.
"We shot ourselves in the foot a lot today," Raiders linebacker Denzel Perryman said.
Nevertheless, the defense played well enough to keep things close until the fourth quarter. But with the offense never getting out of first gear, the defense eventually caved in another blowout loss.
At some point, it becomes inevitable.
"Some people execute; some people don't," Waller said. "It separates the good teams from the great teams."
Right now, the Raiders' offense isn't executing.
Contact Vincent Bonsignore at vbonsignore@reviewjournal.com. Follow @VinnyBonsignore on Twitter.