Raiders-Broncos preview: How to watch, matchups and more
Updated September 10, 2023 - 12:00 pm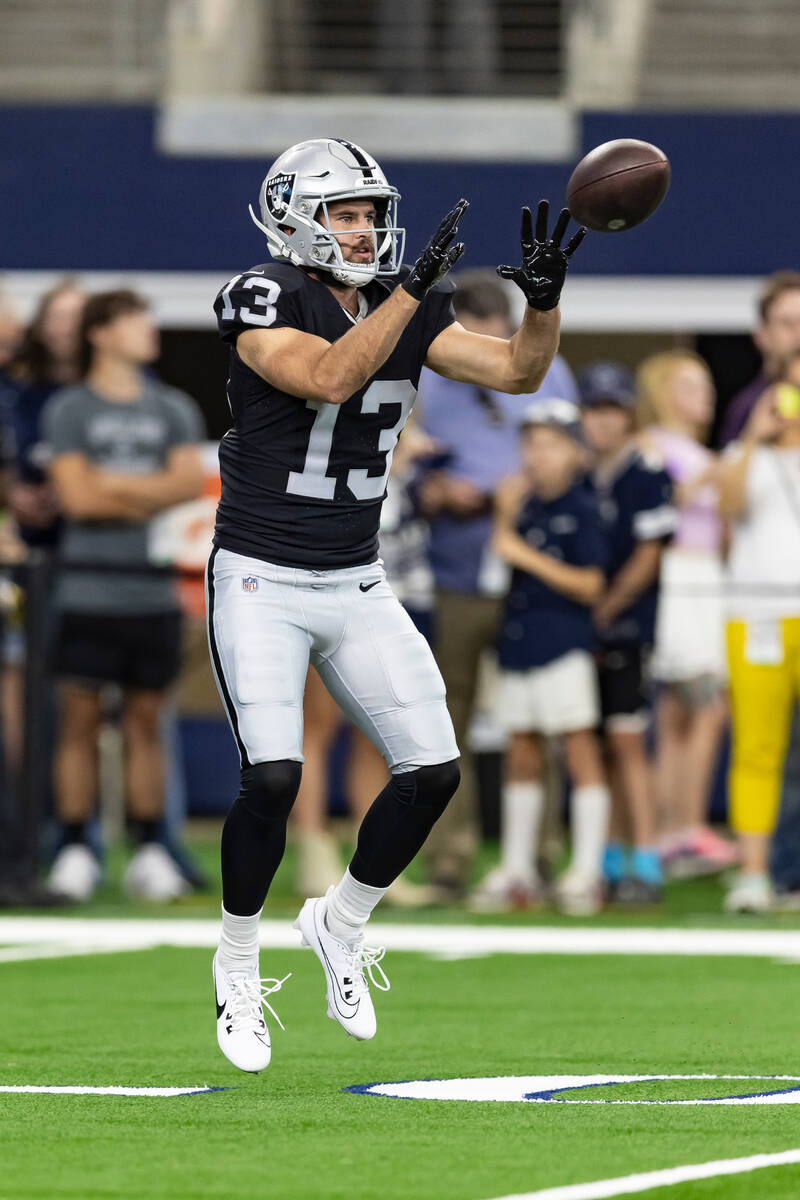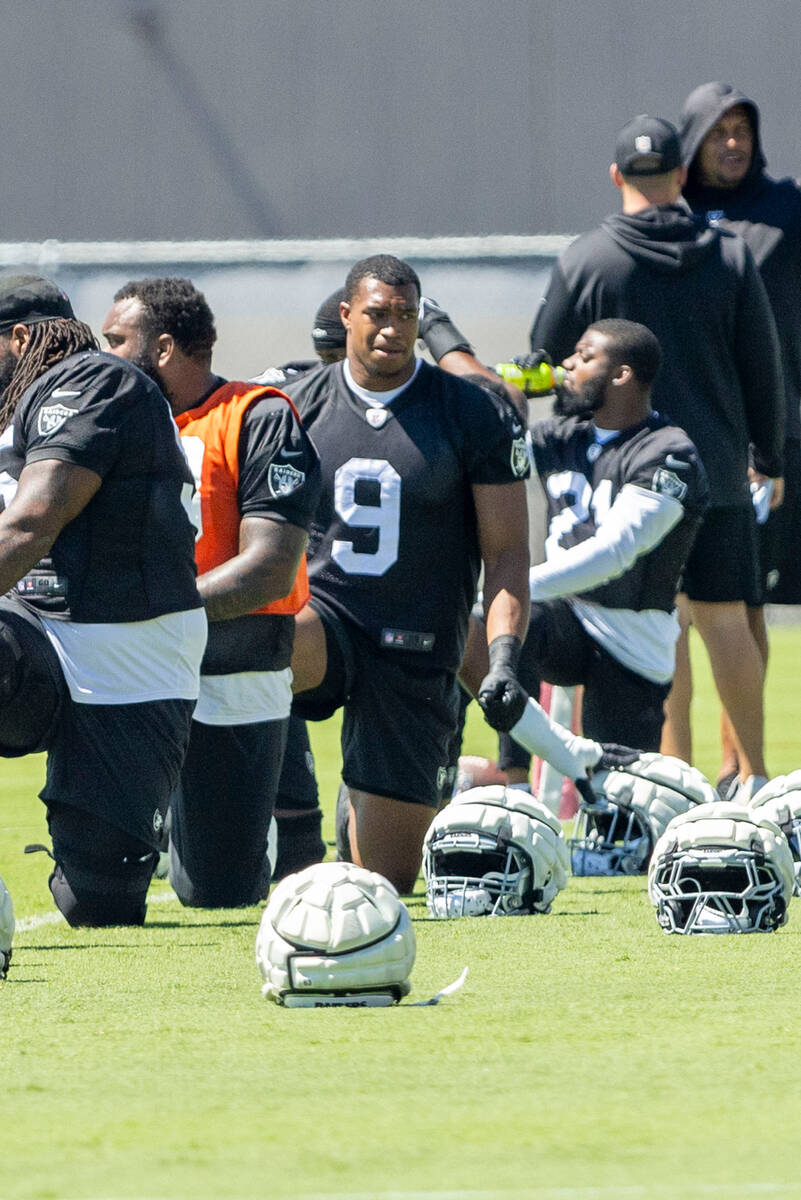 The Chiefs and Chargers have shared the hype in the AFC West, but the Raiders and Broncos will open the season with a divisional game. The Raiders have won six straight in the series, but the Broncos overhauled their coaching staff in the hopes of maximizing star quarterback Russell Wilson after a disastrous first season in Denver.
Game information
■ Who: Raiders at Broncos
■ When: 1:25 p.m. Sunday
■ Where: Empower Field at Mile High, Denver
■ TV: KLAS-8 (Tom McCarthy, play-by-play, James Lofton and Jay Feely, analysts)
■ Radio: KRLV 920-AM; KOMP 92.3-FM (Jason Horowitz, play-by-play, Lincoln Kennedy, analyst)
■ Line: Broncos -3½; total 44½
Series history
The Raiders have won the past six meetings and lead the series 71-54-2, including two postseason games.
Last meeting
The Raiders claimed a 22-16 overtime victory in Denver on Nov. 20, 2022, when Davante Adams got free for a 35-yard touchdown pass on the third play of the extra session. The Raiders forced overtime on a 25-yard field goal by Daniel Carlson in the final minute.
Bold predictions
1. First-round pick Tyree Wilson will get his first career sack as he takes on a larger snap share in the absence of Chandler Jones.
2. Hunter Renfrow has at least six catches after a successful training camp in which he looked ready to regain his 2021 form and quickly gained Jimmy Garoppolo's confidence.
3. Carlson, who already appears to be in midseason form, makes a field goal of at least 57 yards in the thin air of Denver.
Matchups to watch
1. Raiders edge rusher Maxx Crosby vs. Broncos right tackle Mike McGlinchey. The Broncos invested heavily in the free agent to try to fix their offensive line, and his first test is as tough as it gets.
2. Raiders linebackers and safeties vs. Broncos tight end Greg Dulcich. There have been whispers coming out of Denver about Dulcich taking on an expanded role in first-year coach Sean Payton's offense. The second-year pro out of UCLA could get moved all over the formation and be a valuable target with several receivers banged up. It will be a team effort for the Raiders to keep tabs on him.
3. Broncos cornerbacks vs. Raiders receiver Adams. New Broncos defensive coordinator Vance Joseph was running the defense in Arizona last season when the Cardinals neutralized Adams, but Joseph pointed out this past week that was early in the season and coach Josh McDaniels figured out more ways to use the star wideout as the season progressed. Pat Surtain probably will draw the assignment on Adams most often, and Joseph believes he's up to the task, but stressed the importance of making life difficult for Adams.
"If you don't stop their best people, you won't win the game," he said. "That's always first on our docket when we game plan versus teams. We'll see how it works on Sunday, but we will have a plan to stop their best people."
When the Raiders have the ball
The Raiders have elite talents such as Adams and Josh Jacobs, but most of the attention will be on new quarterback Jimmy Garoppolo. It was a major decision to move on from Derek Carr after almost a decade, and now Garoppolo is tasked with moving the franchise forward. He would be well-served to rely on Adams and Jacobs in his first game at the helm.
When the Broncos have the ball
How much has Payton truly fixed Wilson? One week won't be enough to answer the question. The Raiders should do what they can to not allow him to get comfortable, putting pressure on him up front and continuing to try to cause chaos on the back end like they showed in training camp. If they make him struggle early, he might not be able to find his confidence.
Injury report
■ Raiders: OUT: DB Brandon Facyson (shin), DE Chandler Jones (NIR-personal). QUESTIONABLE: WR DeAndre Carter (knee).
■ Broncos: QUESTIONABLE: WR Jerry Jeudy (hamstring), CB Riley Moss (abdomen). LIMITED: TE Greg Dulcich (NIR-personal), TE Chris Manhertz (chest), CB Pat Surtain (ankle).
Storyline
The Raiders' six straight wins are a fun footnote in the series history, but the streak feels particularly irrelevant in predicting Sunday's outcome because of how new these teams will look. The Raiders have turned the offense over to Garoppolo. Denver brings back its quarterback, but one who everyone around the franchise expects to look much better with a major upgrade at coach with Payton.
Raiders running back Jacobs downplayed the significance of his success against the Broncos, but it's hard to ignore his 154 carries for 721 yards and nine touchdowns in seven meetings, all wins.
"I saw a little bit of that," he said of the stats. "But at the end of the day, they have a new head coach, a new defensive coordinator and a new philosophy. You don't know what they're coming with, so I just have to go out there and play my game."
That new coordinator, Joseph, knows the Broncos' ability to slow Jacobs might be the difference.
"He is a good back, and good players make plays," he said. "You have to make a real effort to get him stopped, and that is where it starts."
It's true. Even though Jacobs just arrived in training camp last week, he will need to carry the load for the Raiders to open the season with a divisional win on the road.
The pick
Broncos 23, Raiders 20
Adam Hill Las Vegas Review-Journal