Raiders defeat Cincinnati Bengals, 17-10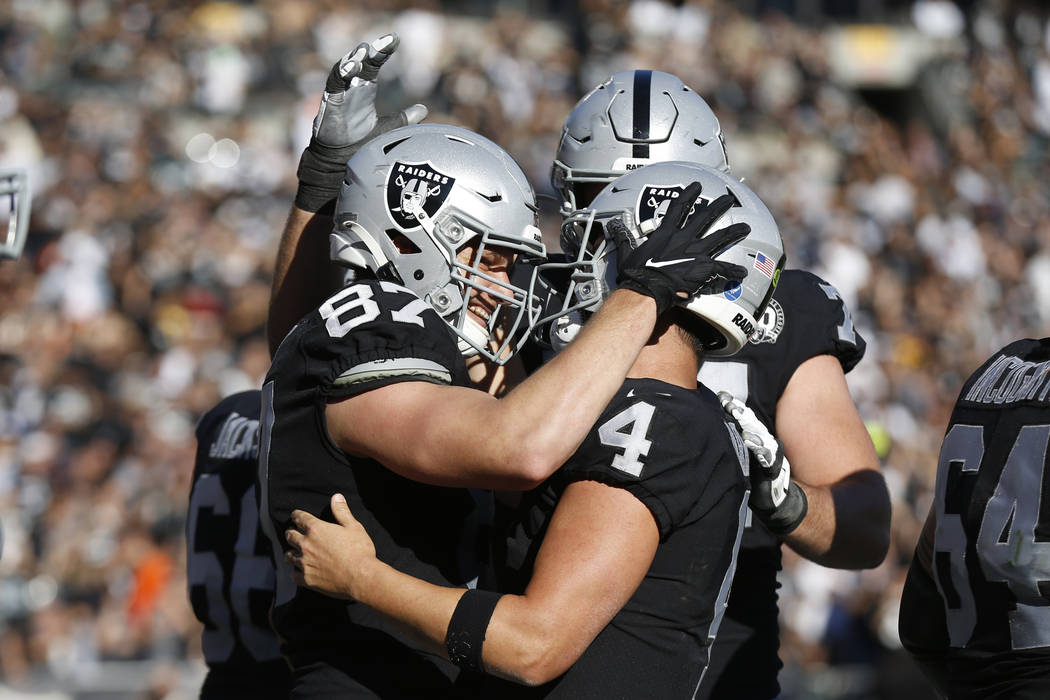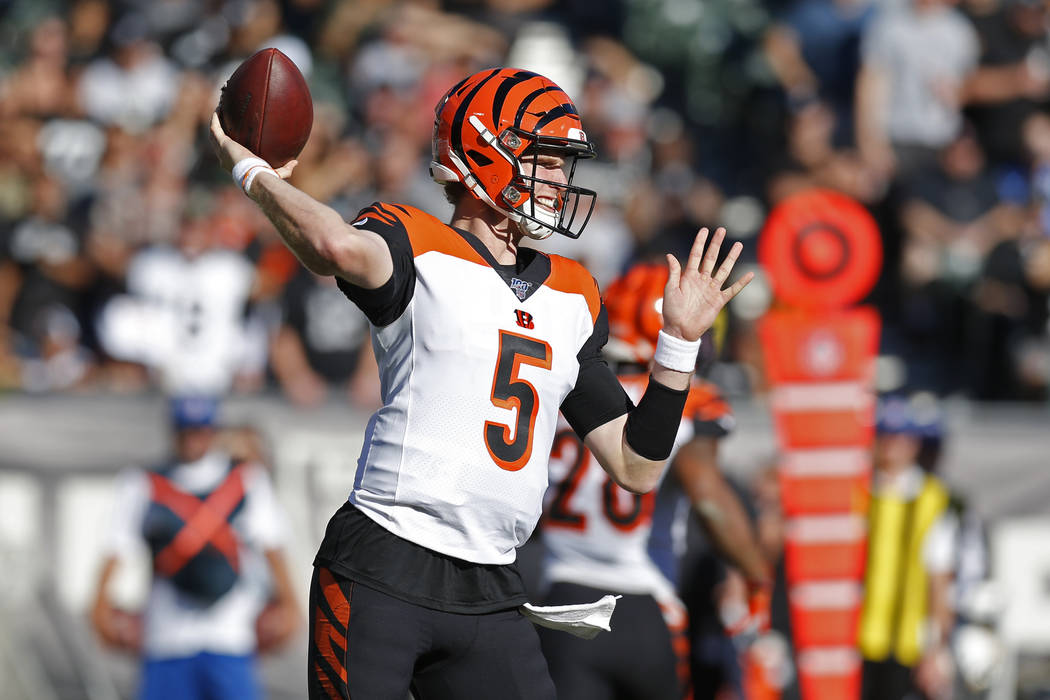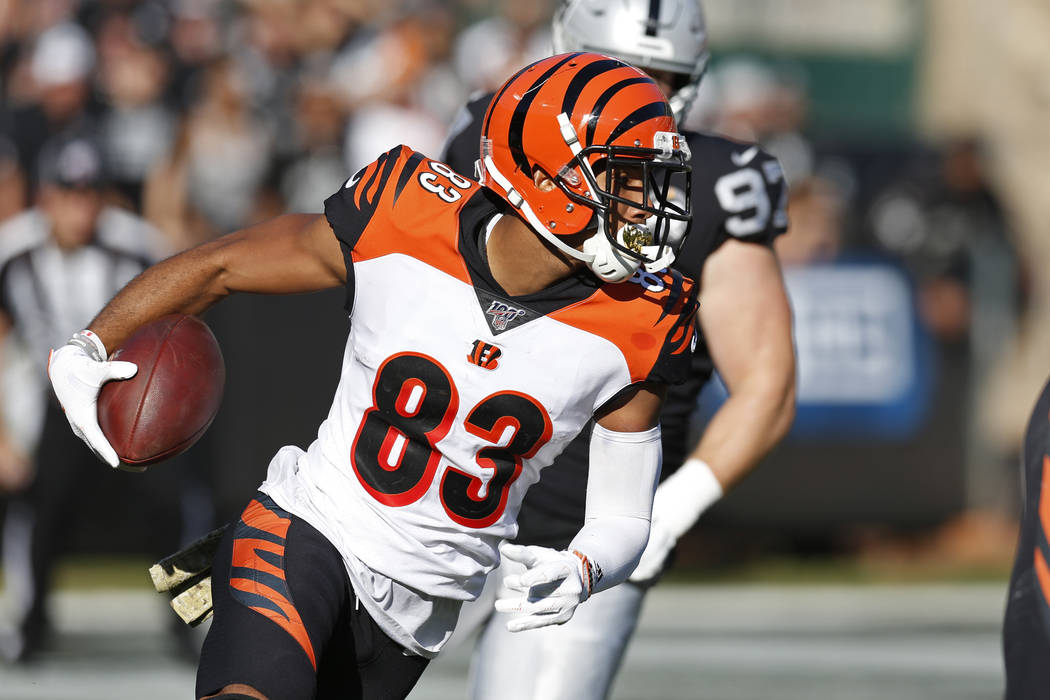 OAKLAND, Calif. — It wasn't the prettiest game, but the Raiders kept the Bengals winless in 2019 with a 17-10 victory in one of Oakland's best defensive performances of the season.
"I'm really proud of our team," Raiders coach Jon Gruden said. "It could've been a different story today, but we're happy to win."
While the Bengals entered the day 0-9 with the league's No. 32 run defense, Cincinnati didn't roll over. The Bengals took a 7-0 lead after the Raiders lost running back Josh Jacobs' first career fumble, scoring on a 3-yard touchdown by running back Joe Mixon late in the first quarter.
But the Raiders were able to take control from there, with rookie tight end Foster Moreau scoring his fourth touchdown on a 2-yard pass from quarterback Derek Carr. And then Carr scored from 3-yards out, his first rushing TD this season, giving the Raiders a 14-7 halftime lead.
In the second half, the Bengals netted a field goal after Carr threw his first interception since the Raiders' loss to the Packers in Week 7. But Daniel Carlson added a field goal in the fourth quarter to give the Raiders a seven-point lead.
With the victory, the Raiders are 6-4. They'll next fly to New York to take on the Jets on Sunday.
Here are three takeaways.
1. Defense seals it again
The defense came up with a game-winning stop on each of the club's three victories on the homestand, with cornerback Trayvon Mullen picking up a game-clinching interception in the fourth quarter Sunday. Selected in the second round of the 2019 draft, Mullen recorded his first career pick at a critical point.
Mullen became the starting cornerback when the Raiders traded Gareon Conley to the Texans in late October. He said he's felt comfortable throughout the season, but he is continuing to gain confidence the more he plays.
"I don't want to let my teammates down, so I know I'm going to do whatever for my teammates and myself and well and I'm gonna put them before myself all the time," Mullen said.
But the defense as a whole has come up with significant stops this year, and Gruden said that's a sign of the club's growth.
"You have to close out games on defense if you're going to win," Gruden said." That's something that we're getting better and better at."
2. Not satisfied
Both Carr and Jacobs ended Sunday with solid stat lines. Carr had four incompletions en route to 292 yards with a touchdown and an interception. Jacobs finished with 23 carries for 112 yards — the fourth time this season he's had at least 100 yards rushing.
But Jacobs spoke of how the whole game felt "weird," and he wasn't satisfied with his performance.
"It was not a great game for me," Jacobs said. "I had a 'quiet 100' or whatever, but there is certainly a lot to improve on."
Despite completing 86 percent of his passes Sunday, Carr echoed the sentiment.
"I left the game and I get our stat book and I looked at it and I was like, they look pretty, but I could have played better," Carr said. "I felt like I left a couple plays out there."
3. Home-field advantage
Following their long odyssey away from Oakland, the Raiders won three in a row at home.
When the Raiders lost the last game of the road swing in Houston, Carr said the Raiders still had everything in front of them. Finishing the homestead 3-0, Carr said Oakland has reason to feel good about their position even as there's much still to accomplish.
"We protected this place — because this is a special place," Carr said.
Illustrating the connection between the team and the fans, Gruden runs over to the black hole to celebrate following home wins. Why?
"There's something about these people," Gruden said. "They're nuts. They're the closest thing to me that I've ever seen."
The Raiders will travel to play the Jets and Chiefs before coming back for the final two regular-season home games in the Oakland-Alameda Coliseum.
More Raiders: Follow at vegasnation.com and @VegasNation on Twitter.
Contact Myles Simmons at msimmons@reviewjournal.com or 702-383-0350. Follow @MylesASimmons on Twitter.