Raiders defense forging new identify, Maxx Crosby says
Updated August 10, 2023 - 4:05 pm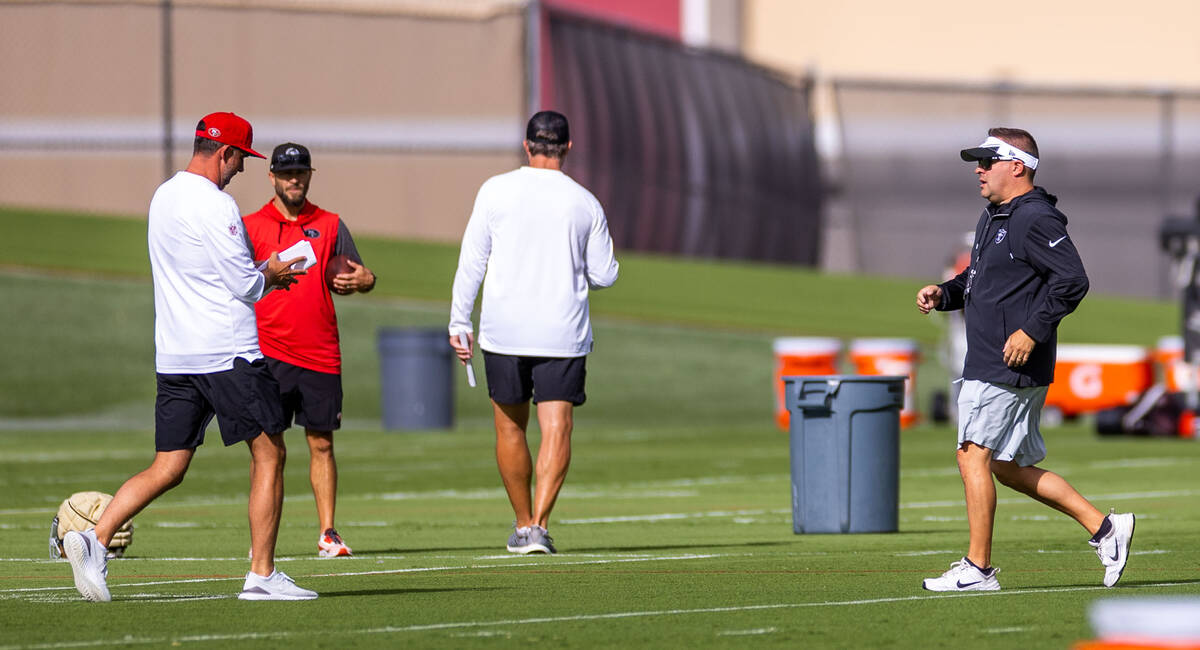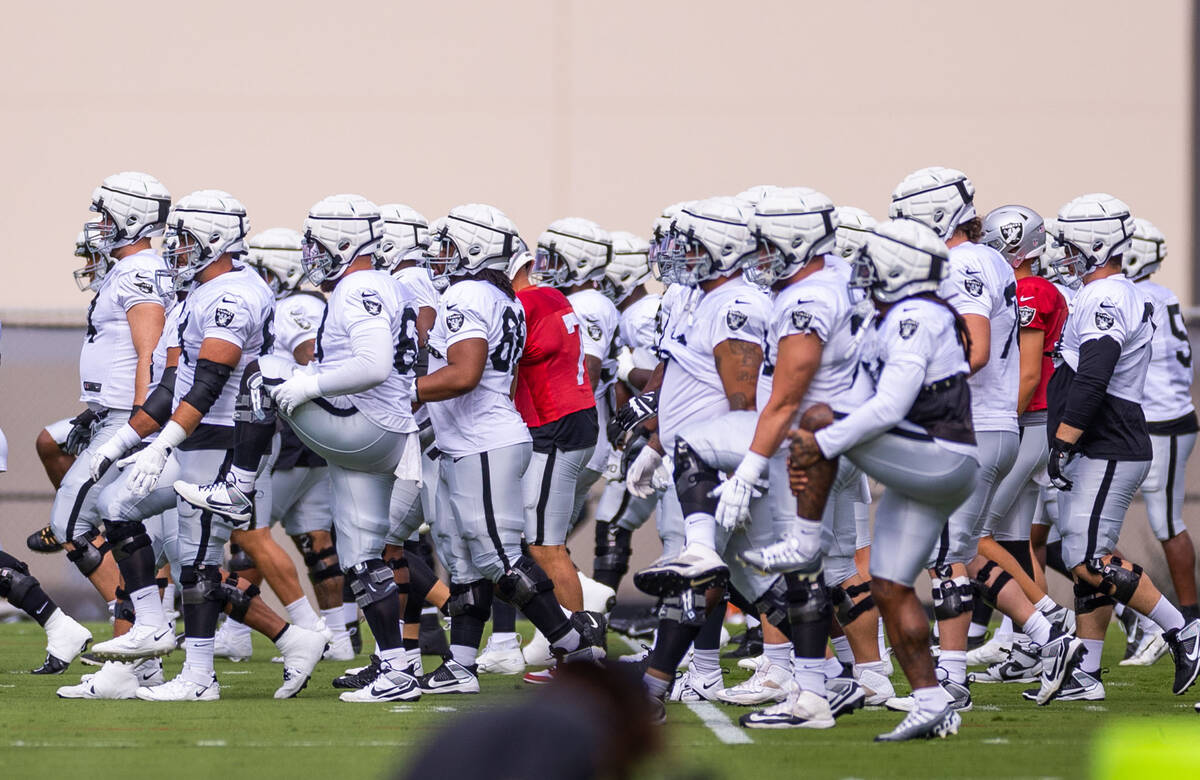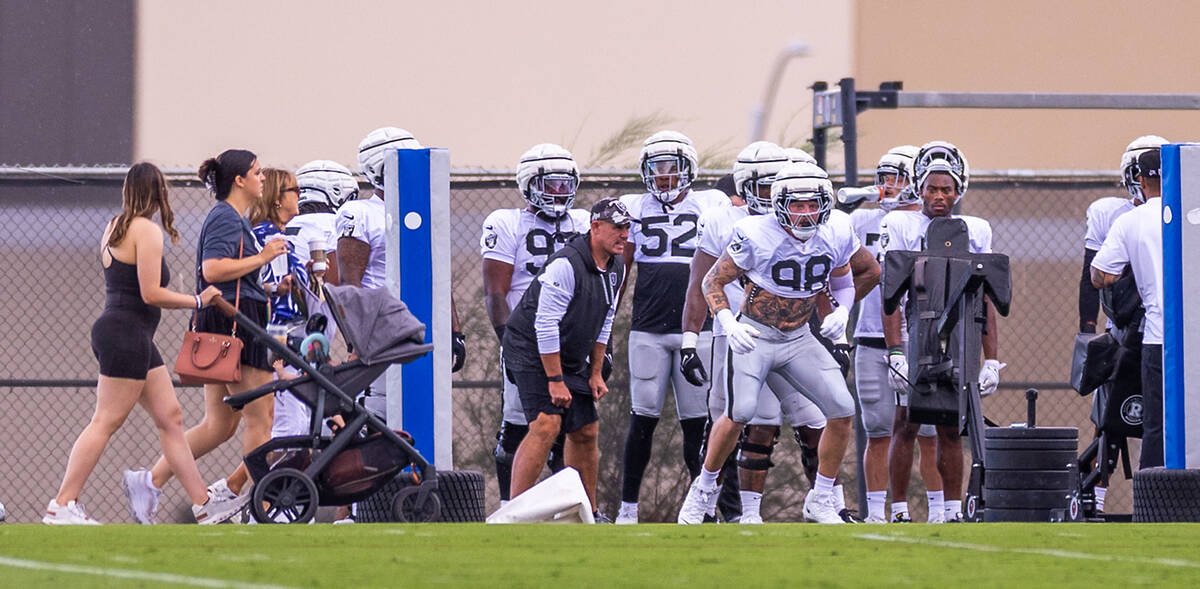 The Raiders' defense had another strong training camp day on Thursday. They consistently applied pressure on the quarterback, made plays behind the line of scrimmage and knocked down passes in the secondary.
It's becoming the norm these days rather than the exception. And it prompted an interesting observation from defensive end Maxx Crosby, who for far too long has clearly been the best player on what has been a bad defense during his time with the Raiders.
"This is our identity," Crosby proclaimed. "This is different."
That Thursday's big day came against the 49ers, one of the best teams in the NFL, is more validation that the Raiders' defense might be turning a corner after surrendering the eighth-most points in the NFL, or worse, in each of the last five seasons.
"They have some good players," said 49ers coach Kyle Shanahan. "I know they don't have their first-round pick out there in Tyree (Wilson), but their pass rush, their secondary. Patrick (Graham) does a real good job everywhere he's been. I think they're going to be a real good team this year."
Fueled by the additions of free agent cornerback Marcus Peters, safety Marcus Epps and linebacker Robert Spillane, rookie cornerback Jakorian Bennett and the improvement of third-year linebacker Divine Deablo, cornerback Nate Hobbs and safety Tre'von Moehrig, the defense has been active and aggressive throughout camp. Especially on the back end, where batted balls and interceptions have been more abundant than in any camp in recent memory.
That was the case again against the 49ers when both Peters and new cornerback Duke Shelley came up with interceptions during 11-on-11 periods against San Francisco's first-team offense. Later, cornerback Amik Robertson turned San Francisco away with a fourth-down pass breakup in the corner of the end zone.
If Robertson doesn't get his hand on the ball, the play would have gone for a touchdown.
"I just love what they're doing on the back end," Crosby said.
The Raiders' first-team offense, which had just put together a stellar two-minute drill capped off by three straight completions from Jimmy Garoppolo, including a touchdown throw to tight end Austin Hooper, cheered loudly from the sideline.
"We're all out there in the same jerseys," said Raiders center Andre James. "It's fun to see those guys go out there and ball."
It has Crosby believing things are going to be different on his side of the ball.
"We're not going to be what we were in the past," he said. "We're going to be what we are now. And that's a confident defense that's going to fly around."
As Crosby pointed out, it's still only August. And a joint practice against another team, even one as good as the 49ers, only goes so far in predicting what might be ahead.
But given how good the Raiders' defense has looked thus far in camp, it would also be shortsighted to simply brush it off as no big deal.
"We're super excited about the direction we're going," Crosby said.
Contact Vincent Bonsignore at vbonsignore@reviewjournal.com. Follow @VinnyBonsignore on Twitter.