Raiders fall to 1-2 with 34-14 loss to Vikings
Updated September 22, 2019 - 7:24 pm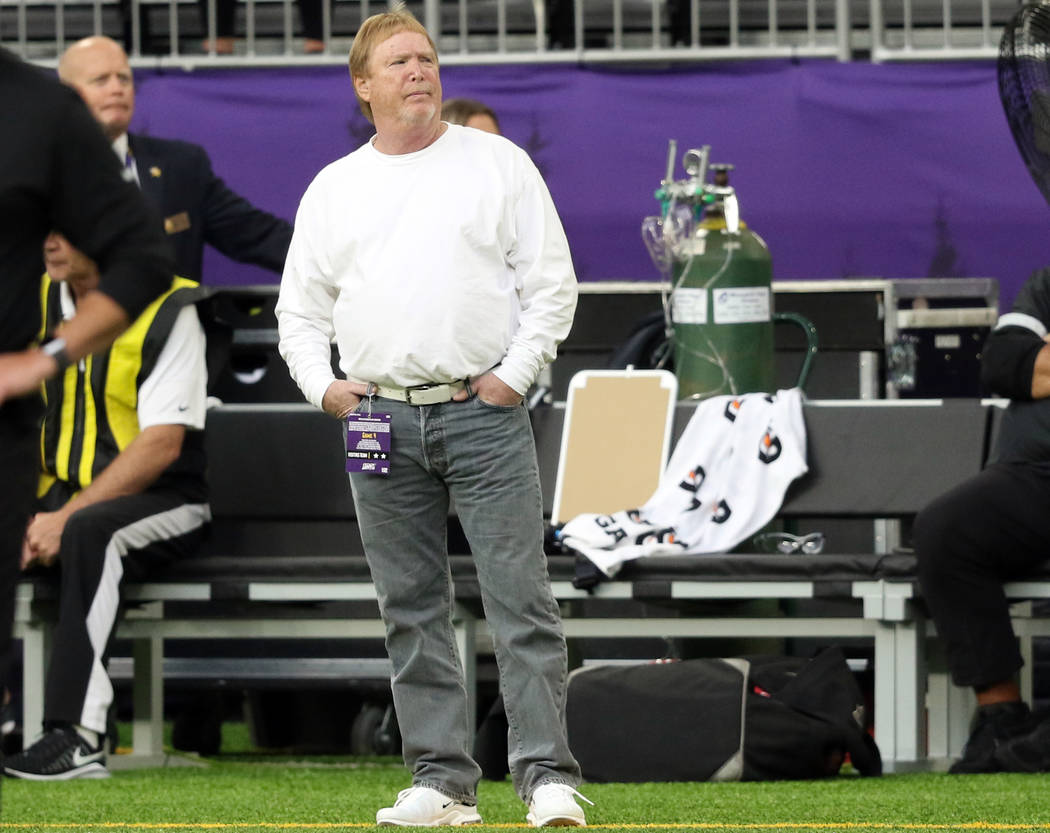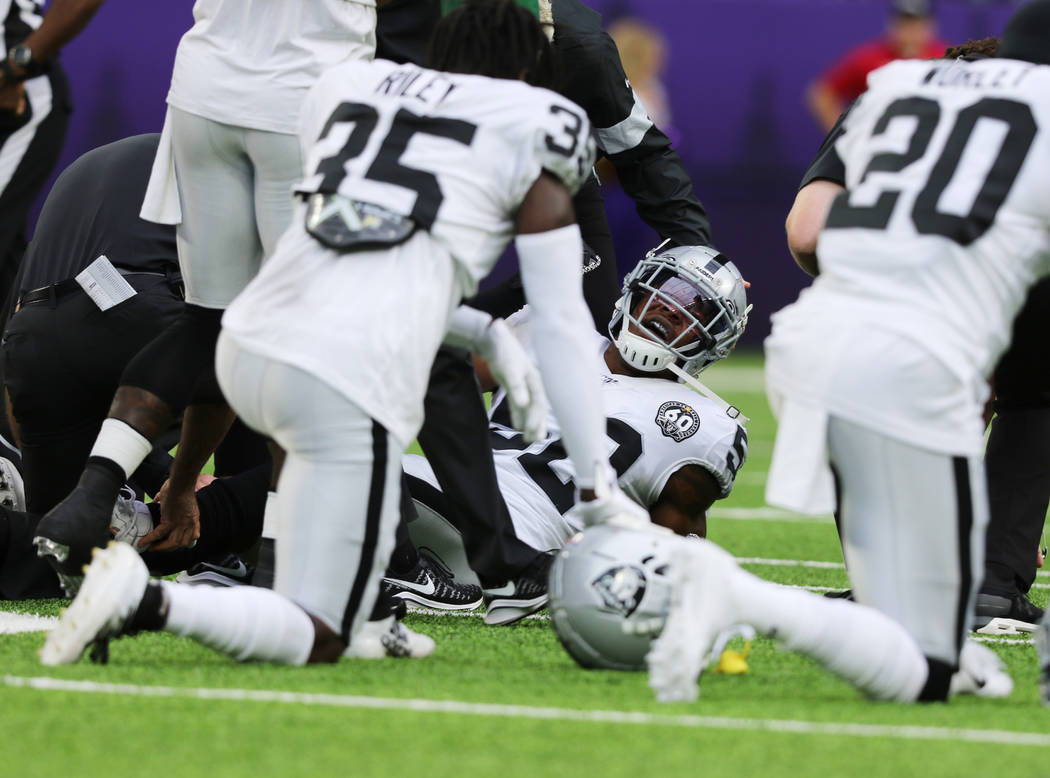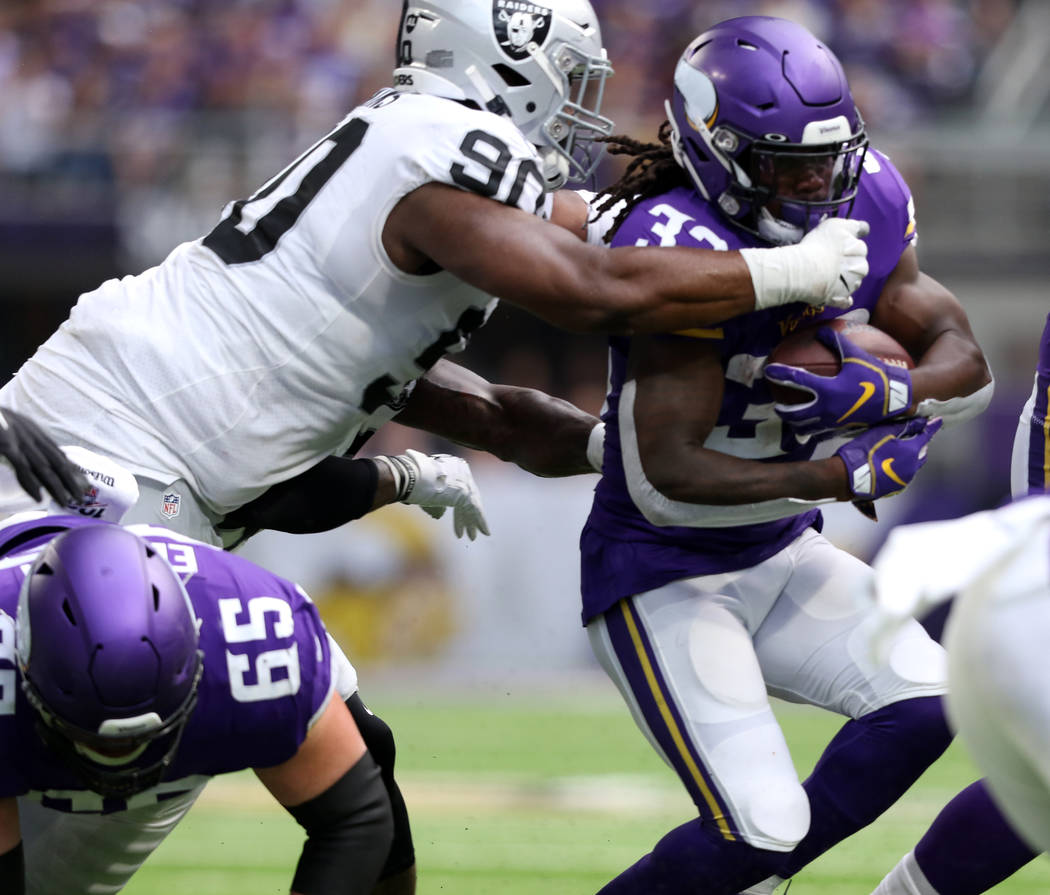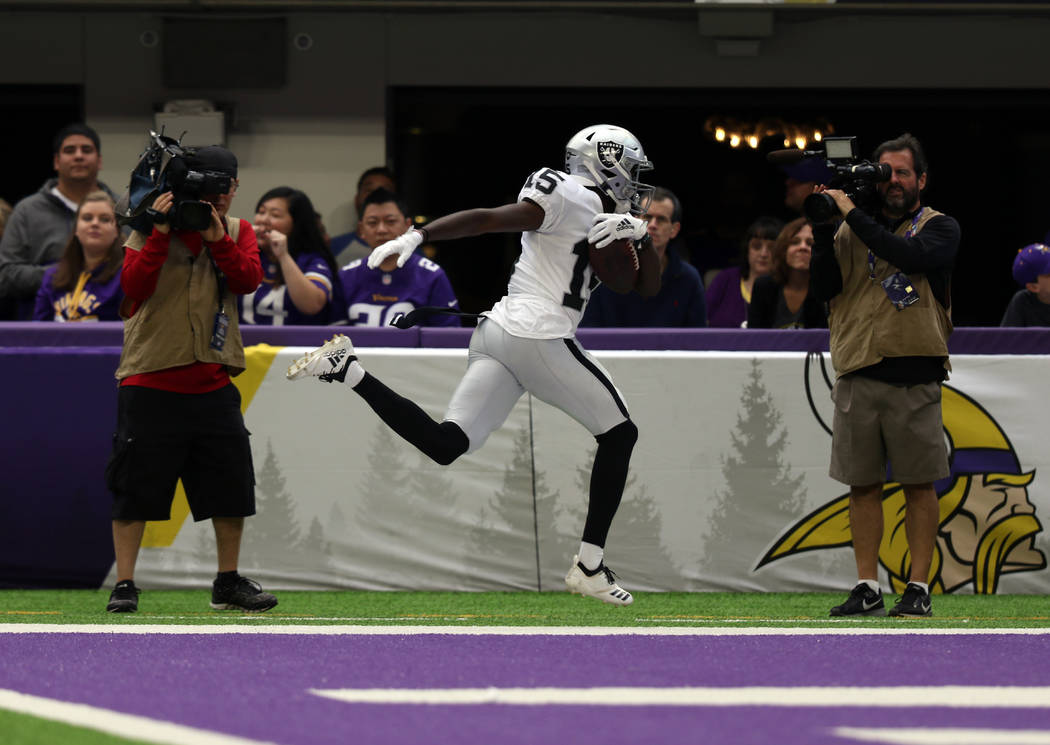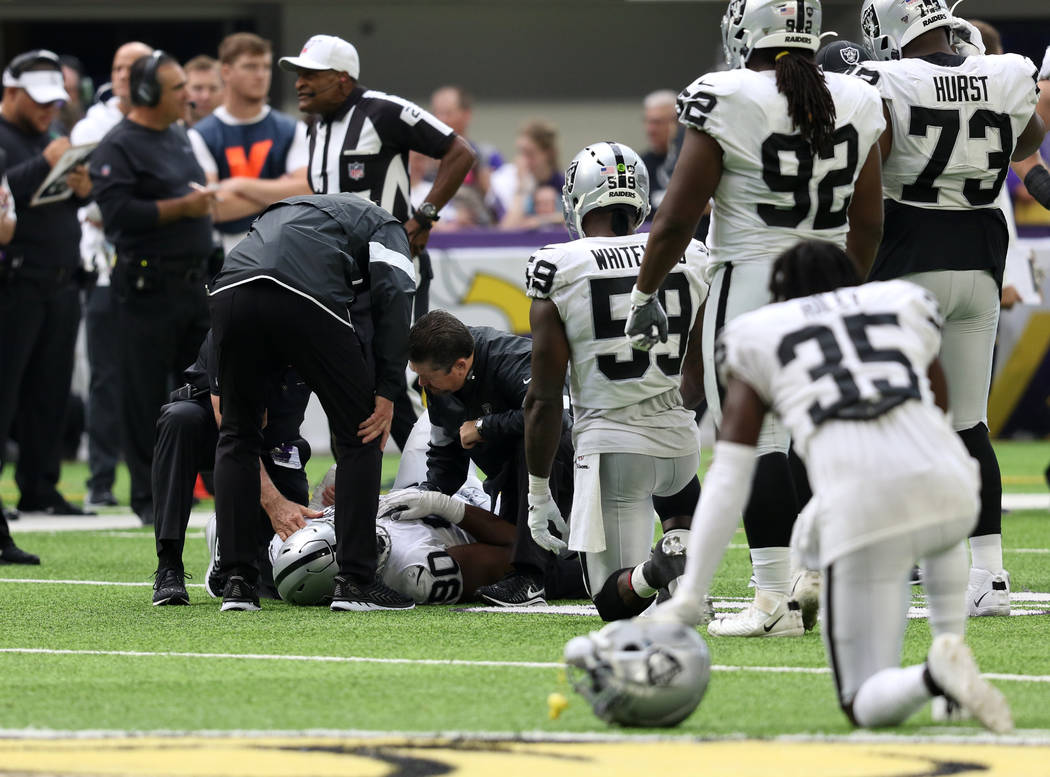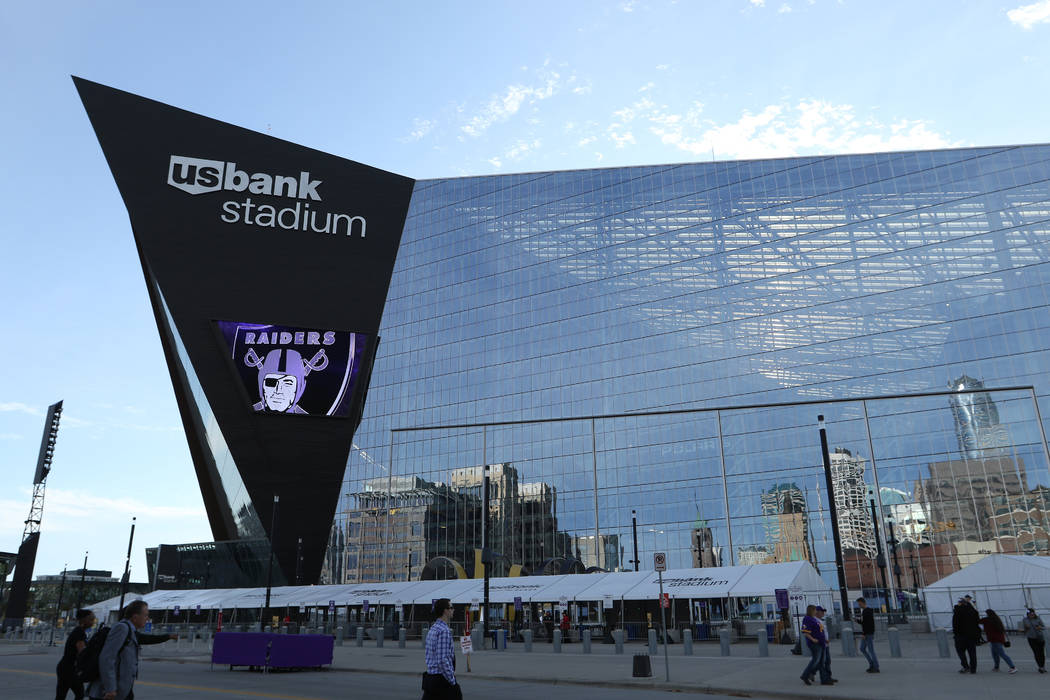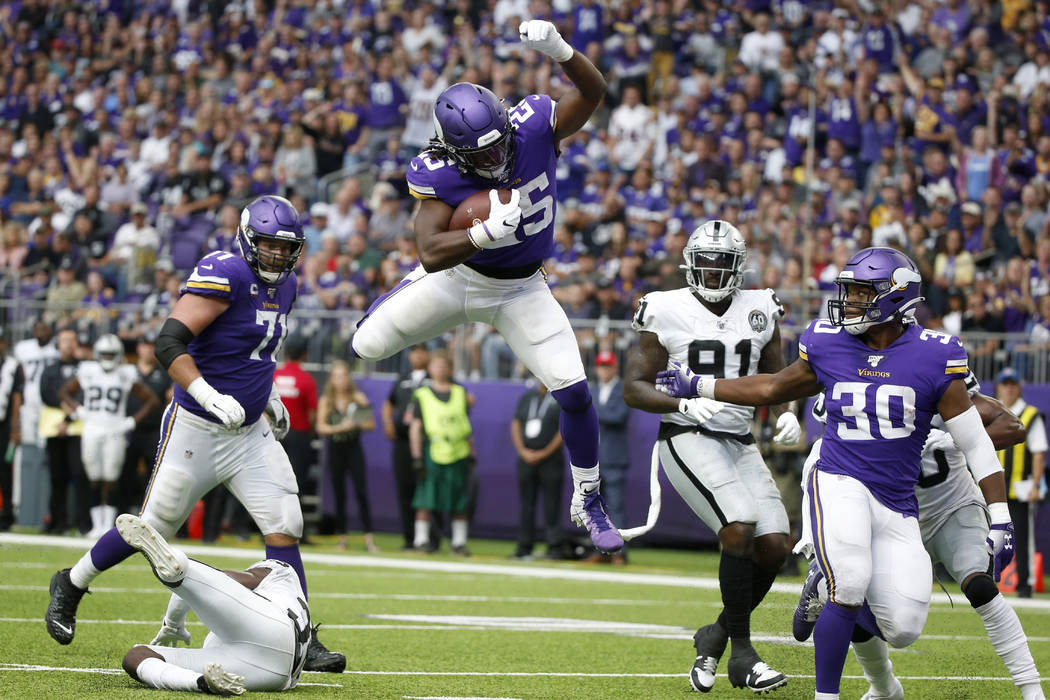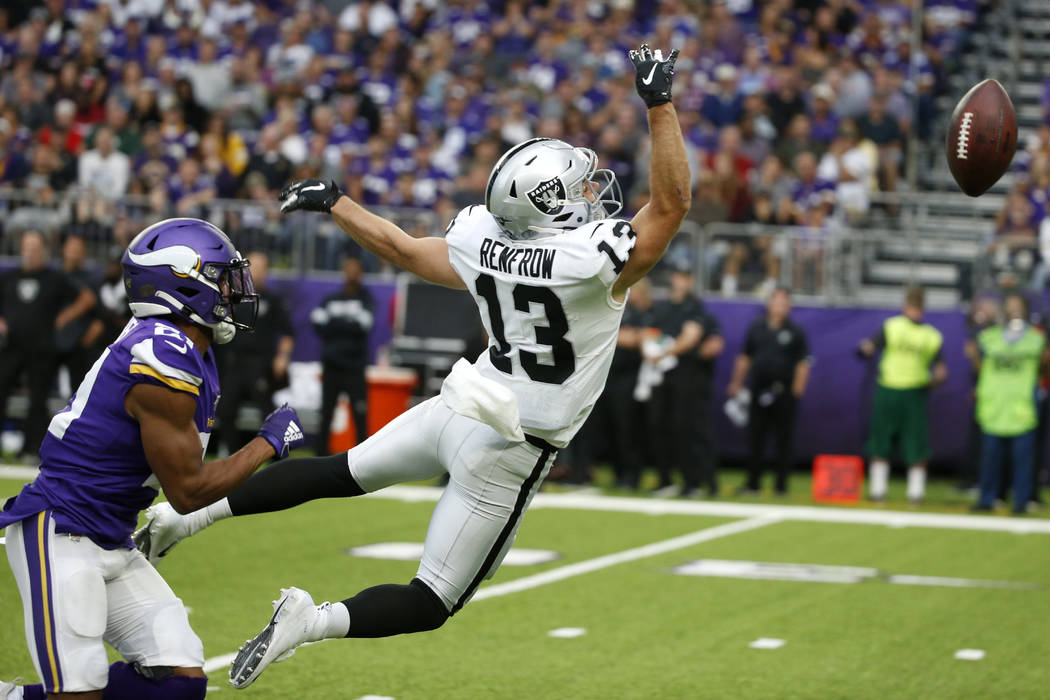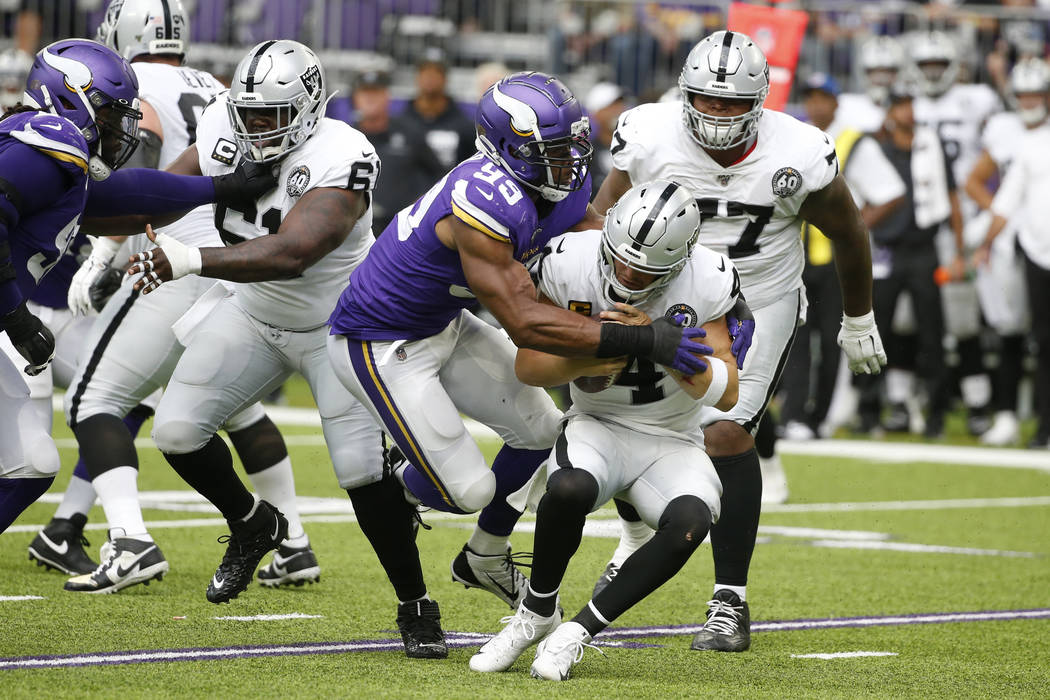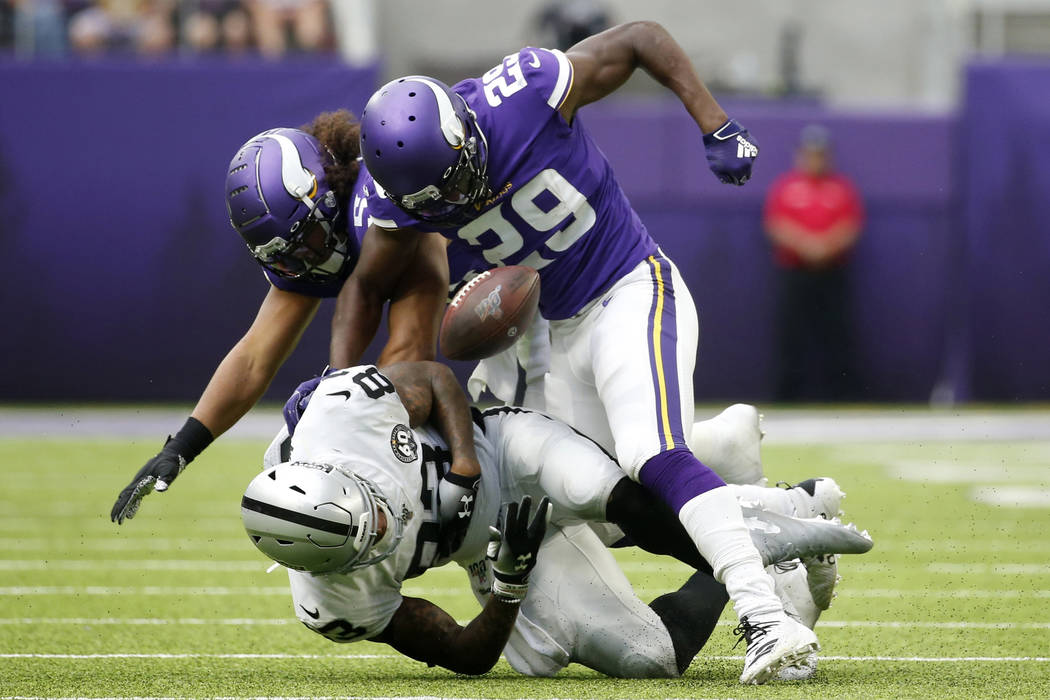 MINNEAPOLIS — The Raiders came into Sunday's game knowing they had to slow down the Minnesota Vikings' run game. But knowing it and doing it proved to be two different things.
Minnesota rushed for 211 yards, 110 of which came from Dalvin Cook, and overwhelmed the Raiders, handing them a 34-14 defeat.
As challenged as the Raiders were on defense, they struggled just as much on offense in falling to 1-2. They gained only 227 total yards and were limited to a touchdown prior to their final drive in the fourth quarter.
After scoring 24 points in a season-opening victory over the Denver Broncos, the Raiders have scored just 24 points in the last two weeks.
"We've got to play better in all three areas, and it starts with me," Raiders coach Jon Gruden said.
Here's a look at three things we learned in the Raiders' Week 3 loss:
1. Defensive penalties prove lethal
The Raiders got down early, in large part because of penalties.
On the Vikings' opening drive, the Raiders were flagged twice and gave the Vikings a pair of free first downs — first defensive holding, then encroachment. Those fouls helped put the Vikings in position to cash in on a 35-yard touchdown pass from quarterback Kirk Cousins to wide receiver Adam Thielen.
Later in the first quarter, the Raiders helped the Vikings overcome third-and-18 from their own 13 when defensive end Arden Key was called for roughing the passer on a screen pass to Cook. On the same drive, cornerback Gareon Conley committed a facemask penalty that put the Vikings on the Raiders' 26.
A few plays later, Cook scored on a 1-yard run to put the Raiders down 14-0.
"Of course, third-down penalties suck. There's no way around it," defensive end Josh Mauro said. "It's all on us. We have to be smarter and execute better."
It's tough enough to limit the Vikings' offense. It's that much harder if the unit gets help.
"If you fall behind against this team early, they have the closers that make it very difficult on you," Gruden said.
2. Offense isn't clicking
The Raiders scored 10 points last week and 14 points on Sunday. It's worth noting seven of the club's Week 3 points came on the Raiders' last drive when the game had been decided.
Quarterback Derek Carr said he felt like the offense moved the ball well, but just didn't finish drives like they did in their opening victory over the Broncos.
"We didn't really have a problem moving the ball. Now, we had some sacks and penalties and stuff," Carr said. "But when it came to running plays against their defense, we didn't have a problem getting things going."
Carr's assessment, however, doesn't paint a full picture. The Raiders did have three possessions finish in Minnesota territory without points.
But the offense started the game with two punts and an interception, giving Minnesota the opportunity to build a 21-0 lead. And the Raiders gained no yards on their possession to open the second half, going three-and-out. The Vikings subsequently used a 10-play, 92-yard drive to build a 28-7 lead.
The Raiders certainly can do a better job of finishing drives once they get to opponent territory. But they also have to do a better job of reaching it.
3. Time to refocus — quickly
No one in the Raiders' locker room thinks the rest of the league will feel bad for them as they continue on a six-week road stint. But it should add to the level of urgency the club feels when it comes to making corrections before playing the Indianapolis Colts next week.
"It's not getting any easier for us, but I do not think that the guys in this locker room are looking for easy," tight end Darren Waller said. "They are looking to that road that is as tough as possible because that will bring the best out of us."
Even with Jacoby Brissett at quarterback instead of Andrew Luck, the 2-1 Colts will be a challenge for the Raiders, particularly if the club makes it easier with penalties and turnovers.
The Raiders will have to refocus at practice and play a clean game next week to defeat Indianapolis on the road.
More Raiders: Follow at vegasnation.com and @VegasNation on Twitter.
Contact Myles Simmons at msimmons@reviewjournal.com or 702-383-0350. Follow @MylesASimmons on Twitter.