Raiders mailbag: Aidan O'Connell making a move?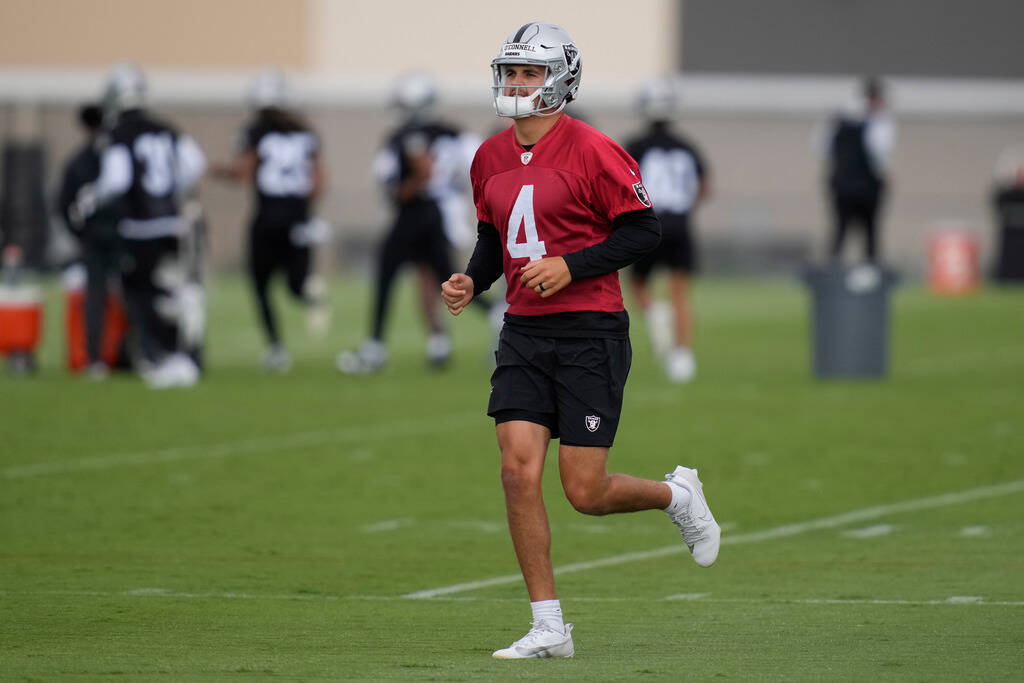 The Raiders wrapped up their three-day mandatory minicamp on Thursday. All that is left on their offseason program calendar is an organized team activity workout next week.
As their offseason gets put to bed, they look ahead to training camp. Meanwhile, their fans have plenty of questions.
Here is a sampling of what arrived in this week's mailbag:
Zac Chavet (@I_am_ZacEC): How can we expect the Raiders to be better when they went middle ground in free agency, have yet to sign their best player and the first-round pick and quarterback have yet to practice or gain chemistry?
VINCENT BONSIGNORE: All valid questions, and certainly coming off a six-win season there is a bit of a leap of faith needed to expect improvement.
As far as the free-agent additions, it's still early but it feels like the Raiders have come up with multiple starters and contributors in safety Marcus Epps, cornerbacks Duke Shelley, David Long and Brandon Facyson, linebacker Robert Spillane and wide receiver Jakobi Meyers.
In addition, wide receiver DeAndre Carter looks like someone who is going to help situationally. If that is the case, and if holdover defensive players like cornerback Nate Hobbs, safety Tre'von Moehrig and linebacker Divine Deablo take steps forward in their third seasons, there is reason to believe the defense can make an incremental improvement.
That isn't even bringing up the possibility that rookie defensive end Tyree Wilson makes a big impact in his first season.
Nothing is guaranteed, but between the potential of the offense — and the Raiders fully expect quarterback Jimmy Garoppolo and running back Josh Jacobs to be available to start the season — there is reason to at least hope the Raiders can improve.
That said, Garoppolo has to stay healthy for any of this to have a chance.
Bob90 (@RealMora90): If I buy a Josh Jacobs jersey, will I regret it?
VB: No, at least for one season.
Brady (@Bradyraidersfan): Is there a timeline for Tyree Wilson's injury? If so, when would he start playing?
VB: The Raiders are pointing to the start of training camp, or very soon after, for Wilson to be cleared to play coming off a foot he injured last year at Texas Tech.
Dodging Wrenches (@djangojyoung): What odds would you give Aidan O'Connell beating out Jimmy Garoppolo?
VB: Extremely low. The best-case scenario for O'Connell is that, in a worst-case scenario where Garoppolo goes down with an injury, O'Connell is ready to step in a play in his absence.
marie brow (@mbcaron78): Do Raiders coaches seem more optimistic about the team behind the scenes? Obviously, there were high expectations for the team last year and they came up short.
VB: The optimism is that the Raiders improved their roster through free agency and the draft, and that young holdovers will be better off going into year two of the same offensive and defensive scheme.
Remember, you have to go all the way back to 2020 the last time the Raiders' defense went into year two of the same scheme.
All of which, they hope, means being able to win more of those close games they let slip through their hands last year and building a sturdier foundation of young, homegrown talent.
But there is also a realism about what their ceiling might be.
Alex O (@STLRaider85): Seems like between DeAndre Carter, Phillip Dorsett, Hunter Renfrow, Tre Tucker and Keelan Cole someone's going to have to go. Who do you think makes it?
VB: Such a good question. Truly can't call it at this point.
Jim Rose (@jimrunsfar): Do we "generally" feel better about the state of the line than at the end of the season?
VB: That is reasonable. But that doesn't mean some young players — Thayer Munford comes to mind — won't be given every opportunity to win a starting job to make that unit even better.
Contact Vincent Bonsignore at vbonsignore@reviewjournal.com. Follow @VinnyBonsignore on Twitter.