Raiders to play 2020 season with no fans
Updated August 4, 2020 - 5:31 am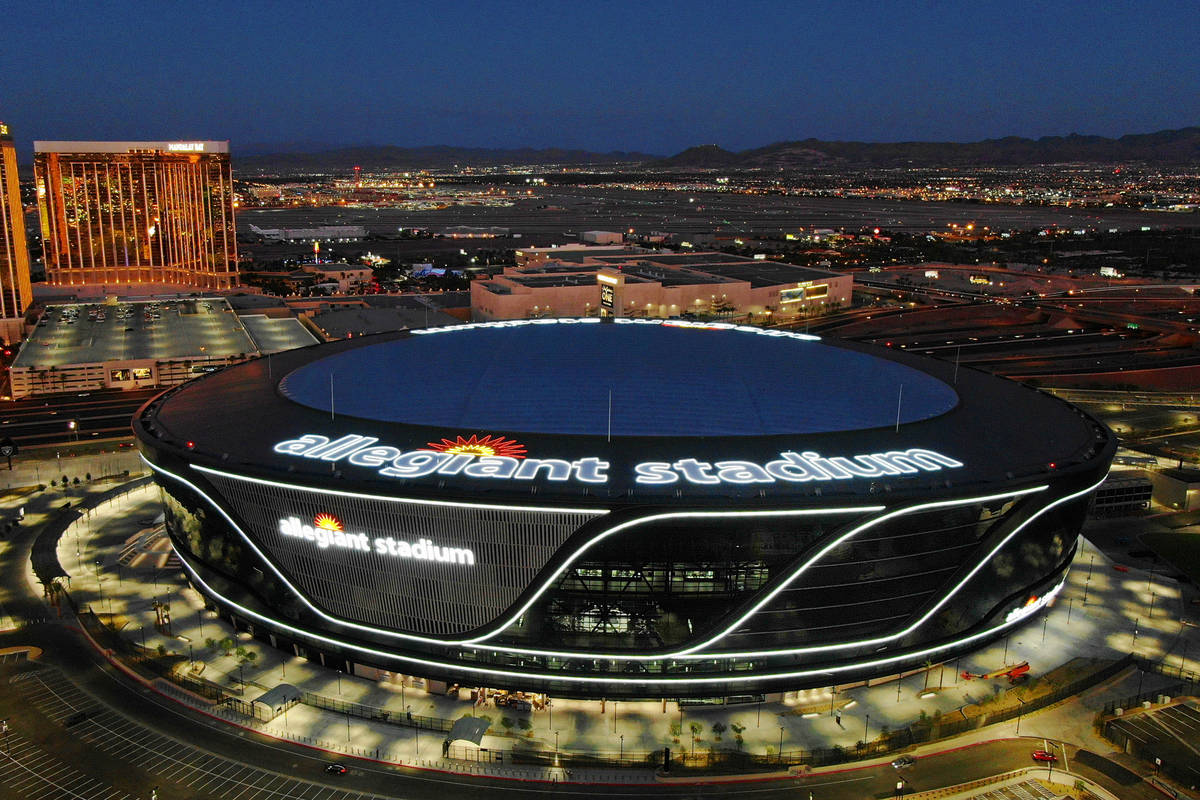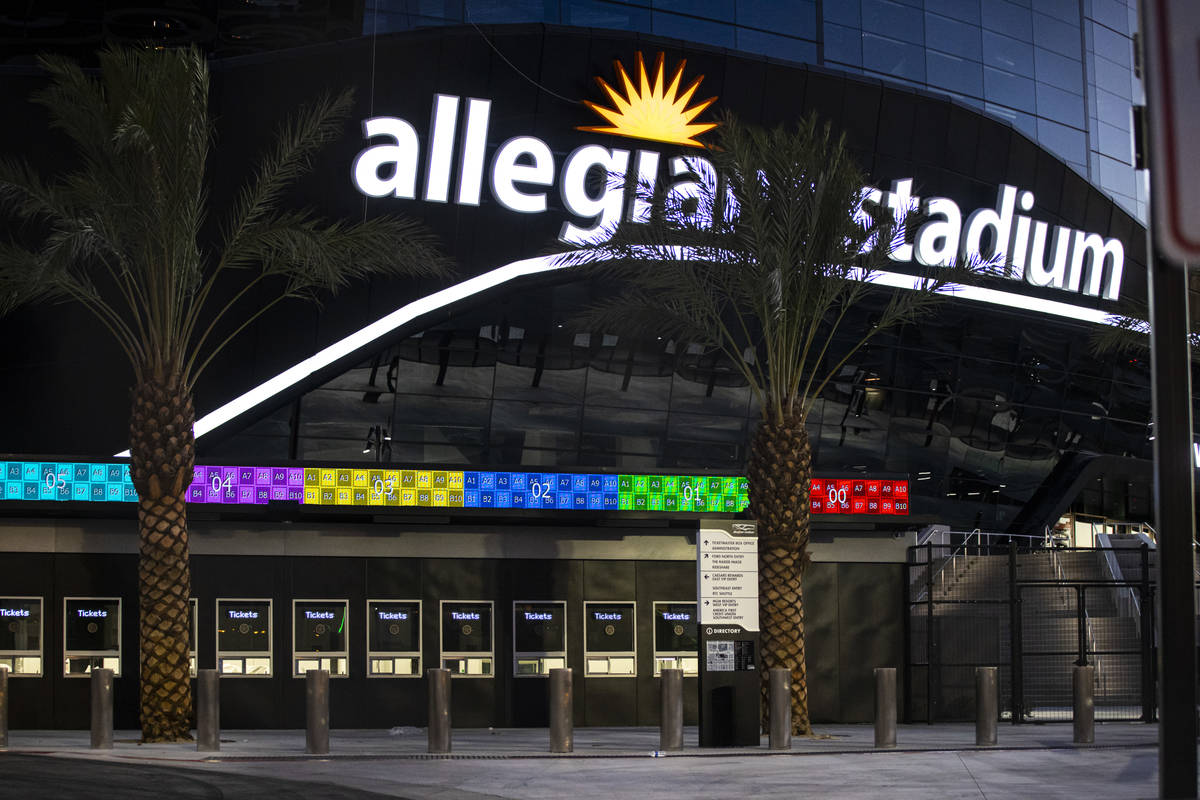 The Raiders' first season in Las Vegas will be played in an empty Allegiant Stadium.
With COVID-19 dramatically reducing the level of fan attendance across the NFL and sports in general, Raiders owner Mark Davis on Monday in an email to fans announced there will be no fan participation this year. Rather than play games in a sparsely filled Allegiant Stadium in which thousands of season-ticket holders would be left out in the cold, he decided to shut down fan access in 2020.
For Davis, the decision goes back to the NFL determining this summer to block off the first eight rows of seats to create a COVID-19 buffer zone between fans and players. With the Raiders selling out their season ticket allotment, and no room to put the displaced fans, it would have meant telling thousands of fans they could not celebrate the first season of Allegiant Stadium.
"I felt … that if one couldn't go, then I don't know if any fan should go," Davis said.
Now more than ever with COVID-19 numbers spiking around the country, the safety and health of fans and players became a factor
"It just didn't seem safe to put fans in the stadium at this time," Davis said. "There's so many variables involved. All the workers that would have been trained to work in that stadium, we would have had to watch and test them."
As a result, the Raiders informed their season-ticket holders there will be no fans this year.
"There is nothing more important to the Raider organization than the health and safety of our players, coaches, staff, stadium workers and fans," the club said in the email. "After intensive consultation with healthcare officials and state and community leaders, we have made the difficult decision to play the Las Vegas Raiders 2020 inaugural season at Allegiant Stadium without fans in attendance. This decision is based on our commitment to protect the health of our fans and the entire community in response to the coronavirus pandemic affecting us all."
The Raiders have told season-ticket holders they have the option of getting a refund for the 2020 tickets without losing their seats or rolling their 2020 payment to 2021.
Needless to say, fans were disappointed.
"I'm pretty bummed about it, but also saw it coming," said Kenny King Jr., a longtime Bay Area Raiders fan who bought two season tickets at Allegiant Stadium. "I respect Mark a lot for making the decision to eliminate all fans so that a portion of fans weren't alienated. "
In response, UNLV football officials said they are awaiting word from Mountain West Conference officials before deciding if they will allow fans in Allegiant Stadium.
The NFL has left fan attendance up to each team, although the degree to which fans can participate is predicated on the state and city where the teams reside.
Most NFL teams are operating under the assumption that games will be played in front of limited fans. For instance:
■ The Baltimore Ravens have set attendance at 14,000, while the Jacksonville Jaguars have set attendance at 25 percent capacity of their stadium.
■ In New Jersey, both the Giants and Jets have declared no fan attendance until further notice, which gives them some wiggle room should conditions in that area of the country improve.
■ And in Los Angeles, the Rams have told season-ticket holders there will be no fans or a greatly reduced number of fans at SoFI Stadium.
With Nevada still in Phase 2 of COVID-19 protocol, Gov. Steve Sisolak has not given a green light for large gatherings at events like sporting events and concerts. Even if he did, whatever ruling he made would likely not allow all 65,000 seats at Allegiant Stadium to be filled for a Raiders game.
Davis has indicated in recent weeks his reluctance to tell even one season-ticket holder they can't attend games in the inaugural season at Allegiant Stadium, let alone the 40 or so thousand that likely would have been left out in the cold in the most optimistic scenario.
He went so far as to say he would not attend games this year in solidarity with Raiders fans as Allegiant Stadium sat empty this year.
"That is absolutely the case, I will not be going to games this season at home," Davis said. "I don't believe I'll be going on the road as well, we'll see how that goes."
Davis did say the team is looking into plans to potentially create small-scale fan tailgate parties in which fans can watch the game together in small groups.
"In our desire to keep fans engaged this season, we've got potential ways on game day that may include fans," Davis said.
The Raiders' situation is different than most teams in the NFL. This is the inaugural season in Las Vegas and the state of Nevada and season-ticket holders played a big role in helping fund construction of Allegiant Stadium.
Of the sold-out season-ticket base, each ticket buyer paid a personal seat license fee for the right to their seat over the course of the 30-year stadium lease. By league rule, the majority of that fee goes directly to the construction cost of the stadium.
For that reason, Davis maintains those fans deserve the chance to celebrate the opening of the new stadium.
With that no longer the case in 2020, Davis is opting to push the official opening to 2021.
"It would have been tough to have 65,000 fans, 20,000 fans or whatever," Davis said. "Because if they came into the stadium and then left — and we would have fans coming in from Oakland and Los Angeles — they would be bringing it back to their home places as well. And we just didn't feel, at this time, that would be safe."
Contact Vincent Bonsignore at vbonsignore@reviewjournal.com. Follow @VinnyBonsignore onTwitter.