3 takeaways from UNLV's upset of No. 21 New Mexico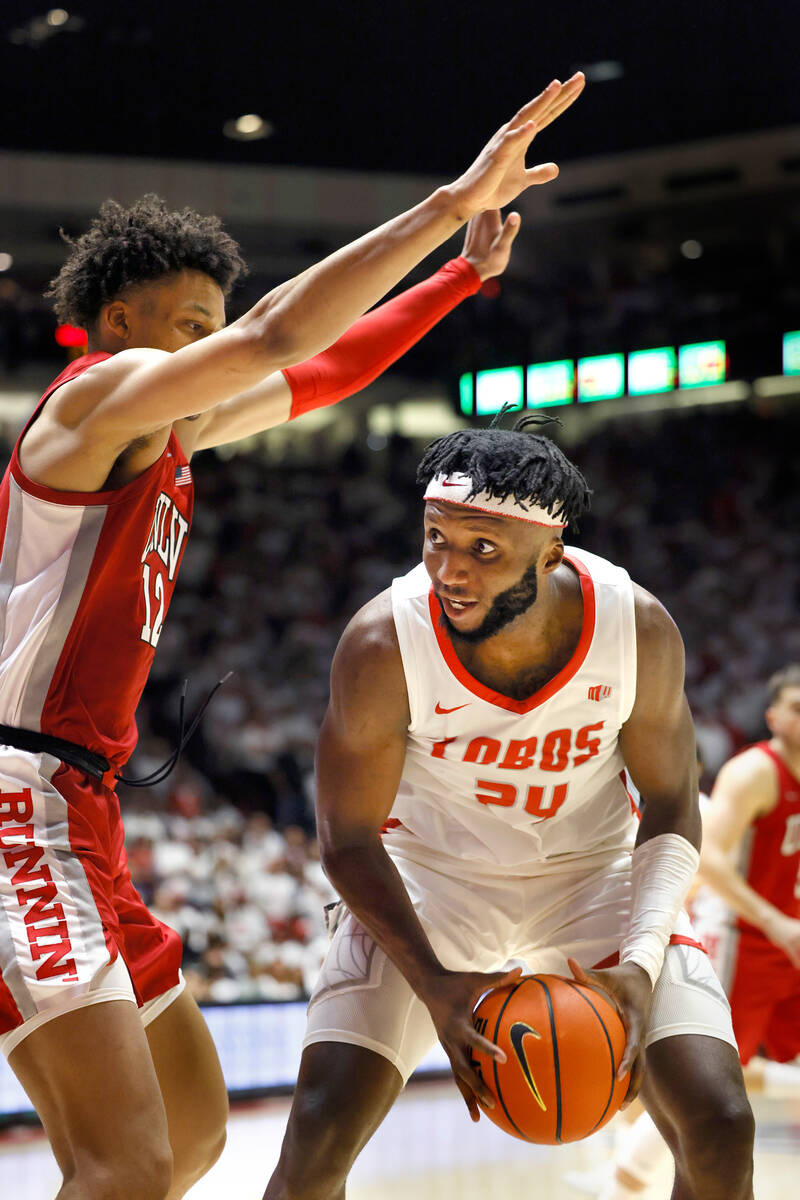 Apparently, there's something about the No. 21 for the Rebels.
On Saturday, UNLV pulled off an 84-77 upset of No. 21 New Mexico in front of a sold-out crowd at The Pit in Albuquerque. In November, the Rebels knocked off another No. 21-ranked team — Dayton — at the Thomas & Mack Center.
But most importantly Saturday, UNLV won its first Mountain West game of the season and avoided an 0-3 start to conference play.
"Those games are fun," UNLV coach Kevin Kruger told reporters after the game. "Especially when you can come out on top."
The victory featured a return to many of the keys of the Rebels' early success this season. Sophomore Keshon Gilbert rebounded from a difficult start to score 14 points, fifth-year guard EJ Harkless asserted himself in the second half and poured in a game-best 25 points, and role players Jordan McCabe and David Muoka came through in big moments.
Here are three takeaways from the win:
Muoka steps up
Kruger considers Muoka "the epitome of a great teammate." The senior center does a lot of the dirty work by rebounding, protecting the rim and never worrying about his points at the end of the night.
Muoka was particularly valuable to the Rebels (12-3, 1-2 Mountain West) down the stretch against the Lobos (14-2, 2-2). Fellow UNLV forward Victor Iwuakor, whom Kruger has trusted to close games for most of the season, struggled with New Mexico forward Morris Udeze and fouled out of the game with three minutes remaining.
But Muoka proved to be a better matchup. The senior center finished with seven rebounds, two blocks and zero turnovers to go along with 11 points. His height advantage over Udeze (6 feet 10 inches vs. 6-8) allowed him to fire away hook shots from near the restricted area, and Muoka was an efficient 4-for-6 from the field.
"He never asks for the ball," Kruger said. "So tonight, for him to demand it, make plays, scream at our bench to try and get everyone going — that just gives us an added weapon if he's going to play like that."
Second-half defense
UNLV's defense also looked close to its best, especially in the second half. The Rebels held the Lobos to just 34.3 percent shooting from the field after the break (2-for-11 on 3-pointers). UNLV also forced 16 turnovers, which it turned into 21 points.
The Lobos' talented backcourt tandem of senior Jaelen House and junior Jamal Mashburn Jr. combined for 31 points, but both played limited minutes due to foul trouble. House was particularly ineffective in the second half, held scoreless on 0-of-7 shooting.
The senior torched UNLV for 27 points in the penultimate regular-season game last season, and Kruger praised his team's commitment to aggressive switching on defense.
"Just thought the guys did a really good job making the looks tough and keeping their hands up," Kruger said.
Harkless takes over
The final piece to the Rebels' upset win came from their offensive efficiency. Unlike UNLV's output in a 76-67 loss to San Diego State on Dec. 31, Kruger's squad shot 55.6 percent from the field in the second half against New Mexico. Most of those shots came from Harkless, who was 7 of 11 from the field.
His biggest shot came with 40 seconds remaining, when he turned a sloppy Rebels possession into points by nailing a floater from the right elbow near the free-throw line to keep it a two-score game.
"I gathered it, got my step through that we work on every day and made a difficult shot," Harkless said.
Contact reporter Andy Yamashita at ayamashita@reviewjournal.com. Follow @ANYamashita on Twitter.
Up next
Who: UNLV (12-3, 1-2 Mountain West) vs. Boise State (12-4, 2-1)
When: 8 p.m. Wednesday
Where: Thomas & Mack Center
TV: CBS Sports Network
Radio: KWWN (1100 AM/100.9 FM)