Jalen Harris scores 29 to lead UNR past UNLV in overtime
Updated February 13, 2020 - 8:38 am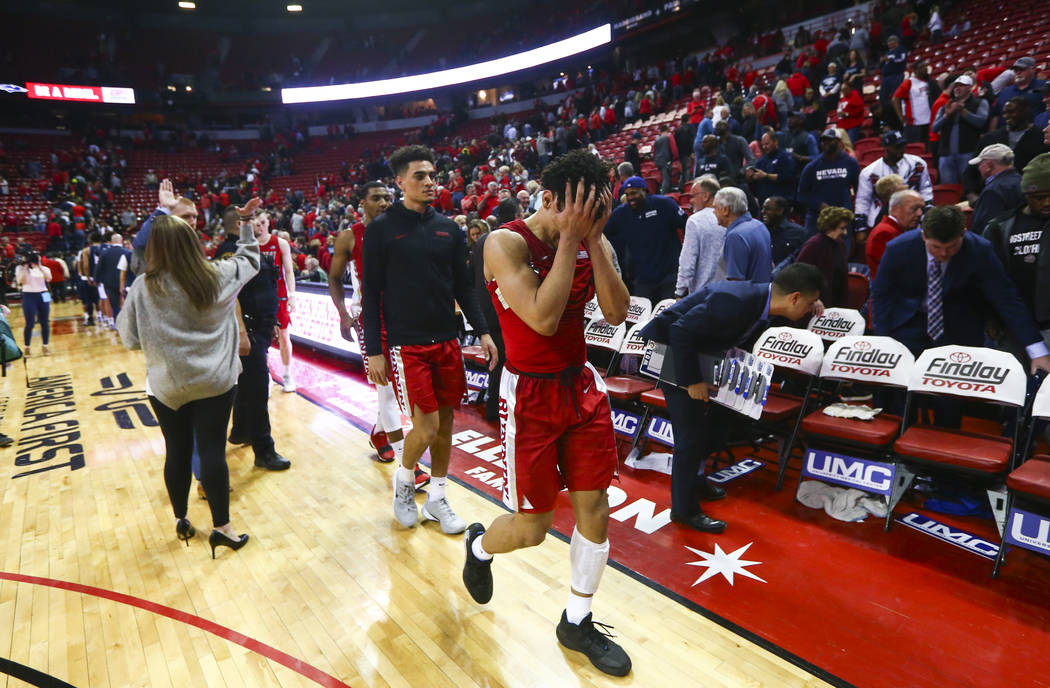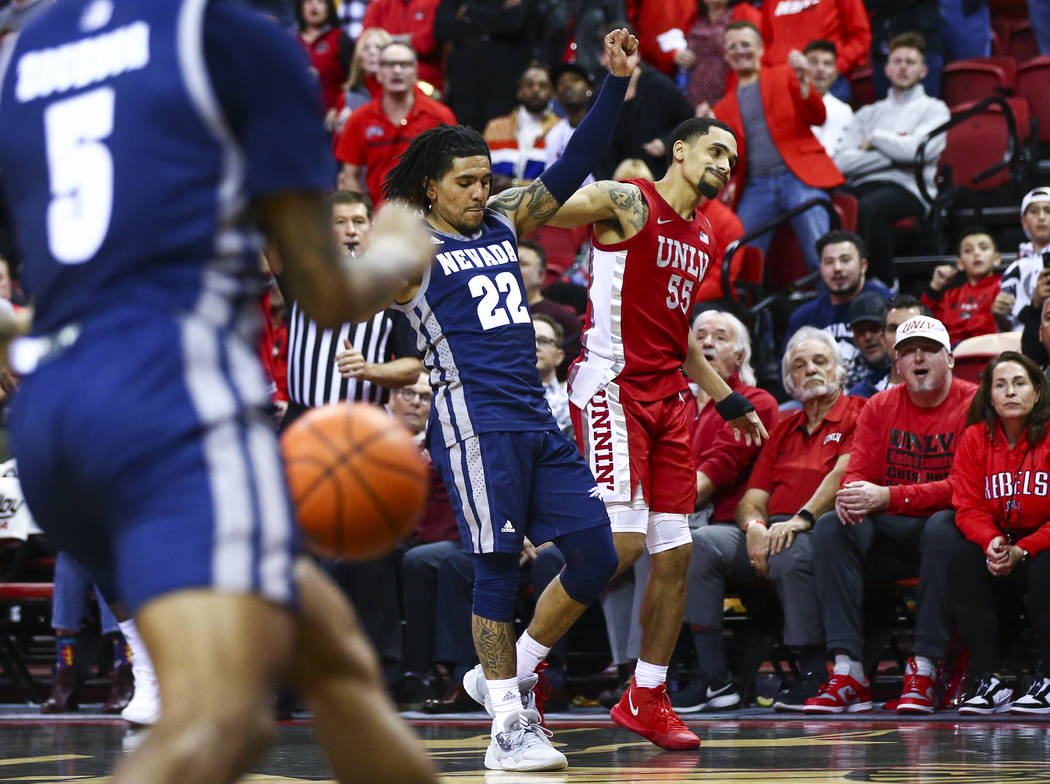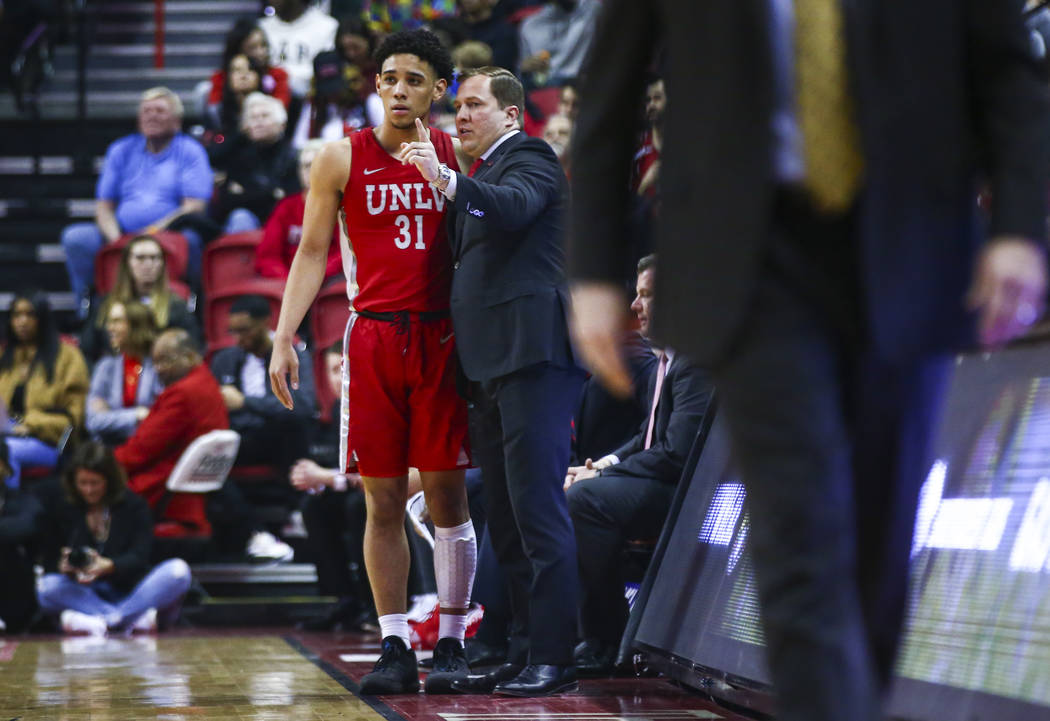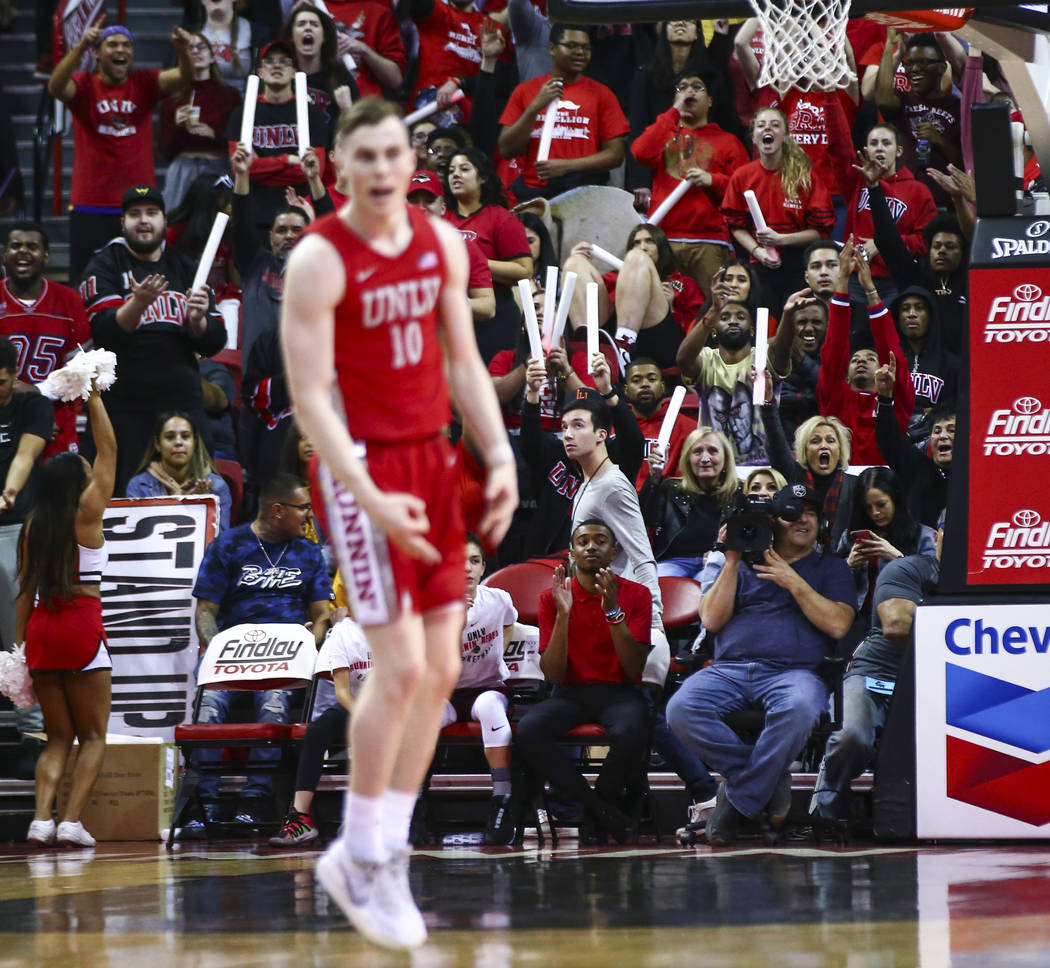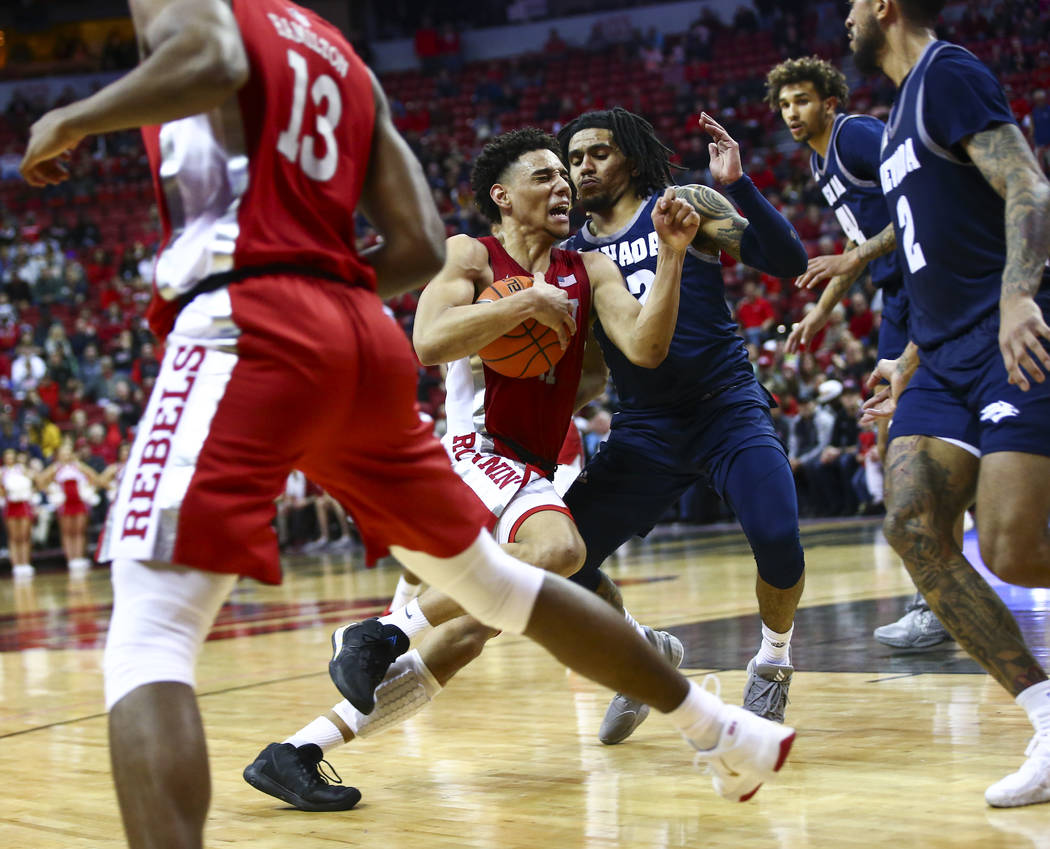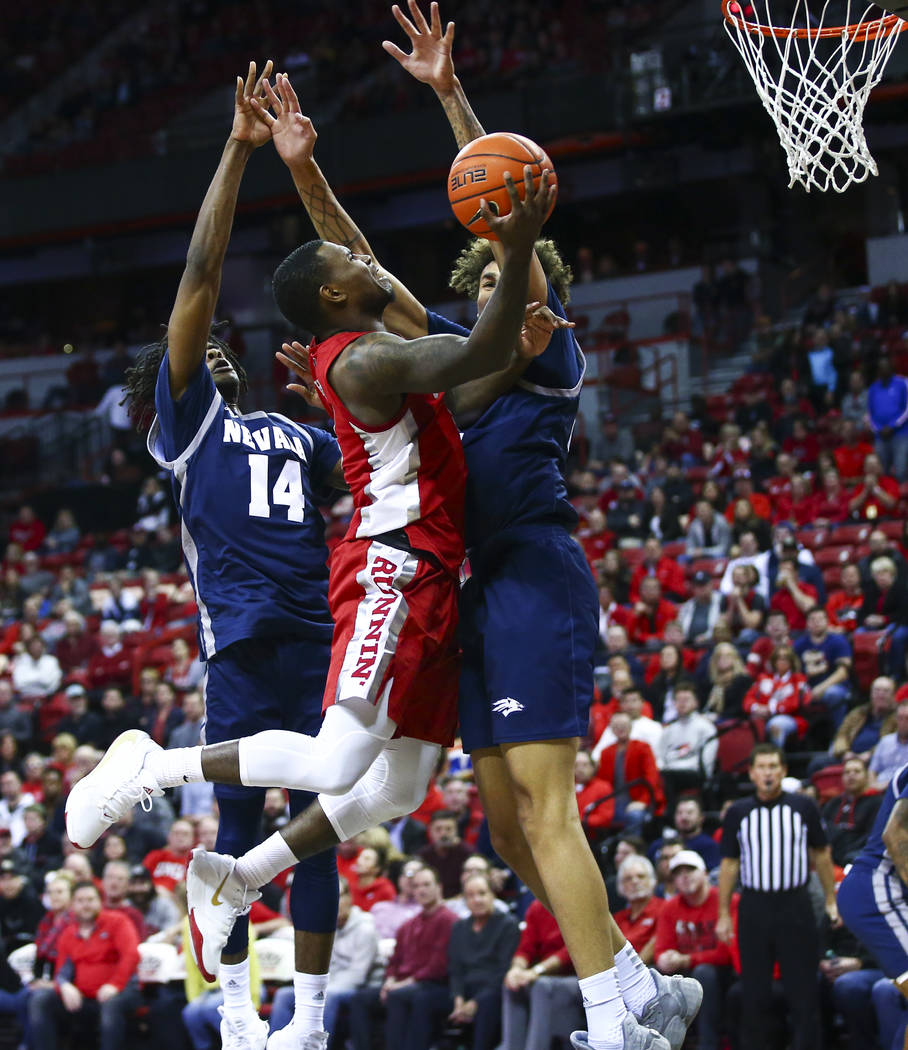 There were times neither team could make a free throw, much less a jumper.
Any kind of late, little run figured to decide Wednesday's game.
No run came from either team, however, and UNLV will look back at missed chance after missed chance in its 82-79 overtime loss to rival UNR before about 8,000 fans at the Thomas &Mack Center.
"It hurts to lose, period, but to lose on our home court, this game meant a lot to us," UNLV point guard Marvin Coleman said.
Jalen Harris' jumper with 1:21 left in overtime gave UNR the lead for good at 81-79. Bryce Hamilton and Elijah Mitrou-Long each missed 3-pointers in the final eight seconds for UNLV.
Harris scored 29 points and grabbed 14 rebounds to lead UNR (16-10, 9-5 Mountain West), which has beaten the Rebels (12-14, 7-6) in eight of the past nine meetings. Jazz Johnson added 19 points for the Wolf Pack.
Hamilton had 23 points and nine rebounds for UNLV, and Amauri Hardy and Jonah Antonio each scored 14.
UNLV forward Donnie Tillman didn't play in the second half, but coach T.J. Otzelberger said he didn't have any information regarding the injury. Tillman got hurt late in the first half.
Here are three takeaways:
1. Harris continues his tear
UNLV threw different defenders at the 6-foot-5-inch junior guard, and for stretches did a good job neutralizing him as Harris missed all eight 3-point attempts. But he found other ways to score (11 of 15 free throws) while playing all 45 minutes.
And he scored when it mattered most, totaling 19 points in the second half and overtime.
This game did end his streak of 30-point performances at four. He entered averaging 21.2 points.
Malachi Flynn, the star of undefeated and fourth-ranked San Diego State, is the likely Mountain West Player of the Year. But Harris is as hot as any player in the league.
"He's an unbelievable player," Coleman said. "He can score at three levels."
2. UNLV goes and stays small
The Rebels have played a lot of four-guard lineups in recent games, but not like on Wednesday.
They played the final 21:35 of regulation and overtime with that set, which allowed the Rebels to better space the floor. Otzelberger said he liked that UNR coach Steve Alford took one of his forwards off the floor to match UNLV.
When UNLV played two forwards early, the Wolf Pack crowded the lane and took away its ability to drive.
"With Jonah out there, especially as he starts to hit those shots, the floor opens up and we have more opportunities," Otzelberger said. 'We wanted that floor opened a little more. We knew there were going to be available shots from 3. We talked to our guys about knocking those down with confidence. But as the game wore on, we didn't shoot it quite as well as we needed to."
UNLV made 3 of 21 3-pointers in the second half and overtime.
3. Not so free throws
Both teams struggled at the free-throw line, combining to miss the first 11. More misses came in the final minutes as well as UNLV finished 12 of 25 from the line and UNR made 18 of 28.
"You leave 13 of them on the table," Otzelberger said. "Everything little thing in this game matters a lot. … We're a pretty good free-throw shooting team (71.2 percent). That was uncharacteristic."
Contact reporter Mark Anderson at manderson@reviewjournal.com. Follow @markanderson65 on Twitter.