Rebels snap 4-game losing streak with win over Wyoming
Updated January 25, 2023 - 7:20 pm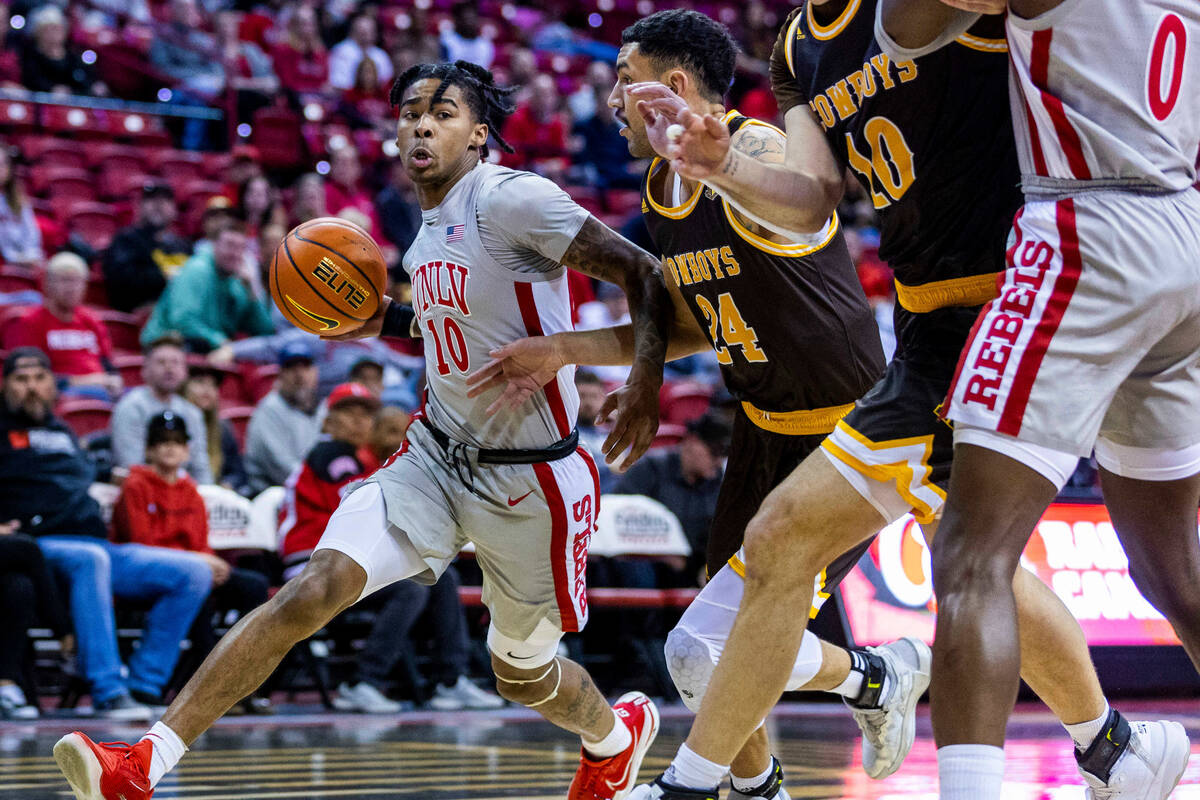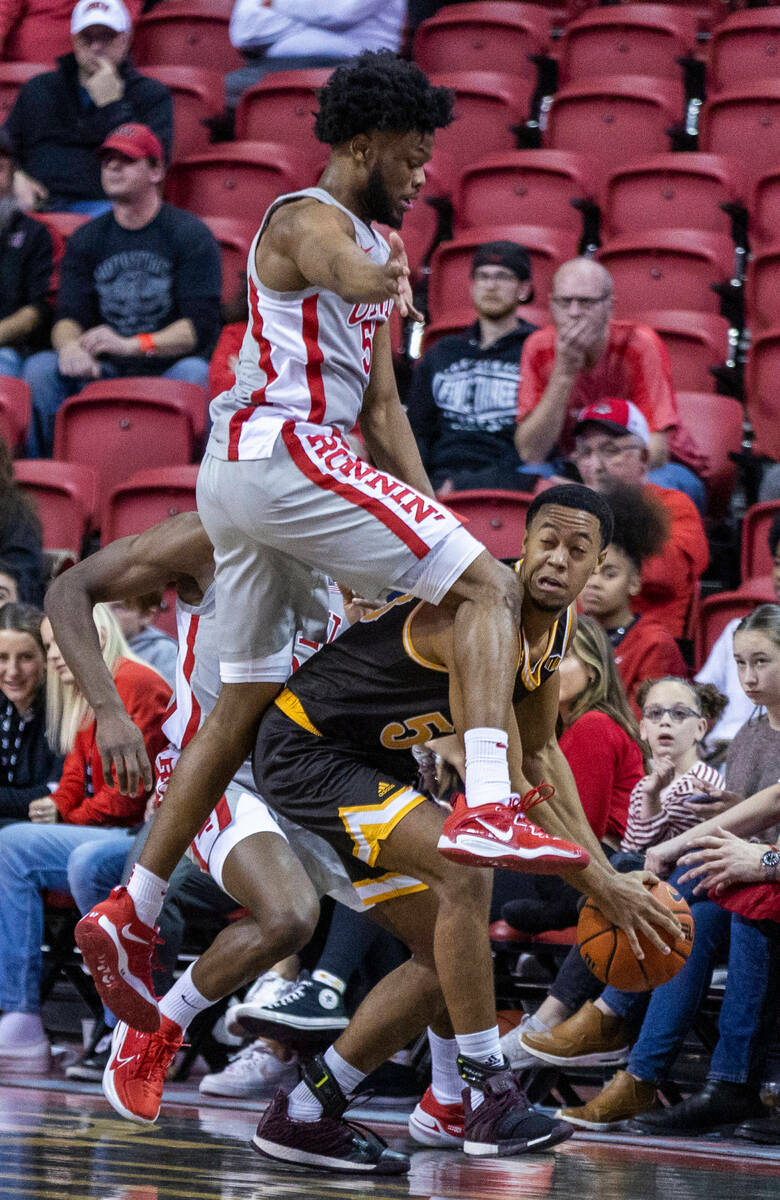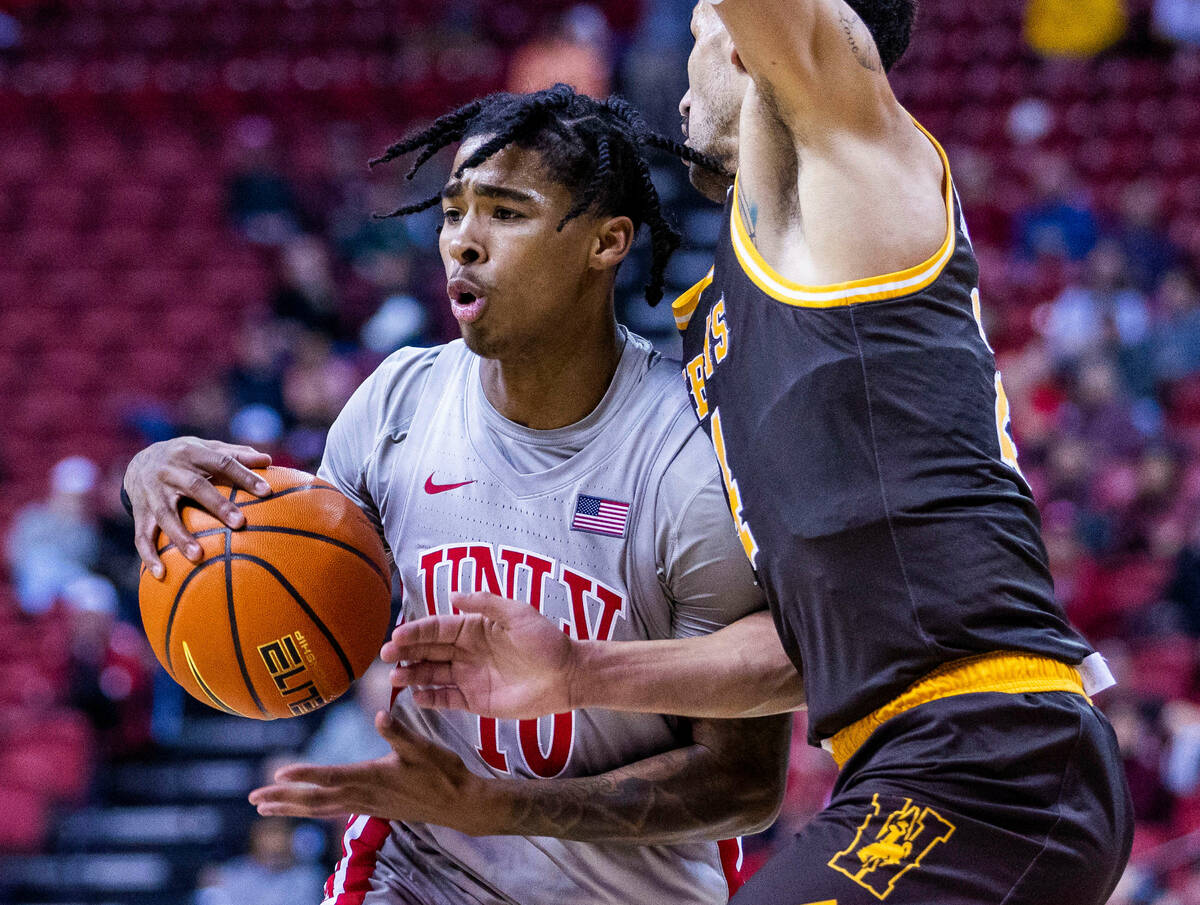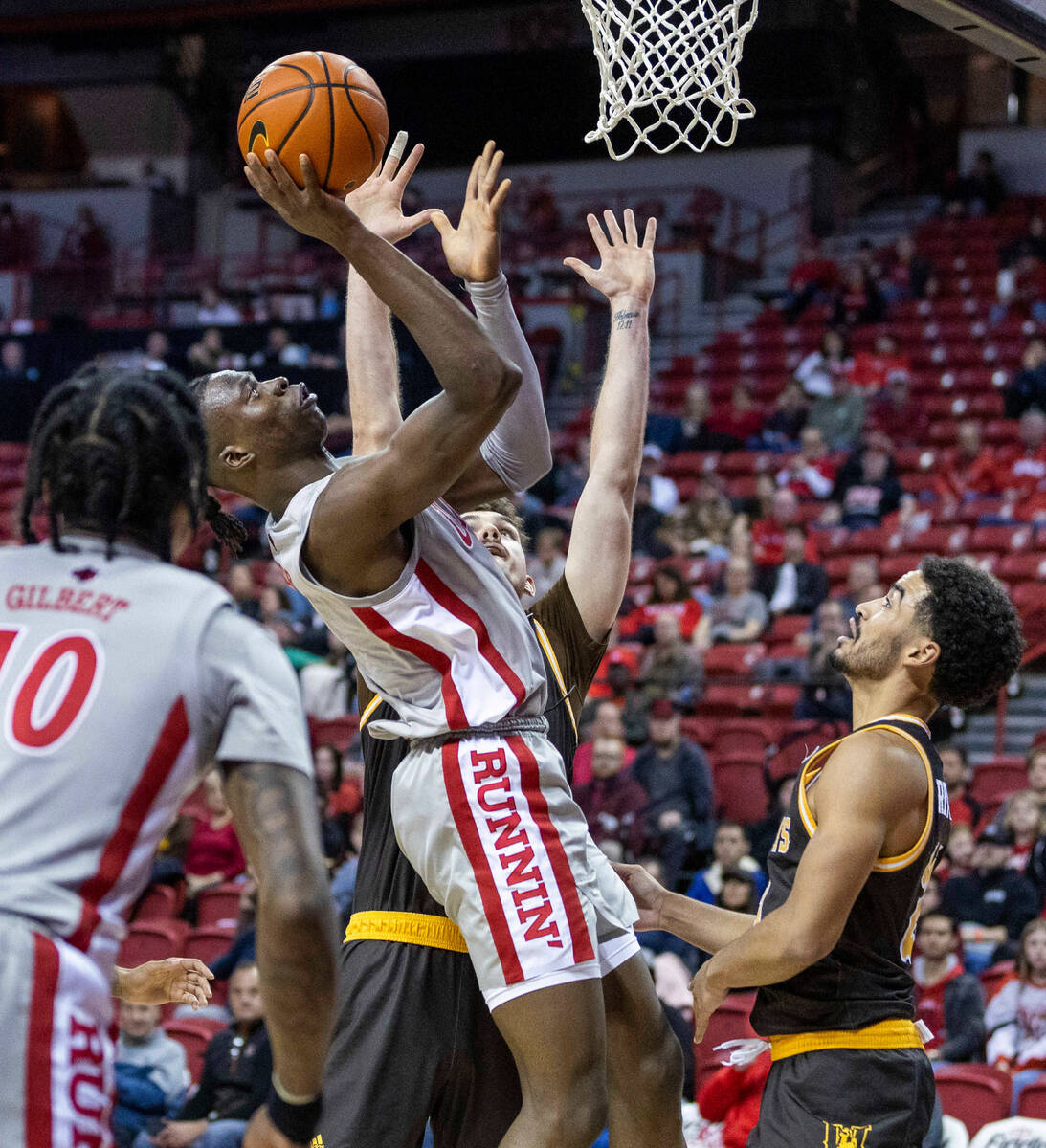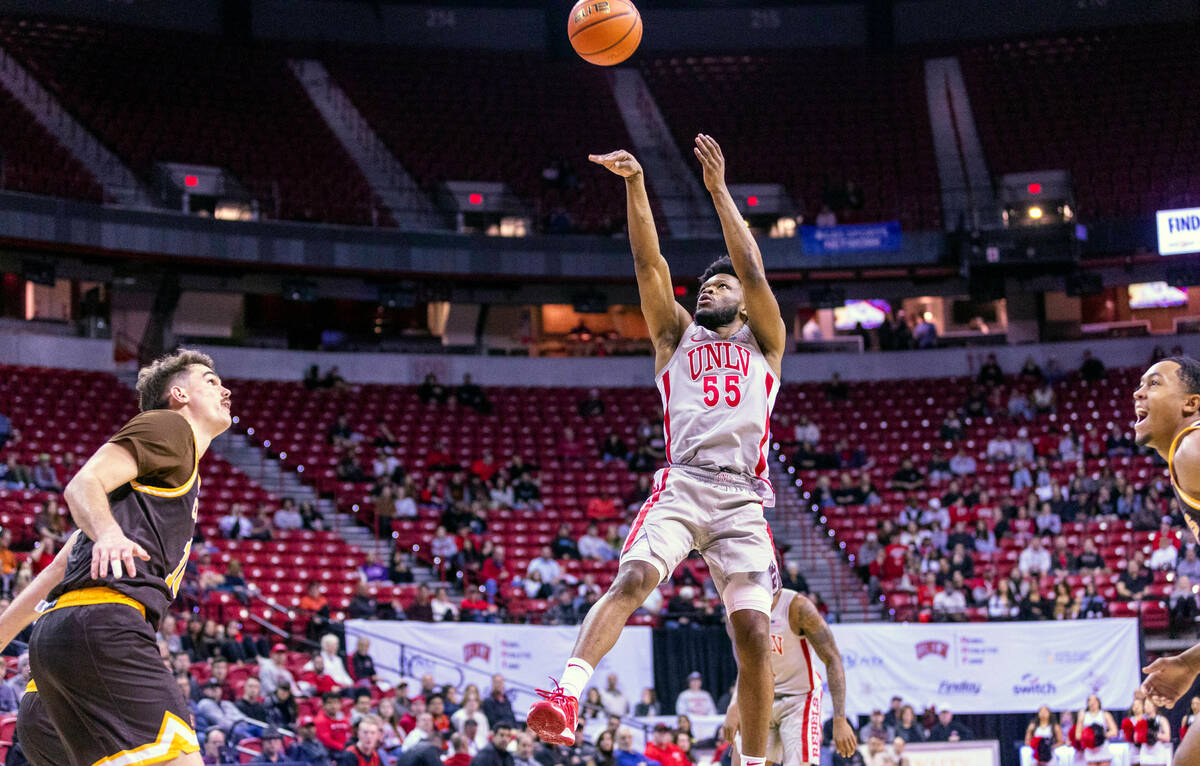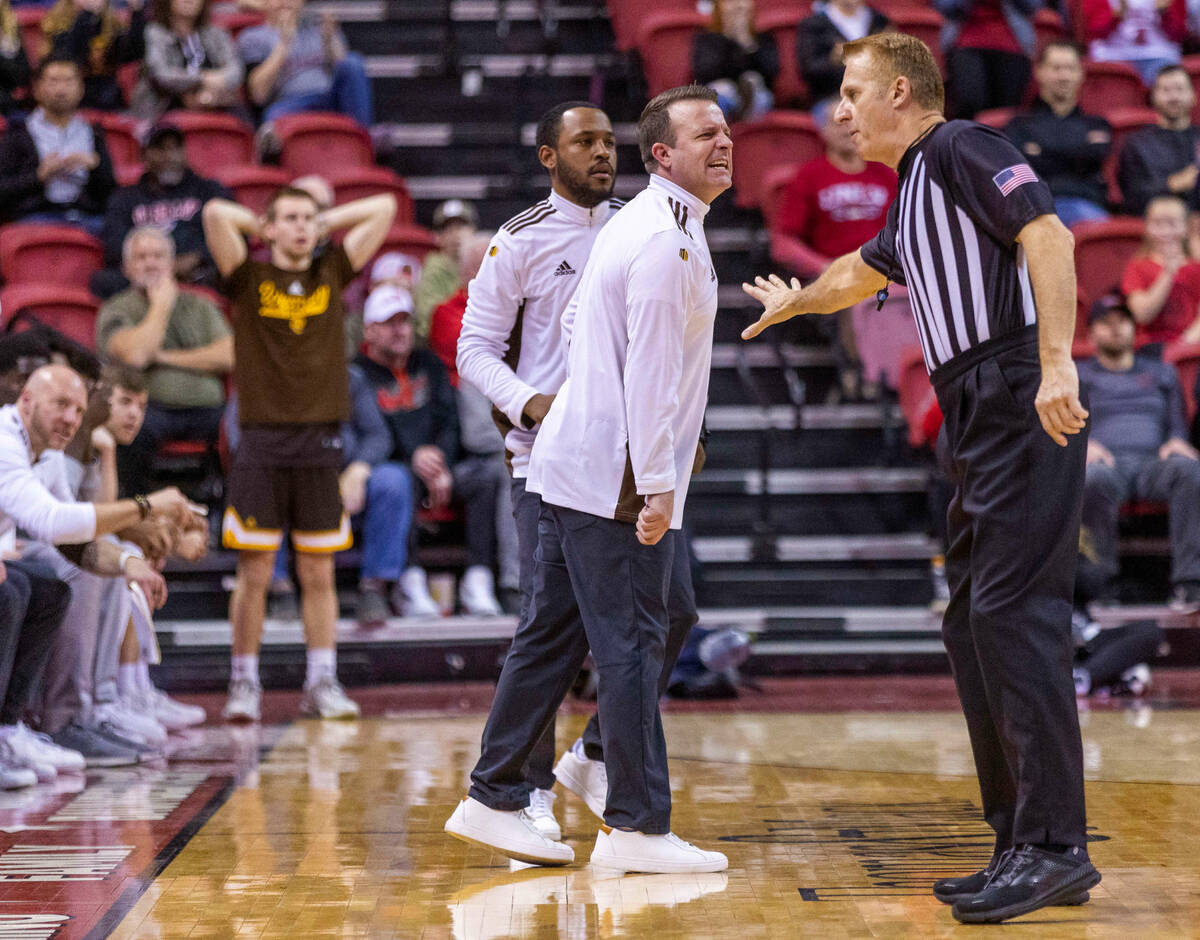 UNLV guard Jordan McCabe knew he was going to shoot it. He didn't have a choice.
The first half was about to expire, and UNLV needed to swing the momentum back in its direction before heading to the locker room during Tuesday's 86-72 win against Wyoming at the Thomas & Mack Center.
The Rebels were still leading by seven, but two poorly timed defensive miscommunications and a turnover led to two consecutive 3-pointers by the Cowboys.
UNLV got the final shot, but as the Rebels swung the ball around the perimeter, nothing seemed open. So with three seconds remaining and his foot inches from the center-court logo, McCabe fired away. Nothing but net.
"Ten on the scoreboard looks a lot different than seven," UNLV coach Kevin Kruger said.
McCabe's unlikely bucket helped UNLV snap its four-game losing streak in a battle between teams that entered the game tied for last place in the Mountain West.
Fifth-year guard EJ Harkless scored a team-high 28 points, and McCabe (12), sophomore guard Keshon Gilbert (12) and freshman forward Keyshawn Hall (10) reached double figures.
"Tonight was just a great step back toward playing the way we'd been playing," Kruger said.
UNLV (13-7, 2-6 Mountain West) was short-handed before the game started when senior guard Luis Rodriguez, who had started all 19 games, was ruled out with a groin injury.
Rodriguez suffered the injury during Saturday's 76-63 loss to Fresno State, but his absence paved the way for fifth-year wing Elijah Parquet's return to the starting lineup for the first time since Dec. 10.
The Rebels started the game strong. UNLV showed off a new-look defense with its forwards hedging and dropping instead of switching on screens, and found early success. McCabe said the Rebels' guards also emphasized keeping players in front of them to cut off playmaking opportunities.
"We're definitely not where we still need to be," he said. "We recognize that, but we made an adjustment this week and now it's about shoring up some of those mistakes."
UNLV also got some early offense from Gilbert. He finished the first half with a team-high 12 points and two 3-pointers, his first game with multiple 3s since Dec. 10.
Wyoming (6-14, 1-7) fought back, though, turning UNLV misses into transition opportunities. Kruger tried to combat the drought with a frantic substitution pattern. Almost every available player saw the court in the first half as he looked for energy and impact.
Kruger found a solution in Parquet, McCabe and sparingly used Arizona transfer Shane Nowell. Parquet functioned as a pseudo rim protector in UNLV's smaller lineup, and Nowell and McCabe provided better spacing on offense, each hitting a 3 near the end of the first half before McCabe's logo shot.
Kruger praised Nowell's aggressiveness and confidence. He had six points, four rebounds and a block in 18 minutes. He had played only eight minutes in conference games before Tuesday.
"There aren't a lot of guys that look like Shane Nowell," Kruger said. "He's built to play basketball, and he did a really good job."
The Rebels continued their strong play in the second half. Guard Justin Webster hit three 3-pointers to ignite UNLV's offense out of the locker room, and Kruger continued to trust McCabe and Nowell off the bench. The Rebels also shot the 3 well, going 11 of 20.
Wyoming kept up because of good 3-point shooting of its own. The Cowboys went 8 of 17 on 3s in the second half after a dismal 20 minutes from deep. They committed only six turnovers and cut the deficit to seven points with four minutes remaining.
But Harkless and Hall did enough scoring to carry the Rebels to the win. They combined for 26 points in the second half.
The win was UNLV's first since Jan. 7 when it upset a ranked New Mexico team 84-77 on the road.
"We started by stacking practices in the summer," Harkless said. "Now, it's on us to stack games."
Contact reporter Andy Yamashita at ayamashita@reviewjournal.com. Follow @ANYamashita on Twitter.