UNLV shocks No. 4 San Diego State
Updated February 22, 2020 - 10:54 pm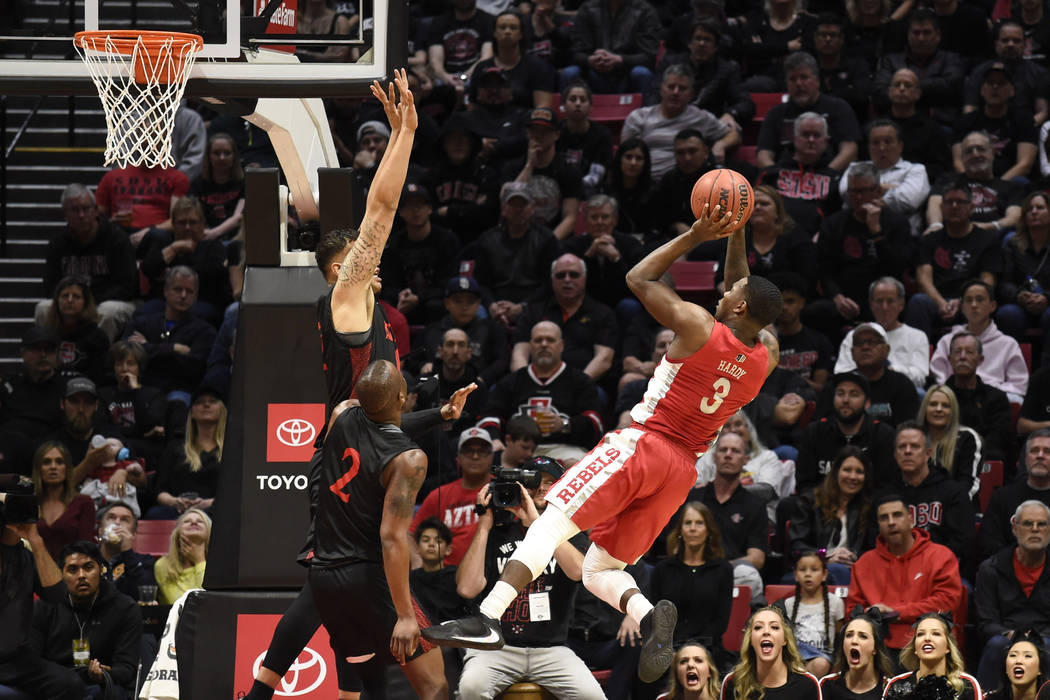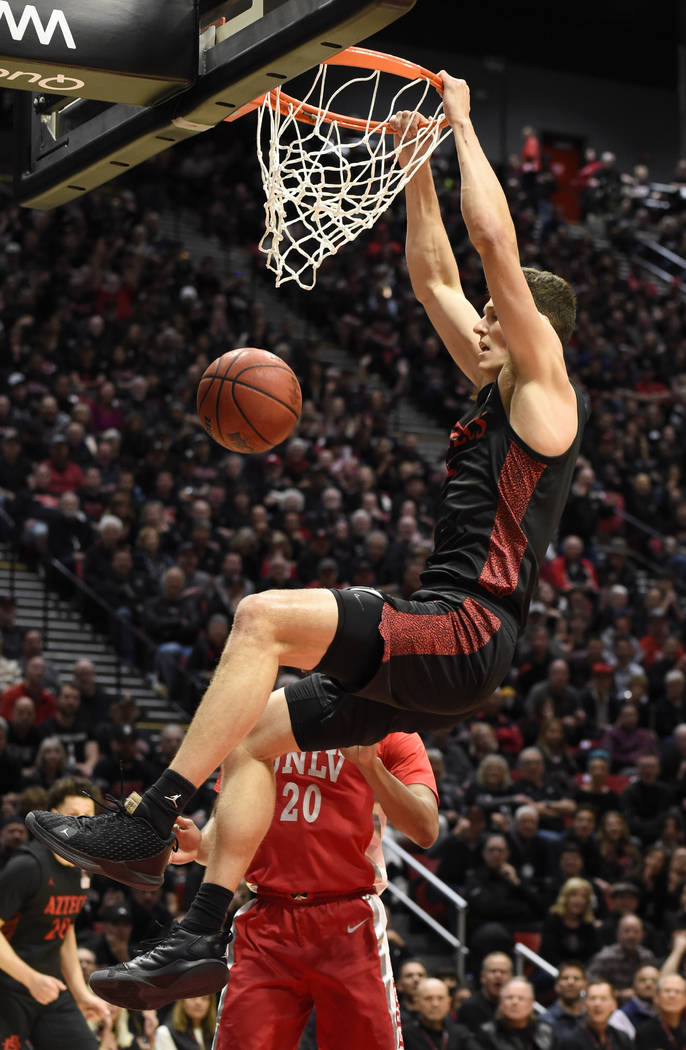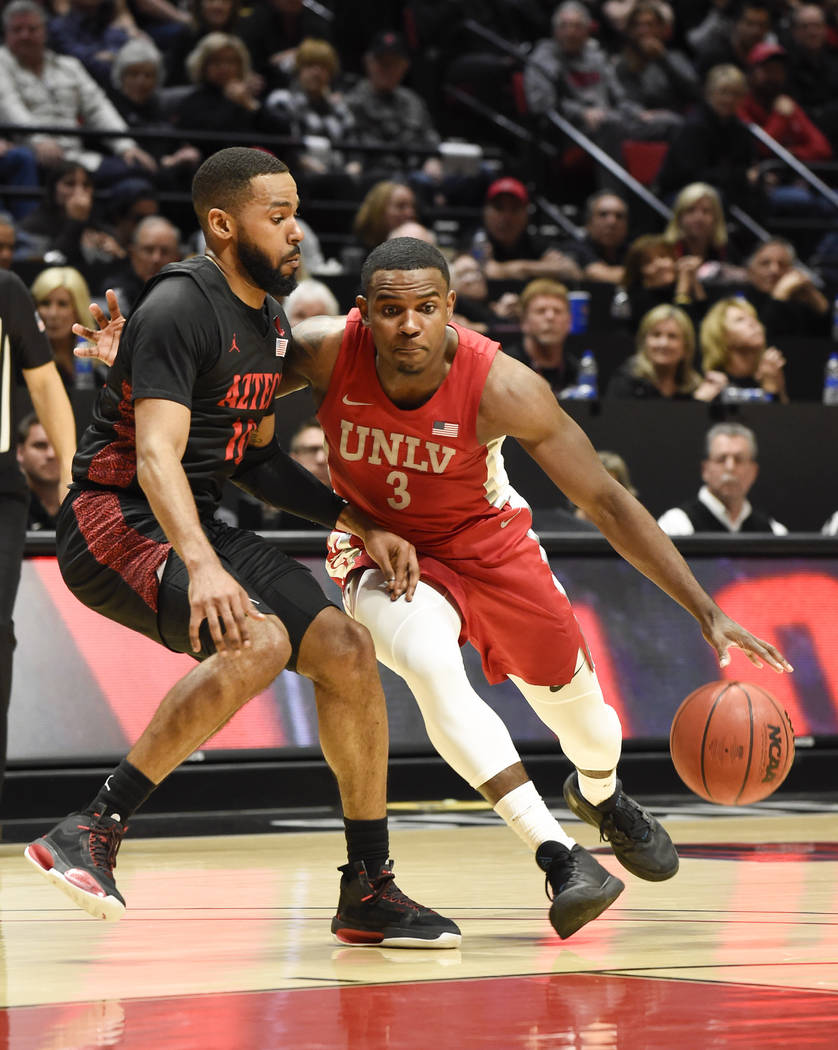 SAN DIEGO — San Diego State first honored Matt Mitchell for reaching 1,000 career points and then unveiled a banner in the rafters celebrating the Aztecs' Mountain West regular-season championship.
UNLV players watched and took it in.
Then they took out the Aztecs, leading by as many as 14 points Saturday before holding off a late rally to pull off a stunning 66-63 victory over the nation's fourth-ranked team before a raucous announced sellout crowd of 12,414 at Viejas Arena.
"It's a really great win for our program," UNLV coach T.J. Otzelberger said. "I'm proud of our coaches. I'm proud of our players, everybody involved."
No perfect season
The Rebels (15-14, 10-6 Mountain West) not only KO'd the nation's last unbeaten team, they defeated a San Diego State team (26-1, 15-1) that mostly has had its way with UNLV. San Diego State had won 16 of 17 meetings before this game, and the Aztecs had outscored the Rebels by an average of 26 points over the previous four games at Viejas.
"We're vastly disappointed," Aztecs coach Brian Dutcher said. "We wanted a perfect season."
UNLV, which has won three straight and four of five, dominated for more than 36 minutes before San Diego State took away the Rebels' ability to drive. The Rebels were limited to one basket over the final 10:44.
The Aztecs chipped away, but Elijah Mitrou-Long made all four of his free throws in the final 19.9 seconds for the deciding margin. He made up for missing two free throws with 1:52 left.
"Those are the things players live for," said Mitrou-Long, who led UNLV with 19 points. "You don't want to make free throws when there's an empty gym. You're in the late nights, early mornings making free throws for crowds like that."
His last free throws came after he inbounded a pass to himself off Mitchell, rushed up the floor and was fouled from behind by Mitchell. Then Mitrou-Long made both free throws with 11.5 seconds left, giving UNLV a three-point lead.
Malachi Flynn, who led San Diego State with 24 points, missed on a good look at a 3-pointer that could have tied the game. The ball went out of bounds and was awarded to UNLV with 3.3 seconds remaining. A long inbounds pass wound up in Mitchell's hands, and his halfcourt shot at the buzzer missed, allowing the Rebels to celebrate.
'Gritty, gutty, resilient'
UNLV had to tough this one out, its offense disappearing down the stretch as the Aztecs forced the Rebels into some difficult shots and a cold spell that could have — should have — done them in.
"It was gritty, gutty, resilient," Otzelberger said. "They're a tremendous defensive team, and we knew they were going to make adjustments and we were going to make adjustments.
"I felt like we had the game we wanted in the first half. Felt like they were going to try to change some things up."
San Diego State's hold on a No. 1 seed in the NCAA Tournament just became tenuous, and UNLV just put itself in a better position to get the first-day bye for next month's Mountain West tournament, though it remains a crowded fight for the top five.
What this victory means for the Rebels, whose joyous celebration could be heard in the hallway outside their locker room, is indisputable.
They would have been fired up for this game even if San Diego State hadn't put together the pregame ceremony. It was just an additional form of motivation, but one the Rebels used to their advantage.
Mitrou-Long called the ceremony "disrespectful," and Otzelberger acknowledged the topic might have come up in the team meeting, but added, seemingly slyly, "I seem to forget what we said."
"Credit to them," said UNLV guard Amauri Hardy, who scored 17 points. "It was 26-0. Now it's 26-1."
Contact reporter Mark Anderson at manderson@reviewjournal.com. Follow @markanderson65 on Twitte