'An extraordinary young man': UNLV players, coaches remember Ryan Keeler
Updated February 21, 2023 - 5:58 pm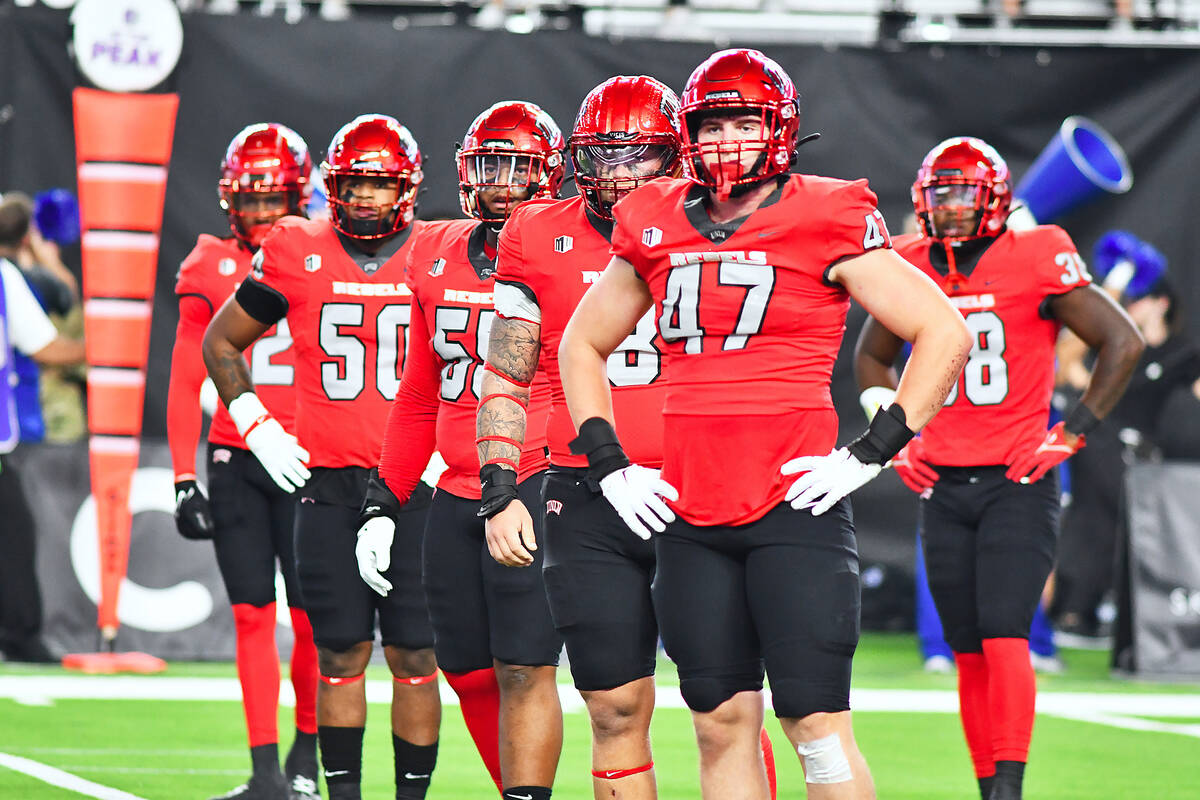 The first time linebacker Elijah Shelton saw Ryan Keeler on the field, he hardly believed what he was seeing.
Keeler, a 6-foot-6-inch, 275-pound pass rusher, had arrived at UNLV a few weeks before fall camp after transferring from Rutgers. The Rebels linemen began their first practice by doing some one-on-one drills, and Shelton was amazed at how easily Keeler breezed through different moves and beat his opponent.
"I'm watching Ryan do his reps, not having any idea who he is," Shelton said. "I turned to our D-line coach, and I was like, 'Who is this white boy making all these moves?'"
Keeler, 20, was found dead in a bed in a studio apartment Monday in Las Vegas, the Clark County coroner's office said. His time of death was listed as 4:05 p.m.
The cause and manner of death were not available as of Tuesday afternoon. The Metropolitan Police Department did not confirm whether it was investigating the death.
The teammates and coaches who knew Keeler describe him as a positive, selfless, hardworking and genuine person, whose character and spirit created a magnetic personality. Kenwick Thompson, his position coach during the 2022 season, called Keeler "a Rebel at heart."
"He was the kind of teammate and the kind of person you would want to represent the school," Thompson said, "just an extraordinary young man."
Shelton called Keeler his closest friend in the program. They were on the opposite ends of the experience spectrum — Shelton at his third school in five seasons, while Keeler was just two years into his college career. They also came from very different backgrounds, said Shelton, who is from Utah and describes himself as mixed-race, while Keeler is white and from the Midwest.
However, Shelton said Keeler had an honesty, enthusiasm and authenticity that made him feel like a younger brother.
Former UNLV edge rusher Adam Plant Jr. agreed. He said Keeler always brought positive energy to practices. The rest of the outside linebackers loved hearing him brag about his hometown of Chicago, and his humor was a key piece of the team's chemistry.
Plant said Keeler had reached out to wish him a happy birthday Feb. 11. Plant also recalled talking about the future with his friend while driving to a Thanksgiving dinner at Thompson's house — what it would be like to be alumni, how they were going to stay in touch once Plant graduated and the brotherhood they'd built.
"It says a lot about who he was, as a person, just to have that sort of an impact only just having a season with us," Plant said.
Shelton and Thompson had similar stories about Keeler. Thompson, the former UNLV outside linebackers coach, said Keeler was always willing to try something new. For example, he was open to switching positions to outside linebacker despite originally arriving as a defensive lineman.
But Thompson, who is Black, said his favorite story about Keeler involved a haircut. Keeler's hair was out of control, so the team convinced him to go to a Black barbershop for the first time. All the outside linebackers went, and the group bonded over Keeler's new experience.
"He was that kind of dude," Thompson said. "Just open to anything, positive about anything that came about."
Shelton remembers Keeler's start against Air Force. They always sat next to each other on the bus to the game, and with Plant out injured, Keeler was preparing for one of his first major opportunities to play.
He unleashed a deluge of questions on Shelton about his role, the coverages and the scouting report, trying to make sure he was prepared. But after settling down, Keeler emerged from the game with his first sack.
Shelton was proud to share that moment with his friend, one of several memories he'll treasure despite knowing Keeler for less than a year.
"I've never met anyone like Ryan," Shelton said. "I say that truthfully. He was hilarious, a real loyal friend. I would've seen myself growing old and being just as tight as we were in these six months we had together."
Information about funeral services was not available.
Contact reporter Andy Yamashita at ayamashita@reviewjournal.com. Follow @ANYamashita on Twitter. Review-Journal reporter Sabrina Schnur contributed to this story.