QB benched as Vipers struggle in home loss to Battlehawks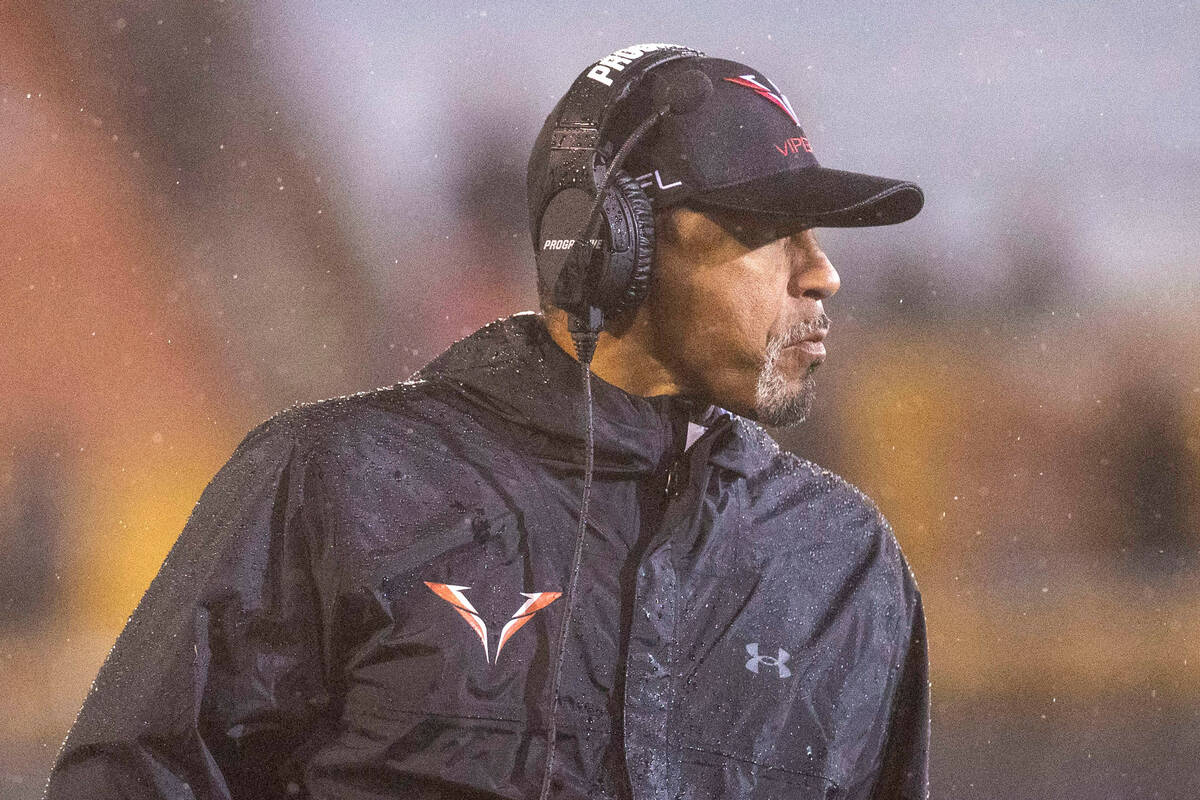 Facing a 17-0 halftime deficit Saturday, the Vipers needed a quick start to the second half to chip away at the St. Louis Battlehawks' lead.
Looking to make up ground after only producing 51 yards of offense in the first half, Vipers quarterback Luis Perez tried to fit in a pass while on the run but was picked off by Lavert Hill.
The Battlehawks pounded into the end zone six plays later on a 1-yard run from Kareem Walker, and they cruised to a 29-6 win over the Vipers in front of an announced crowd of 6,033 at Cashman Field.
After picking up their first win last week, the Vipers fell to 1-5 and remain in last place in the North division. The Battlehawks (4-2) are tied for second in the North.
"We didn't make any plays," Vipers coach Rod Woodson said. "We came out with energy, played extremely well in the first quarter. I don't know what happened in the second."
On the next drive, Hill intercepted Perez again, and the quarterback was benched in favor of Brett Hundley for the rest of the game.
Hundley completed 9 of 18 passes for 120 yards and the Vipers' lone touchdown, a 17-yard pass to John Lovett in the fourth quarter. Perez was 13 of 20 for 99 yards.
After Perez appeared to have a grasp on the starting quarterback spot following a 35-32 win over Orlando last week, Woodson said the team has decisions to make heading into next week.
"Luis was struggling. Two interceptions isn't going to help us win football games," Woodson said. "Hundley came in and played somewhat better, but we have to make a decision on what direction we want to go."
"We have some guys that are not making plays," he added. "It's my job to make sure that the players who are making plays step on the field."
St. Louis recorded the game's first first down with six minutes left in the first quarter on a 9-yard run from Brian Hill, and it ignited the Battlehawks' offense.
The Battlehawks converted on a third-and-15, and A.J. McCarron found George Campbell on a fourth-and-2 with a 13-yard completion. The conversion set up a 4-yard touchdown run from Gary Lewis seconds into the second quarter, and the Battlehawks led 8-0 after the two-point conversion.
The Vipers started to find some rhythm on offense after only recording 16 yards in the first quarter. Perez picked up a pair of first downs through the air, but his third-and-8 pass to Lovett was dropped.
After starting at their own 3-yard line, the Battlehawks put together another methodical drive. They reached the Vipers' 21-yard line, but McCarron was sacked by Pita Taumoepenu. The Battlehawks had to settle for a 40-yard field goal and an 11-0 lead.
Just before halftime, McCarron found a wide-open Darrius Shepherd on a 30-yard touchdown pass to give the Battlehawks a 17-0 lead at the break.
McCarron completed 23 of 29 passes for 236 yards and three touchdowns.
Along with the quarterback position, Woodson said he has decisions to make at other positions with four games remaining.
"I told all the guys in that locker room, 'Whoever wants to be here, show up on Monday,'" Woodson said. "If you don't show up on Monday, I know you're not going to be a Viper."
The Vipers host San Antonio at noon Saturday to conclude their three-game homestand.
Contact Alex Wright at awright@reviewjournal.com. Follow @AlexWright1028 on Twitter.