Allegiant nearly triples profits in third quarter
Updated October 24, 2019 - 5:47 pm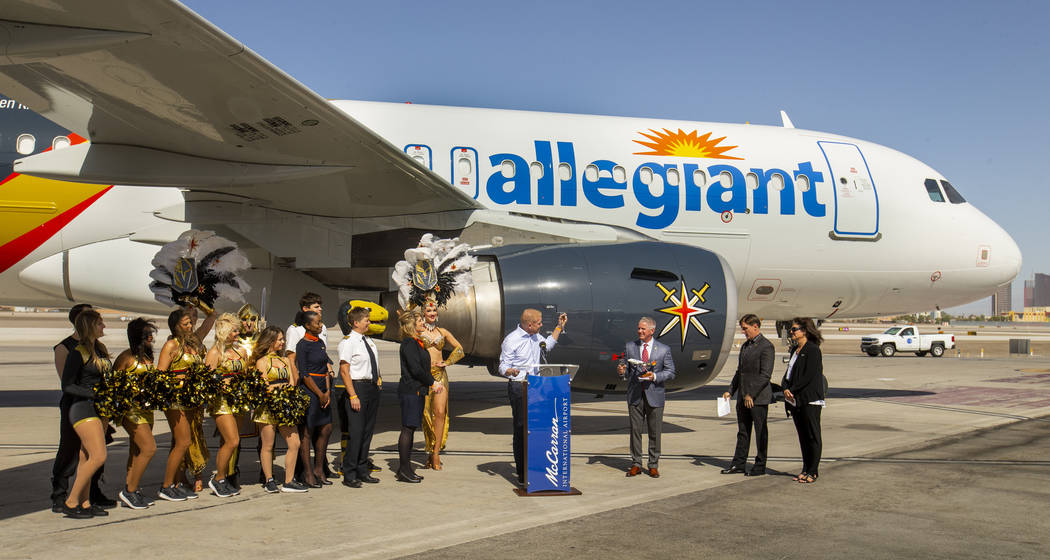 With its gas-guzzling MD-80 jets a thing of the past, profits nearly tripled last quarter for Allegiant Air's parent company.
Las Vegas-based Allegiant Travel Co. on Thursday said it earned $43.9 million in net income for the three months ending Sept. 30, up 190 percent from the same period last year when it took in $15.1 million.
Revenue rose 11 percent last quarter to $436.5 million as expenses dipped 0.7 percent to $364.4 million.
Among its costs, it spent about $104.6 million on jet fuel last quarter, down 7.9 percent from the same period last year, and $24.8 million on maintenance and repairs, down 22.6 percent.
The deep-discount carrier flies from small, underserved cities to warm-weather vacation spots, usually without competition on its routes. Its fleet used to be dominated by older, hand-me-down McDonnell Douglas MD-80s, but it now only flies Airbus jets that are younger and often have more seats than the former aircraft.
Allegiant Chairman and CEO Maurice "Maury" Gallagher told analysts in a conference call Thursday that the "dramatic improvement" in earnings stemmed from the one-time expenses of the transition period of 2017 and 2018 being "behind us," and from the change to the all-Airbus fleet.
He said Allegiant added 40 new Airbus planes in less than 24 months, and that while it transitioned its fleet, it trained more than 400 pilots and 300 mechanics and added 57 new routes.
"We now have one of the latest-generation fleets of aircraft in the industry, a substantial improvement over our MD fleet," Gallagher said, adding Allegiant can "fly profitably more with each airplane each day."
In its earnings report, Allegiant also said it is in discussion with potential buyers for Teesnap, a golf-course-management software firm owned by the airline. It had announced that the fast-growing side business was up for sale in July.
Allegiant has expanded into some unusual side ventures for an airline in the past several years. The carrier, which has owned Teesnap since the software firm's founding in 2013, is also developing a 22-acre riverfront resort in Florida and owns two arcades — one in Utah and another in Michigan — that feature laser tag, bumper cars and escape rooms.
Meanwhile, Allegiant also signed a deal, announced in August, to have the Raiders football stadium being built in Las Vegas named after the carrier. Terms for Allegiant Stadium's naming rights weren't disclosed at the time or on Thursday.
Contact Eli Segall at esegall@reviewjournal.com or 702-383-0342. Follow @eli_segall on Twitter.