Caesars investor Carl Icahn encouraging company be sold
February 19, 2019 - 10:37 am
Updated February 19, 2019 - 10:55 pm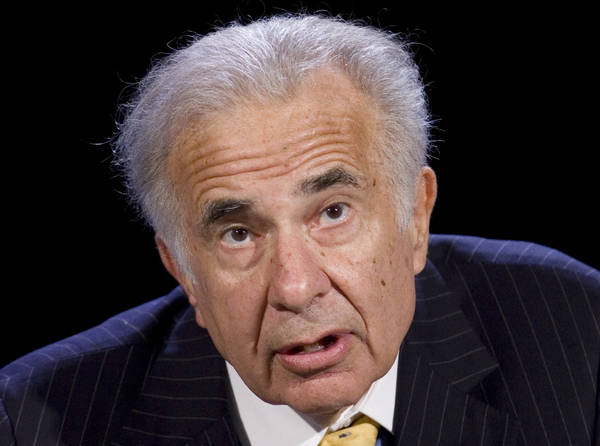 Carl Icahn is betting big on Las Vegas yet again.
The billionaire hedge fund activist confirmed he has built up a nearly 10 percent stake in Caesars Entertainment Corp. and is encouraging the company to be sold.
Icahn, who made a fortune on his investments in the Stratosphere and what was then known as the Fontaine­bleau, spent $566 million to acquire shares and convertible bonds equivalent to 9.8 percent of Caesars Entertainment, according to Securities and Exchange Commission filings published Tuesday.
The 83-year-old also acquired economic exposure to an additional 10.7 percent of the company through a financial swap that will generate him profits if Caesars' share price rises. The swap — which increases Icahn's total exposure to Caesars to $1 billion — does not give him additional voting rights.
Icahn believes that "shareholder value might be best served, and enhanced, by selling the company," he said in the filings. Icahn will seek board seats to influence the company, "including, if necessary, by nominating a slate of directors at the 2019 annual meeting."
The billionaire said he doesn't want the board to extend CEO Mark Frissora's contract or hire a new leader until he has time to speak with the board. Icahn did not return calls for comment while Caesars declined to comment.
Frissora announced in November he would step down when his contract ended in February. Caesars later extended his term until April as it continues to search for a replacement.
Cheap stock
Rumors swirled last year that hedge funds were circling around Caesars Entertainment after its shares cratered more than 50 percent to a low of $5.90 in December amid weak results and concerns about a possible U.S. recession.
Icahn said Tuesday that Caesars shares are "undervalued" and that the company requires "new leadership and new strategies."
The billionaire's announcement Tuesday morning lifted shares of Caesars 47 cents, or 5.2 percent, to $9.62.
Icahn said he will hold discussions with other investors about how to increase the value of Caesars' share price. Hedge funds Canyon Capital and Soros owned about 10.4 percent and 4.9 percent respectively of Caesars as of Dec. 31, according to SEC filings.
Canyon and Soros did not respond to requests for comment Tuesday.
$13 share price
Wall Street banks including JPMorgan, Credit Suisse and Suntrust Robinson Humphrey value Caesars' shares at $13, a 35 percent premium to today's closing share price, all highlighting the company's rewards program with 55 million members.
Caesars' shares trade at a discount to casino peers in part because it has such a large debt burden, analysts said. Caesars emerged from bankruptcy in Oct. 2017 and has more than $7 billion in net debt.
The company can reduce that load by selling more real estate underlying its casinos to an investment trust and renting it back, analysts said.
Fertitta bid
Caesars already has received at least one bid offer.
In October, Tilman Fertitta proposed to merge his Golden Nugget with Caesars and run the combined company. Caesars turned down the offer but said it was "open to reasonable alternatives."
Fertitta recently bought a stake in Caesars, according to spokeswoman Katelyn Roche, possibly indicating he hasn't given up hope of taking control.
Wall Street analysts said Icahn probably will struggle to sell the company to other competitors because it is too big and too debt-laden. Caesars Entertainment, which operates more than 50 properties globally, has an enterprise value of $21 billion.
"We see some hurdles to a sale, namely material leverage of Caesars and most competitors," said SunTrust Robinson Humphrey analyst Barry Jonas in a note last week.
JPMorgan said in a note Monday it, too, doesn't see many prospective buyers.
If MGM Resorts International were interested in purchasing Caesars, it probably would face opposition from regulators because it would create an industry behemoth, the bank said. MGM Resorts and the Nevada Gaming Control Board declined to comment.
Wynn Resorts is also an unlikely buyer because its luxury profile clashes with Caesars properties, the bank said. Wynn Resorts spokesman Michael Weaver declined to comment.
JPMorgan did not rule out that Caesars assets could be split up among several casino operators but said the company was worth more "as a whole."
Successful casino investments
Icahn has been investing in the casino industry for decades. He sold Tropicana Entertainment, which owns eight casinos, last year before the market selloff to Eldorado Resorts for $1.85 billion.
He also sold the Fontainebleau, the undeveloped hotel and casino on the Strip now known as The Drew, for $600 million in 2017.
Icahn sold the Stratosphere assets for $1.3 billion to Goldman Sachs' Whitehall Street Real Estate Fund in 2007, a year before the financial crisis.
Contact Todd Prince at 702-383-0386 or tprince@reviewjournal.com. Follow @toddprincetv on Twitter.