Lucky Dragon creditor hoping for quick sale at Oct. 30 auction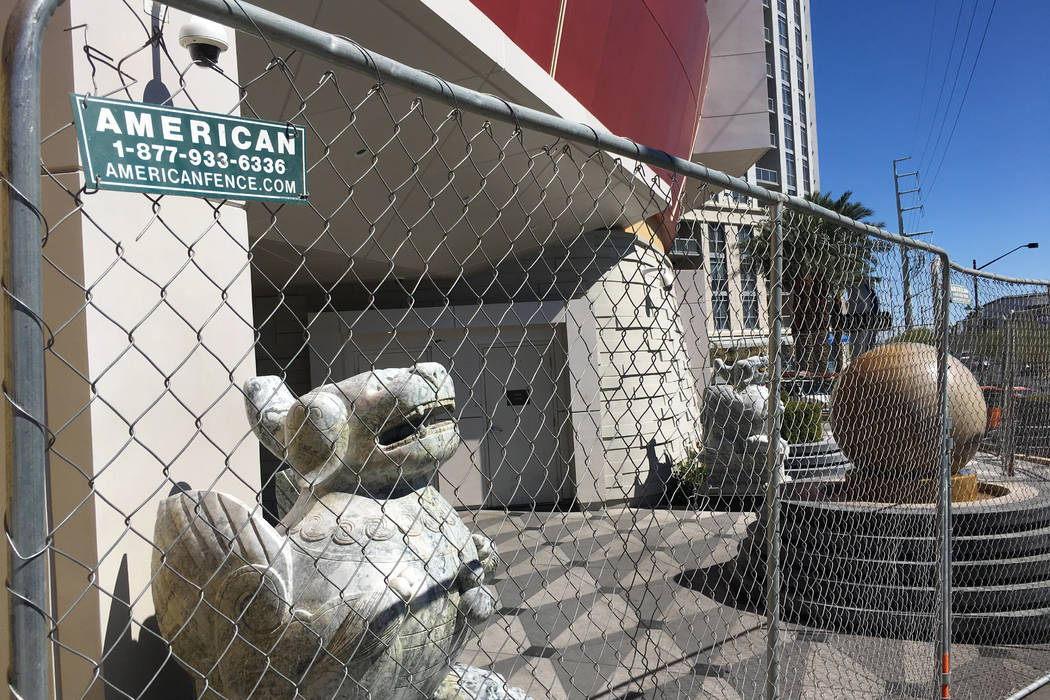 It's not every day that people walk around with tens of millions of dollars in cashier's checks stuffed in a bag.
But if the Lucky Dragon's main lender wants the failed resort to sell at auction in a few weeks, it may need exactly that.
The off-Strip Lucky Dragon fully shut down this month, less than two years after it opened, and is scheduled to come up for sale at a foreclosure auction Oct. 30. The sale will be held at the Nevada Legal News building, 930 S. Fourth St., near Charleston Boulevard.
There's no guarantee a buyer will step up, and the bankrupt hotel's main creditor, Snow Covered Capital, could foreclose on the property and then shop it around. But its "strong preference" is for the resort to sell at the auction, said Michael Brunet, a consultant for Snow Covered Capital – even though, by his own admission, casino owners rarely acquire their properties at repo sales.
Buyers at Las Vegas foreclosure sales almost always pay with cashier's checks, auctioneer James Vignale said. Snow Covered Capital is owed about $55 million, so if investors want the 203-room resort, they might need tens of millions of dollars' worth of cashier's checks on hand.
Hotel-casinos "typically don't sell this way," Brunet said.
"You're talking about a significant amount of money that a buyer has to produce," he said.
Snow, linked to San Francisco developer Enrique Landa, issued loans for the Chinese-themed project several months after Las Vegas City Council members, acting as heads of the city's redevelopment agency, shot down a request by Lucky Dragon developer Andrew Fonfa's group for some $25 million in subsidies.
It was the first hotel-casino built from the ground up in Las Vegas since the recession. And its demise – finalized with the recent closure of its nine-story hotel tower and the property being sealed off with chain-link fencing – was perhaps the fastest in decades.
Brunet said his group hadn't decided whether to set a minimum opening bid. He also said that when Landa and company helped finance the Lucky Dragon, they "never intended to be in this situation, or to be in this situation as long as they have."
The 2.5-acre resort at 300 W. Sahara Ave. opened in November 2016, with its hotel and casino in separate buildings. But it struggled to draw big crowds, closed its casino and restaurants in January, faced foreclosure and then filed for bankruptcy in February.
The red-tinted Lucky Dragon – featuring Asian restaurants and a one-and-a-quarter-ton glass dragon chandelier above the casino floor – was billed as the first newly built, Asian-focused casino in Las Vegas. But it went after a coveted slice of the tourist market, competing with plenty of larger hotels for such visitors.
It's tough to survive by focusing on one segment of Las Vegas' visitor pool, and a lot of casinos on the Strip do well in part because they "market to a wide audience," said CBRE Group broker Michael Parks, a hotel-casino specialist who is helping drum up interest in the auction for Snow Covered Capital.
The Lucky Dragon's location off the sleepy north Strip also didn't help, some local executives have said.
Parks said there's a chance the resort could reopen without a casino, adding that people have discussed converting that area to meeting space or an e-sports lounge.
"There is a future for this property," Brunet said.
Contact Eli Segall at esegall@reviewjournal.com or 702-383-0342. Follow @eli_segall on Twitter.