Mandalay Bay struggles to find footing after Las Vegas shooting
December 8, 2017 - 9:28 am
Updated December 9, 2017 - 4:35 pm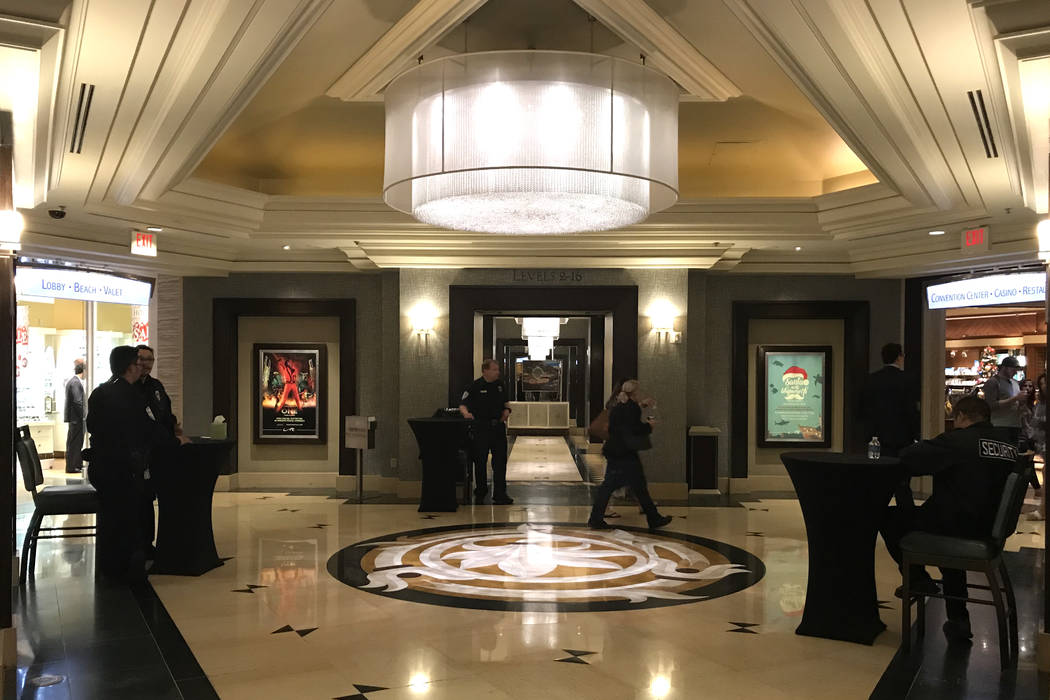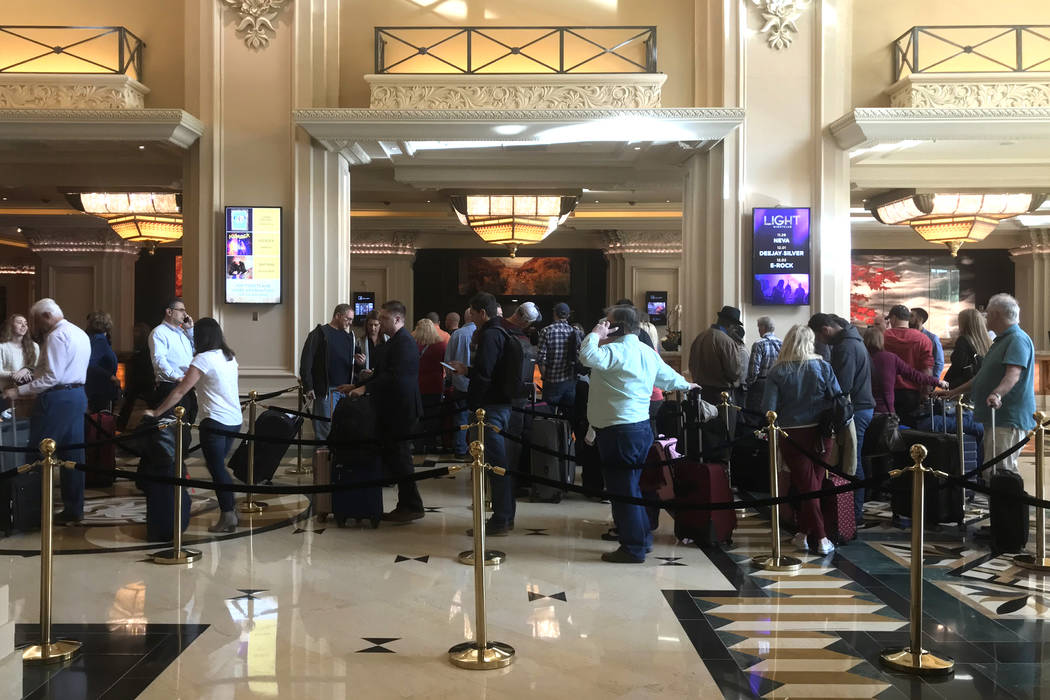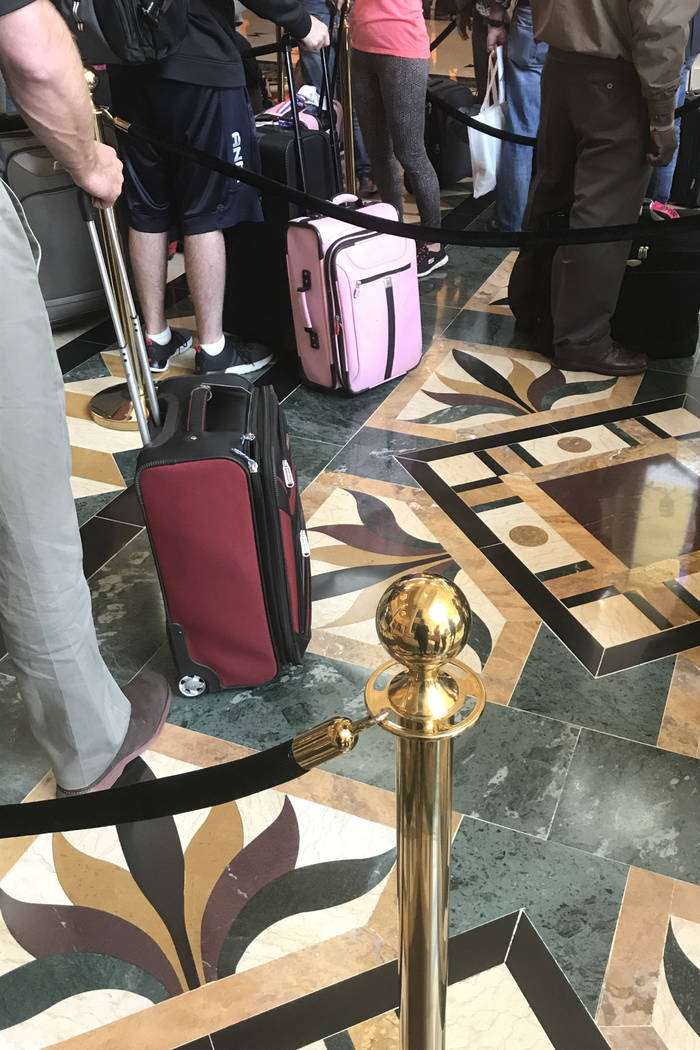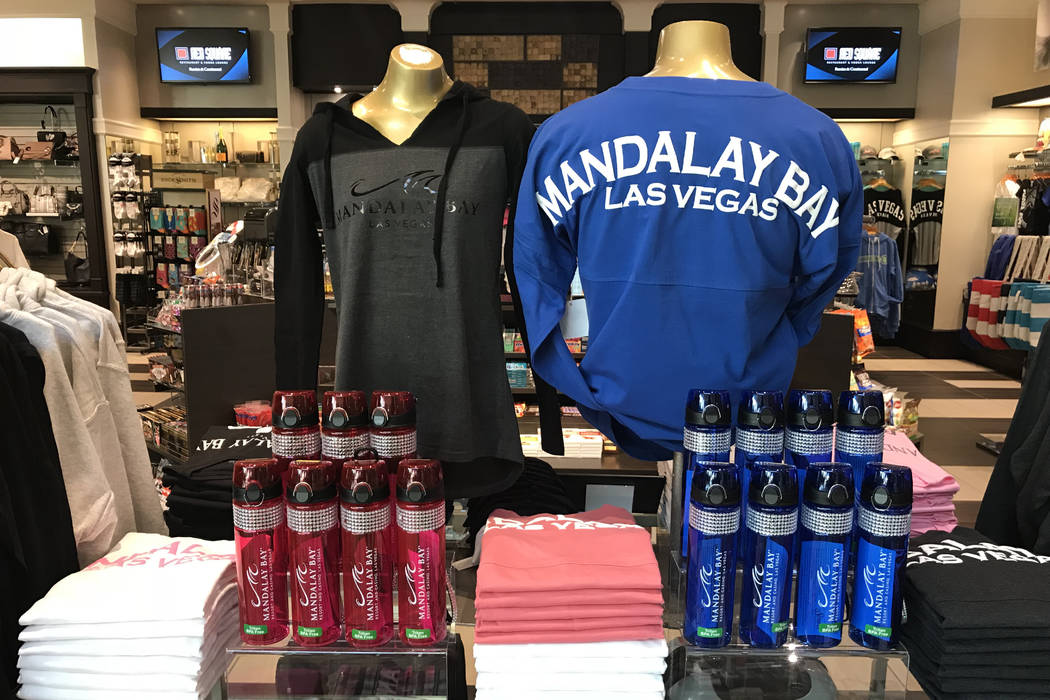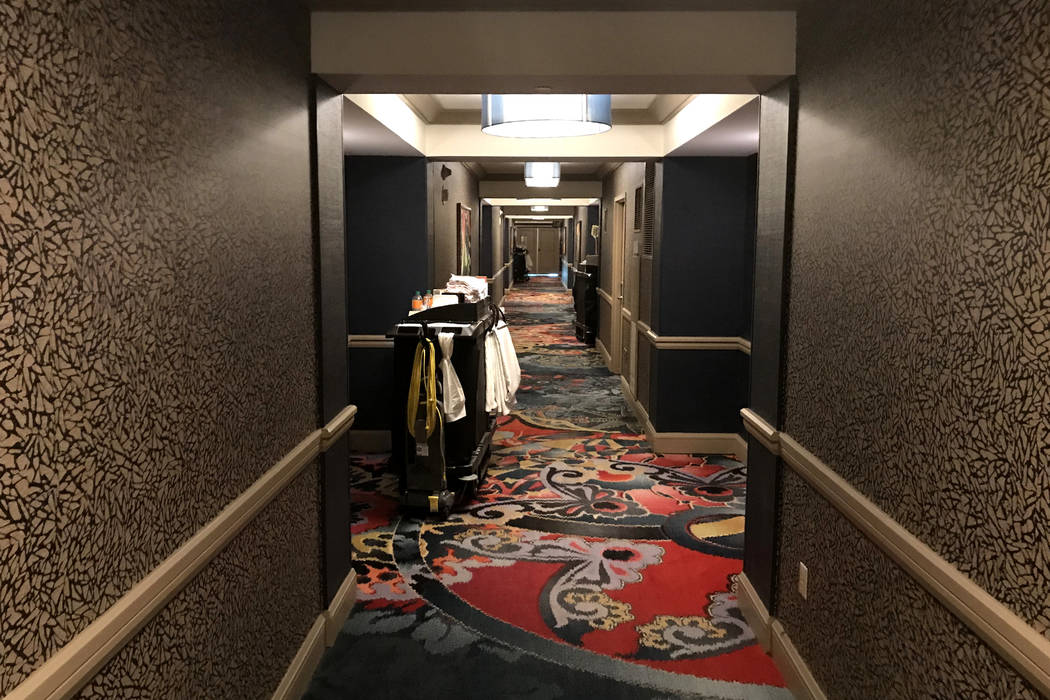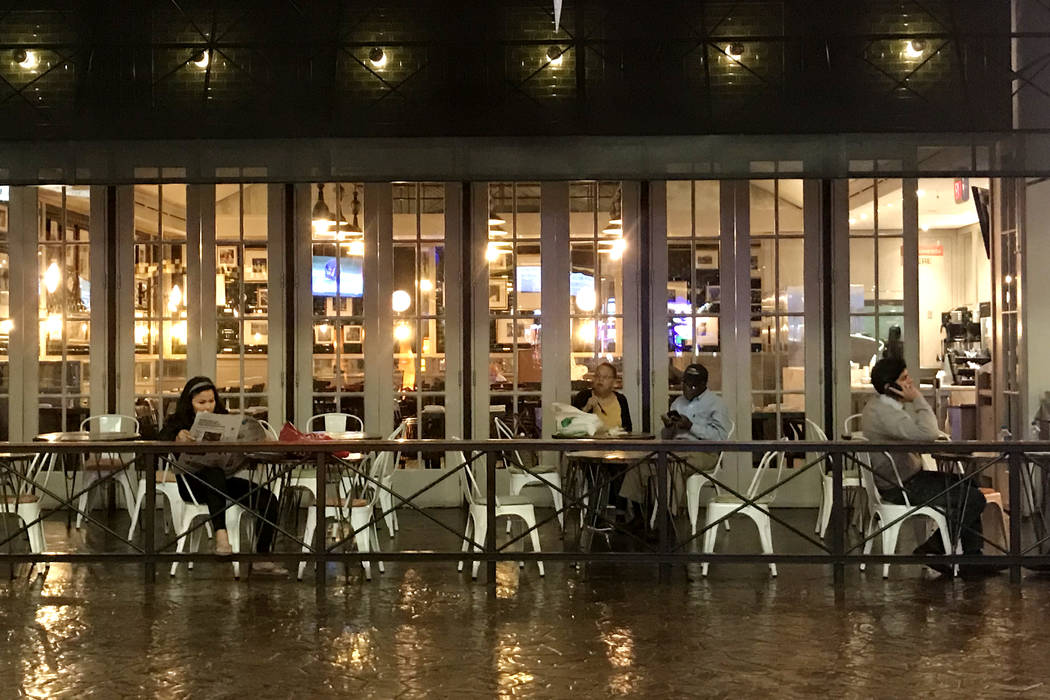 Around dusk on a late November weekday, hundreds of people walked through Mandalay Bay, past empty restaurants just off the casino floor and toward the huge convention center.
Employees of CarMax, the nation's largest used-car dealer, had gathered here from around the U.S. to attend the company's annual President's Club gala, an award ceremony to recognize top talent.
Roughly 4,500 people filled the convention center to eat, dance and hobnob with CarMax senior management. Many employees stayed at the hotel.
"It's a business trip. We didn't choose the Mandalay Bay. It was already chosen for us since last year," said CarMax employee Felicia Green.
Visiting from Fayetteville, North Carolina, Green said she wouldn't have stayed at the Mandalay Bay if she'd had a choice. The Oct. 1 mass shooting that occurred at the hotel was still too fresh in her mind. On that late October Sunday night, a VIP guest staying on the 32nd floor blackened the image of Mandalay Bay when he smashed his room windows to spray gunfire on thousands of concertgoers across Las Vegas Boulevard, killing 58 people.
The shooting raised questions about how the 3,211-room hotel would weather the stigma of the mass shooting. Would people want to gamble, party and sleep where one of the worst mass murderers in American history carried out his crimes?
For Jayson Baboolal, a leisure tourist, the answer is not now.
Visiting Las Vegas from Miami, Baboolal said he would "probably" stay at the Mandalay Bay at some point in the future, but for this trip he chose to stay at New York-New York.
"So many people died there (at the Las Vegas Village festival grounds, across from Mandalay Bay)," he said. "You just get the chills going in there."
"So many people died there (at the Las Vegas Village festival grounds, across from Mandalay Bay)," he said. "You just get the chills going in there."
Financial impact
MGM Resorts International Chief Executive Officer Jim Murren said Nov. 8 that bookings were returning to normal and forecast the casino operator's Strip-wide revenue would be down only in the low to mid-single digits during the fourth quarter compared with that of the year-earlier period. That would suggest as much as a $65 million drop in Strip revenue. His forecast did not address direct financial impact on Mandalay Bay.
But the number of cancellations doubled immediately. Restaurateurs felt short-term pain, gamblers on the casino floor thinned out and hotel employees' hours were eventually cut.
A repeat visitor commenting on TripAdvisor, a popular travel website, observed in early November that the hotel was "painfully slow."
Spokeswoman Debra DeShong said the lower activity at Mandalay Bay is driven by seasonality and the fact that there is one fewer conference this month. She declined to give specific occupancy data for Mandalay Bay, citing regulatory requirements for publicly traded companies.
"As we've indicated previously, we expected occupancy at Mandalay Bay to be lower this December due to the timing of a rotating convention that was held last year."
John DeCree, an analyst at Union Gaming, thinks the slowdown will be short-lived and limited mainly to vacationers.
"I think any near-term impact would be on leisure customers, who can be more flexible," he said. "Vegas is still a great value for group and meeting planners, and Mandalay is one of the best hotels for meetings."
The October visitation numbers support that thesis. Las Vegas tourism was down for October, with visitation falling 4.2 percent to 3.6 million tourists. It was the second steepest year-over-year drop of 2017 recorded by the Las Vegas Convention and Visitors Authority. Business tourism, though, jumped 35 percent amid more conventions.
Conventions drive many factors
Conventions, such as the one hosted by CarMax, have become even more crucial for Mandalay Bay in the wake of the shooting as leisure tourists like Baboolal look elsewhere.
Convention attendees account for about 40 percent of room nights at Mandalay Bay, compared with about 14 percent Strip-wide. They drive much more than just occupancy.
Mandalay Bay's catering business surpassed $100 million in revenue last year on the back of group meetings. Convention attendees tend to drop more on average for restaurants and entertainment than leisure visitors, according to Applied Analysis.
Conventions are booked years in advance, require months of planning and are difficult to cancel on short notice. As a result, Mandalay Bay has seen nearly no major group meeting cancellations, according to MGM management.
Companies and organizations hosting conventions at Mandalay Bay since Oct. 1 said they had few to no attendee cancellations. For attendees, including those at CarMax, it may be the only chance during the year to meet senior management, top clients or take necessary industry classes and exams.
Retail and restaurants
Mandalay Bay food establishments and retail stores near the convention area say they have weathered the post-shooting visitor slump better than other businesses because they are less dependent on leisure tourists.
"We haven't seen too much of a decrease. Companies are still booking those conventions. The other restaurants, they are feeling the hit," said one manager, who spoke on condition of anonymity because employees were told not to speak to the press about the shooting and business.
But it's a different story for retail and restaurants at the Shoppes at Mandalay Bay and on the casino floor, employees say.
A shopping area filled with 30 businesses — including restaurants, bars and stores offering clothing, candy and souvenirs — the Shoppes connects Mandalay Bay to neighboring Luxor.
November through December is traditionally slow for Strip casinos, but workers at the Shoppes say that is not the only reason there are few shoppers.
"It is not just the holidays. People seem to be hesitant to come down this way (from Luxor)," said one store worker, who described hiding in a back room with customers as reports spread of an active shooter in the hotel on Oct. 1.
Several restaurants and amenities in the hotel are taking slightly longer breaks this holiday season, two people said.
The spa, which shut for five days last holiday season, will be closed for a month this year. DeShong said the spa is closed "for previously planned renovations."
According to Mandalay Bay's website, Fleur by Hubert Keller will be closed for lunch for six weeks through Dec. 28 and for dinner for three weeks through Dec. 22. Red Square and Lupo by Wolfgang Puck will be closed for two weeks in December, while Libertine Social just reopened after a two-week break.
A few miles away on the Strip, three restaurants at Wynn and Encore will be closed for 11 to 14 days in December.
Still, there was a short-term pall over Mandalay Bay.
"This place is covered in blood. It sucks," said one restaurateur in frustration in early November.
"This place is covered in blood. It sucks," one restaurateur said in frustration in early November.
The individual said revenue in the first six weeks after the shooting was down 30 to 50 percent from last year.
But another employee at another restaurant said in late November that the tide has turned, echoing the words of MGM management.
"We were down quite a bit after the incident, but it is starting to pick up," the employee said.
Floors closed
The hotel has closed off several floors this holiday season, including the 32nd floor, said DeShong. Mandalay Bay manages 38 floors in the 43-story building. The Four Seasons operates five floors.
"During slower periods, it is not uncommon to shut down floors," said DeShong.
Caesars Entertainment Corp. declined to comment on whether it closes floors. Wynn Resorts and Las Vegas Sands didn't respond to requests for comment.
Hotel workers taking reservations over the phone at The Venetian and Palazzo said all floors are open. They also said that they did not know of any seasonal closings. A hotel worker taking reservations at the SLS Las Vegas, which investors have said is on the "'verge of bankruptcy," also said that all floors are open.
UNLV hospitality professor Mehmet Erdem said it's not unusual for hotels to close floors for a few days for renovation, maintenance and deep-cleaning during a slow season.
Mandalay Bay has since put many full-time workers on a so-called reserve list, in effect cutting their weekly work hours. MGM Resorts said the cuts affected several hundred of its roughly 7,000 workers.
The cuts, which affected the front desk, among other areas, led to nearly hourlong check-in lines around the CarMax event. But the check-in lines vanished when the convention was over.
To help mend its image and regain customers, the hotel has boosted security, including the addition of three permanent guards by the elevators leading up to rooms. One restaurant manager said more security has been added than the eye can see.
"There are more undercover security. The hotel didn't want to make a big presence and scare everyone, so they put them in plainclothes," he said.
Green, the CarMax employee, said she noticed the security presence, which made her feel "reassured that we're safe."
Cousins Keamak Smith and Marcus Smith, who were visiting from Houston and staying at Mandalay Bay in late November, said they had planned their trip four months before the shooting and didn't have any reservations about coming.
"He's not coming back," Keamak Smith said, referring to the Oct. 1 gunman. "And security is going to be pretty beefed up."
Marcus Smith said it's eerie to think about what happened at Mandalay Bay, but he agreed with Keamak that "at the end of the day, you still have to live."
Importance of conventions
The CarMax convention and the dozens of other events held at Mandalay Bay since Oct. 1 underscore the importance and stickiness of corporate group business, which will support Mandalay Bay over the coming months or years until the shooting narrative fades from the headlines and leisure tourists return.
"It seems like the only thing people talk about is the shooting," Baboolal said, referencing overheard conversations during his travels to Las Vegas Nov. 30.
"We come to Vegas a lot, and I'm wondering if it did impact the people coming down here [for vacation]."
The leisure tourist slowdown and floor closures haven't significantly affected average daily room prices at Mandalay Bay. The average room price for December is actually up 5 percent from last year and was up 1 percent over November, according to JPMorgan. MGM Grand saw larger price increases of 11 percent and 5 percent, respectively, for November and December.
Strip hotels, including Mandalay Bay, are benefiting from a strong U.S. economy and a lack of new room construction on Las Vegas Boulevard, which has kept occupancy in the low 90 percent range for most of the year.
Cutting prices to fill rooms at Mandalay Bay might only steal guests from other MGM properties such as the MGM Grand, which is in the same price segment.
"Where we are in the supply-demand curve, casinos have flexibility to raise prices or fill their rooms with the best possible customers," said Union Gaming's DeCree. "Pricing is the focus now, less so occupancy."
MGM is promising that business will get better at Mandalay Bay in the coming months as the new convention season kicks off.
"We have talked about a strong convention calendar for 2018, but we have an equally strong entertainment calendar at all of our arenas as well," Murren said Nov. 8.
The Review-Journal is owned by the family of Las Vegas Sands Corp. Chairman and CEO Sheldon Adelson. Sands operates The Venetian and Palazzo.
Contact Todd Prince at 702 383-0386 or tprince@reviewjournal.com. Follow @toddprincetv on Twitter. Contact Nicole Raz at nraz@reviewjournal.com or 702-380-4512. Follow @JournalistNikki on Twitter.
Mandalay Bay key to MGM
Mandalay Bay, opened in 1999, is a key asset for MGM. The sprawling property generated $168 million of operating income over the first nine months of 2017, making it the casino operator's fourth most profitable business after Bellagio, MGM Grand and Borgata. Mandalay Bay accounted for 11 percent of total company operating income during that period.
Over the course of 2015 and 2016, MGM Resorts pumped $70 million to upgrade and expand the Mandalay Bay Convention Center to 2 million square feet, making it the second-largest and one of the most modern event spaces in the city.
That has helped the resort attract and keep key clients like MAGIC Marketplace Show, a biannual fashion trade show that attracts roughly 80,000 attendees twice a year; the Barrett-Jackson Car Show that draws in 75,000 guests and the JCK Trade Show, a jewelry expo with attendance near 40,000.