Panel members who will investigate charges against Steve Wynn identified
January 29, 2018 - 5:49 pm
Updated January 29, 2018 - 6:13 pm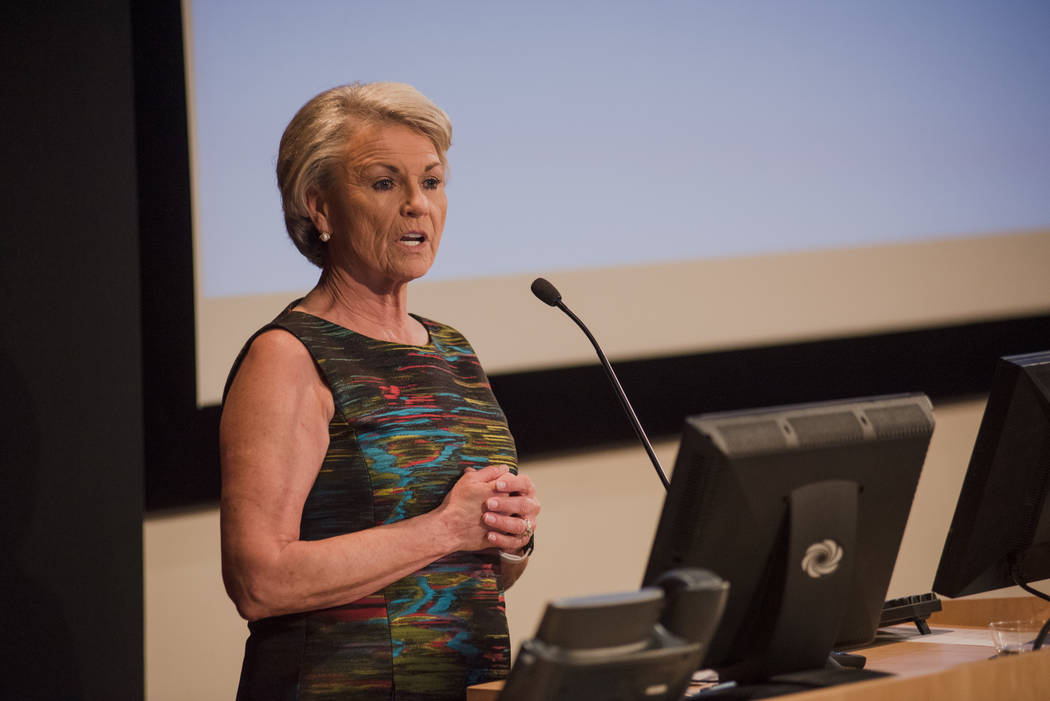 The Republican Governors Association has canceled its 2020 conference at Wynn Las Vegas and the chairwoman of the Wynn Resorts board of directors committee investigating allegations against Chairman and CEO Steve Wynn has identified other members of the panel.
Pat Mulroy, the only woman on the 10-member Wynn board that Steve Wynn chairs, will be joined by retired U.S. Navy Admiral Jay Johnson and M&H Realty Partners and WestLand Capital Chairman John Hagenbuch as independent board members reviewing accusations that Wynn demanded sex from and assaulted several of his resort employees over three decades.
Wynn has called the allegations, reported in a Friday Wall Street Journal story, "preposterous," saying the report was motivated by his ex-wife, Elaine Wynn, as a legal strategy in a court battle over a company share agreement stemming from the couple's 2010 divorce.
Elaine Wynn has said she had nothing to do with the Journal story.
Wynn Resorts on Monday officially disclosed the formation of the special committee of the board with Mulroy as its chair in a Securities and Exchange Commission filing, but did not name Johnson and Hagenbuch as members.
Mulroy, former general manager of Las Vegas Valley Water District and Southern Nevada Water Authority and a member of the Nevada Gaming Commission from July 2014 to October 2015, on Monday attended the 2018 International Economic Development Council Leadership Summit, co-sponsored by the Las Vegas Global Economic Alliance at the Golden Nugget.
"We understand very clearly that our responsibility is to the shareholders of the company and to preserve the value of the company and we are moving swiftly to conduct an investigation and come to closure," she said after she participated in an economic development panel presentation at the event.
"We are overseeing the investigation, we're going to work with independent counsel to conduct the investigation and then the discussion obviously will be conducted by the entire board," Mulroy said, adding that she doesn't know how long the investigation would take.
Corporate background
Johnson, who has served as a company director since August 2016, also is the retired chairman and CEO of General Dynamics Corp., a publicly traded manufacturer of worldwide defense, aerospace and other technology products. For the Wynn board, he's a member of the compensation committee.
Hagenbuch has been a company director since December 2012 and serves as the chairman of the audit committee and as a member of the compensation committee. He co-founded M&H Realty Partners in 1994 and WestLand Capital Partners in 2010.
Company officials said Monday the Republican Governors Conference is the only event that has been canceled at Wynn as a result of concerns about the allegations. Officials repeated their Sunday response that they've seen no evidence of any unusual decline in hotel room bookings since Friday.
Wynn Resorts stock plummeted another $16.81, or 9.3 percent, closing at $163.48 a share on Monday on volume nearly 12 times average trading. Since Friday's opening before publication of the Journal article, the stock has fallen $38.51 a share from $201.99.
Analysts weigh in
More analysts weighed in on the company's outlook Monday.
Joseph Greff, an analyst with J.P, Morgan, projected shares could drop to around the $150 level before the fallout is over.
"Steve's name is on each one of his resorts in Las Vegas and Macau and therefore they are potentially susceptible to downward swings in patronage," Greff said in his report. "Such allegations (in the Journal article) can't be helpful to Wynn in competitive integrated resort license and development globally, such as in Japan, or in gaming license renewals in Macau and Nevada."
"A scenario where Wynn doesn't have Steve as a CEO is not good for the company," Greff's report said.
"If a change in Wynn CEO were to happen and the valuation suffers, we can't help but also think this may attract the attention of other gaming operators since the industry has been in consolidation mode of sorts for a while now and looking to grow free cash flow per share through consolidation. Who could find Wynn appealing and has the size and financial wherewithal to do so? In our view, there a number of global large cap operators, also gaming REITS and gaming licensed private equity firms."
Greff didn't name any potential suitors.
Review-Journal writer Nicole Raz contributed to this report. Contact Richard N. Velotta at rvelotta@reviewjournal.com or 702-477-3893. Follow @RickVelotta on Twitter.
Related
Heller, other Republicans ditch Wynn cash
Gambling regulators to discuss reported Wynn allegations
Fallout continues over Steve Wynn sexual misconduct allegations
Steve Wynn resigns as RNC finance chairman amid allegations