Developer plans industrial project near Las Vegas speedway
November 28, 2017 - 12:27 pm
Updated November 29, 2017 - 2:53 pm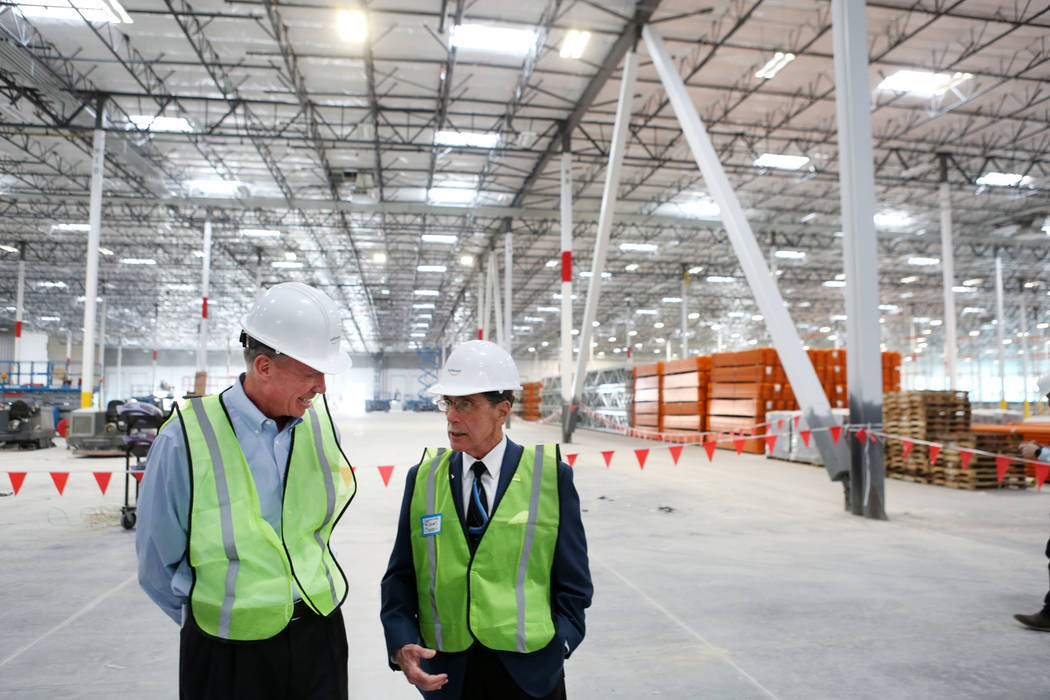 After launching a sprawling industrial project in North Las Vegas, a Kansas City, Missouri, developer has another one in the works.
VanTrust Real Estate this month bought 73 acres of land a few miles west of Las Vegas Motor Speedway. It is looking to build an industrial project spanning more than 1 million square feet.
The plans come as the valley's booming industrial real estate sector keeps heating up with construction, much of it planned without tenants lined up first, as VanTrust is doing.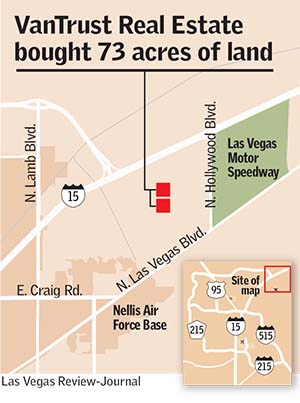 The firm isn't the first to draw up big plans for the site, east of Interstate 15 near Tropical Parkway. A local developer last decade wanted to build more than 1,800 homes in the industrial-zoned area but faced mounting opposition to his "cutting-edge" concept.
VanTrust hasn't finalized its plans, including the number of buildings. But the envisioned project, Tropical Distribution Center, would span about 1.2 million to 1.3 million square feet, said Keith Earnest, executive vice president of development.
The company bought the site for $16.5 million, property records show. The sale closed Nov. 8.
Infrastructure on drawing board
No tenants are lined up yet, although Earnest said the company hopes to break ground in March or April and to finish by the first quarter of 2019.
He also noted that new infrastructure is planned for the area.
The North Las Vegas City Council in April approved plans for about $43 million worth of street, water and sewer projects in the area. The projects include building an eastern leg to the I-15/215 Beltway interchange and a connection to Tropical Parkway.
VanTrust broke ground last year on the 170-acre Northgate Distribution Center, off Lamb Boulevard and I-15. So far, it has completed 2.2 million square feet, with just 87,000 square feet of that available for lease, according to Earnest.
The full build-out calls for 3.2 million square feet.
Occupants include online retailers Amazon and Fanatics, and baby products maker The Honest Co.
Colliers International industrial-property broker Dan Doherty said VanTrust has done "extremely well" with Northgate. He said the newest project isn't as close to the freeway, offering less visibility to passing cars, and that Fanatics, his client, liked that its sign at Northgate would be right on I-15.
But the industrial market is so robust that VanTrust should do well at its new site and might pursue yet another project, Doherty said.
Earnest said distributors want fast, easy freeway access, and that it's not too critical to be right on one.
Fuel tanks and fighter jets
Almost 15 years ago, however, another developer wanted to cover the site with housing.
Focus Property Group founder John Ritter, developer of Mountain's Edge and other communities in Southern Nevada, pursued plans in 2003 for 1,238 single-family homes and 608 multifamily units in the area.
The 174-acre site included VanTrust's newly acquired land, Clark County records show.
Ritter's site was near almost 35 petroleum tanks that stood nearly three stories high. It also was in an area that nearby Nellis Air Force Base considered incompatible with aircraft noise, the Las Vegas Review-Journal reported.
Ritter had said that putting hundreds of homes in an industrial-zoned area was a "cutting-edge" concept that land planners may not appreciate. He also said that such land was generally less expensive than typical residential sites, allowing for profitable affordable-housing developments, the RJ reported.
But the project faced opposition from the city of North Las Vegas, the Clark County Planning Department and surrounding property owners, and it wasn't built.
Ritter said in an email Tuesday that he doesn't remember the project. His company moved its offices this year and "destroyed most of our old project files. We've looked through what we still have and couldn't find anything on it."
Contact Eli Segall at esegall@reviewjournal.com or 702-383-0342. Follow @eli_segall on Twitter.