Hsieh saga continues: Ex-associates accuse family of 'sensationalized' claims
Updated May 5, 2023 - 4:25 pm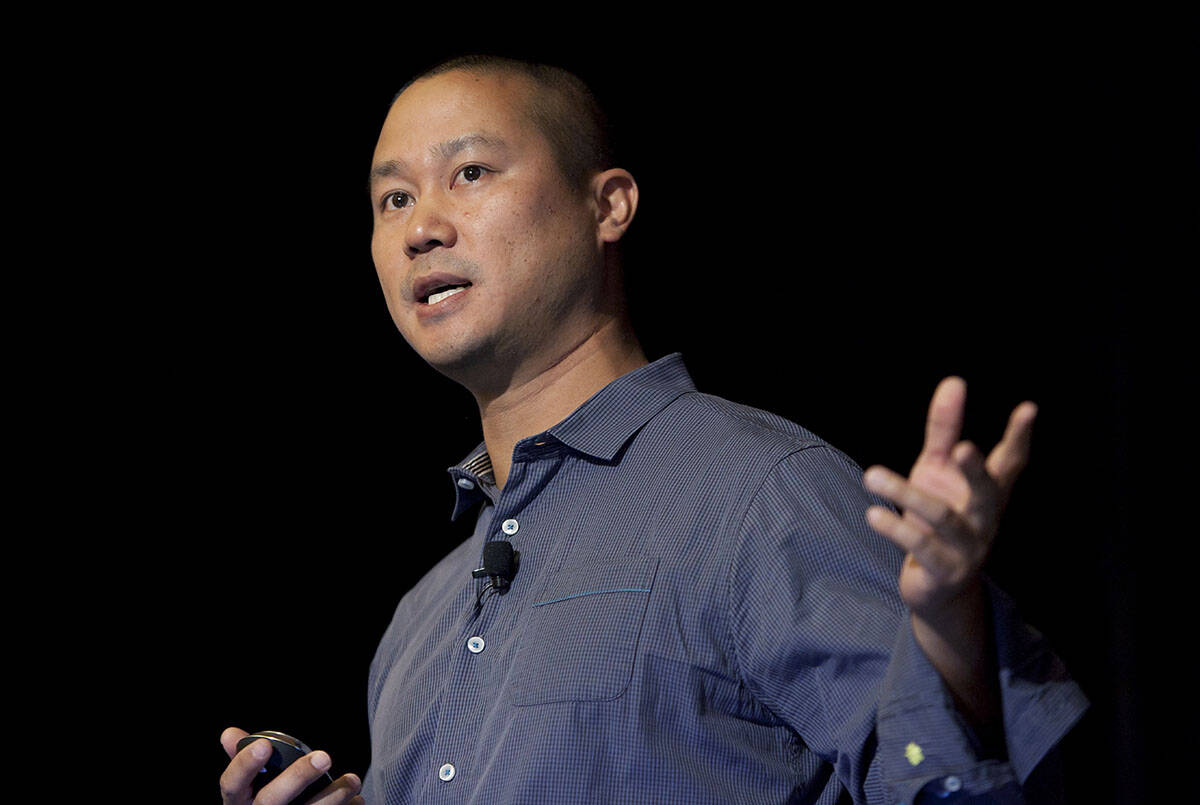 Former business associates of Tony Hsieh have accused the family of the late Zappos' CEO of making "sensationalized" allegations in recent court filings.
"In its desperation to keep its meritless action alive, the Estate goes to great lengths to paint a graphic portrait of Mr. Hsieh's final months, including lurid allegations of Mr. Hsieh's drug use, and denigrate his vision and actions in its publicly-filed pleading," attorneys wrote in a motion filed Wednesday.
The motion was filed in response to allegations from Hsieh's family that Hsieh's former lawyer, Puoy Premsrirut, and business associates Andrew Donner, Todd Kessler and Thomas Spiegel took advantage of Hsieh by pressuring him to purchase the Zappos headquarters in downtown Las Vegas. The estate claimed that Donner told Hsieh that the building, which is also the former Las Vegas City Hall, was worth $70 million.
Hsieh's family has claimed that he was suffering from mental health issues and abusing nitrous oxide when the building was purchased. In April, attorneys for Hsieh's family wrote in court documents that Donner witnessed Hsieh when he was "emaciated" and "drug addled," and that Donner knew Hsieh was in "no condition" to purchase the Zappos building.
The filings were made in a lawsuit Premsrirut filed in January 2022 seeking legal fees against Hsieh's estate
Attorneys for Donner, Kessler and Spiegel allege in Wednesday's filing that Hsieh's team acquired a third-party appraisal of the Zappos headquarters, a building across the street and a tract of land in the area. The appraisal put the price of the Zappos building at more than $71 million, according to court documents.
"Any alleged misrepresentation by Mr. Donner that the properties were worth $70 million is inconsequential where the Estate sought and received an independent appraisal," attorneys wrote in Wednesday's filing.
Attorneys for Hsieh's family and Premsrirut did not immediately respond to request for comment on Friday.
The filing states that Hsieh purchased the building with the help of Premsrirut, Tony Lee, his financial advisor, and "financial managers" Connie Yeh and Chrissie Yim. All have been caught up in the ongoing fight over Hsieh's estate, where both his family and inner circle of business associates have accused each side of taking advantage of Hsieh financially before his death.
Lee reached an undisclosed settlement with Hsieh's estate in March.
Hsieh was 46 when he died on Nov. 2, 2020, from injuries he suffered in a Connecticut house fire, following months of erratic behavior alleged in court documents. Hsieh stepped down as Zappos CEP in August 2020, but began negotiating the purchase of the Zappos building months later, according to the motion filed Wednesday.
The motion called for claims against Donner, Kessler and Spiegel to be dismissed. Attorneys wrote that the estate has not made any claims against Kessler or Spiegel that could be resolved by the court proceedings.
Contact Katelyn Newberg at knewberg@reviewjournal.com or 702-383-0240. Follow @k_newberg on Twitter.