Pinball Hall of Fame to move near south end of Las Vegas Strip
Updated July 30, 2018 - 7:38 pm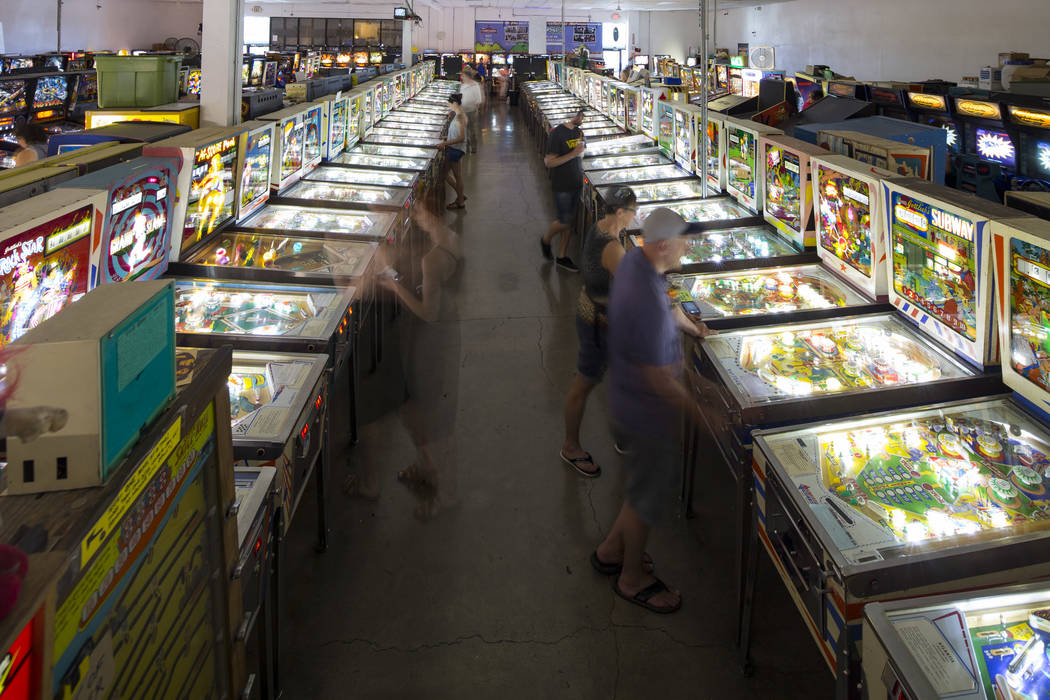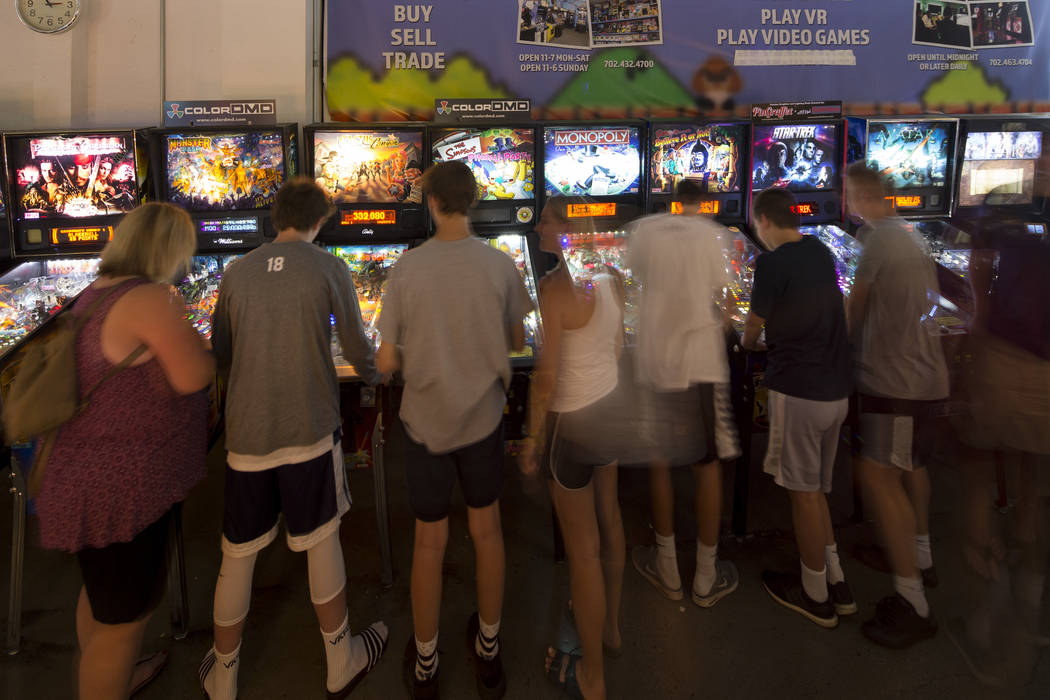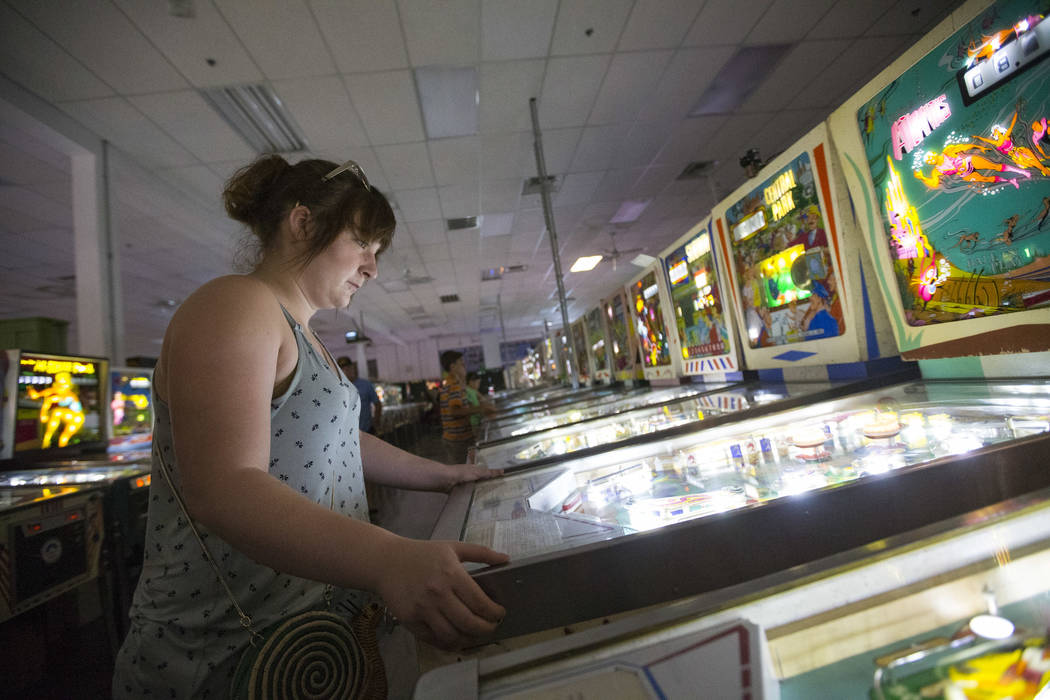 Las Vegas arcade operator Tim Arnold doesn't claim to be much of a businessman.
The 62-year-old used to install pinball machines at bars and restaurants but, he says, is "too stupid to stop." He doesn't use spreadsheets or analysis for his venue, the Pinball Hall of Fame, and he said his title is "director of stuff and things."
"We're by far not a professional organization," he said.
He now plans to move his 1,000-plus pinball machines to a new, bigger facility on the Strip, where more crowds might stroll in to pump quarters into his games.
Arnold confirmed that he recently acquired a 1.76-acre parcel of land on the east side of Las Vegas Boulevard just south of Russell Road, at the south edge of the Strip, and that he plans to move the Pinball Hall of Fame there from its current location at 1610 E. Tropicana Ave.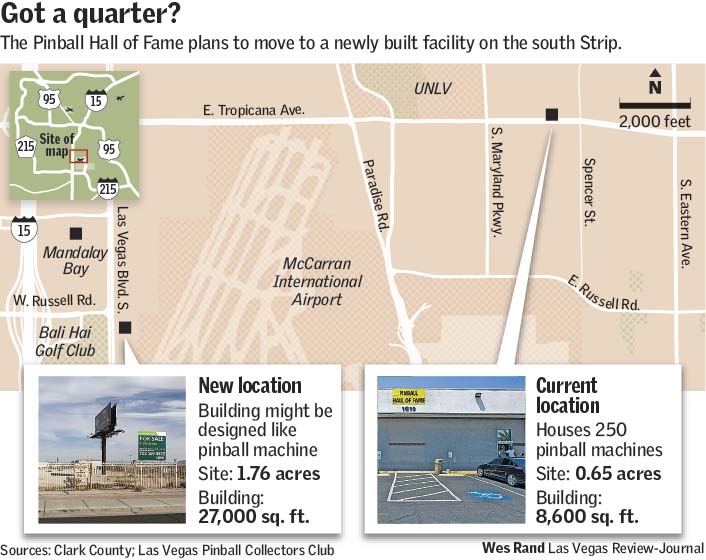 The Pinball Hall of Fame has been based in the 8,600-square-foot building near UNLV since 2009. It's crammed with 250 pinball machines – plus other games – but Arnold has an additional 800 machines in storage.
"What's the point of having these other games if we don't have the space to operate them?" he said.
Charlotte Owens, who launched the arcade with Arnold, her husband, said they want to build a 27,000-square-foot facility — more than triple the size of its current building — that would look, on the outside, like a pinball machine.
Project plans aren't finalized, and Arnold said he has "no idea" when construction would start.
The move would bring a rare construction project to the south Strip, which has megaresorts on one side of the street but vacant lots, boarded-up buildings and an abandoned Ferris wheel project on the other.
It would also mark the latest effort in Las Vegas to lure tourists who don't want to gamble all day and instead want to shoot machine guns, ride zip lines or do other activities outside the casino floor.
Arnold, president of the nonprofit Las Vegas Pinball Collectors Club, the arcade's owner, bought the south Strip property at auction from New Jersey-based Normandy Real Estate Partners. He said the purchase price was almost $4.6 million and that he paid cash.
"That's a s——ton of quarters," he said.
The Pinball Hall of Fame may rely on fistfuls of pocket change, but with an all-volunteer staff, it books a wide profit margin. Arnold's nonprofit group reported $1 million in revenue for 2016 and about $197,000 in expenses, according to publicly available tax returns.
The group has a building fund, said Arnold, who indicated it was similar to a church setting aside money for a new facility.
CBRE Group broker Michael Parks, who represented Normandy, said the online auction was held June 20 and the sale closed July 18, although the transaction has not shown up in Clark County records.
Parks said most prospective buyers he meets with about land on or near the Strip want to develop hotels or apartments.
"This was a unique use that … I had never heard of, for sure," he said.
A Florida investor set out to build a condo tower on the site during the mid-2000s bubble, but lost the land to foreclosure. Normandy took ownership through a bulk acquisition of soured loans, Parks said.
Efforts to get comments from Normandy were not successful Monday.
Both tourists and locals play at the Pinball Hall of Hame, and on Monday, they included 48-year-old French carpenter Nicolas Espiard, who is visiting Las Vegas with his wife and two sons for five days as part of a five-week U.S. trip. Espiard said he has 70 pinball machines at home and prefers mechanical games over electronic ones.
The Hall of Fame features numerous vintage pinball machines, and many were made by D. Gottlieb & Co., an arcade-game manufacturer founded in 1927.
"It's a paradise for me," Espiard said.
Contact Eli Segall at esegall@reviewjournal.com or 702-383-0342. Follow @eli_segall on Twitter.