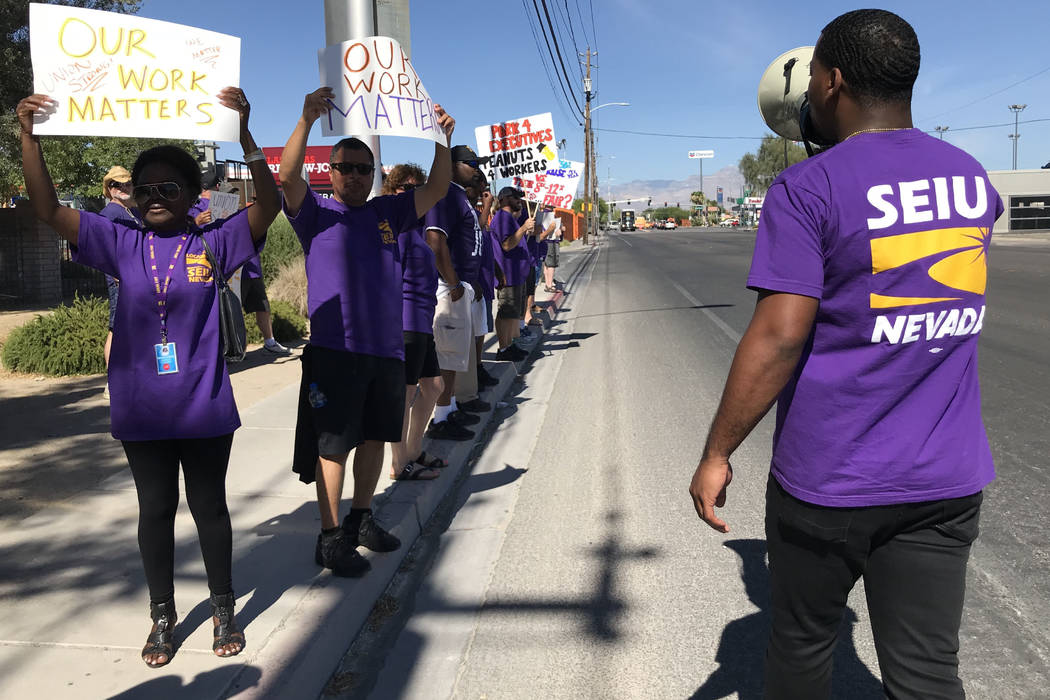 Union workers with the Las Vegas Convention and Visitors Authority overwhelmingly ratified a new five-year contract in a vote Wednesday.
About 295 service, security and trades workers are represented by the Service Employees International Union Local 1107. A union representative said in an email late Wednesday that about 86 percent voted to ratify the contract. The union did not disclose how many members voted.
The contract is retroactive to July 1 and expires June 30, 2022.
Collective bargaining teams reached a tentative agreement June 27 after about eight months of negotiations and the LVCVA board of directors unanimously approved the contract at its July 10 meeting.
The agreement increases base pay rates for union employees by 2.2 percent through 2018, 2.8 percent in 2019 and 2.8 percent in 2020 with new terms to be negotiated for 2021 and 2022. It also provides 100 percent employer-paid health insurance.
"We are pleased that our union partners have approved the agreement we worked hard to develop," a representative of the LVCVA said in an email. "We look forward to continuing our work in promoting Las Vegas and providing the best possible experience for our convention visitors."
Over the first three years if the agreement, the increases will cost the LVCVA an additional $1.88 million in salaries, retirement and Medicare contributions for a total of $75.1 million for the entire bargaining unit.
A key benefit to the LVCVA under the new terms of the contract will be the elimination of "longevity payments" to workers hired after July 1. In exchange, new employees will have one less tier in pay levels to reach the maximum pay rate within their job classifications.
"From the beginning, our goal was to ensure that all workers are treated with respect," David Sizemore, a building engineer with the LVCVA, said in an emailed statement. "We wanted to secure a deal that truly invests in us and represents the contributions we make as front-line workers. I think LVCVA workers came together and accomplished that."
The union had an informational picket line with 100 members in front of the offices of the Las Vegas Review-Journal on June 19. Under its contract, the union is restricted from picketing in the city's tourism corridors.
Contact Richard N. Velotta at rvelotta@reviewjournal.com or 702-477-3893. Follow @RickVelotta on Twitter.
Related
LVCVA approves five-year agreement with SEIU employees
SEIU reaches tentative contract agreement with LVCVA
Las Vegas tourism workers walk picket line for higher wages