US jobless claims hit more than 3M in one week, Nevada claims spike
Updated March 26, 2020 - 6:14 pm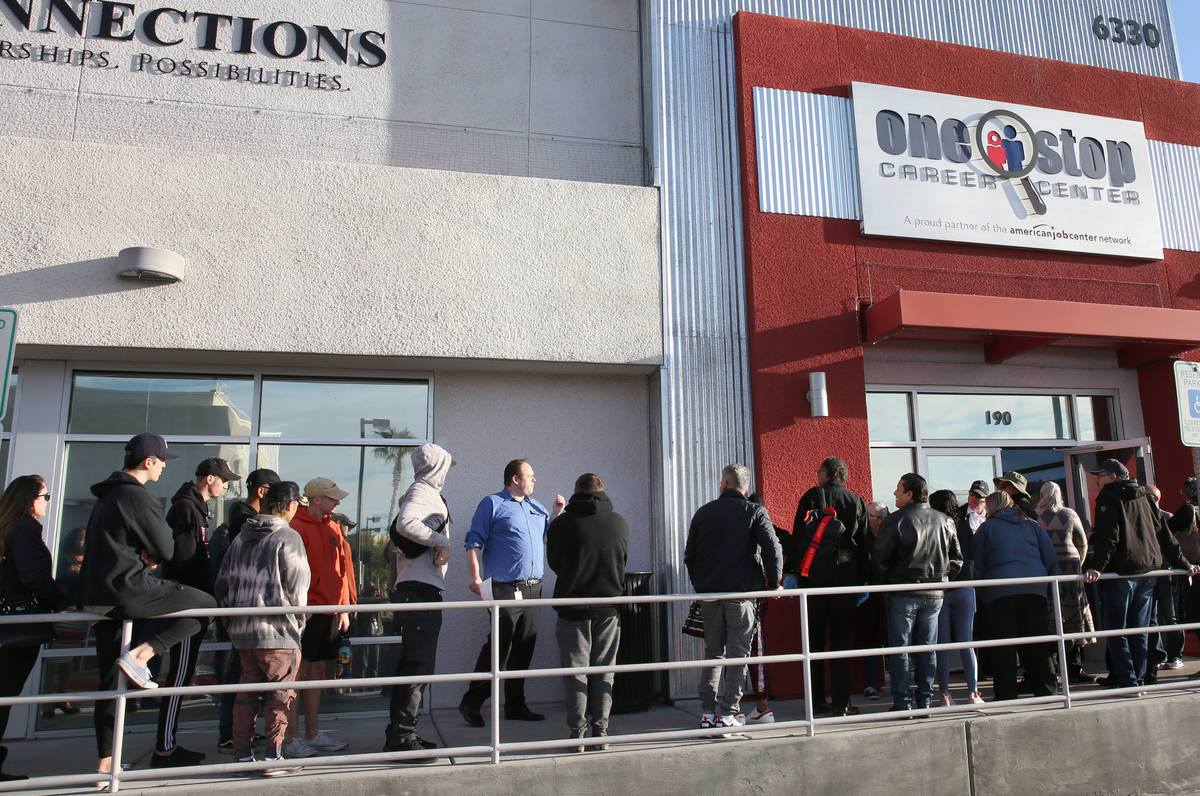 WASHINGTON — Nearly 3.3 million Americans, including more than 93,000 in Nevada, applied for unemployment benefits last week amid a widespread economic shutdown caused by the coronavirus.
The national number was almost five times the previous record of 695,000 set in October 1982.
The surge in weekly applications was a stunning reflection of the damage the viral outbreak is inflicting on the economy. Filings for unemployment aid generally reflect the pace of layoffs.
Layoffs are sure to accelerate as the U.S. economy sinks into a recession. Revenue has collapsed at restaurants, hotels, movie theaters, gyms and airlines. Auto sales are plummeting, and car makers have closed factories. Most such employers face loan payments and other fixed costs, so they're cutting jobs to save money.
In Nevada, Gov. Steve Sisolak ordered all casinos to close on March 17. Three days later, he ordered most nonessential businesses do the same.
These shutdowns have led to a number of layoffs, especially in the tourism industry, the largest source of employment in Nevada, and Thursday's numbers reflect that. The 93,000 people filing for unemployment benefits in Nevada last week was more than 14 times the number of claimants the prior week when 6,356 people filed claims.
---
---
Nationally, the Labor Department said 3.283 million people applied for unemployment benefits last week, up from 282,000 during the previous week. However, many people who have lost jobs in recent weeks in Nevada and elsewhere have been unable to file for unemployment aid because state websites and phone systems have been overwhelmed by a crush of applicants.
That logjam suggests that Thursday's report actually understates the magnitude of job cuts last week. So does the fact that workers who are not on company payrolls — gig workers, free-lancers, the self-employed — aren't currently eligible for unemployment benefits even though in many cases they're no longer able to earn money.
Asked about the record-high applications for jobless aid, President Donald Trump said the figures were "fully expected."
"It's a lot of jobs, but I think we'll come back very strong," he said.
As job losses mount, some economists say the nation's unemployment rate could approach 13 percent by May. By comparison, the highest jobless rate during the Great Recession, which ended in 2009, was 10 percent.
"What seemed impossible just two weeks ago is now reality," said Nancy Vanden Houten, an economist at Oxford Economics, a consulting firm. "The US economy will experience the largest economic contraction on record with the most severe surge in unemployment ever."
A Wednesday report from the Economic Policy Institute found the national economy could lose 14 million jobs by summer 2020. Nevada is the state hit hardest in the projection, with 14.2 percent of its private sector employees losing their jobs. The loss would largely be due to the state's reliance on the leisure, hospitality and retail sectors, according to the report.
The economic deterioration has been swift. As recently as February, the unemployment rate was at a 50-year low of 3.5 percent. Nevada's unemployment rate hit a record low in January at 3.6 percent.
With layoffs surging, a significant expansion of unemployment benefits was included in an economic relief bill nearing final approval in Congress. One provision in the bill would provide an extra $600 a week on top of the unemployment aid that states provide. Another provision would supply 13 additional weeks of benefits beyond the six months of jobless aid that most states offer. The new legislation would also extend unemployment benefits, for the first time, to gig workers and others who are not on company payrolls.
Review-Journal staff writer Bailey Schulz contributed to this report.
RELATED
Updated: Who's hiring in Las Vegas? These companies are adding workers