Man accused of robbing Las Vegas Strip casino in blackface
Updated March 12, 2018 - 8:15 pm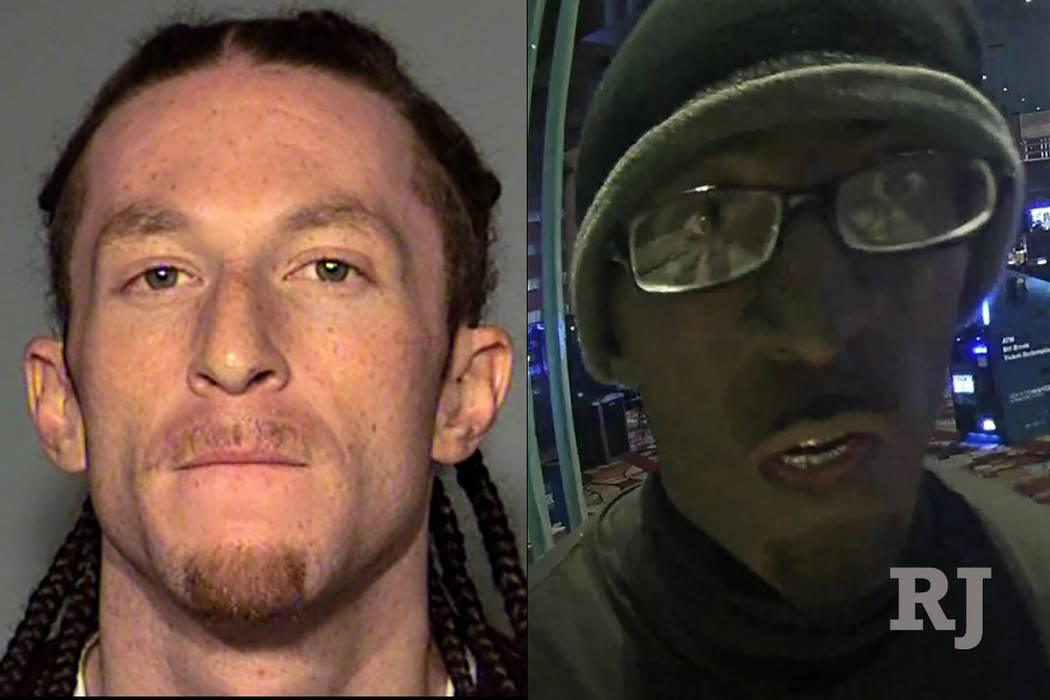 A white man accused of robbing a Strip casino in blackface in January was charged Friday in federal court, records show.
Cameron James Kennedy, 26, was charged with robbery in the armed holdup of a casino cage at New York-New York, according to the U.S. Department of Justice and a federal criminal complaint filed last week. The charge carries a maximum penalty of 20 years in prison.
The Las Vegas man already was under federal supervision on prior bank robbery charges when he allegedly cut off his GPS monitoring bracelet and robbed the casino in the early morning of Jan. 10, according to the complaint.
Kennedy used makeup to appear black, Las Vegas police said. The cashier at the cage told police she did not think he was black because his skin tone was "off" and "blotchy," according to the federal complaint.
During the robbery, Kennedy showed the cashier a handgun that was tucked in his waistband, according to the complaint.
"I want all your hundreds, and don't mess around," he told the cashier before leaving the casino in a taxi with more than $23,000, according to the complaint.
After the robbery, Kennedy bought a gold bracelet for $1,500, money orders of more than $1,800 and a $1,000 prepaid debit card in someone else's name, court records show.
On Jan. 18, an anonymous tipster told investigators that Kennedy had robbed the casino. Phone records placed Kennedy near where the robber was dropped off from the taxi on the morning of the robbery, according to the complaint.
He was arrested Jan. 25.
On Feb. 14, a witness told police Kennedy had come to an apartment in the hours after the robbery wearing black clothing, court records show.
"Kennedy's face also appeared darker than usual as though he had wiped something off of his skin," the complaint reads.
The witness later told investigators that Kennedy was the man in surveillance photos, according to the complaint.
Kennedy's federal supervision stemmed from a pair of bank robberies he pleaded guilty to committing in 2012. He was released from prison in June, according to the complaint, but was arrested in December after he allegedly tried to cash an altered check at Gold Coast.
Following the arrest, Kennedy's probation officer filed a petition claiming that he had violated the terms of his supervised release by committing another crime. The court placed him under house arrest nearly a week later, records show.
Kennedy appeared in court Monday, where he was ordered to be restrained by leg straps during the hearing, records show. He is due in court for a hearing March 26.
Contact Blake Apgar at bapgar@reviewjournal.com or 702-387-5298. Follow @blakeapgar on Twitter.