10 best things to do this weekend in Las Vegas — July 21-23
Updated July 21, 2017 - 4:42 pm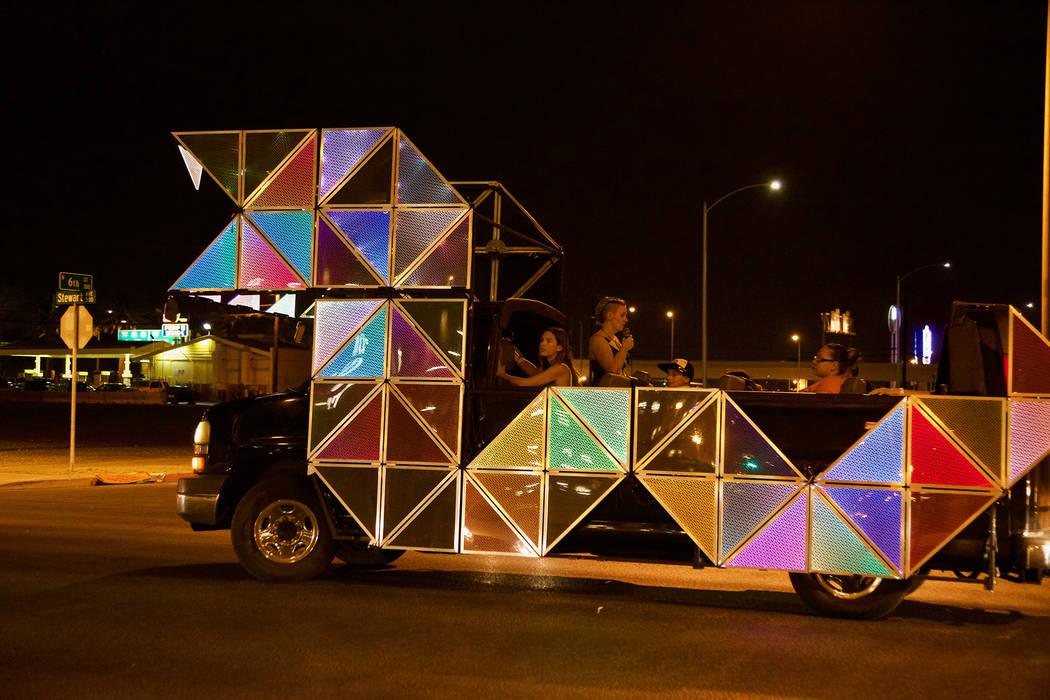 It's a great week for fandoms in Las Vegas.
Loyal followers of the hugely popular "Gilmore Girls" TV show can meet one of the actors right where he belongs — in a coffee shop. See Scott Patterson, better known as Luke Danes, perform an acoustic version of songs from his band, Smithradio.
Proud '90s kids can relive the glory days at the "I Love the '90s the Party Continues Tour" at the Downtown Events center.
And while the biggest fandom event is all the way in San Diego, you can keep up with all of Comic Con's biggest movie trailer premieres, entertainment news and celebrity cameos from home.
Here are your top 10 picks of what to see, eat and do this weekend in Las Vegas.
Grab a bite
The view outside Hawthorn Grill is about as pastoral as it gets in Southern Nevada, and the serenity-inducing effect extends indoors. The food shone from the beginning. Asparagus and burrata sounds like a refreshing change from the obvious pairing with tomatoes, but it's so much more. It's actually a salad, the asparagus tossed with radish, cucumber and sliced toasted almonds, all of it tossed in basil oil. The overall effect is crunchy but to varying degrees, with lots of sprightly flavor notes. Read the full review here.
Scallops at Hawthorn Grill. Benjamin Hager Las Vegas Review-Journal
Get a drink
While the espresso offers a welcome touch of bitterness, the French Kiss Martini at The Palm is really more a dessert than a cocktail. There are no hidden flavor profiles here, just sweet coffee and berry deliciousness with a mildly intoxicating kick. Learn to make it yourself here.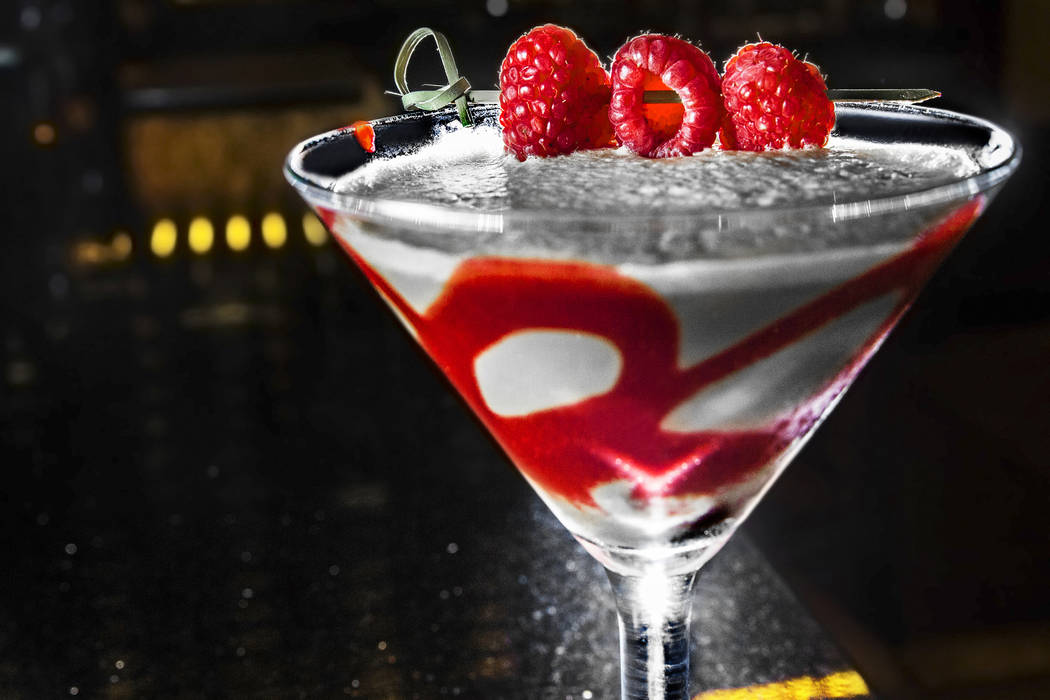 The French Kiss Martini at The Palm. Benjamin Hager Las Vegas Review-Journal
See a show
In the early '80s, they embraced electronics to a far greater extent than many of their peers, helping catalyze electro-pop. The extent of Hall & Oates' artistic breadth is underscored by "Live From Daryl's House," where a variety of modern-day artists jammed with the show's namesake. The show introduced Hall & Oates' repertoire to a new generation of music fans thanks in part to appearances by contemporary acts like Plain White T's, Aloe Blacc and Neon Trees. You can see Hall & Oates with Tears for Fears Friday at 7 p.m. at T-Mobile Arena. Read more about the show here.
Daryl Hall, John Oates Hall and Oates in concert at the American Airlines Arena, Miami, Florida, US. AP Images
Rock out
"I Love the '90s the Party Continues Tour," is hitting the Downtown Las Vegas Events Center with '90s faves like TLC, Biz Markie and Mark McGrath. Catch the show at 8 p.m Friday. See more here.
TLC (I Love the '90s)
Catch a movie
"Dunkirk" is basically three overlapping movies, each with its own time frame. Set in World War II, nearly 400,000 British and French soldiers are driven back by the Germans to the beach of Dunkirk, France, just 26 miles from the safety of England.
"The Mole" refers to the 8-foot-wide pier on which the soldiers wedge themselves awaiting the next transport. "The Sea" chronicles the daylong journey of the "little ships," the hundreds of yachts and pleasure boats that that answered the military's call. "The Air," meanwhile, focuses on the hourlong battle between Royal Air Force Spitfires and the Luftwaffe planes attacking escaping men and boats below. As it bounces between its rousing stories, "Dunkirk" is the rare war movie that's a thing of beauty, thanks to the cinematography. Read the full review here.
Stay in
An effort to move the Oakland Raiders to Las Vegas begins with the public backing of a billionaire casino owner. The first sign of NFL support comes from the Dallas Cowboys. And, oh yeah, that billionaire also happens to own a Las Vegas newspaper.
This isn't a refresher course titled "How the Raiders Came to Vegas." It's the season-long story arc on "Ballers." Watch the season premiere on HBO Sunday at 10 p.m.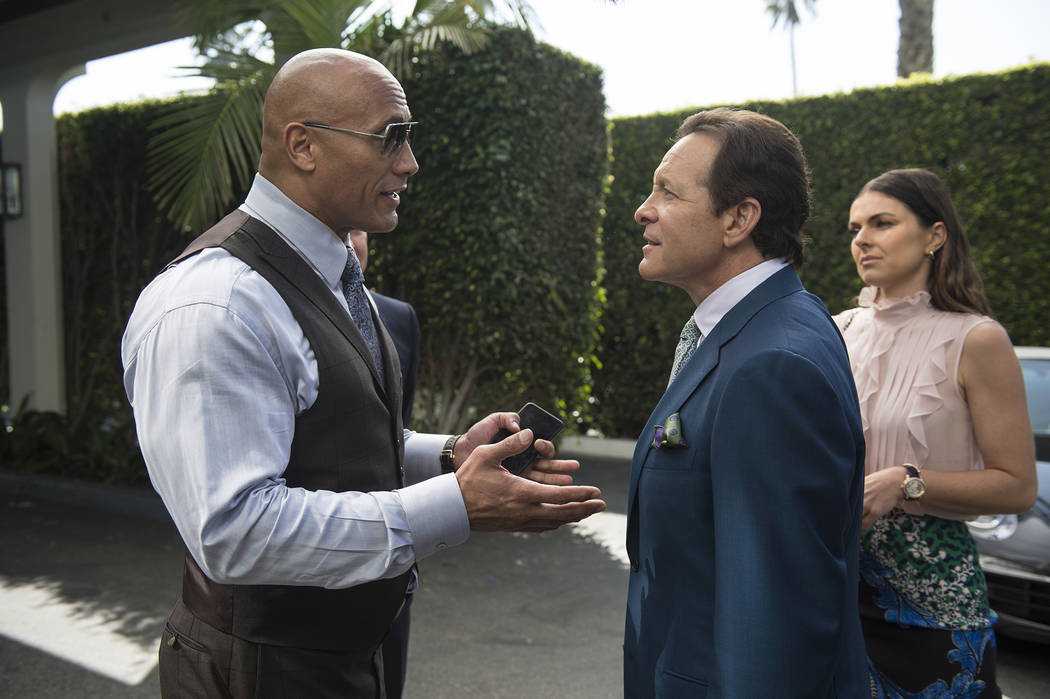 Dwayne Johnson, Steve Guttenberg and Serinda Swan appear in a scene from HBO's "Ballers." Jeff Daly courtesy of HBO
Approximately 130,000 lovers of geek culture have descended on the San Diego Convention Centerfor Comic-Con. If you can't make it, you can still stay up-to-date on the events, trailer premieres, celebrity appearances and pop culture news from home. See stories and videos from Comic Con here.
Find macramé at the Market
When Cheryl Beighley moved to Las Vegas with her husband, she was excited and anxious. She was leaving her entire family and friends behind in Boise, Idaho. She had always been involved in crafts, but when she taught herself to macramé, she found her calling. You can purchase macramé crafts from Beighley — better known as the Knotty Goat — at the Market in the Alley in Downtown Las Vegas from noon to 4 p.m. See Cheryl Beighley in Vegas Stripped here.
Head Downtown
Take friends or the family to see free movies this weekend at Downtown Container Park, 707 Fremont St. beginning at sundown. The Family Movie Night series runs Thursday, Friday and Saturday. Friday's showing will be Disney's animated version of "Beauty and the Beast," followed by the recent live action version on Saturday. Find more downtown events here.
Scott Patterson
Casual "Gilmore Girls" fans know him as Luke Danes. Serious "Gilmore Girls" fans also know that Scott Patterson, who portrays Luke on the long-running series, also is a singer and songwriter, and it's that side of Patterson that fans will see Sunday when he brings his 2017 Atomic Love Acoustic Coffee House Tour to Las Vegas. You can see Patterson perform live at The Cuppa Coffee Bar at 7 p.m. on Sunday. Find out more here.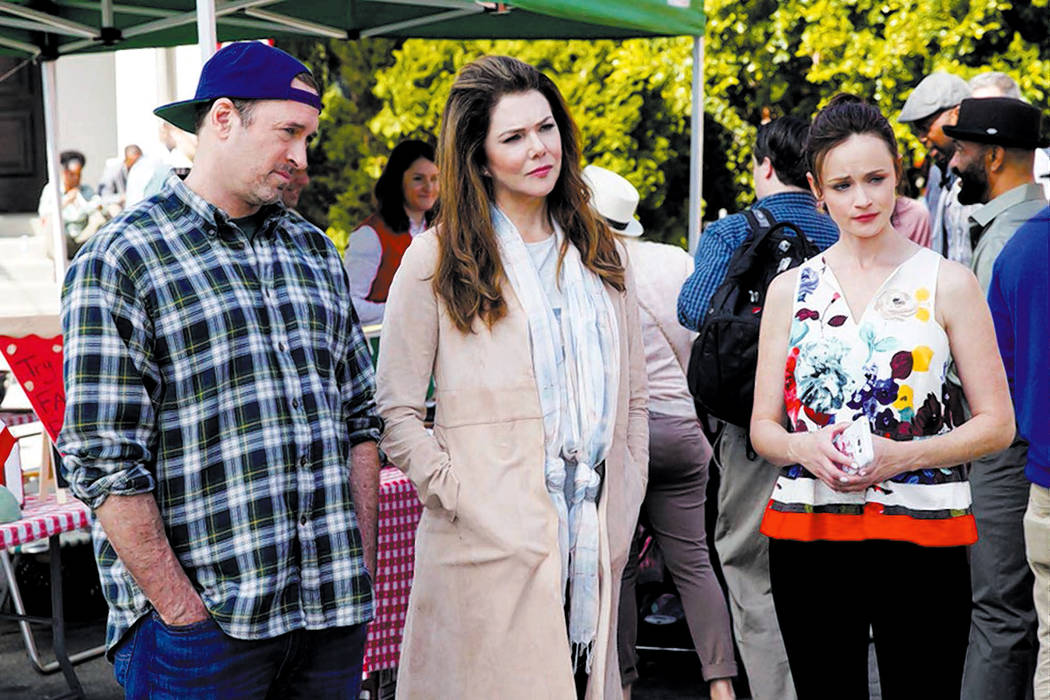 Scott Patterson, Lauren Graham and Alexis Bledel in "Gilmore Girls: A Year in the Life." Saeed Adyani Netflix
Ride the Downtown Dragon
There's a dragon on the loose in downtown Las Vegas. The Dragon-shaped art car is outfitted with colorful LED lights, fur, bubbles and a full sound system designed to enable the vehicle's tour guide to share insights about Downtown's art culture with passengers. Anyone in downtown Las Vegas can sign up for rides on "Dragon Mode" with the Lyft app. The free rides are available Friday and Saturday from 7 p.m. to 1 a.m. for the month of July.