CCSD announces plan to return all grade levels
Updated February 24, 2021 - 8:00 pm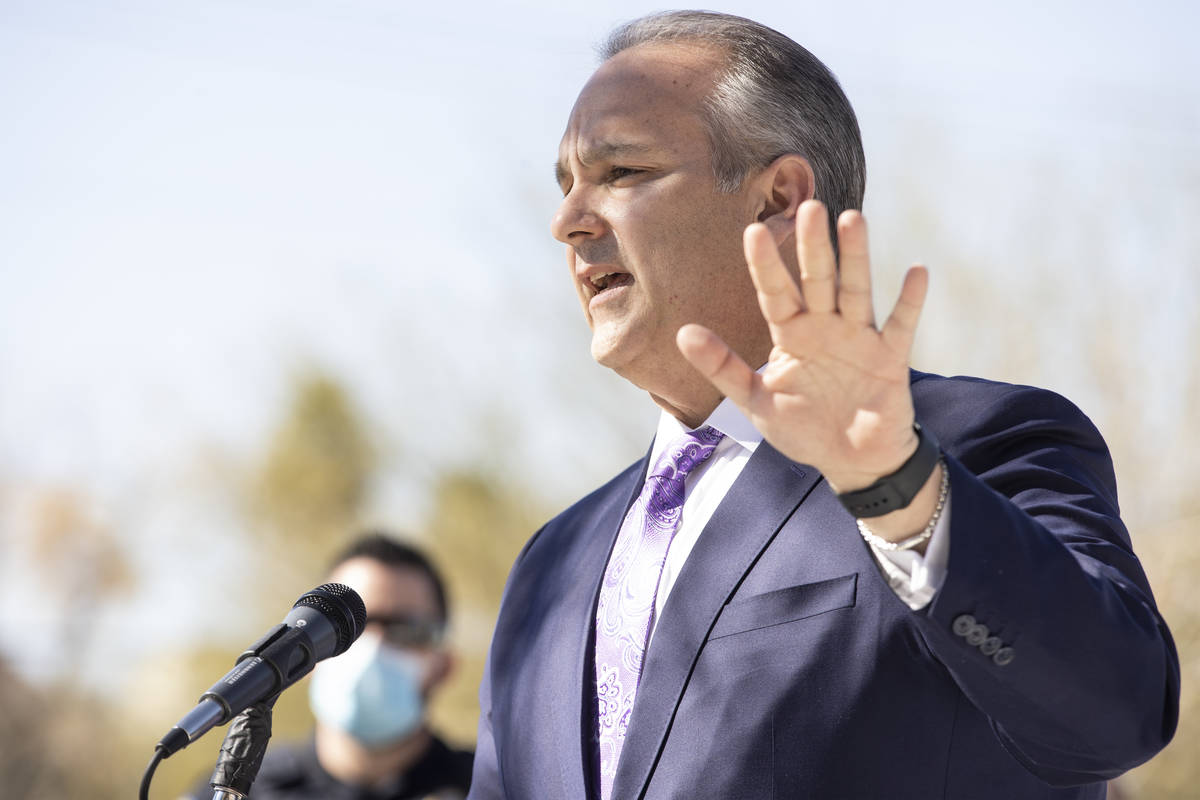 Clark County schools will reopen to older students for hybrid education in two waves beginning on March 22, while younger students will be able to return to full-time in-person instruction on April 6, under a plan revealed Wednesday by Superintendent Jesus Jara.
The first wave of students in grades six, nine and 12 would return to their campuses for two days a week beginning March 22, followed by the return of students in grades seven, eight, 10 and 11 on April 6, Jara said.
That is also the date on which the Clark County School District expects to reopen full-time to all elementary grades, just five weeks after they return on Monday in cohorts for hybrid instruction — two days a week of in-person instruction and three days of distance learning.
To support the return, all employees are expected to report to their worksites by March 15, Jara said.
Spring sports also will return, he said.
Many teachers and parents said they were caught by surprise by the announcement.
"As a teacher, I'm incredibly frustrated with how the district rolls out communication to the community and to teachers," said Jessica Jones, a kindergarten teacher at Hickey Elementary School in east Las Vegas.
Jones said her school just switched its young students — who thrive with structure and routine — to new teachers to accommodate the hybrid model. But after just five weeks under that system, the schedule will change again to five days a week of in-person classes.
'We took structure away'
"We took structure away from them," she said of Wednesday's announcement.
The district has been providing distance learning exclusively since shortly after March 15 , when Gov. Steve Sisolak ordered all state schools closed because of the COVID-19 pandemic.
But district officials have been facing pressure to reopen buildings and resume activities like sports out of concerns that students are falling behind academically and suffering emotionally.
While the district initially outlined a limited return for small groups of older students, Jara said the district had moved away from the idea after beginning the process of planning a return, including scheduling bus routes.
Jara also said new guidelines issued by Gov. Steve Sisolak last week accelerated the reopening process.
"The governor's easing of the restrictions last week helped speed up the process for us. Our team immediately went to work to look to see what that meant for our children," Jara said.
Jara was referring to Sisolak's announcement that schools where in-person teaching has been underway for at least 20 days will be able to increase limits to 75 percent or 250 people in any given space. That's up from the previous 50 percent occupancy or a 50-person limit.
Schools also are now required to have just 3 feet of social distancing space between all students, rather than the 6 feet required previously for high schoolers.
The students in grades six and nine were given priority because they have yet to set foot on their campuses, Jara added. They will have a week to adjust before spring break, after which all students will return.
Jara told reporters he has wanted to reopen schools, "but we needed to do it safely."
Some thrilled, others frustrated
Teachers, principals and parents had mixed reactions to the news.
Jones, the Hickey Elementary kindergarten teacher, said she also wishes the community had been able to be more involved in the school reopening process overall, noting it has been "very closed off to the public" and people don't know what's happening.
Mark Nekoba, a music teacher at Schofield Middle School in Las Vegas, said he's thrilled for students, adding that they've sacrificed a lot during the past year.
"Besides school, they have missed out on activities, social interactions, and sports," he said. "Many of these kids have tried their very best in difficult conditions and are ready to thrive in face-to-face school."
Neboka said he can't wait to be back with his students in person.
"Even though we have been working hard all year, I am still missing that human connection with them," he said. "I only hope that CCSD has a well thought out plan and that we are able to maximize our time and provide a quality education for them in the time that we have left."
He said he doesn't have any details yet, though, about how music classes will work.
Tyrone Thompson Elementary School Principal Robert Hinchliffe said he was excited, on one hand, to have kids coming back but frustrated that elementary schools planned for a hybrid model that now will last only about four school weeks.
"It is exciting, but in many ways, it is like we are starting over," he said. "But we just have to stay positive and look at the end result, which is that many kids are returning to school."
Andrea Roach, a second-grade teacher at Tyrone Thompson Elementary School, said elementary schools will need to turn on a dime after having planned for the hybrid model since late January.
She said she had felt confident and comfortable with starting the hybrid model on Monday, with three students returning to her class in-person and 16 continuing with virtual learning — a split she attributes to families preferring to remain with their teachers no matter the cohort.
The new return plan means her school may have to make major adjustments, she said.
"Are we teaching face to face and distance learning? Are kids who don't come back going to be with a different teacher? Will kids get new teachers in April? Those are all things we have to think about," Roach said.
The Clark County Education Association, the bargaining agent for teachers at the district, said in a statement to the Review-Journal that it supports the process to return students to classrooms.
"Returning educators and students to the classroom has to be done with the utmost attention to a robust and comprehensive safety program for all staff and students; with special attention on our vulnerable population to not be exposed to the virus," the union said. "In addition, CCEA is ensuring that the workload of all educators is manageable where a teacher can teach and a student can learn."
An official with the rival National Education Association of Southern Nevada, said that the union was "very concerned about the push for students and educators to return to buildings in the coming weeks," adding that it had "no knowledge of these proposed changes until the announcement was made this afternoon during contract hours."
"Once again, that is a complete failure of communication by the district," President Vicki Kreidel said in a statement.
School and community reaction
Bailey Middle School Principal Darryl Wyatt said he strongly supported the decision to have certain grades return first to give those students — many of whom have yet to set foot on their new campuses — a chance to acclimate to their new surroundings. It will be critical, too, to get eighth graders back to campus to give them a chance to work on credit retrieval and make up for learning lost in the fall, he said.
In the school's last survey of students in November, Wyatt said around 63 percent of students wanted to remain in distance learning. But he added that much has changed in the world since then, and that he hopes to see a higher number return to campus in April.
"We feel really confident that we have a good plan and a good structure in place," Wyatt said.
Some high school principals said they would have preferred full-time in-person learning. Principal Tam Larnerd of Spring Valley High School said a group of them had presented a plan to the district to reopen on a four- or five-day week schedule, with an option for distance learning.
But he said: "Anything we can do to get kids back on campus, kids playing sports and kids participating in extra curricular activities is a step in the right direction."
Sierra Vista High School Principal John Anzalone said he was excited to make the hybrid model work, adding that he would have rather had full-time in-person learning this school year, and would prefer it for August.
"The kids need to be back on campus, so if hybrid is the temporary solution, we will be open-minded and cross over any hurdle that comes our way," he said.
Parent James Yanni, who lives in northwest Las Vegas and has a daughter in eighth grade, said he appreciated the desire for "some normalcy" but questioned the wisdom of bringing students back so late in the school year — about a month and a half before the school year ends on May 26.
He said his daughter doesn't want to go back to in-person classes this school year. "Her grades are better now than what they were before."
Yanni said since his daughter is doing well in school right now, the mantra of "if it ain't broke, don't fix it" applies. "If she's doing great in her classes right now, why do I want to throw a monkey wrench into that?"
Yanni said he will leave the decision up to his daughter about the rest of this school year.
Parent Anna Binder — who has six children ranging from preschool through high school — plans to send her kids back in person.
The administrator for two Facebook groups — All Kids Back By August CCSD and Let Them Play NV — also intends to continue to protest what she feels has been painfully slow progress toward reopening schools, beginning with Thursday's first in-person School Board meeting in nearly a year.
She said she believed Jara is deflecting criticism by saying Sisolak's relaxed restrictions announced last week allowed for school reopening.
"He's had no intention to move forward until the community started applying all of this public pressure," Binder said.
School Trustees Linda Cavazos and Lisa Guzman said they were expecting to see the agreements with each of the district's bargaining agents come before the board and would be reading closely about the preparations ahead of reopening.
Guzman added that the 20-day period will allow for monitoring and adjustment, adding that having to close a school due to an outbreak is the scenario nobody wants to see.
Cavazos said she expects mixed reactions not just from the community but from individuals who might like one aspect of the reopening plan but not another.
"I'm excited for the children. There's going to be some challenges with this tight turnaround," Cavazos said. "We might have some people still concerned about safety protocols. But it's going to have to be something we take one step at a time."
Contact Aleksandra Appleton at 702-383-0218 or aappleton@reviewjournal.com. Follow @aleksappleton on Twitter. Contact Julie Wootton-Greener at jgreener@reviewjournal.com or 702-387-2921. Follow @julieswootton on Twitter.