CCSD says it will require masks for all students, staff after all
Updated July 27, 2021 - 5:57 pm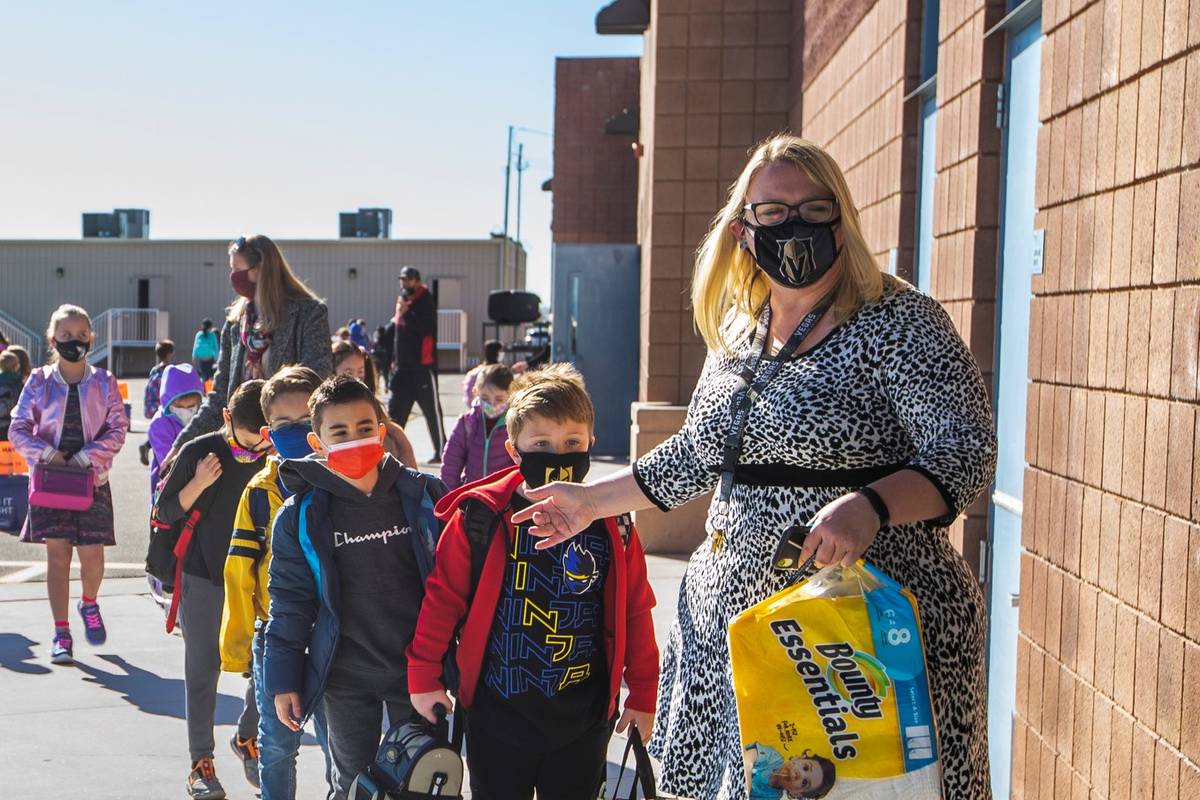 The Clark County School District will require all students and employees to wear face masks indoors and on school buses when school resumes.
In email and phone messages to parents on Tuesday, the district said there will be an exemption for those who have a medical or developmental condition that prohibit the use of a mask.
The district's previous mask policy announced in June said that masks were required for fourth- and fifth- grade students, but optional for preschool through third graders, as well as for students in sixth through 12th grades and school employees who were fully vaccinated. Unvaccinated employees and students were asked to continue wearing them.
The district — the nation's fifth-largest public school system with more than 300,000 students — said the change in mask requirements is a result of "current high transmission rates of COVID-19" and in alignment with recommendations from local and national health authorities. The policy will take effect immediately for employees working in schools ahead of the Aug. 9 return of students.
"Once again, the district is committed to opening schools for all students for in-person learning, while promoting the health and safety of all students and staff," it said in the message. "We will continue to monitor the health data in our community to make informed decisions regarding the implementation of mitigation strategies."
'The right precautions'
The Clark County Education Association teachers union said in a statement that the district took "the right precautions" following Centers for Disease Control and Prevention, Southern Nevada Health District and American Academy of Pediatrics recommendations "to open schools as safe(ly) as possible this upcoming school year."
The acclaim was not universal.
Clark County School Board Trustee Katie Williams posted a copy of the new school district requirements on Twitter on Tuesday and wrote: "Unfortunately, this is happening to our kids. Online learning was terrible for our kids and I'm glad we aren't going back to that, but it's my hope we can find a better solution. As a mom I'm disappointed, as a trustee I'm optimistic for the review from the county."
In a separate post, she wrote: "These CDC guidelines have no basis in science and the fact that we are requiring masks regardless of vaccination status is ridiculous. How much longer are our children going to be victims of this political dog and pony show?"
The school district announcement came shortly after the CDC issued a recommendation that kindergarten through 12th grade school employees and students wear a mask at school regardless of their vaccination status.
That's a stricter stance than the federal agency's previous guidance that fully vaccinated students and school employees need not be required to wear masks.
Last week, the American Academy of Pediatrics recommended universal masking for everyone older than 2 in school buildings, regardless of vaccination status, unless someone has a medical or developmental condition that would prevent them from wearing a mask.
The academy cited factors such as the lack of an available coronavirus vaccine authorized for use in children younger than 12.
Nevada Gov. Steve Sisolak issued an emergency directive Tuesday that requires everyone, vaccinated or not, to wear masks indoors in public places in counties with high rates of COVID-19 transmission, including Clark County. The directive includes a three-day grace period that gives businesses and residents until Friday to comply.
State officials "have been in conversations with local school districts regarding reopening policies and face coverings for staff and students," according to a news release from the governor's office.
The grace period under the new emergency directive will allow for "continued conversations" between the state and district leaders, the state said.
Parents divided over masks
Parents have been divided during the pandemic on the topic of face masks for children. Some have pushed for a requirement while others, including many who have spoken out at recent School Board meetings, are opposed to them.
Dana Matthews, a kindergarten teacher and parent of two children in the district, said Tuesday she's happy about the decision to require masks and thinks it's the best choice.
Matthews, whose children are going into second and fourth grades, said she had hoped the district would require masks — especially after the CDC recommendation was issued.
Matthews said she thinks requiring masks is safer for everyone due to the delta variant and had been concerned that her daughter in second grade would be influenced to remove hers if her classmates weren't wearing them. Under the district's previous policy, masks were optional for that grade level.
The district operated for about a year under full distance learning starting in March 2020 before providing the option for students to return to campuses in three waves this spring. Face masks were required for all students and employees who returned to classrooms for the rest of the school year.
Contact Julie Wootton-Greener at jgreener@reviewjournal.com or 702-387-2921. Follow @julieswootton on Twitter. Review-Journal staff writer Alexis Ford contributed to this report.